Grammy Awards move to online voting in hopes of increasing participation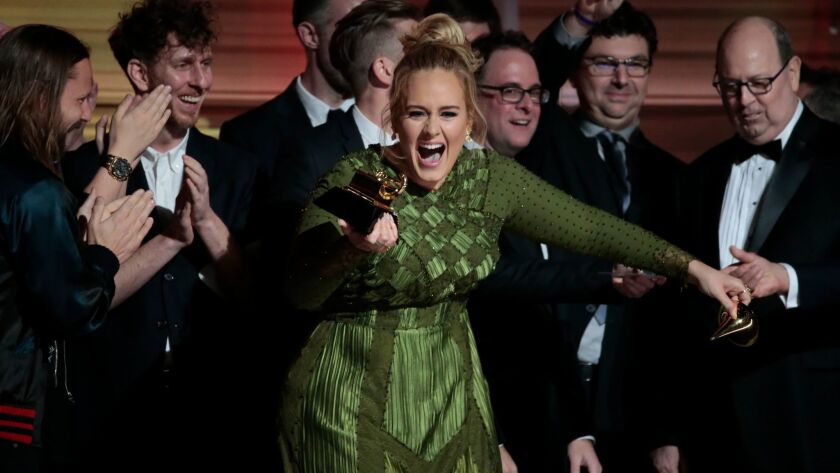 In a move the Recording Academy hopes will increase members' participation in the Grammy Awards, voters will soon be able to cast their ballots online for the first time.
Academy executives on Wednesday unveiled the elimination of paper ballots in favor of an online voting system as part of the organization's annual review of the awards process.
The hope is that such a change will inspire a broader range of members to take part in the Grammys because it will present a more flexible voting option or appeal to artists who may be on the road during the period for voting.
"It's been something we've been talking about for many years, and looking forward to the day when this has arrived," said Bill Freimuth, the academy's senior vice president of awards.
The Grammys have long faced criticism for favoring traditionalism over more adventurous and diverse artists. R&B star Frank Ocean, for instance, chastised the Grammys for awarding album of the year to Taylor Swift rather than Kendrick Lamar in 2016 and accused the institution of a "cultural bias."
Such criticism only intensified after Beyoncé's "Lemonade" lost the top album prize to Adele's "25" at this year's ceremony. Adele herself bowed to Beyoncé in accepting her award. "You are our light," Adele said from the Grammy stage.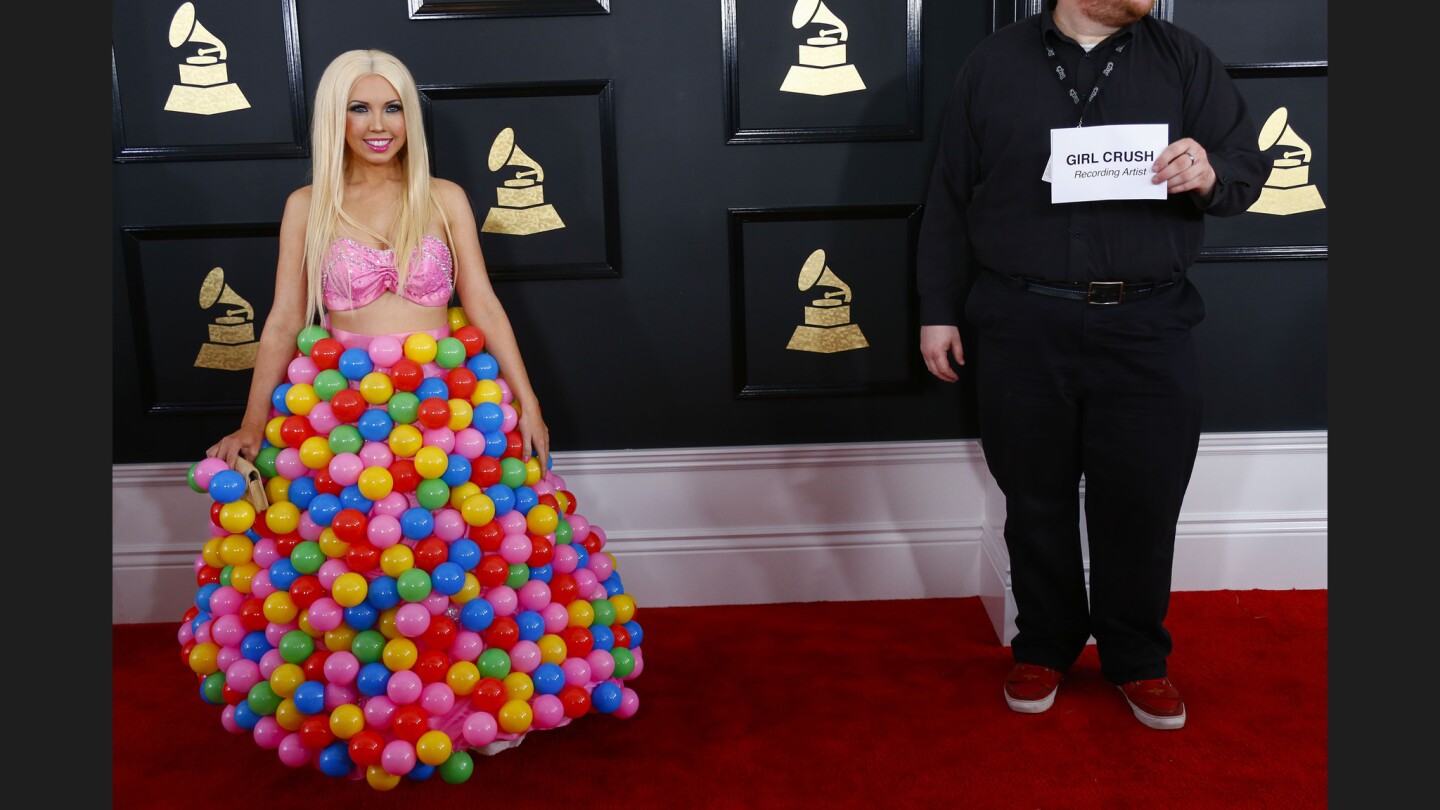 Recording artist Girl Crush wears a dress of colorful balls during the arrivals.
(Marcus Yam / Los Angeles Times)
Jennifer Lopez arrives for the Grammys in a plunging neckline.
(Marcus Yam / Los Angeles Times)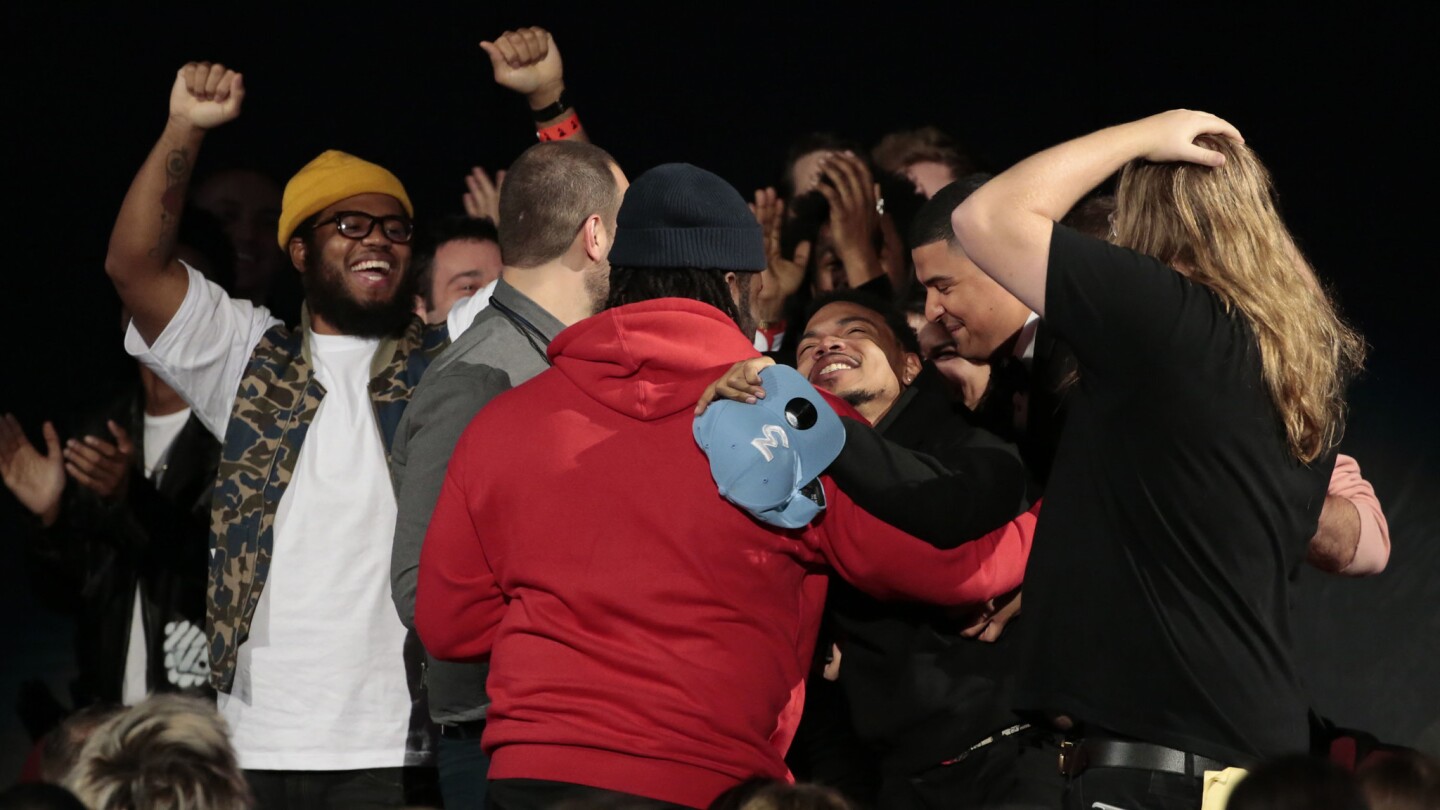 Chance the Rapper celebrates after winning Best Rap Performance award for 'No Problem.'
(Robert Gauthier / Los Angeles Times)
Fantastic Negrito wins for the Best Contemporary Blues Album award.
(Robert Gauthier / Los Angeles Times)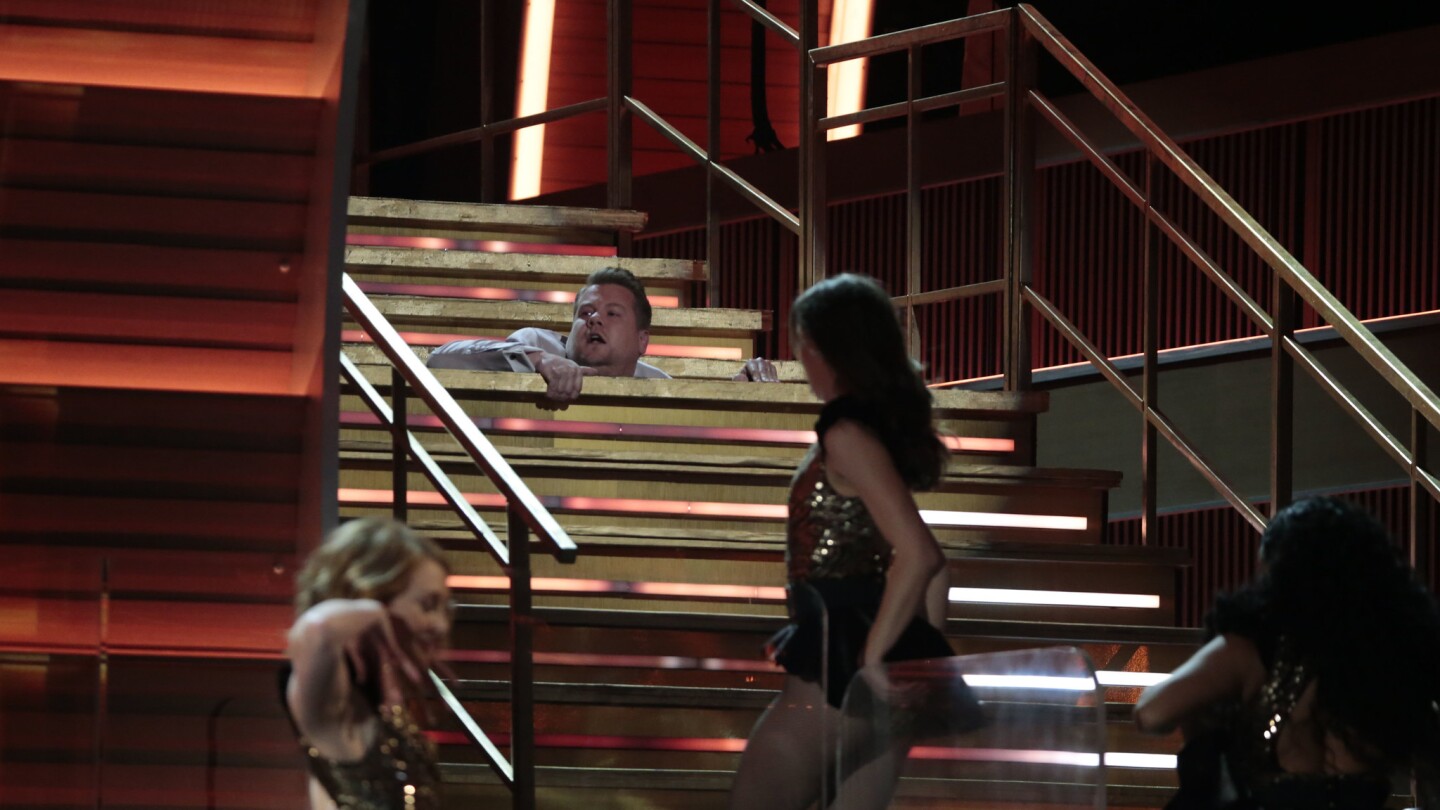 Host James Corden "falls" down the stairs during his opening monologue.
(Robert Gauthier / Los Angeles Times)
Lady Gaga crowdsurfs while performing with Metallica.
(Robert Gauthier / Los Angeles Times)
A Tribe Called Quest with Anderson .Paak performs.
(Robert Gauthier / Los Angeles Times)
After flubbing, Adele stops and restarts her tribute to George Michael.
(Robert Gauthier / Los Angeles Times)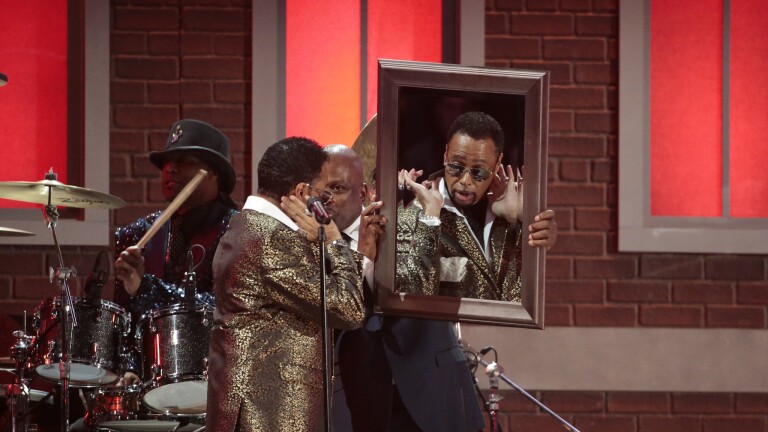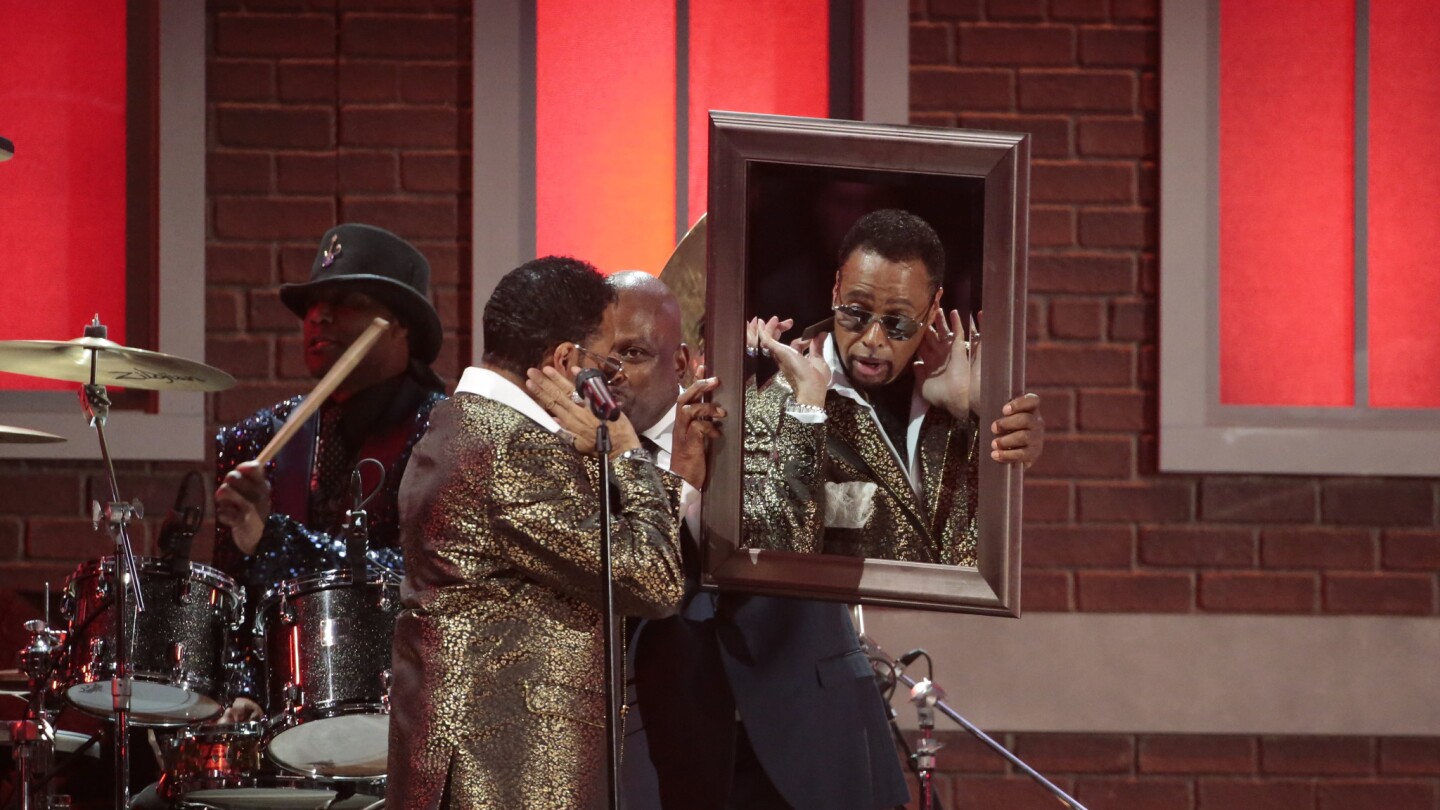 Morris Day and the Time perform Jungle Love in a tribute to Prince.
(Robert Gauthier / Los Angeles Times)
Bruno Mars performs "Let's Go Crazy" during the Prince Tribute.
(Robert Gauthier / Los Angeles Times)
Katy Perry and Skip Marley perform "Chained To the Rhythm."
(Robert Gauthier / Los Angeles Times)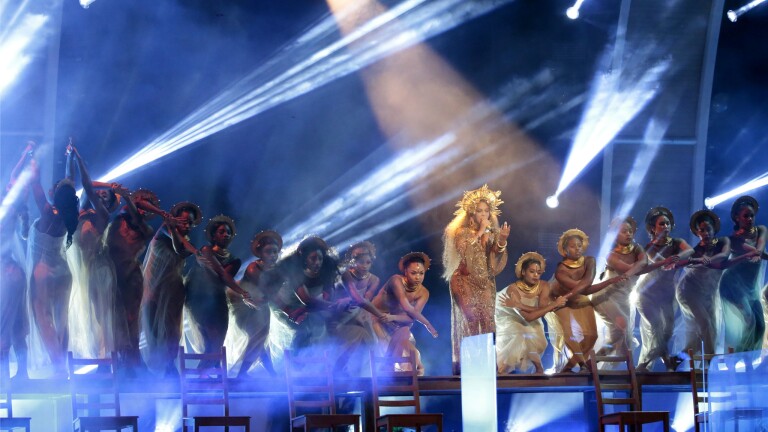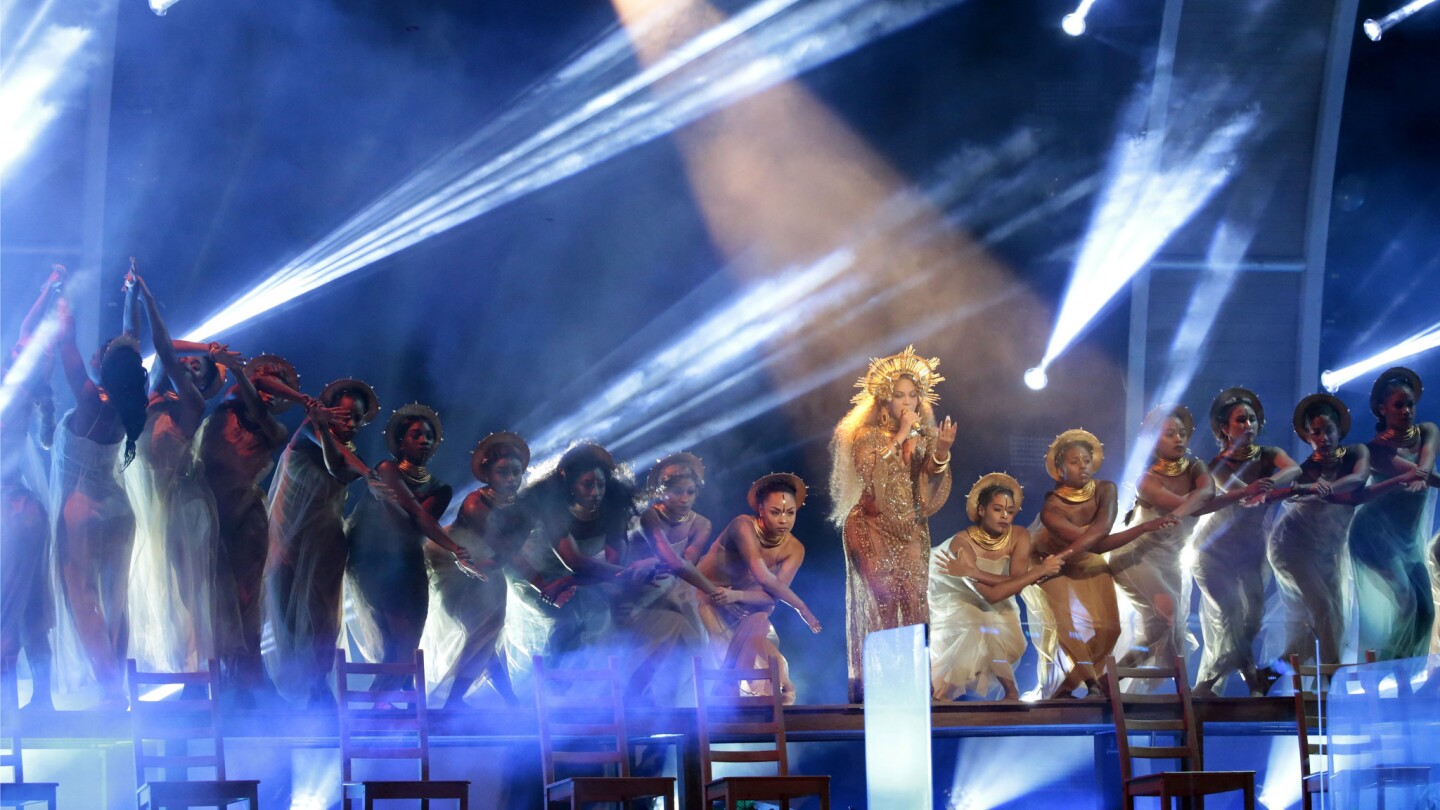 Beyonce performs Love Drought.
(Robert Gauthier / Los Angeles Times)
Adele breaks her Grammy in half after winning Album of the Year for '25.'
(Robert Gauthier / Los Angeles Times)
See the most-read stories in Entertainment this hour »
"I don't think there was ever any opposition from members or trustees, but there were a lot of technical issues," Freimuth said of the voting-process tweak. "We wanted to be sure our auditors at Deloitte were happy with their ability to still tabulate the ballots correctly.
"Security was always a major issue, because it could become a target for hackers," he said
Raising, perhaps, the specter of Moscow's Red Army Chorus stealing the album of the year Grammy?
"We're buttoned up as much as we possibly could be along those lines," he said.
One other big benefit Freimuth cited was the prospect of a more accurate and representative vote tabulation. Grammy rules allow all members to cast votes in the four marquee award categories — record, album, song and new artist.
Voters also are allowed to cast ballots in up to 15 other fields, but in the past a small percentage of voters has marked more than 15, resulting in those ballots, except for the top four categories, being discarded.
The other major rule change will put songwriters alongside performers, producers, recording, mixing and mastering engineers in collecting statues for album of the year if they've contributed to at least 33% of the playing time on a winning album.
The request was proposed more than a year ago, said Freimuth, adding, "My knee-jerk reaction was that we have a special category for songwriters, so why would we need to? But after I let it sink in, I thought, 'Wow, why didn't we think of this before?' Songwriters are really significant contributors and they should not be overlooked."
The academy also has expanded its definition of what qualifies as an album to recognize differences that often exist among pop albums and those in the classical, jazz and dance fields.
Previously, an album was defined as a collection containing at least 15 minutes of music and a minimum of five tracks. Now, an album will also be eligible for consideration if it has a minimum of 30 minutes of music and no specific number of tracks, recognizing larger-scale compositions that often exist in jazz, classical and dance music.
Additionally, nominations in rap, contemporary instrumental and new age fields will now be vetted by nomination review committees similar to those that already help determine nominated works in 15 other fields.
The committees were created in 1989 to help independent, emerging artists and releases issued late in the eligibility period to be on more equal footing with the higher-profile artists' entries.
Two other changes affect qualifications for nominations in the visual media category. Entries for song written for visual media will be allowed if a different version was created for a film of a song submitted in other categories. Historically, only one version of a song could be eligible for nomination.
Finally, the rules governing nominations in compilation soundtrack for visual media have been changed to require albums for a documentary or biopic to contain at least 51% newly recorded music.
Some of the changes will result in the distribution of more Grammys, but Freimuth insists that the Recording Academy is sensitive to keeping its annual ceremony from turning into a more-the-merrier affair.
"It's our broader philosophy these days to keep preserving the elite status and the overall value and preciousness of the Grammy Awards," he said.
The 2018 Grammy Awards will recognize recordings released between Oct. 1, 2016 and Sept. 30, 2017. The ceremony is set for Jan. 28 and will be held in New York City.
Follow @RandyLewis2 on Twitter.com
For Classic Rock coverage, join us on Facebook
---
The complete guide to home viewing
Get Screen Gab for weekly recommendations, analysis, interviews and irreverent discussion of the TV and streaming movies everyone's talking about.
You may occasionally receive promotional content from the Los Angeles Times.