Sunday Conversation: NBC's curling reporter Trenni Kusnierek on the sport's cult appeal
The Winter Olympics launched Friday in Pyeongchang, South Korea, but for all the televised offerings that include the daredevil speeds of downhill skiing, the balletic grace of figure skating and the physical wonders of snowboarding, only one set of the Games' elite athletes can lay claim to being in competition each day: curlers .
Introduced in the first Winter Olympics in 1924, curling was a sporadic presence at the Games before taking hold in the late '90s. Involving a long sheet of ice and polished granite stones being slid toward a bull's-eye target (the house) while guided by some very vigorous use of a broom, the sport was a ratings hit during the 2014 Winter Olympics in Sochi, Russia.
Hugely popular in Canada, the competition carries an eccentric sort of viewer appeal — the sight of a huddle of people furiously sweeping a path for a stone across an icy surface for initially mysterious ends will do that. Plus, there's the ever-formidable Norwegian team, who have a reputation for uniforms that boast pants so colorful they border on psychedelic (seriously, they're impressive).
But as its fans from far colder climates can attest, the game itself has an approachable, engrossing quality, combining elements of baseball, shuffleboard and chess for a surprisingly addictive experience for players and viewers.
"People love it," said veteran sports reporter Trenni Kusnierek, who for the second consecutive Winter Olympics will join NBC's broadcast to cover curling. She was reached by phone from her hotel in South Korea a few days before the opening ceremonies. "Because it seems like, 'Oh this is easy. I could do this,' but it's really, really difficult. Like you watch snowboarding and you're like, 'OK. I don't think I can do what Shaun White does or what Lindsey Vonn does on alpine [skiing], but I think I could throw a rock to the house.'"
Below, Kusnierek talks more about curling and what the sport's fans can expect in Pyeongchang.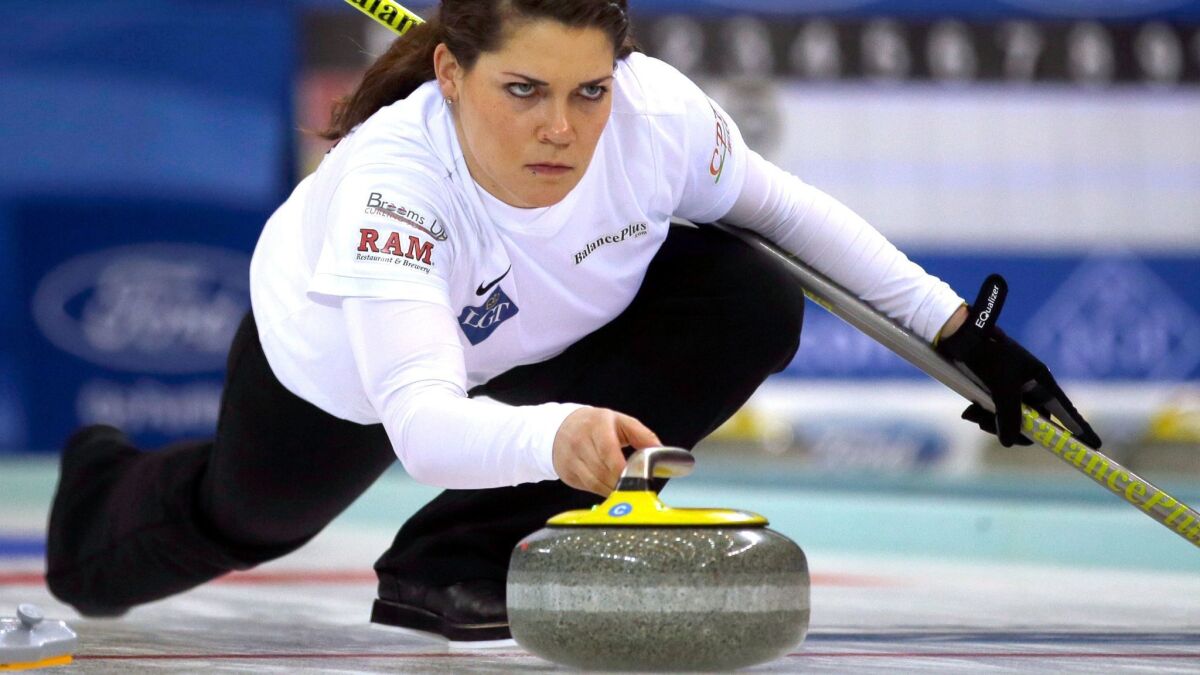 This is your third Olympics after Rio de Janeiro and Sochi. Is it a similar vibe in Korea right now to what you've experienced?
Yeah. I mean I feel like all of the Olympics have been all different in their own way. But Korea has sort of ... I don't know. Maybe it's the destination. Maybe it's the landscape around us. There's something very calming and chill about it. Our hotel is on the East Korean sea, which is also known as the Sea of Japan but that's sort of ... That's one of the many political hot button things here.
How did you become sort of the go-to curling reporter for the Olympics?
You know, I really just got lucky, like a lot of people in broadcasting. In 2012, it was actually supposed to be Steve Sands, who was a Golf Channel reporter. He had done all the curling trials and at the last minute [NBC sportscaster] Michelle Tafoya was unable to go to Sochi and so there was sort of a domino effect.
I had never really covered curling before, but NBC does such a tremendous job of ... I mean if you saw our research packets it's like reading "War and Peace," you know? They gave me all of the resources and the tools and the help that I needed, and my play-by-play analysts were fantastic. I guess I did a good enough job that they kept asking me back.
Was there something that you could kind of latch onto with curling that helped you approach the game?
Some people relate it to shuffleboard. I had covered baseball for eight years. I worked at MLB Network for a time . . . and everyone said, "Just kind of think of it like baseball." And that made it easy for me.
Obviously it's different in strategy, but baseball, too, is such a strategic sport. You know people think of it as 'throw a pitch, hit the ball, score a run.' But you have to decide in baseball what pitch are you going to throw. How are you going to fool the hitter? How are you going to put yourself in the best position to score a run? Well, curling is kind of the same. It's so strategic.
Curling has taken off ratings-wise in previous Olympics. Why do you think it's been striking such a chord with viewers?
I don't know if it's because you can turn it on, maybe come home from work and because of the time changes in many of the Olympics you have it on while you're in bed and . . . it's mesmerizing. I think that's part of the draw to it, [but] trust me it's not easy. I tried to do it. I actually went and learned how to curl before I came out here. You need so much core strength and balance, and I couldn't throw the rock because I was so worried about falling on camera.
Also, it's the only sport in the Olympics where the athletes are miked during competition. A lot of the teams speak their own language but they also speak English. You can hear them discussing strategy, and so you learn about the sport while you're watching.
See the most-read stories in Entertainment this hour »
Wow.
And like tennis with the grunting, everybody kind of gets into that, all the different sounds that the people make. It's the same in curling — when they sweep they often yell, "Hard! Hard!" and depending on what language, it can be like, "What in the world are they yelling? What is happening?" But it's entertaining and mesmerizing.
And having watched in 2014, there's a quality to curling where it seems sort of like bowling in a way, where you can have a beer afterward.
Oh, and they do. I really hate using this, but it really is like a gentleman's sport.
You know, it's similar to golf, or . . . I know this is going to sound weird, but like rugby. In rugby after you play a match, both sides go have a beer afterwards. So it's like fierce competition on the field, or in this case on the ice, but afterwards [it's a] 'we're all in this together' kind of a thing.
Are there any sort of misconceptions that you could correct about the sport for people who still may not be familiar with it?
One, that it's easy. Two, sort of along the same lines, that anybody can just go pick up a rock and a broom and do it. The United States has a high-performance team. They have a nutritionist. They have workout plans they have to do every single day. It's not as if they just show up and you know, throw a rock down the ice and become a top world competitor.
I think one of the misconceptions, and our analyst said this — our analyst is Kevin Martin, who is about to be inducted into the World Curling Hall of Fame. He's one of the most decorated curlers of all time, but he said, "When I was growing up, all the dorks curled. You know? It was kind of a dorky sport, but now it's so different."
And if you look, you've got Norway with the pants, and Canada in 2014, they were like body builders. One of their sponsors was a supplement company. They're real athletes. These aren't just a bunch of people who get up off the couch and then go curl.
How do the medal prospects look for the U.S. team?
Our analyst thinks that [siblings] Becca and Matt [Hamilton] and the way that they've been playing lately have a decent chance at competing for a medal in mixed doubles. The early prediction by NBC's research team does not have the United States medaling in any of the three [events] but the men's team. They were the bronze medalists in the world championships in 2016 and they were fourth in 2017. So I would say that they have a shot at medaling. And just for the simple fact that the women's tournament, none of the teams have any experience in the Olympics, makes it a little bit more of a wide open field. Maybe that's just me being hopeful.
»
Follow me over here @chrisbarton.
ALSO:
Sunday Conversation: In stand-up and Comedy Central's 'Corporate,' Aparna Nancherla is a rising comic force
Review: Black Mirror' returns with more grim looks at the future
Sarah Silverman on leaving her bubble for 'I Love You, America'
Get our L.A. Goes Out newsletter, with the week's best events, to help you explore and experience our city.
You may occasionally receive promotional content from the Los Angeles Times.