Monday's TV highlights: 'America's Got Talent: A Holiday of Champions' on NBC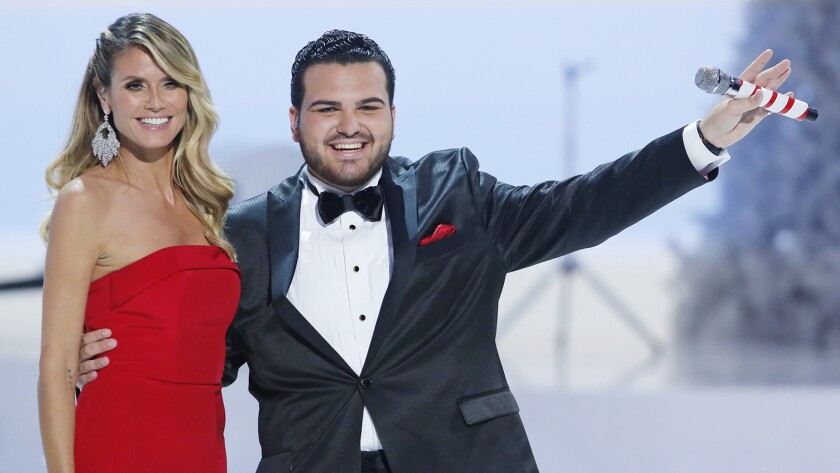 SERIES
The Neighborhood Tina (Tichina Arnold) gets a little carried away when she tries to help Gemma (Beth Behrs) make her first fundraiser as school principal a big success. Dave (Max Greenfield) tries to help Calvin (Cedric the Entertainer) win a special silent auction prize. 8 p.m. CBS
The Voice The top four perform duets with their coaches and debut original singles in this new episode. 8 p.m. NBC
The Great Christmas Light Fight The series that celebrates celebrating Christmas end its holiday season. 8 p.m. ABC
Happy Together Frustrated with work, Claire (Amber Stevens West) quits her job to pursue her true passion, which isn't likely to make any money, in this new episode. Also, Cooper (Felix Mallard) seeks financial advice from Bonnie and Gerald (Stephnie Weir, Victor Williams). Damon Wayans Jr. also stars. 8:30 p.m. CBS
Holiday Baking Championship Three bakers remain in the competition and their preheat challenge in the season finale is to create a beautiful, edible, holiday ornament display. Then, for the final heat, they must create a cake that's decorated like a gift on the outside and reveals a surprise when sliced. Duff Goldman, Nancy Fuller and Lorraine Pascale pick the winner. 9 p.m. Food Network
Mars In the season finale Lukrum pushes its corporate interests too far, putting the welfare of both colonies in jeopardy. IMSF tries to restore stability, but it may be too late for some. Jihae, Alberto Ammann and Clémentine Poidatz star. 9 p.m. National Geographic
Who Do You Think You Are? Regina King and Matthew Morrison trace their ancestries in back-to-back episodes. 9 and 10 p.m. TLC
Independent Lens The new documentary "Man on Fire" recalls the 2014 incident where an elderly white preacher set himself on fire, committing suicide to protest racism in his hometown of Grand Saline, Texas. 10 p.m. KOCE
Christmas Cookie Challenge Host Eddie Jackson tasks five bakers with creating cookies with at least four shades of a given color. Ree Drummond, Jordan Pilarski and Gesine Prado judge the work in the season finale. 10 p.m. Food Network
SPECIALS
Candace Cameron Bure's Christmas Across America From Santa's Village, this new special highlights the most "Christmassy" places in America. 7 p.m. Hallmark
Christmas With the Mormon Tabernacle Choir Featuring Sutton Foster and Hugh Bonneville A holiday concert in Salt Lake City features Tony Award winner Sutton Foster. Hugh Bonneville narrates. 9 p.m. KPBS
America's Got Talent: A Holiday of Champions Host Terry Crews celebrates the season with a variety of past and future contestants, including magicians, singers, danger acts and more in this new special. With Simon Cowell, Heidi Klum, Mel B and Howie Mandel. 10 p.m. NBC
2018: In Memoriam Robin Roberts hosts a tribute to the icons the world lost in 2018 and their lasting legacies. Reflecting on a year that saw the passing of Queen of Soul Aretha Franklin; Sen. John McCain (R-Ariz.); British scientist Stephen Hawking; chef and writer Anthony Bourdain and actors Burt Reynolds and David Ogden Stiers. Among the guests are Patti LaBelle, Sen. Lindsey Graham (R-S.C.), Loni Anderson, Neil deGrasse Tyson, Benedict Cumberbatch and Reba McEntire. 10 p.m. ABC
MOVIES
Bleed Out A young man who was stunned when what was supposed to have been a routine partial hip replacement operation left his mother in a coma, recorded a video diary about the ordeal. His reflections turned into an investigation into health care in America. 8 p.m. HBO
Fail State This new documentary examines the rise of for-profit universities in the United States. 9 p.m. Starz
TALK SHOWS
CBS This Morning Chris Anderson, TED; composer Lin-Manuel Miranda. (N) 7 a.m. KCBS
Today (N) 7 a.m. KNBC
KTLA Morning News (N) 7 a.m. KTLA
Good Morning America (N) 7 a.m. KABC
Good Day L.A. Singer Tinashe; Melissa Garcia; Marsha Warfield; Michael Yo. (N) 7 a.m. KTTV
Live With Kelly and Ryan David Muir; "Live's Merry Money Games"; Rita Ora performs. (N) 9 a.m. KABC
The View (N) 10 a.m. KABC
The Wendy Williams Show (N) 10 a.m. KTTV
The Dr. Oz Show The ingredients and additives that go into some hams. (N) 10 a.m. KCOP; 3 p.m. KTTV
The Real Bobby Brown, Alicia Etheredge-Brown and family. (N) 11 a.m. KTTV
The Doctors Gretchen & Slade; Hilary Williams; germs and bacteria from new clothes. (N) 11 a.m. KCOP
The Talk Gwen Stefani talks and performs. (N) 1 p.m. KCBS
Rachael Ray Gail Simmons ("Top Chef"). (N) 2 p.m. KTTV
Dr. Phil (N) 3 p.m. KCBS
To the Contrary With Bonnie Erbé Women and girls film festival winner "No Choice." (N) 6 p.m. KVCR
Amanpour and Company (N) 10 p.m. KVCR; 11 p.m. KOCE; 1 a.m. KLCS
The Daily Show With Trevor Noah (N) 11 p.m. Comedy Central
The Tonight Show Starring Jimmy Fallon Lin-Manuel Miranda; Tyler "Ninja" Blevins; Black Thought and Salaam Remi perform. (N) 11:34 p.m. KNBC
The Late Show With Stephen Colbert Sandra Bullock; director Barry Jenkins. (N) 11:35 p.m. KCBS
The Late Late Show With James Corden Armie Hammer; Amber Heard; Middle Kids perform; Cardi B. (N) 12:37 a.m. KCBS
Late Night With Seth Meyers Saoirse Ronan; Mike Birbiglia; Patrick Droney performs; Richard Danielson performs. (N) 12:37 a.m. KNBC
Nightline (N) 12:37 a.m. KABC
SPORTS
NHL Hockey The Ducks visit the Pittsburgh Penguins, 4 p.m. FS Prime
NFL Football The New Orleans Saints visit the Carolina Panthers, 5:15 p.m. ESPN.
NBA Basketball The Clippers host the Portland Trail Blazers, 7:30 p.m. FS Prime
For more sports on TV, see
the Sports section.
Customized TV listings are available here: www.latimes.com/tvtimes
Click here to download TV listings for the week of Dec. 16 - 22, in PDF format
---
Inside the business of entertainment
The Wide Shot brings you news, analysis and insights on everything from streaming wars to production — and what it all means for the future.
You may occasionally receive promotional content from the Los Angeles Times.