Emmy red carpet: A prime time to impress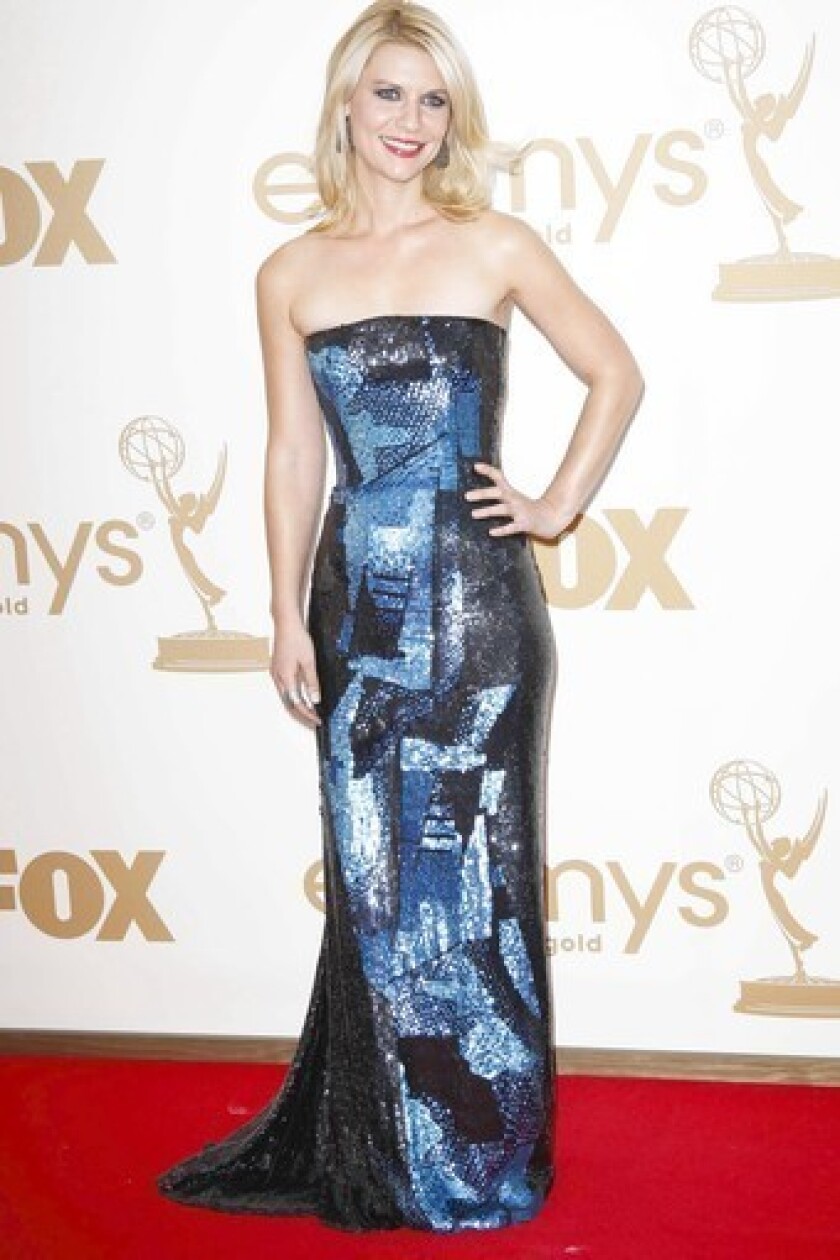 The Emmys used to be seen as an early dress rehearsal for the seriously overloaded awards-season style gantlet that starts in January. But no longer.
Two of fashion's biggest red carpet stars — Nicole Kidman and Julianne Moore ("Hemingway & Gellhorn" and "Game Change," respectively) are among the nominees, along with Claire Danes, Glenn Close and Jessica Lange ("Homeland," "Damages" and "American Horror Story"). Other glamour girls expected at the event include "Mad Men's" Jessica Paré, recently celebrated in Vogue for her red carpet style; "New Girl" Zooey Deschanel, who attracted attention last year in offbeat Prada and twirly Monique Lhuillier gowns, and "Downton Abbey's" Michelle Dockery, leading this year's British invasion of Emmy nominees.
PHOTOS: 2011 Emmy's best and worst dressed
Those names alone should ensure a frenzy of red carpet chatter.
"I used to say it was the Golden Globes, but the Emmys really set the tone for the season now," said celebrity stylist Deborah Waknin, who's dressing her regular, Sofia Vergara, as well as Emmy presenter Hayden Panettiere this time around.
What's more, this year the Emmy Awards follow New York Fashion Week, instead of preceding it as in years past. That means stylists for high-priority nominees and presenters can pull from the new spring 2013 collections, although fashion houses also have to juggle those requests with editorial shoots and sales appointments.
"We know stylists like to have the newest collection at their disposal," said Sahar Sanjar, founder of the fashion public relations firm La Chambre, adding that many of her designer clients (Nicole Miller, Erin Fetherston) have made the red carpet their priority and shipped collections to be viewed in the week prior to the awards show. Film Fashion's Carla Blizzard said designers such as Pamella Roland and Tadashi Shoji have done the same thing, while a representative for Naeem Khan zipped into town last weekend instructing stylists that any choices had to be locked up right away so the rest of the sample gowns could be returned to market.
That doesn't mean red carpet watchers will see Fashion Week standouts such as the dominatrix-lite harness dresses from Jason Wu, the silvery Warhol-esque columns from Marc Jacobs or the full-stop Bollywood fantasia from Marchesa. And that's probably a good thing, because over-the-top fashion and celebrity wattage can lead to disaster on the red carpet.
On the other hand, that doesn't mean Wu won't be represented. Pre-awards talk among fashion publicists around town already had one of the prime "gets" — Allison Williams of HBO's "Girls" — committing herself. Did she signal her (probably custom-designed) choice when she turned up at Wu's runway show, her sole appearance during New York Fashion Week?
Another New York designer recognized for his youthful elegance, Bibhu Mohapatra, emailed a link during fashion week to a Glenn Close appearance on "The View," where she revealed that the "wonderful young designer" was dressing her for the Emmys.
Waknin ticked off a list of New York designers with potential red carpet placement: Donna Karan ("she has a whole new team"), Vera Wang ("she knocked it out of the park"), Marchesa, Zac Posen, Reem Acra, Lhuillier ("great, great gowns") and Carolina Herrera ("very original, the gowns looked like paintings").
That's in addition to the expected international names, such as Roberto Cavalli, Valentino, Armani and, possibly, Giambattista Valli (a favorite of stylist Cristina Ehrlich, who dresses Paré and Julianna Margulies). "And I've heard maybe even Prada might be getting in the game," Waknin said.
As far as trends go, everyone agrees that the Emmy red carpet likes color, and, according to Film Fashion publicist Blizzard, "jewel tones are always popular." From the recent New York shows, there's also a preference for the cooler tones of purple, teal and sea foam.
It's unlikely that many actresses will break the long-gown custom to wear a short dress, even though it's a perennial topic of conversation. Nonetheless, local designer David Meister says he always loves to see an actress "wear a major cocktail dress with a sick shoe."
Indeed, at last year's Emmys, that combination of mini and distinctive footwear was worn by nominee Laura Linney, who looked chic and modern in the onstage lineup of comedy actresses.
And that kind of individuality shouldn't be overlooked, according to Sasha Charnin Morrison, fashion director for Us Weekly. "When it's all starting to blend into one thing, it's exciting to see something unexpected or some designer we never thought would be red carpet material."
---