First Look: Danny Trejo talks vegan tacos at the new Trejo's Tacos on La Brea
Actor Danny Trejo holds a tray of tacos at his new taco restaurant, Trejo's Tacos.
(Jenn Harris / Los Angeles Times)
The pulled beef brisket taco from Trejo's Tacos comes with shredded chips.
(Jenn Harris / Los Angeles Times)
The avocado taco from Trejo's Tacos.
(Jenn Harris / Los Angeles Times)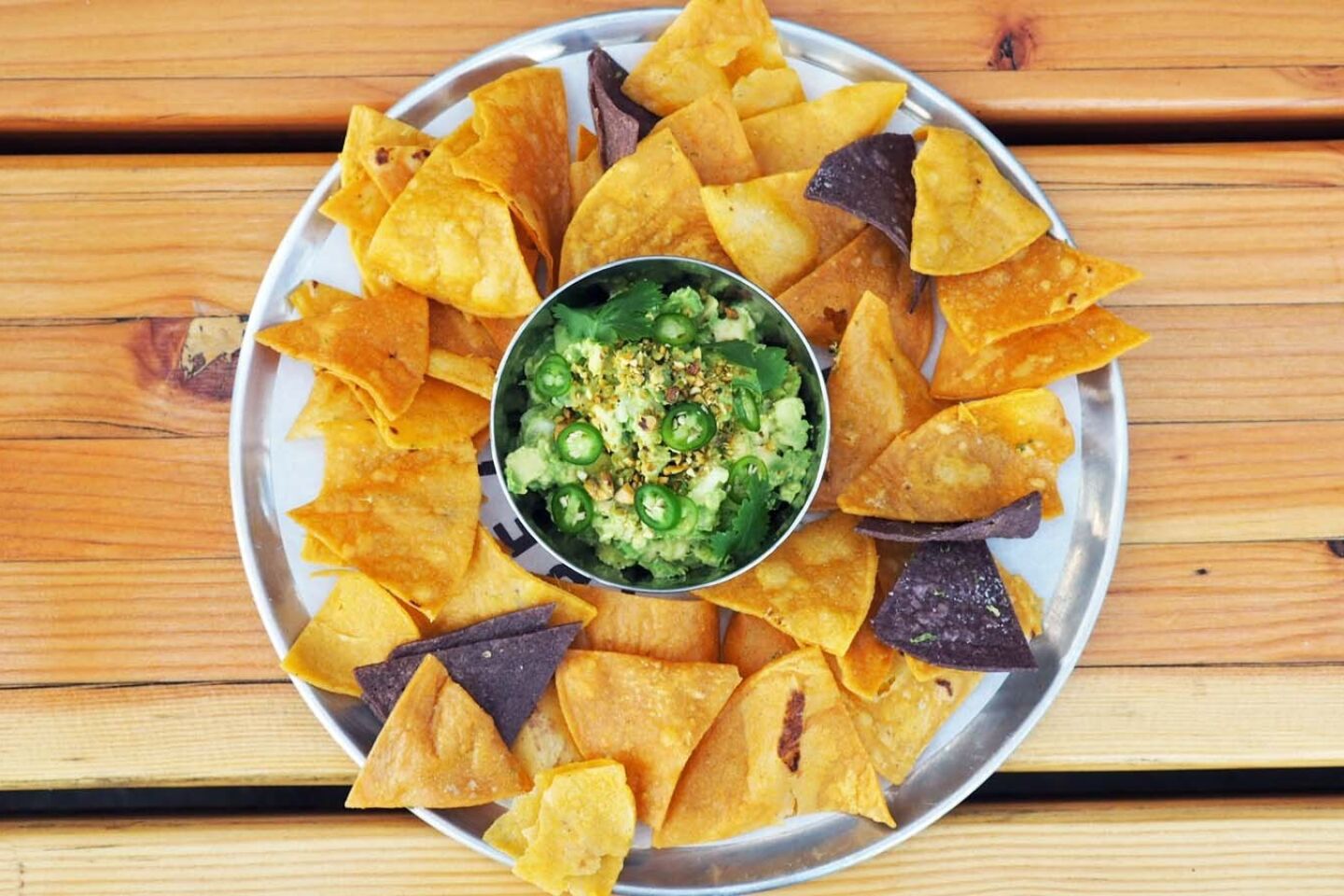 Chips and guacamole from Trejo's Tacos.
(Jenn Harris / Los Angeles Times)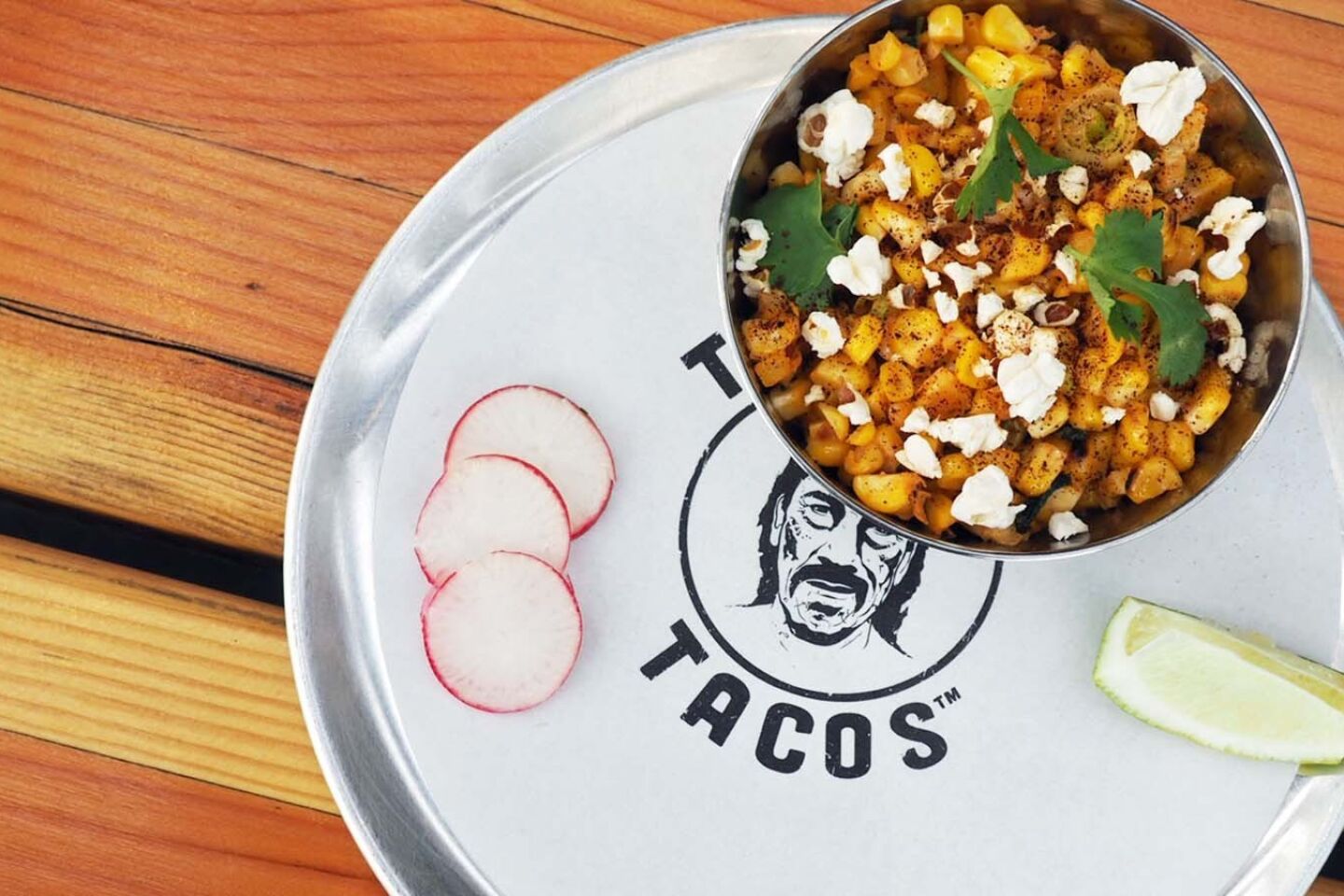 The fire roasted corn comes topped with popcorn at Trejo's Tacos.
(Jenn Harris / Los Angeles Times)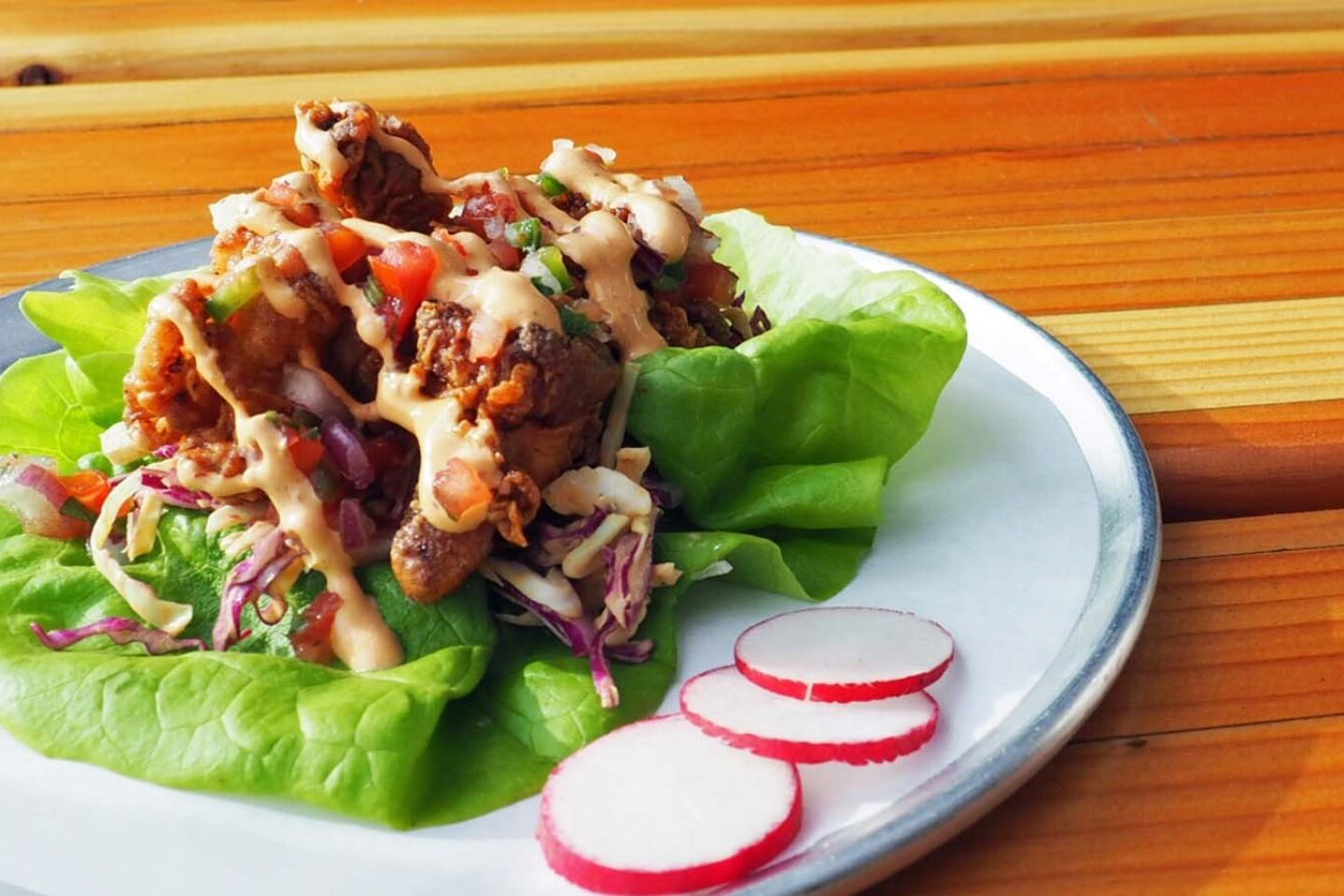 The fried chicken taco comes on a lettuce leaf from Trejo's Tacos.
(Jenn Harris / Los Angeles Times)
If you've driven down La Brea Avenue near Olympic Boulevard over the past couple of weeks, you may have noticed a big sign for Trejo's Tacos, featuring the face of actor Danny Trejo, that cool guy from the "Machete" movies and "From Dusk Till Dawn."
This is Trejo's new taco restaurant — a project from Trejo, film producer Ash Shah and Jeff Georgino. Trejo actually wanted there to be a hand wielding a machete attached to the sign, but unfortunately, that didn't happen.
Machete-wielding sign or not, the three owners plan to have a soft opening early next week, then officially open with expanded hours and an expanded menu the week after.
"We have 10 different tacos," said Trejo. "It's just stuff that everybody likes."
It's not exactly that simple. The menu was designed by Daniel Mattern (formerly of Cook's County). The red and green salsas are fermented in-house. The black pepper tofu taco is inspired by none other than Yottam Ottolenghi's black pepper tofu.
Yes, there's tofu on the menu, served in a taco with serrano chiles. There's also an Austin-style fried avocado taco with refried Rancho Gordo black beans.
"Here, we wanted to include everybody, so we have a great vegan menu and gluten-free menu," said Trejo.
"We try to be as vegan and vegetarian-friendly as possible, considering it's such a big movement now," added Shah.
That means there's an organic chopped kale salad on the menu, organic "super rice" made with quinoa and brown rice, and something called a "sneaky" quesadilla for the kids, made with a mung bean tortilla, farmers market greens and a three-cheese blend. But it's not all vegetarian. There's also a fried chicken taco that comes in a lettuce cup instead of a tortilla and a shredded beef taco.
"There's a street corn," said Trejo. "It's my agent Gloria's recipe. But you have to understand — you can throw a dart at our menu and get a great taco."
And if there's anything left over after the restaurant has stopped service, it gets donated to a local homeless shelter.
"Nothing is kept overnight," said Trejo.
To drink, there's a rotating list of seasonal aguas frescas, housemade date-sweetened horchata and kombucha on tap. Also on tap is Trejo's own Cerveca, brewed in the Arts District downtown.
Trejo has a growing food and beverage empire: Behind the counter at the new restaurant are bags of Trejo's coffee, a South American blend roasted locally by Zona Rosa Coffee in Pasadena. Trejo and his team are also working on Trejo's ice cream sandwiches. You can stop in and buy a beanie, baseball cap or shirt featuring the Trejo's Tacos logo.
The restaurant itself, designed by Kristofer Keith of Spacecraft Design Group, offers a small dining room inside, with most of the seating outside on the patio, where there are communal tables, surrounded by artwork by local artist Ernesto Yerena. One of the pieces of art shows Trejo, wearing an apron, holding two cleavers.
And this is just the beginning for Trejo's Tacos. There are already plans to open a second location in Hollywood, near the corner of Cahuenga Boulevard and Selma Avenue, next to Big Wangs.
1048 S. La Brea Ave., Los Angeles, www.trejostacos.com.
Follow me on Twitter and Instagram @Jenn_Harris_
ALSO:
5 vegetarian recipes for rich winter soups
You'll soon be able to go wine tasting in a cave in Temecula
Catch & Release in Marina del Rey closes; Italian restaurant forthcoming
Get our L.A. Goes Out newsletter, with the week's best events, to help you explore and experience our city.
You may occasionally receive promotional content from the Los Angeles Times.