Easy dinner recipes: Three quick gazpacho ideas for Meatless Monday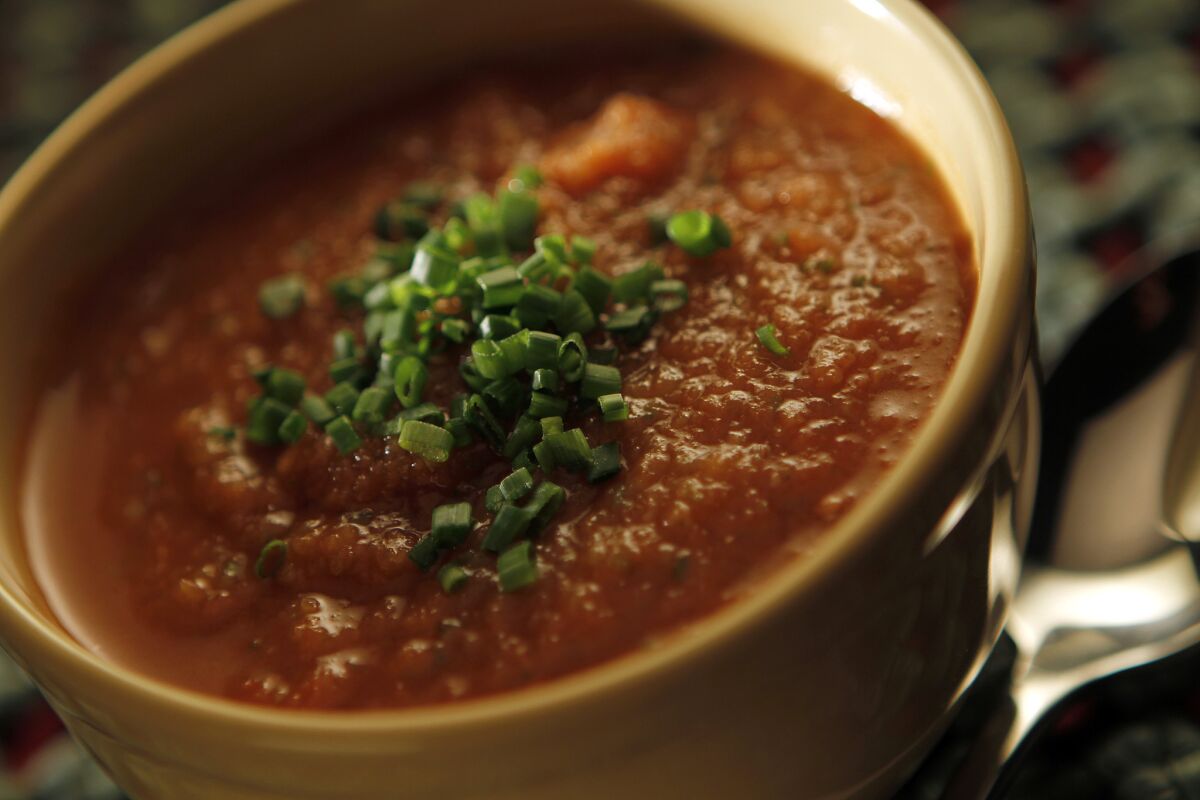 It's Meatless Monday. Nothing beats the heat like a cool summer soup. Keep it fun and simple for dinner tonight with tempting gazpacho ideas that come together in minutes.
Urth Cafe's gazpacho: Fresh tomato, cucumber, onion and bell pepper form the base of this soup, brightened with a touch of red wine vinegar and lemon juice and spiced with cayenne pepper and hot sauce. The dish itself comes together in only 30 minutes, then simply chill before serving.
White gazpacho with grapes: For a variation on classic gazpacho, try this white version with grapes. Nicely thickened with soaked bread and ground almonds, the simple soup is further flavored with a few cloves of garlic, extra-virgin olive oil and sherry vinegar. Garnish it with green grapes and dinner is served.
Tierra Sur's heirloom melon gazpacho: Chef Todd Aarons was happy to share his recipe for this light, refreshing soup, perfect for this time of the year. He suggests using heirloom melons from the farmers market, such as those from Weiser Family Farms. He particularly likes their Sugar Queen, Butterscotch or Ogen melons. Aarons also suggests using slightly underripe melons, since you don't want the soup to be too sweet. You can find the recipe below.
TIERRA SUR'S HEIRLOOM MELON GAZPACHO
Total time: 30 minutes, plus chilling time | Serves 4 to 6
Note: Adapted from chef Todd Aarons at Tierra Sur in Oxnard.
2 cups cubed French baguette or batard, all crusts removed, and cut into small cubes (about 1 baguette), divided
1/4 cup plus 2 tablespoons white wine, Champagne or sherry vinegar
4 cups cubed, peeled and seeded melons (preferably heirloom, such as Sugar Queen, butterscotch, Ogen, Ananas)
1/4 cup diced red onion
1/4 cup extra-virgin olive oil, plus extra oil for frying the croutons
3 dried bay leaves, ground to a powder
Sea salt
1/2 cup ice cubes, or as needed
Smoked paprika, garnish
1. In a bowl, soak 1 1/2 cups cubed bread in the vinegar.
2. Meanwhile, using a blender or food processor, puree the melons and red onion. Add the soaked bread and vinegar to the food processor and puree until completely smooth.
3. With the motor running, slowly add the one-fourth cup olive oil, then the ground bay leaves. Taste, and adjust the seasoning with salt.
4. If the soup is overly thick, add a few ice cubes and puree until the desired consistency is achieved. Taste and adjust seasoning with salt and vinegar.
5. Transfer the soup to a nonreactive metal bowl and chill before serving. This makes about 4 cups soup.
6. While the soup is chilling, fry the garnish. Pan-fry the remaining cubes of bread in a hot skillet with a little olive oil until evenly toasted and golden brown. Season to taste with a light sprinkling of salt.
7. Serve the soup, garnished with a few croutons and a sprinkling of paprika.
Each of 6 servings: 145 calories; 2 grams protein; 14 grams carbohydrates; 1 gram fiber; 10 grams fat; 1 gram saturated fat; 0 cholesterol; 7 grams sugar; 93 mg. sodium.
Love cooking as much as I do? Follow me @noellecarter
Get our L.A. Goes Out newsletter, with the week's best events, to help you explore and experience our city.
You may occasionally receive promotional content from the Los Angeles Times.