Lindy without Grundy? The store will go on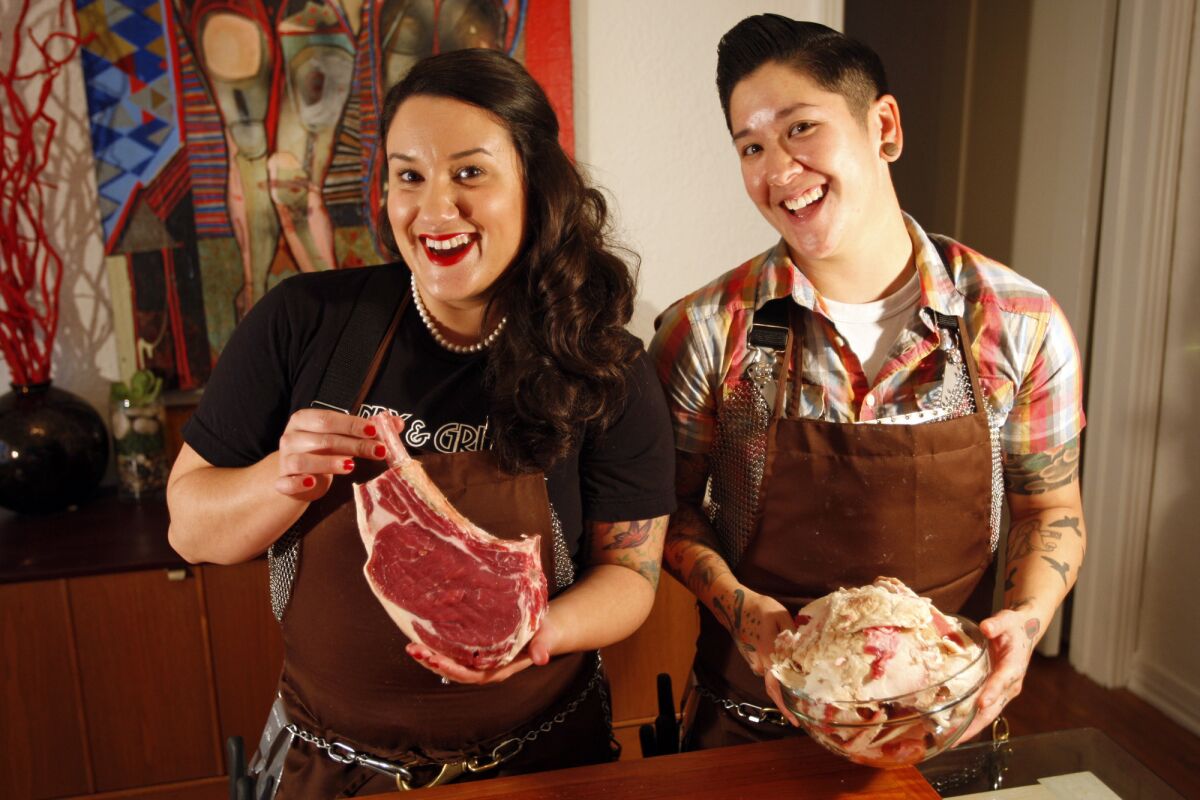 What will Lindy do without Grundy? Just watch and see.
Erika Nakamura, half of Lindy & Grundy, the charismatic butchering team that helped introduce Southern California to the concept of sustainable meat, has moved back home to New York City. Her former partner (and spouse) Amelia Posada is staying in Los Angeles and will run the store without her.
"This has been so hard," Posada said. "We were together for eight years, we got married, we started this incredible business together. It was absolutely the hardest and most exciting and challenging three years we've ever had. We didn't have a mentor, we didn't have business partners, we didn't have anything but each other and a passion and a lot of moxie.
"But we have been working on our personal lives quite some time, too, and it just got to the point where this had to happen. It was a hard decision, the hardest decision, but we both knew in our hearts that it was what she had to do.
"Trust me, there were lots of tears there. And there still are. She left on Tuesday and I needed to take the day off. She is still my best friend, and we'll always be there for each other to collaborate or help each other out."
Posada, who was raised in Pasadena, will remain at the little shop on Fairfax Avenue and is making plans to expand the business. In fact, the first stage will roll out next week, with the unveiling of a more fully stocked selection of prepared meats and charcuterie, all produced in-house.
"We'll have chili and sandwiches, smoked meats, mortadella, all of our deli meats, we're really going to expand on all of that," Posada said. "Me and my cooks have been gearing up for three months to fill up the prepared food cases. Lamb ragu, chicken salad, we've got 30 recipes already ready to fill up this deli case."
The shift in emphasis is based on two things, Posada said. First, the store has a lot of talented cooks on staff -- many of their butchers started in restaurant work. And, most important, that's what the customers are asking for.
"My main customers are mostly young working families, and they're working 10 hours a day and they've got kids and everything else," she says. "They'd tell me 'Amelia, if you could just have pulled pork in that case and have it done for me, roast chicken, whatever, I'd buy it.'
"We've always been receptive to change and doing whatever our customers ask for. Now people are wanting to come in and get their food to go."
In the past, it was Nakamura who concentrated mostly on the butchery side of the business while Posada was the social one. Now, Posada says, the rest of their staff will have to concentrate on the meat.
"When we first opened, it was me and Erika butchering whole animals side by side and nobody out front," she says. "But just by my nature, I'm much more the community shop mama, I know every customer by name. So that's what I graduated to."
Posada says the deli case is just the start of the changes she has in mind. "I've got crazy awesome ideas to expand Lindy & Grundy in L.A. beyond the butcher shop. And I'm so grateful that I've got a really talented, loyal staff who will do anything for us.
"We've been running this damned thing for three years and I'm ready to go another 30. Just without Grundy to help me."
Lindy & Grundy, 801 N. Fairfax Ave., Los Angeles, (323) 951-0804.
Twitter: @russ_parsons1
---
Get our weekly Tasting Notes newsletter for reviews, news and more.
You may occasionally receive promotional content from the Los Angeles Times.