Are Americans stuck with tipping?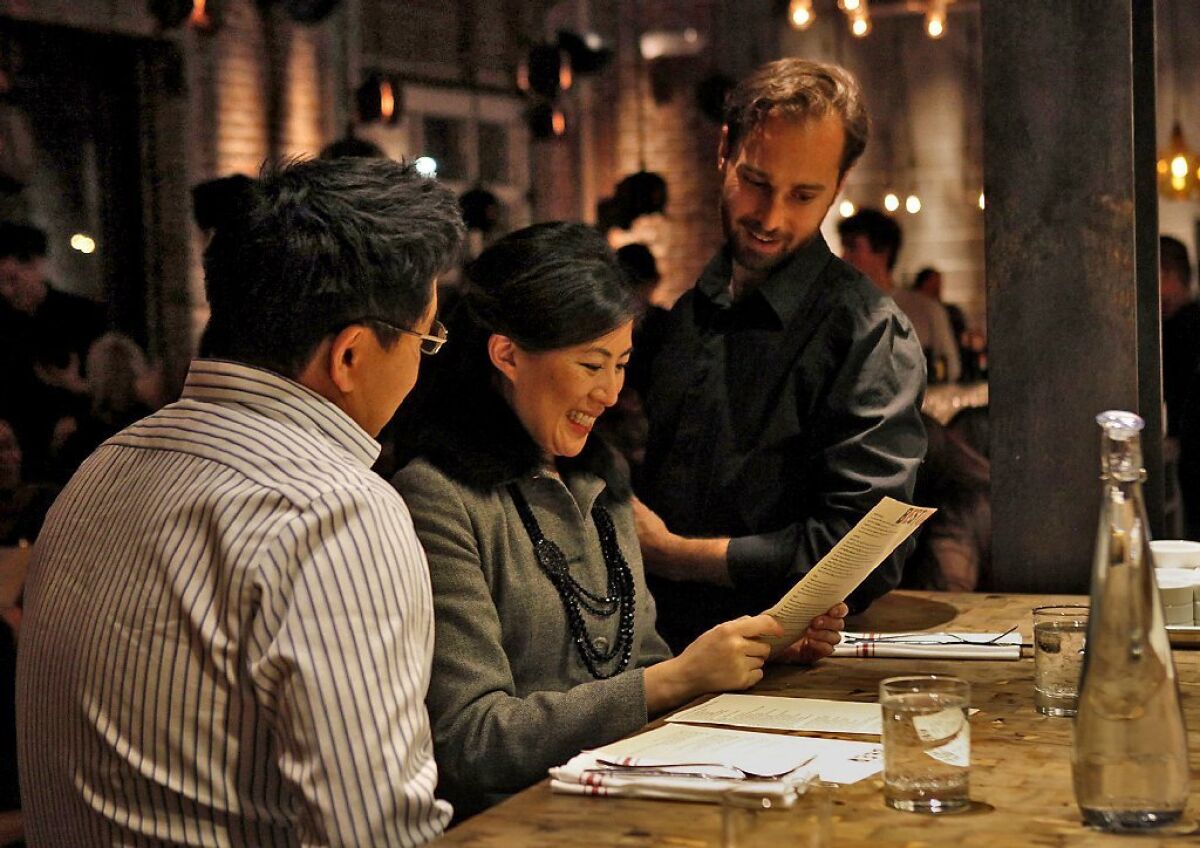 Should tipping be abolished? Many are calling for just that, arguing that there's no correlation between better service and better tips and that tips are often abused.
But another question is: Can tipping be abolished? Experts -- and history -- say we're probably stuck with it.
A spate of restaurants, including Sushi Yasuda in New York and Trois Mec and Nozawa Bar in Los Angeles, have done away with tipping -- instituting either higher prices or a service charge -- and garnering plenty of recent media attention.
Jonathan Gold quiz: Sticky, sticky peanut butter
But efforts to end tipping in the U.S. began as soon as the custom was introduced. Tips, or T.I.P. for "to insure promptitude," are said to have originated in 17th century English taverns. The concept wasn't brought to America until the late 19th century, when wealthy travelers wanted to emulate Europeans, and it didn't sit well with vocal opponents who didn't like the whiff of creating an aristocratic class.
More than 120 years later, despite several high-profile restaurants that have done away with tipping, "I think it's very difficult to eliminate," says Michael Lynn, a professor in Food & Beverage Management at Cornell University's School of Hotel Administration with a doctorate in social psychology. In fact, he says, "the media keeps wanting to write articles about something that's never going to happen" for a variety of economic and social reasons, including customers' ego, elitism or wanting to conform.
Both servers and diners in the U.S. eventually embraced tips. By 1915, legislators from several states tried but failed to pass bills outlawing gratuities. (Nobody wanted to stiff a waiter.)
And by the time the Supreme Court affirmed in 1942 that servers owned their tips and didn't have to give them up to their bosses, it was the basis of a work and dining culture that has become ingrained. A built-in incentive to increase restaurant sales led to excellent service, diners liked "voting" with their tip, and in the '20s and '30s it provided a way to earn a living wage, especially for women.
Then Congress created the tip credit, which allows restaurants to pay servers less than full minimum wage because the state assumes that employees make it up in tips. Several states, including California, still require servers to receive the full minimum wage. One argument for the tip credit was that employers could then afford to pay better wages to cooks, who typically make far less than servers. (But occasionally restaurants took the tip credit while also requiring servers' tips to be shared with the back of the house.)
When in 1989 Berkeley's Chez Panisse did away with tips and instituted a service charge automatically added to the bill to address wage disparities, customers were livid -- and servers weren't too pleased either. A service charge isn't a tip; in Chez Panisse's case it goes to a general fund that pays for higher wages and benefits for all staff, not just servers.
Nearly 25 years on, it's still an issue with some customers (who don't like being told what to do with their money) and servers (who feel they're not getting what's theirs). For restaurateurs who don't take the tip credit, a service charge can be distributed by the house in whatever way it sees fit, though state and federal laws have at times been conflicting.
Economists say there's no really good reason for people to tip -- partly because a tip at the end of a meal isn't going to improve services already provided. In California, there's no legal reason not to institute a service charge in lieu of tips. But, except for a handful of restaurants, businesses are loath to introduce service charges or raise menu prices to offset higher wages.
According to an article published this week by the New York Times' Pete Wells, who called tipping "irrational, outdated, ineffective, confusing, prone to abuse and sometimes discriminatory," chef Tom Colicchio of the Craft empire of restaurants said he was considering prices that include service wages.
Others such as David Chang won't go that route, the article said, quoting a restaurant lawyer who consulted the chef of Momofuku fame: "It's a change in legislation that we need, and a change in the American diner's view on tipping. And that's even harder than changing legislatures."
The customer view might be changing, but very slowly. They still want and prefer to tip, studies show. "Some people are always going to tip for their own intrinsic reason," says Lynn. "Employers could say, 'Employees are not allowed to accept tips and if they do, I'm firing them.' And some customers are going to tip anyway."
Old habits die hard, even at Sushi Yasuda, where some diners still try to leave tips.
ALSO:
Trying to find wine at Trader Joe's? Here's one to buy
Ramen Burger headed to Los Angeles area on Saturday
---
Get our weekly Tasting Notes newsletter for reviews, news and more.
You may occasionally receive promotional content from the Los Angeles Times.