Gold review: At Baroo, a taste of the future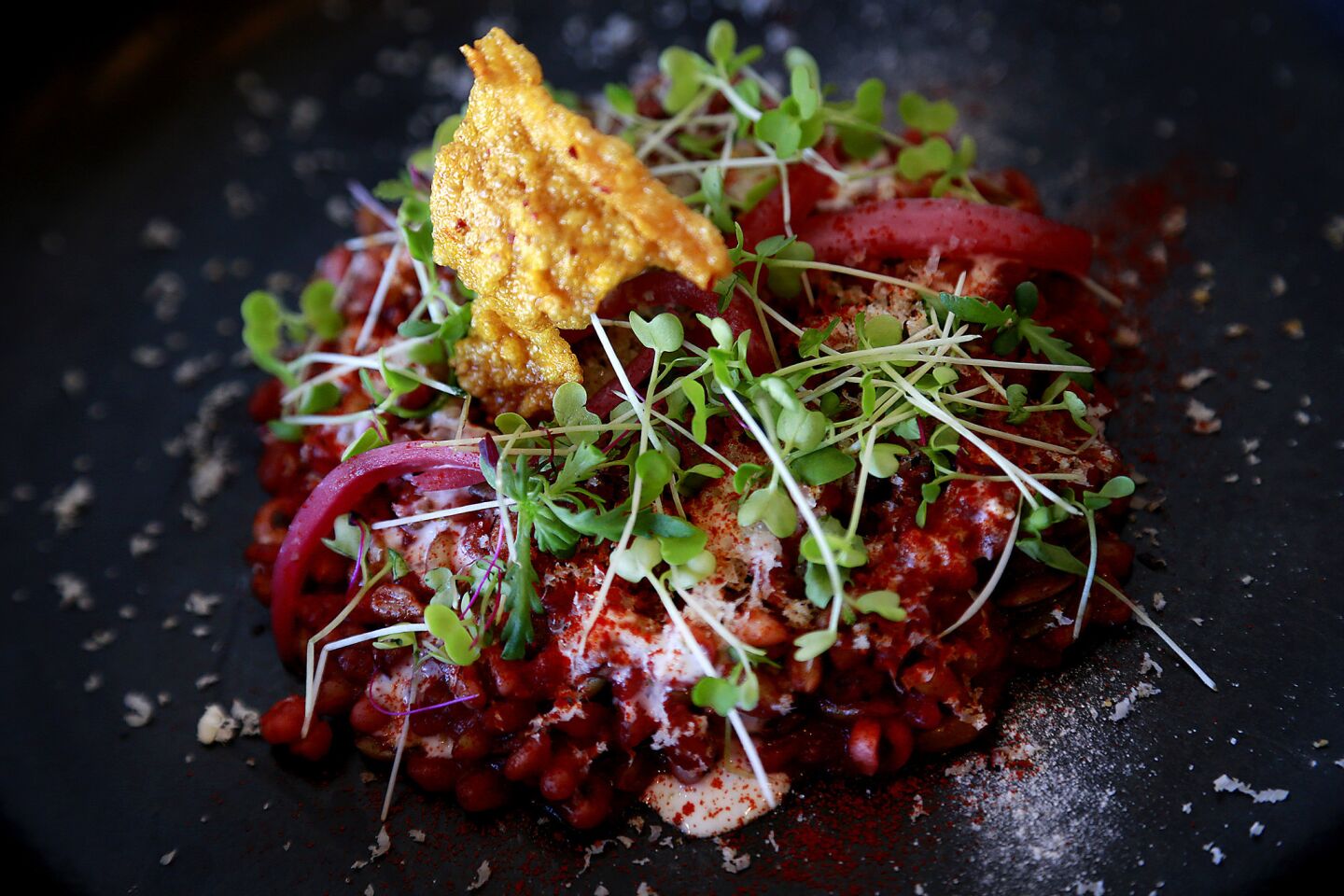 Baroo's Noorook features mixed grains with Job's tears, Kamut, farro grains, roasted koji beet cream, concentrated kombu dashi, toasted sunflower and pumpkin seeds, macadamia nuts, fingerlime and rose onion pickle.
(Kirk McKoy / Los Angeles Times)
The Baroo dish known as Asian Fever consists of Amira basmati rice, southeast Asian inspired housemade mix, lemongrass and coconut foam with sake lees, crispy shrimp chips, heirloom cherry tomatoes and lime supreme.
(Kirk McKoy / Los Angeles Times)
Located at 5706 Santa Monica Blvd., Baroo is a minimalist space with communal seating and Korean American dishes, kombucha and other fermented fare.
(Kirk McKoy / Los Angeles Times)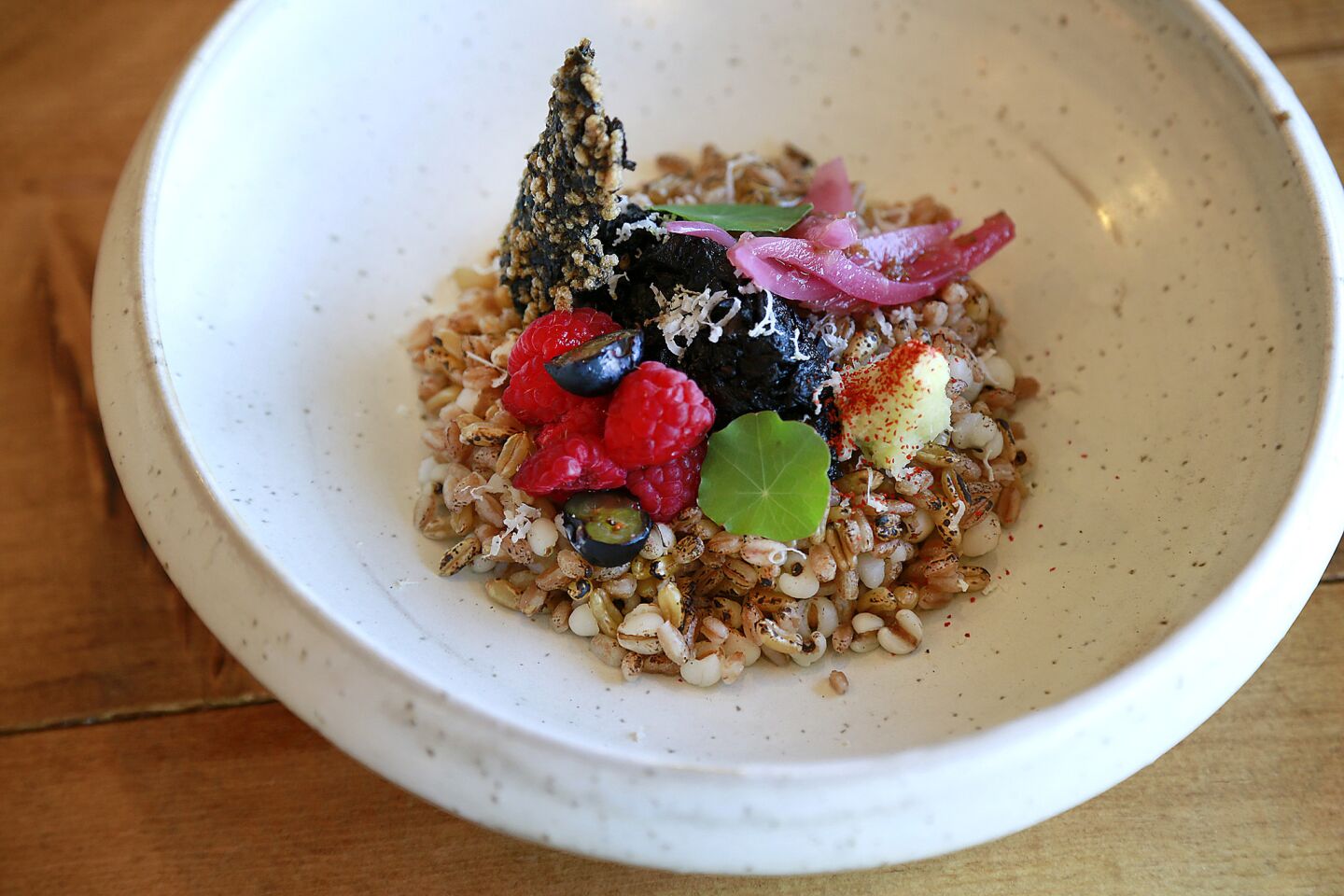 Gim (seaweed) with Job's tears, Kamut, Farro grains seasoned with amajuke, assorted seaweed compote with shiitake and tofu, nasturtium, nori chip, mixed berries, wasabi daikon, lime onion jalapeno pickle.
(Kirk McKoy / Los Angeles Times)
Celeriac is a handmade pasta dish with celery roots, celery crudite with pickled mustard seeds, celery ash, crispy Jerusalem artichoke and edible flowers.
(Kirk McKoy / Los Angeles Times)
Owner-chef Kwang Uh plating the Kimchi fried rice. Uh is interested in combining natural ingredients and fermentation techniques to create some of the restaurant's flavorful morsels.
(Kirk McKoy / Los Angeles Times)
Uh ferments his ingredients on a shelf that sits in the restaurant.
(Kirk McKoy / Los Angeles Times)
Fermented ingredients, including lemons, plums, cherries, wait to be used in a dish.
(Kirk McKoy / Los Angeles Times)
Fermented ingredients wait to be used in a dish.
(Kirk McKoy / Los Angeles Times)
Baroo's Ragu Style dish is made up of spicy faux oxtail ragu, tendon puff, gremolata with heirloom cherry tomatoes, krout powder and 3-year aged parmagiano reggiano.
(Kirk McKoy / Los Angeles Times)
Customers are served at Baroo.
(Kirk McKoy / Los Angeles Times)
Uh puts the finishing touch on a bowl of kimchi fried rice.
(Kirk McKoy / Los Angeles Times)
Kimchi fried rice includes pineapple fermented kimchi, amira basmati rice, sous vide egg, gremolata, pineapple jalapeno salsa, purple potato chips, roasted seaweed, toasted buckwheat, quinoa and micro greens.
(Kirk McKoy / Los Angeles Times)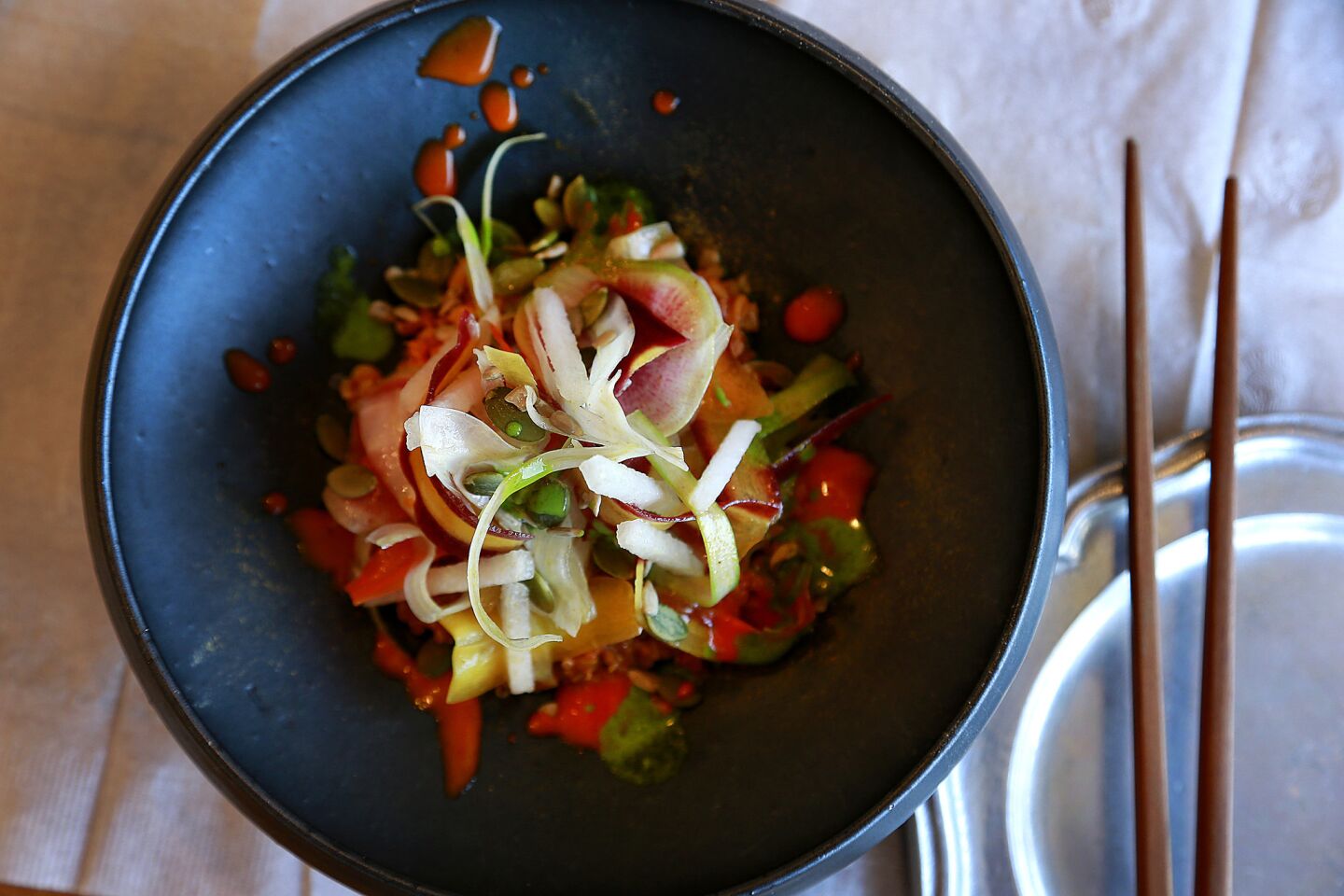 Bibim Salad consists of assorted grains with oat, quinoa and bulgur, vegetable crudite with fennel, celery, asparagus, baby radish, heirloom, toasted pumpkin seeds, toasted sunflower seeds, gochujang, san marzano dressing, herbs coulis, passion fruit powder, baby kale and Asian pear.
(Kirk McKoy / Los Angeles Times)
The passion fruit tart is made with vanilla bean tart, passion fruit curd, macha yuzu chiffon and elderflower meringue.
(Kirk McKoy / Los Angeles Times)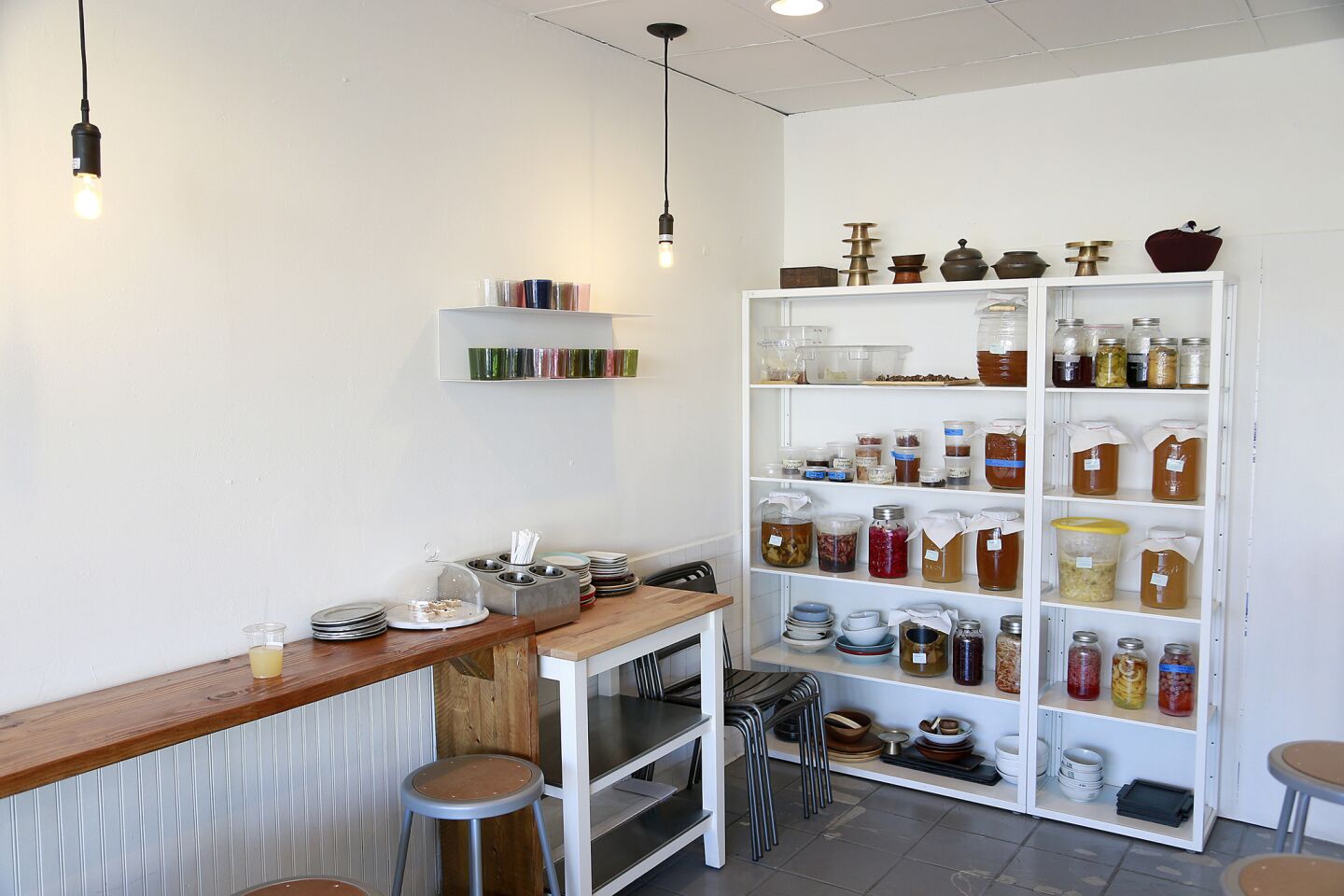 Another look at the fermented ingredients shelf at Baroo.
(Kirk McKoy / Los Angeles Times)
Fermented ingredients wait to be used in a dish.
(Kirk McKoy / Los Angeles Times)
RESTAURANT CRITIC
Before you read any further, you should probably know that the restaurant I'm about to describe has as its specialty a pink, creamy plate of mold. I still think you should check it out.
The mold in question is Aspergillus oryzae, which has been used to kick off fermentations in Asia for centuries. The Japanese call their version koji and use it to make miso, natto, soy sauce and sake, among other things. The transformative properties of aspergillus are inescapable in Japanese cuisine. Koreans call the mold noorook, as does Baroo, the restaurant we're talking about here. Noorook is used for many things, especially in making the home-brew rice wine makgeolli. Aspergillus seems to have an almost magical ability to wrestle not just alcohol, but the flavor known as umami out of grains. This mold is civilization itself.
SIGN UP for Jonathan Gold's Counter Intelligence dining newsletter >>
At Baroo, of course, you are served neither a plate of pure mold nor really a bowl of moldy things. The noorook here is a lumpy, herb-strewn gruel, dyed a sort of pinky brown with beets, slightly tart, almost comically savory. The lumps are carefully fermented grains, some of which, like kamut or Jacob's tears, you may have never seen outside a health-food store. For a while, I suspected the presence of beans, because the pleasantly fragrant mass reminded me a little of cheonggukjang, the milder Korean equivalent of Japanese natto, but I was assured that was not the case. The slight nuttiness also seems to have little to do with actual nuts, although the dish does contain toasted sunflower seeds and chunks of soaked macadamias for texture. There is reduced seaweed broth in there too, if you're keeping score, and a chip of some sort, and pink onions scented with rose petals.
Noorook tastes like nothing I have ever come across. But it does taste like the future. And whether the future it points to might be idyllic or dystopian, one of utopian bliss or one of nutrislime cultivated in jars when the radiation forces us all into underground caves, I am not prepared to say. But I do know that I like this noorook. I have ordered it every time I have been to Baroo. I recommend that you do the same.
Baroo is a tiny new restaurant near Hollywood Forever cemetery, a modest storefront wedged between a 7-Eleven and a Oaxacan take-out in a faded strip mall. There are a couple of long, shareable tables, a couple of counter seats and a few awkwardly placed stools. One wall is taken up with the room-length blackboard on which the menu is scrawled. Shelves by the open kitchen hold plastic containers and cloth-topped jars; clumps of fermenting pastes, berries and vegetables that look less like tomorrow's dinner ingredients than they do like scientific projects.
I have once seen a display like this — not in Copenhagen's Noma but in its Nordic Food Lab, confined to a houseboat moored a few yards outside the kitchen, as if its wild investigations into seaweeds, gorse and fermented sand crabs needed to be quarantined from the proper gastronomic activity in the restaurant. Not incidentally, Baroo's chef, Kwang Uh, a native of Seoul, staged for a moment at Noma, as well as at the slightly insane Michelin three-star Piazza Duomo in Alba, Italy, and the aggressively avant-garde Quique Dacosta near Valencia, Spain. His intent is clear, and it includes handmade fettuccine with ribbons of shaved celery root, and mixed seaweeds with chiles and finger lime, but neither kale salad nor uni toast. He and his partner, Matthew Kim, sometimes seem surprised that he has customers at all.
So you find yourself a chair, perhaps nudging a display of shortbread out of the way; you pick up utensils and share plates; and you head to the deli-style refrigerator to grab a cup of kombucha. You resign yourself to the lack of appetizers. You scan the wall menu for anything that looks familiar, and you probably ask the people sitting next to you for advice. A red V stands for vegan, about two-thirds of the menu; GF indicates gluten-free. You maybe get some pickles — pickles sound good! — and spend 10 minutes trying to puzzle out which of them might be passion fruit kraut, which might be watermelon rind, and which might be cabbage with pineapple.
So you try the bibim salad, which at least sounds like something you've had before, and you end up with half of a Whole Foods in a matte black bowl — oats, quinoa and bulgur; fennel, celery, asparagus, radish and carrot, pumpkin and sunflower seeds, the Korean chile paste gochujang and Italian tomatoes from Campania, a baby kale leaf or two, herbs, slivered Asian pear, and a tangy dusting of what you assume is passion fruit powder. It is the weaponized version of the ubiquitous Things in a Bowl. Kimchi fried rice tastes strongly of fermented pineapple, which is kind of a thing here, but it is spicy and comes with a poached egg on it — also bits of slab bacon for an extra couple of dollars, although the bacon is closer to Cambodian cured meat than to anything you might find at Ralph's.
If you can bring yourself to order something called Asian Fever, which has extra-culinary implications that Uh may not have in mind, you will be rewarded with a dish of rice and herbs extravagantly scented with coconut and dried shrimp. And when you get to Uh's pasta with ragu, you are not sure whether the faux oxtail is made with textured vegetables, whether the puffy chips of fried tendon are fashioned from mushrooms, or the Parmigiano-Reggiano is a clever dried extract. When you are looking to taste the future, it can almost be disappointing to discover that what you are eating is a regular bowl of pasta with tomatoes, cheese and meat.
::
Baroo
An ode-to-fermentation restaurant in an L.A. strip mall
LOCATION
5706 Santa Monica Blvd., Los Angeles, (323) 819-4344, baroola.strikingly.com
PRICES
Pickle assortment, $2 per person; one-dish meals $9-$15.
DETAILS
Open 11 a.m. to 9 p.m. Tuesdays to Saturdays, 5 to 9 p.m. Sundays. Credit cards accepted. No alcohol. Lot parking.
RECOMMENDED DISHES
Noorook, kimchi fried rice, celeriac.
Get our L.A. Goes Out newsletter, with the week's best events, to help you explore and experience our city.
You may occasionally receive promotional content from the Los Angeles Times.