Details of Fox executive's slaying revealed in grand jury transcripts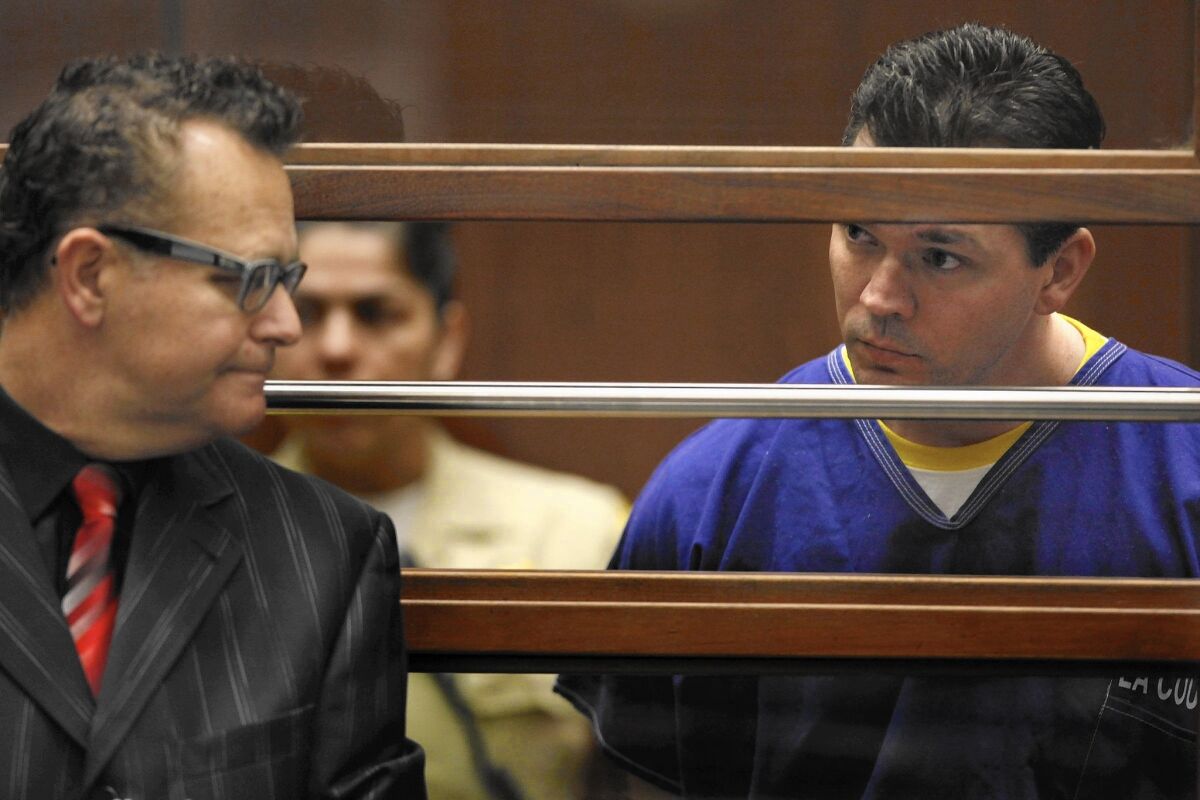 Evan Smith recalled standing with his little brother in the foyer of John Creech's home in December 2010 and begging Creech to spare their father's life.
Creech had recently learned that his wife was having an affair with the boys' father, Gavin Smith, after they met in rehab two years earlier.
Creech told the brothers they had "saved" their father's life by coming to him that day, Evan Smith recalled in recent testimony before the grand jury.
The promise would not last long, prosecutors allege.
Evan Smith's account and additional details about what led authorities to seek a murder charge against Creech are contained in hundreds of pages of grand jury transcripts made public Monday. Grand jurors indicted Creech last month in the death of Gavin Smith, a 20th Century Fox executive who went missing in 2012 before hikers found his body in a shallow grave in the desert outside Palmdale last October.
Creech, a convicted drug dealer, has pleaded not guilty.
His estranged wife, Chandrika Cade, told grand jurors that Creech sneaked up on a late-night lover's lane rendezvous between her and Gavin Smith on May 1, 2012, and started pummeling Smith as she screamed for help.
Cade described Creech as a large, muscular man who took testosterone and growth hormones. As he beat Smith, Cade testified, Creech turned to her with a look in his eye "like he was going to hurt me. I've seen that look before."
As he pinned Smith down and punched him, Creech stopped only to tell his wife, "you're next," before she fled to the nearby home she shared with Creech and other family members, she told grand jurors.
"He's going to kill me," she screamed as she entered the home, according to testimony from her aunt who was at the home.
Cade armed herself with a chef's knife, locked all the doors to the house and went to her sick grandmother's bedside. Creech, Cade testified, returned to the home and told his wife he wouldn't hurt her; he needed a ride back to Smith's car to "bring Gavin to the hospital."
Cade said she dropped Creech off near Smith's Mercedes-Benz and returned home, according to the transcripts. Creech returned alone and covered in blood, she testified. He told her Smith "was dead" before the pair burned their clothes in the home's fireplace.
A frantic Creech made several early-morning phone calls and eventually reached bodybuilder Stan McQuay, who he knew from their gym, according to testimony from McQuay and other witnesses.
Creech showed up at McQuay's Porter Ranch house and stored Smith's Mercedes in his garage, McQuay told grand jurors. McQuay said he saw an object wrapped in a white sheet in the front passenger seat. As Creech walked out of the garage, McQuay noticed he was covered in blood and finally asked him, "What is going on?"
Creech told McQuay he had gotten in a fight with a man who was seeing his wife and that Creech would return in a few hours to "get the car and the body," McQuay testified.
Creech returned days later in a van that Cade's aunt, Reina Lim, rented for Creech, who told her he was going to use it to "bury the body," Lim said in testimony.
Creech took the body but left the car in McQuay's garage. More than a week would pass before two men came to take the car away in a trailer, McQuay testified.
"It wasn't a decision I had made. He just kind of sprung it on me. I was scared. I was nervous," McQuay said when asked why he cooperated with Creech and helped him hide the body.
Prosecutors say Lim also rented a storage locker that was used to hide Smith's car. Acting on a tip, police found Smith's car in a Simi Valley storage locker in February 2013.
Smith and Cade met in 2008 at a rehabilitation facility while both sought treatment for prescription drug abuse, Deputy Dist. Atty. Robert Grace told grand jurors.
Grace told grand jurors at the start of last month's hearing that the testimony would be full of "salacious details. There's going to be a lot of who slept with who."
Smith and Cade's on-again, off-again affair was rekindled in spring 2012, according to the transcripts. The pair were separated from their respective spouses, though Cade was still living with Creech, who was also seeing another woman at the time.
On the day of the alleged killing, Smith and Cade arranged over Skype to meet for a late-night "car date."
Creech had seen Cade in Smith's car a few weeks earlier, and when his estranged wife left to meet Smith, he activated an AT&T mapping application used to locate other phones on the same data plan, according to prosecutors and testimony.
Cade's phone received a text indicating her phone was being located, but she left it in her Audi Q7 while she with Smith in the passenger seat of his Mercedes, according to the transcripts.
Creech drove up in Cade's grandmother's van and surprised the couple, Cade told grand jurors.
"I screamed and screamed so loud I thought somebody would hear," she testified.
javier.panzar@latimes.com
Twitter: @jpanzar
The stories shaping California
Get up to speed with our Essential California newsletter, sent six days a week.
You may occasionally receive promotional content from the Los Angeles Times.