Tracking a path of destruction from Montecito's mountains to the ocean
Based on historical data, a half-inch of rain falling in an hour would be enough to start a debris flow in the fire-charred mountains, the U.S. Geological Survey said.
But historical examples vastly understated what would come early Tuesday morning.
At 3:30 a.m., a half-inch fell in only five minutes, unleashing a torrent from parts of the Santa Ynez Mountains that had been scorched by the Thomas fire last month. Gravity pulled the mud, boulders and trees down hills stripped of their vegetation toward the multimillion-dollar homes of Montecito.
The deluge broke the banks of picturesque San Ysidro Creek, one of four streams traversing the community. On its two-mile course southward to the sea, the debris from San Ysidro Creek thrashed dozens of homes from plantation estates to Mediterranean villas, leaving at least one dead.
Here is how it happened, as seen from above.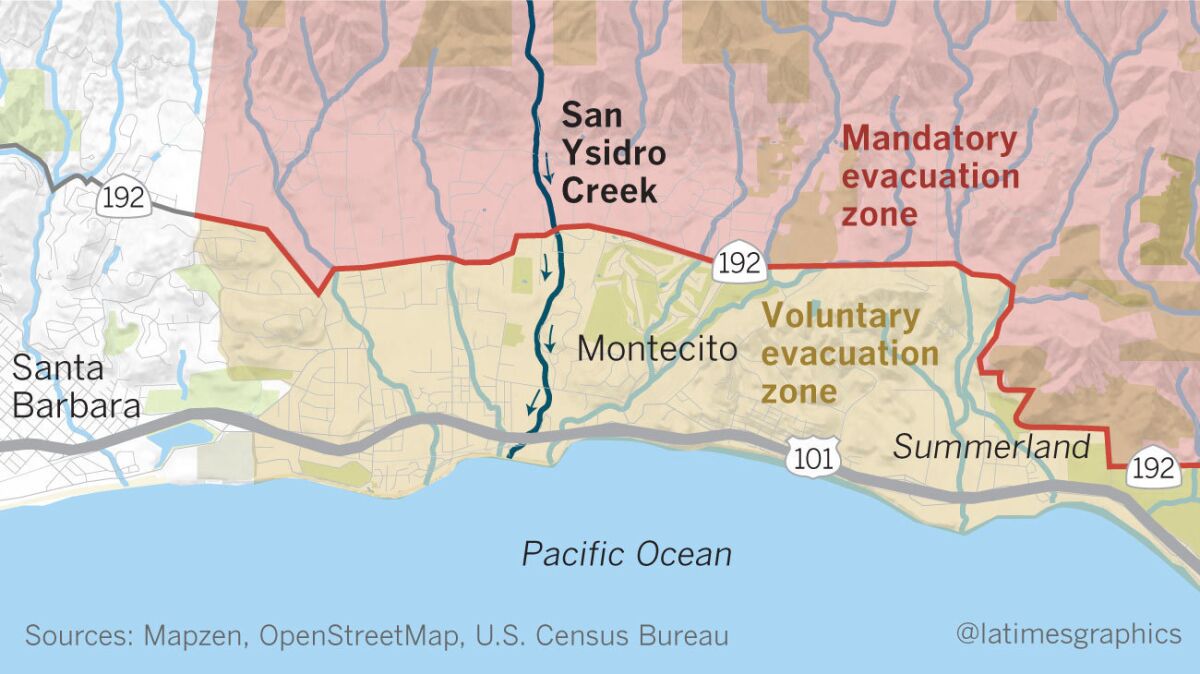 In the evacuation zone
Santa Barbara County officials knew the coming storm could be devastating. They drew an east-west line through the middle of Montecito marking the area they considered most at risk.
Weighing the probabilities, a command staff including firefighters, sheriffs, and watershed managers ordered a mandatory evacuation of everything north of State Highway 192, in the neighborhoods cupped against the mountains. Areas south of the highway, up to the coast, were placed under a voluntary evacuation order.
An aerial photo taken north of State Highway 192 shows what was Randall Road and homes on either side of it on Wednesday still under the overflow from San Ysidro Creek.
Beyond the evacuation zone
In its drive to the coastline the roiling San Ysidro paid no heed to the official designation of a high-hazard zone. It plunged across Highway 192, spreading through the wooded flatland between the Birnam Wood Golf Club and the estate of Montecito's most celebrated inhabitant.
Oprah's house
While nature struck the homes of many in the upscale community, it left mostly untouched one notable residence. Sitting just to the west of the mud flow zone, the mansion and expansive property of talk show host and TV network owner Oprah Winfrey remained.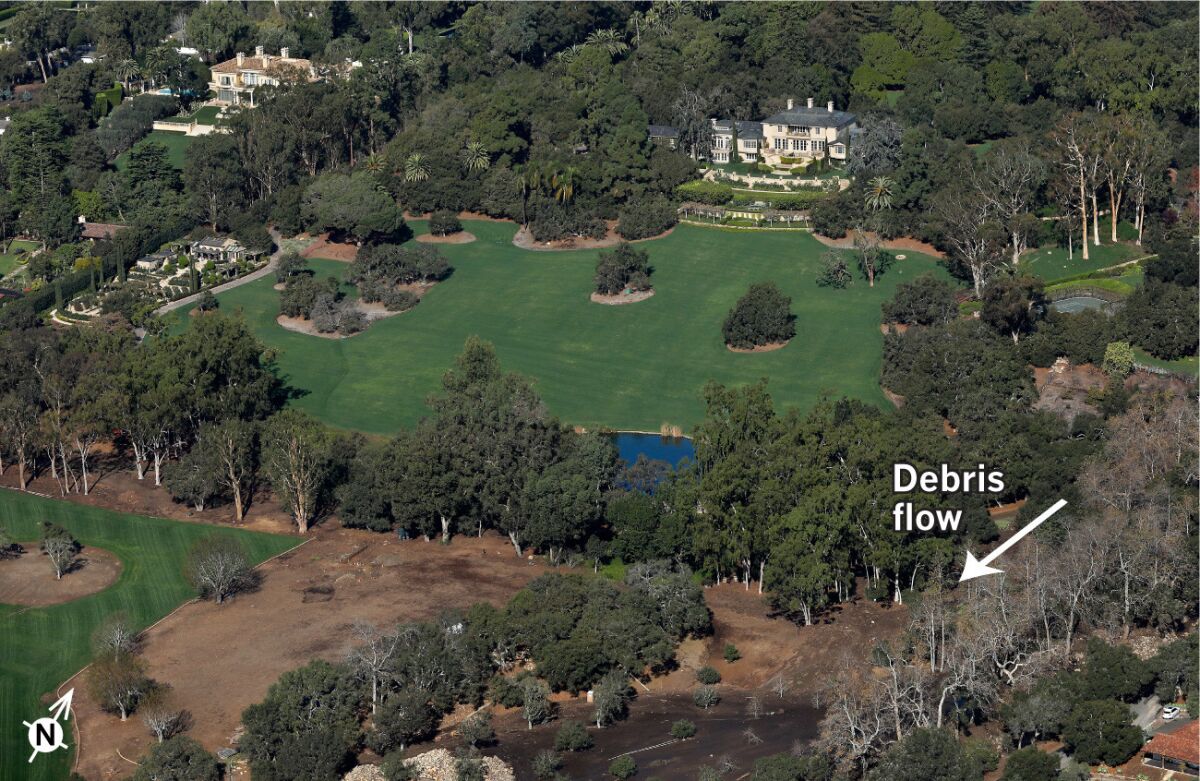 Near the 101 Freeway
Downstream, spreading into a shallower, slower-moving layer, the mud infiltrated a neighborhood of wooded estates.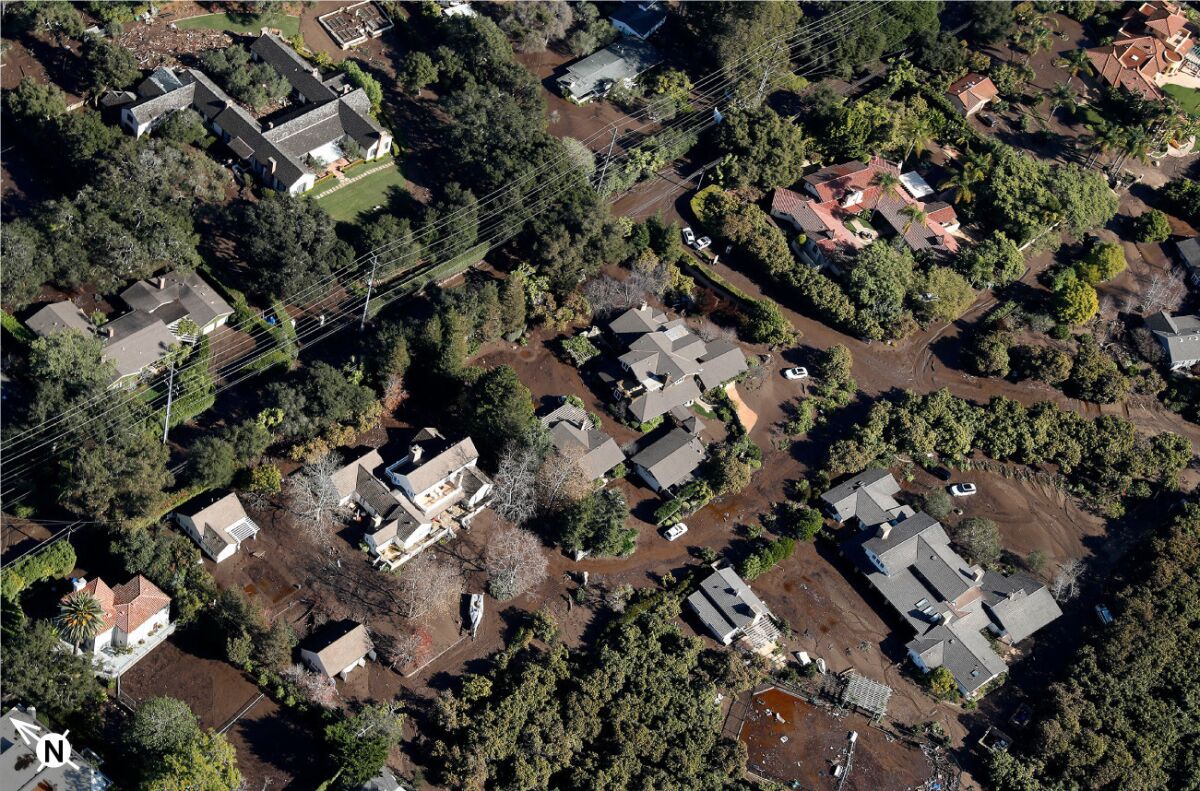 At the ocean
Finally it dissipated over an agricultural field and inundated the 101 Freeway. Only a short tail continued on to foul the beach.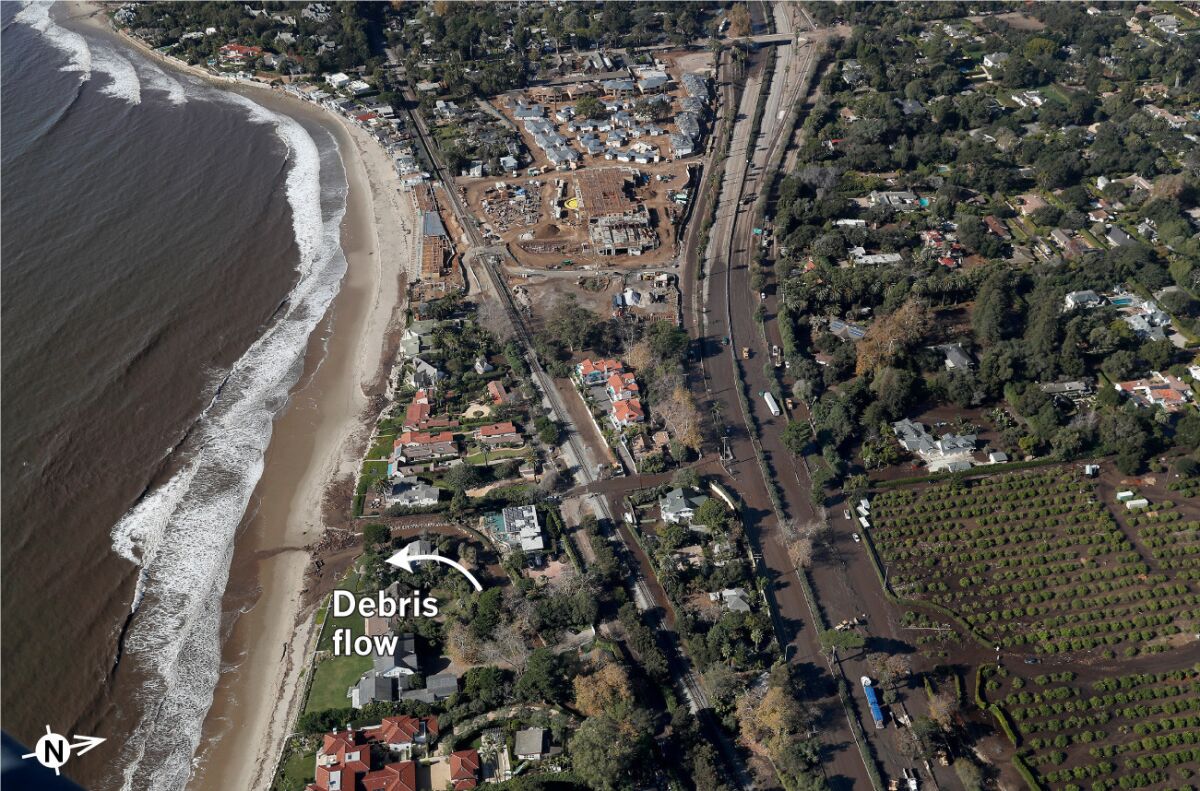 Twitter:
---
The stories shaping California
Get up to speed with our Essential California newsletter, sent six days a week.
You may occasionally receive promotional content from the Los Angeles Times.