Wildfire razes homes, other buildings in Weed, Calif.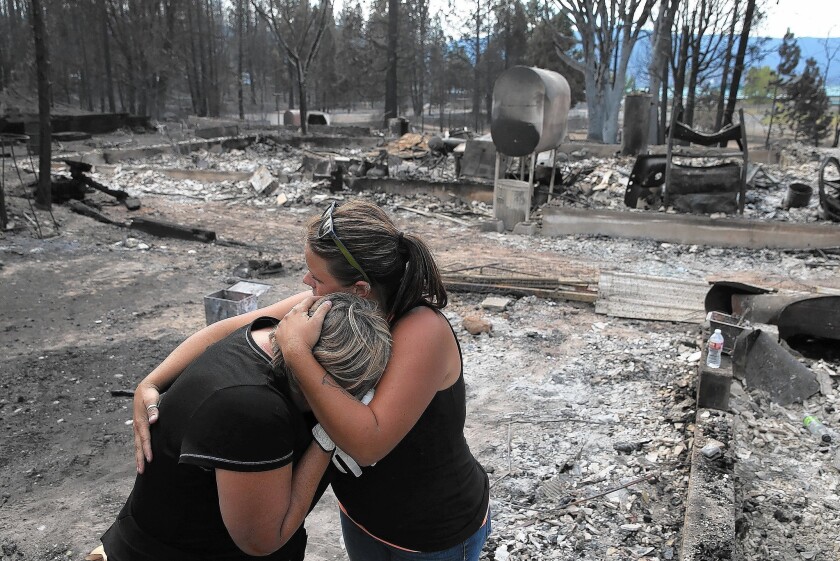 Reporting from WEED, Calif. —
After a hot and dry summer, residents here said they had become dulled to the smell of smoke from wildfires.
But Tiffany DeVault had a bad feeling right away when the familiar scent filled the air Monday afternoon, and asked her husband, Troy, to come home from work early, just in case.
He was too late. By the time the 39-year-old handyman completed the 20-minute drive, flames had forced her to flee the house with their two children. Police barred him from getting any closer.
It wasn't until Tuesday morning, standing outside a nearby Red Cross shelter, that he saw a cellphone photo of the home his family purchased just three months before. Like dozens of other houses in the Angel Valley neighborhood, almost nothing was left but the concrete foundation.
"It happened so fast," he said, dazed by the destructive power of a fire that has stunned this town of 3,000 people just west of Mt. Shasta. He's struggled to explain to his young son a catastrophe that he barely comprehends himself.
"We've told my son we're going to get help, and he's going to get new toys," he said.
Compared with some of the blazes that have plagued drought-stricken California this year, the fire in Weed was relatively small, scorching only 375 acres.
Yet it destroyed or damaged 150 buildings, tearing at some of the town's most important institutions. The fire consumed two churches, a library and a community organization that aided the poor.
Machinery at the town's mill, which processes materials for plywood, was destroyed, and it was unclear when scores of residents would be able to return to work there.
Blocks and blocks of houses were reduced to piles of ash and charred kitchen appliances. Husks of cars sat in driveways.
No one was killed or seriously injured, and on Tuesday afternoon, life in parts of Weed seemed normal. The postman made his rounds, and a downtown cafe did brisk business.
But helicopters continued buzzing overhead, sinking baskets into a pond and dumping the water onto a still-smoldering hill. Firefighters hosed down the remains of houses, and fire retardant covered cars and buildings like pink, spongy paint.
California Department of Forestry and Fire Protection officials said the blaze, named the Boles fire after the creek near its suspected origin, was 25% contained. Its cause remained under investigation, and fear of potentially stronger winds Wednesday kept firefighters working through the day to douse hot spots and dig trenches to quarantine the fire.
"We are not leaving here any time soon," said Scott McLean, a Cal Fire spokesman.
The town, which is about 50 miles south of the Oregon border, is named for Abner Weed, who built the original mill more than a century ago. He was drawn to the area by its powerful winds, which were helpful for drying timber.
"The mill is what started Weed," said Saundra Grass, 31, who lives nearby. "The mill is the reason the town is even here."
But on Monday, the winds helped destroy a large swath of Weed. Officials said the fire began just south of town in the early afternoon and was driven rapidly north by 40-mph gusts. It skirted downtown but scorched the hills nearby.
Jordan Nicholson, 24, was on his back porch when he looked up and noticed what seemed like an early sunset. Smoke was drifting through the sky, and he quickly left to pick up his son from kindergarten.
By the time he returned home, flames were bursting through nearby trees. "We gotta go now," he shouted at the rest of his family, who piled into their cars with four dogs and sped off. They left so fast they forgot to grab medication for an older relative with diabetes and heart problems.
All told, hundreds of residents had to evacuate from Weed and other communities. Many were left with split-second decisions about what to take and what to leave. One woman grabbed a stack of cash her family had saved. A man tucked away prized photographs. Some had only the clothes on their back.
The fire roared toward the mill, where workers were evacuated. Eileen Burmeister, the communications director for Roseburg, the Oregon company that owns the facility, said some volunteers remained behind on the roof, dousing it with water as the blaze raged nearby.
"That's probably what saved the main structure," she said.
Cal Fire officials said the strong winds frustrated efforts to contain the blaze, blowing embers beyond containment lines and sparking new hot spots.
Although much of the mill was spared, the fire continued toward the Angel Valley neighborhood. One home after another was swallowed up, including a gray-and-white four bedroom where three generations of one family were raised.
One member of the family, Angel Fisher, 41, opened her downtown thrift shop Tuesday to collect donations and distribute food and clothing to suffering residents.
"People are starting to see the devastation and realize what they've lost," she said. "Everyone is in complete, utter shock."
Kristine Michelon, who works at the community college in Weed, said her home survived, and she returned briefly Tuesday afternoon to pack her bags with clothing. Michelon rolled her suitcase down the sidewalk over patches of ash, past a block of destroyed houses.
"I just hope everyone decides not to leave a burned-out lot and not come back," she said. "I like living here. I don't want to see it die."
Twitter: @chrismegerian
Times staff writers Adolfo Flores and Veronica Rocha, in Los Angeles, contributed to this report.
---
Get breaking news, investigations, analysis and more signature journalism from the Los Angeles Times in your inbox.
You may occasionally receive promotional content from the Los Angeles Times.