Fires destroy homes and spark mass evacuations amid Southern California heat wave
Scenes from fires near Alpine.
Record heat sparked several destructive brush fires across Southern California that burned numerous homes in San Diego and Santa Barbara counties.
Powerful sundowner winds on the Santa Barbara County coast helped fuel the Holiday fire, which burned several homes Friday night in the hills above Goleta and threatened many others.
The fight continued into Saturday morning, with an evacuation order extending to more than 2,000 residents. Firefighters raced into the hillside neighborhood trying to defend homes and help with evacuations. Officials said some homes had been lost but a total number was not immediately available.
Officials described a chaotic scene as the fire burst out of control around 8:40 p.m., catching some residents off guard. County 911 lines were jammed with calls, and emergency officials said they contacted 1,200 lines to urge evacuations.
The Santa Barbara County Fire Department said that more than 100 homes were threatened and that residents above Cathedral Oaks Road should flee.
Temperatures remained around 100 degrees as the fire fight moved into the night. Powerful evening winds were pushing the fire in different directions, making it impossible to control.
Authorities said the incident began as a structure fire before the flames spread to vegetation.
An evacuation center was set up at Goleta Valley Community Center, at 5679 Hollister Ave.
Meanwhile, a fast-moving fire in the San Bernardino National Forest on Friday afternoon prompted authorities to tell Forest Falls residents to flee their homes. The fire covered more than 200 acres and was burning quickly into the San Gorgonio Wilderness, according to the San Bernardino County Fire Department. An evacuation center was set up at Inland Leaders Charter School, at 12375 California St. in Yucaipa. Highway 38 was closed.
The most serious of the fires burned along Interstate 8 near Alpine. The fire jumped through the community of West Willows, engulfing buildings and burning along a traffic median on the side of the freeway.
Authorities said that more than 400 acres had been burned and that hundreds of people had been evacuated. Officials were still trying to tally the exact number of homes lost, though it appeared at least a dozen structures were burned. Live television coverage from Alpine showed numerous homes and other structures burning as winds pushed the fire through foothill communities.
Resident Enrique Camargo said he ran toward the fire area to check its progress after the evacuation order was issued. As he checked on the fire, he said, his wife was home packing the car.
He said he was still not sure if they would follow through with evacuating.
"Let's see what happens," Camargo said.
Another resident, who asked that his last name not be used, said in a cellphone call Friday about 1:30 p.m. that he was perhaps 600 yards from the fire. He had no idea if his home was OK.
"I can't get to my house," Randy said. Authorities "won't let me get to my house."
The San Diego County Sheriff's Department said immediate evacuations were needed in the Highland Mobile Home Park and the surrounding community. Officials said evacuees could go to Viejas Casino at 5000 Willows Road.
By 5 p.m., authorities said that they were getting the upper hand and that forward progress of the fire had been stopped.
"We have made great progress, but there is still a lot of work to be done," said Cal Fire Capt. Kendal Bortisser.
Another fire forced evacuations near Camp Pendleton.
The blaze broke out about 11:30 a.m. and an hour later was continuing to burn in the Mainside area between Santa Margarita Trail and De Luz Road, the Marine Corps tweeted.
Officials said evacuations were in place for Lake O'Neill, the Naval Criminal Investigative Service and the De Luz Child Development Center. Those displaced were being sent to a McDonald's on base.
A truck fire along the Cajon Pass spread to nearby brush, threatening structures in the Devore Heights area, the California Department of Forestry and Fire Protection said. The fire quickly grew to 100 acres and was burning off Highway 15 and Kenwood Avenue, north of San Bernardino. Two outside lanes of the 215 Freeway, north of the 15 Freeway, were closed as a result.
Firefighters also handled smaller blazes in the Angeles National Forest, Montecito Heights, Sylmar and Pacoima near the Hansen Dam.
Many parts of Southern California hit new high temperature marks Friday, with a few spots reaching the hottest readings ever recorded. Among the places that set all-time records were Van Nuys Airport (117 degrees), Burbank Airport (114), Santa Ana (114) and Ramona (115), according to the National Weather Service.
"We expect today to be the hottest day," Keily Delerme, a meteorologist with the National Weather Service in Oxnard, said Friday. Even coastal areas saw temperatures in the high 80s and low 90s.
RELATED: Dangerous Southern California heat wave beginning today is 'one for the record books' »
Heat is getting worse in Southern California.
(Luis Sinco / Los Angeles Times)
Eric Durtschi surveys the damage to his home that was destroyed by a wildfire in Goleta.
(Marcus Yam / Los Angeles Times)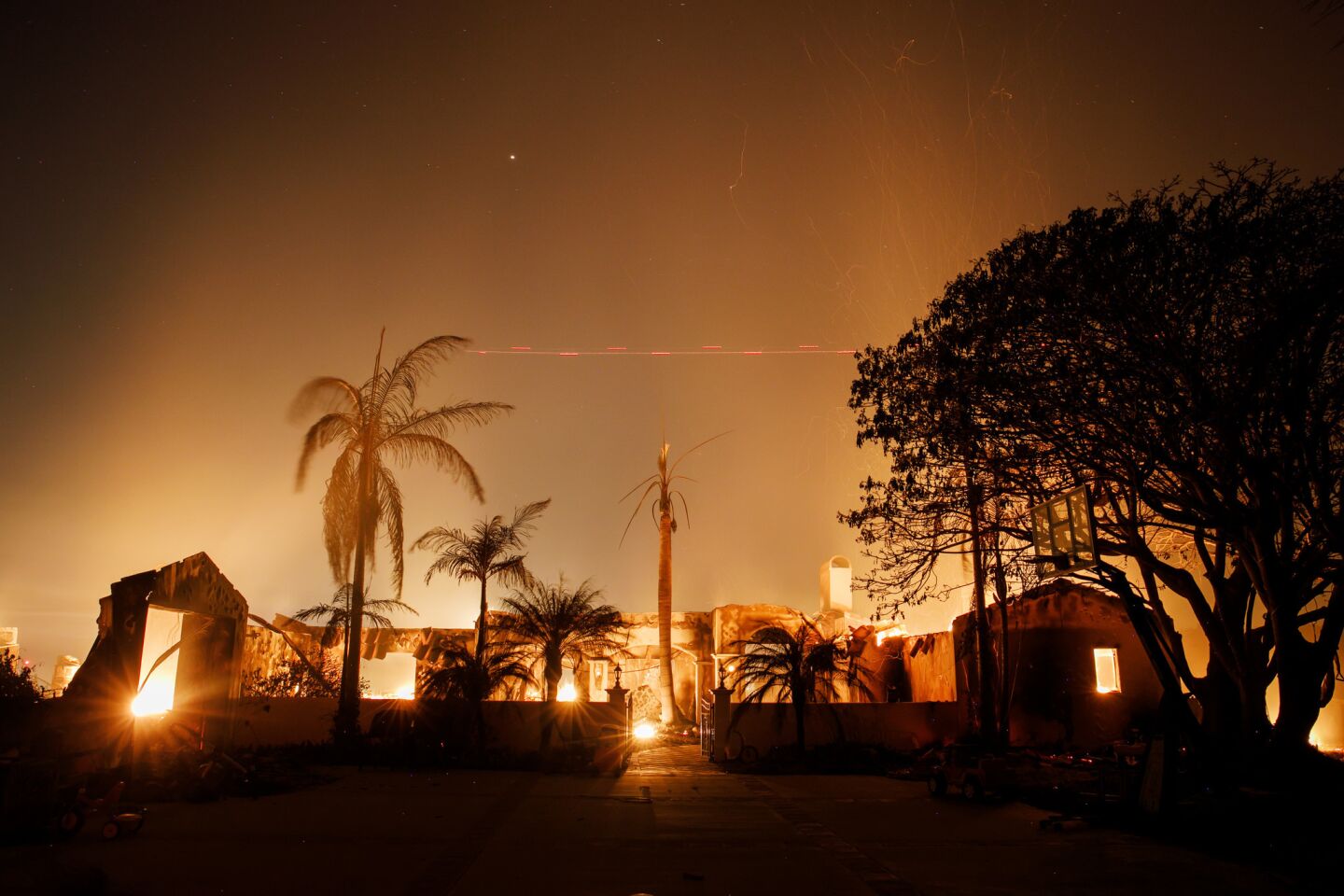 The Holiday fire destroys homes in Goleta.
(Marcus Yam / Los Angeles Times)
A message board tells the tale at Calvary Church on Shoup Avenue in West Hills.
(Brian van der Brug / Los Angeles Times)
Stefano Alippi, dressed as the villain Freddy Krueger, cools off between posing for photos with tourists on Hollywood Boulevard.
(Mel Melcon / Los Angeles Times)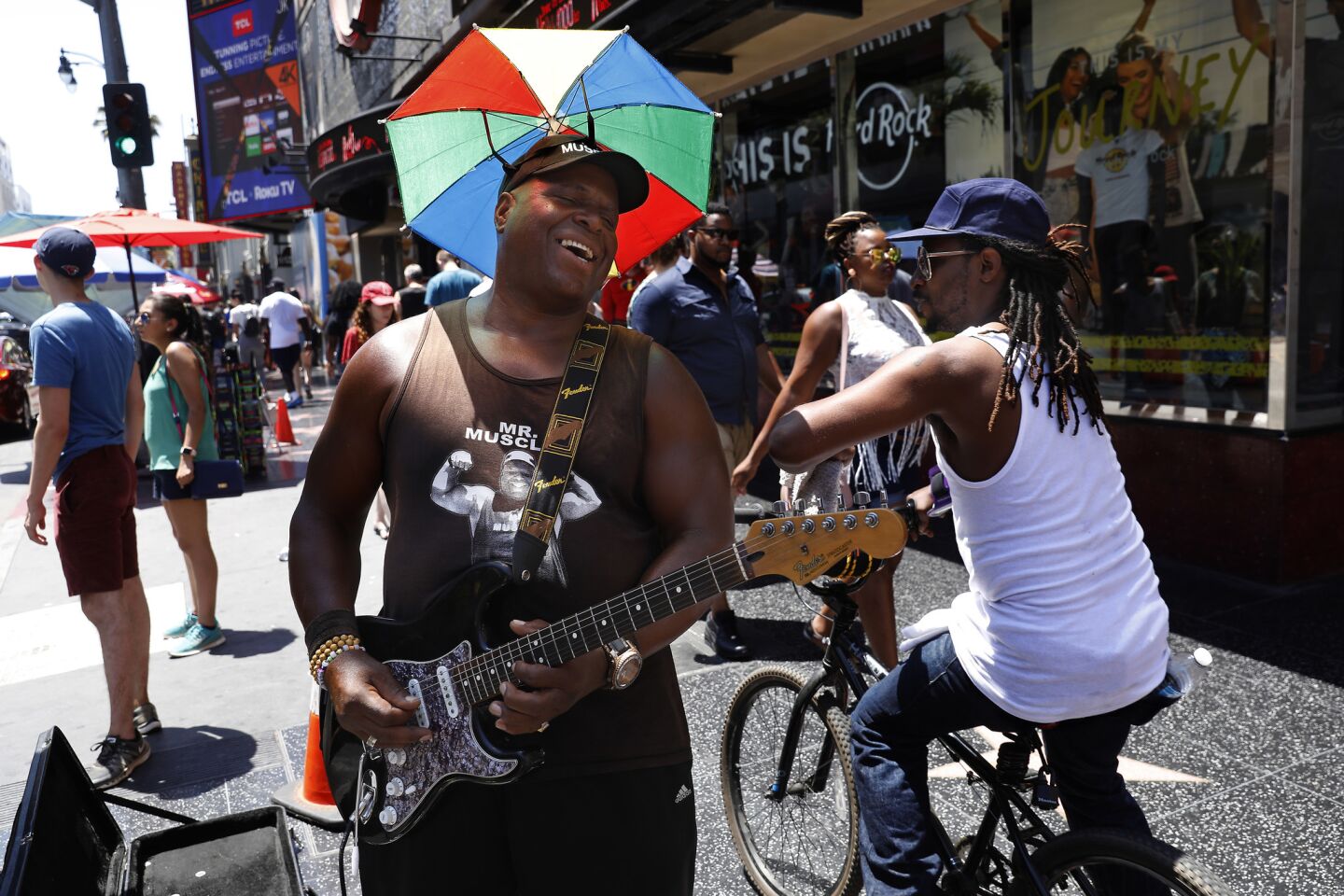 A performer known as Dr. Funkstein shields himself from the sun while playing his guitar near Hollywood Boulevard and Highland Avenue.
(Mel Melcon / Los Angeles Times)
Promise Edmondson, 10, left, of Indianapolis and actress Megan Mills are just a pair of mermaids who don't seem to mind the heat in Santa Monica. Promise was fulfilling a birthday wish to be a mermaid for a day.
(Genaro Molina / Los Angeles Times)
Visitors cool off in the surf in Santa Monica.
(Genaro Molina / Los Angeles Times)
Gary Snyder rides a kayak with what he believes is a gander that he befriended at Lake Balboa in Van Nuys. Snyder said that he first met the bird while walking around the lake about a month ago. He said that since then, the gander joins him for rides about twice a week.
(Mel Melcon / Los Angeles Times)
Daniel Navarro plays in the surf in Laguna Beach, where highs along the coast hit the 90-degree mark.
(Gabriel S. Scarlett / Los Angeles Times)
A surfer gets a tube ride amid high surf conditions at the Newport Point in Newport Beach.
(Allen J. Schaben / Los Angeles Times)
For Luz Lyle, the heat wave already has proved to be unbearable. Standing by a bus stop in downtown early Friday, when the temperature hovered around 77 degrees, she said she was happy to be going to work because her office has air conditioning.
The hot days this week have forced her to hand over water guns to her children. Sometimes, she joined in on the water fights while blasting the air conditioner inside her home.
"All day long," Lyle, 53, said. "All night long."
Inside downtown's Grand Central Market around noon, hordes of people made their way through the various stalls. The clamoring sound of plates and pots echoed while giant fans stationed along the aisles blew cool air. Tourists stopped by one of the fans for a moment, hoping for a respite from the heat.
Outside, Allyson Schaefer was applying sunscreen while the rest of the crowd ordered hot food — and hot coffee. It was 90 degrees.
"I just have to get through today," Schaefer, 25, said as she sat under the shade of a large red umbrella.
Schaefer, who is from Texas, lamented the timing of her Southern California visit. She said she came to visit a friend — not to experience a Southland heat wave. On Saturday, she hopes to find refuge in San Diego. Until then, she said, she'll stick to her plan.
"Drink lots of water and put on sunscreen," she said.
The dry heat raises the danger of new fires sprouting throughout the region. A red flag warning was in effect from Friday night through Saturday, with the most at-risk areas in the foothills and mountains.
"You have very dry conditions and a north wind," Delerme, the meteorologist, said. "As the wind goes downhill, it dries it more and makes it warmer. That's why it's such an extreme event."
Single-digit humidity paired with dry fuels also creates the possibility of "extreme fire behavior," she added.
"If there's a fire, it won't take long for it to spread out," she said. "It's just going to be dry."
Los Angeles has a network of cooling centers for people who lack access to air conditioning and need a place to escape dangerous, higher-than-normal temperatures. Recreation and Parks facilities — such as recreation centers, museums and senior centers — as well as libraries were available as cooling centers during regular hours.
"Extreme heat can be dangerous — especially for young people and seniors," Mayor Eric Garcetti said in a statement. "When temperatures rise this high, our libraries, recreation centers and senior centers give Angelenos who need to escape the heat a friendly, welcoming, safe place to stay cool and healthy."
The Los Angeles Department of Water and Power also said it would install temporary water fountains in the Tujunga Wash area, San Julian Park, Gladys Park, La Plaza de Cultura y Artes and the Exposition Park area.
In San Diego, the county's Fire-Rescue Department planned to have extra firefighters, brush engines and water tankers on duty to deal with any heat-related blazes. Critical fire weather conditions also were possible in Ventura County, the valleys and the Central Coast.
Although temperatures in Yolo and Napa counties were expected to reach the low 90s on Friday, fire officials said Friday's higher humidity levels would help firefighters battle the County fire, which has burned 88,375 acres and destroyed nine structures. The blaze is 37% contained.
"We expect temperatures to max out at about 92 degrees, with humidity at 19% to 25% later this afternoon," said Anthony Brown, a spokesman with the California Department of Forestry and Fire Protection. "That helps us out because with the humidity level up, the vegetation doesn't dry out."
Wearing heavy gear, firefighters can quickly become exhausted working 12- to 24-hour shifts. Brown said the slightly lower temperatures Friday would "help with the fatigue of firefighters" before the heat picks up Saturday.
Thousands of firefighters are assigned to the County fire. Meanwhile, the Pawnee fire, which has burned 15,000 acres in Lake County, is 92% contained.
A dip in temperatures allowed crews to make significant gains on containing both blazes, fire officials said.
The heat in the Sacramento Valley could reach triple digits over the weekend before dropping early next week, the National Weather Service said. A similar drop is forecast in Southern California, where temperatures are expected to fall by about 10 degrees in Los Angeles by Sunday.
Repard writes for the San Diego Union-Tribune. Times staff writer Joseph Serna and Teri Figueroa of the San Diego Union-Tribune contributed to this report.
Twitter: @sarahparvini
Twitter: @latvives
---
UPDATES:
12:20 a.m.: This article was updated with new evacuations and details.
11:10 p.m. This article was updated with new information about the Goleta fire.
10:10 p.m.: This article was updated with damage in Goleta.
9:40 p.m.: This article was updated with more from Goleta.
9:05 p.m.: This article was updated with information about the Goleta fire.
5:50 p.m.: This article was updated with more details on the record heat.
5 p.m.: This article was updated with more on the Alpine fire.
4:45 p.m.: This article was updated with details about the Forest Falls evacuation.
4 p.m.: This article was updated with losses in San Diego.
2:45 p.m.: This article was updated with more information about San Diego County fires.
2:05 p.m.: This article was updated with more information about the San Diego County fire.
1:55 p.m.: This article was updated with new information about the San Diego County fire.
1:35 p.m. This article was updated with information about the fires.
1:10 p.m.: This article was updated with information about the fires.
12:50 p.m.: This article was updated with the scene in downtown L.A.
11:45 a.m.: This article was updated with new acreage estimates on the San Bernardino County fire.
11:10 a.m.: This article was updated with information about a new fire.
10:30 a.m.: This article was updated with information about cooling centers in the city.
This article was originally published at 9:10 a.m.
The stories shaping California
Get up to speed with our Essential California newsletter, sent six days a week.
You may occasionally receive promotional content from the Los Angeles Times.