L.A. may ease rules for candidates to get matching taxpayer money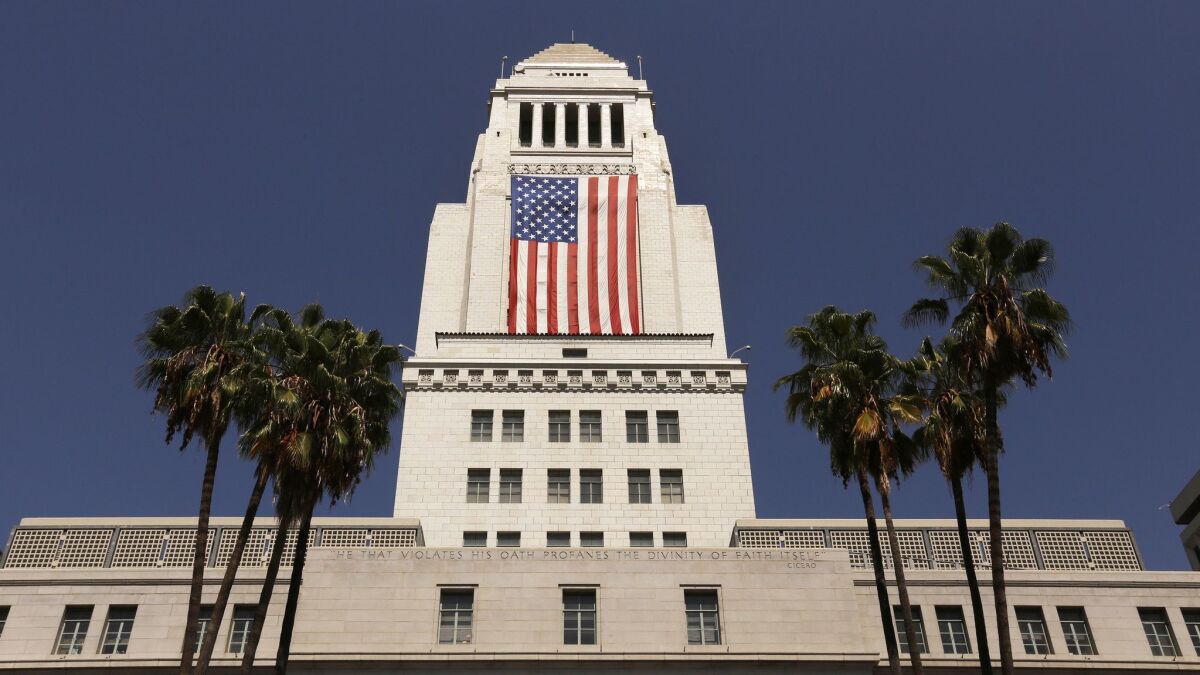 To get public money for their campaigns, Los Angeles politicians first have to collect 200 donations from people living in the neighborhoods they want to represent.
Those contributions, which can be as small as $5, ultimately can help candidates obtain tens or even hundreds of thousands of taxpayer dollars. The hurdle is meant to prove that people running for office have community support before they access to those matching funds, which are supposed to help counter the campaign influence of wealthy donors.
Now the Los Angeles City Council is weighing whether to ease the requirement, cutting the number of donations needed to qualify by half.
A coalition of groups backing the proposal — including the League of Women Voters of Los Angeles and Bike the Vote — argues that the requirement for candidates to secure 200 donations of $5 or more from residents in their districts "can impede campaigns from getting started in the first place."
Reducing the number to 100, they say, would make it easier for candidates in less-affluent areas to qualify for matching funds. Los Angeles City Ethics Commission staff argued that easing the requirement would allow more candidates to participate and reduce the time needed for city staffers to vet funding applications.
But many say the city needs to go further to level the playing field between grassroots candidates and their well-funded opponents. And others do not believe that the move is a reform at all.
A council committee backed the proposed change Friday. In addition to lowering the number of donations needed, the committee also recommended increasing the maximum amount of matching funds each candidate can receive, hiking the rate at which they can receive taxpayer money, and tweaking an existing requirement for candidates to agree to debate.
The package of changes, approved by the Ethics Commission last month, has been billed as a way to help amplify the voices of ordinary Angelenos in city campaigns.
"We want candidates to be able to build grassroots campaigns," said Rob Quan, an organizer of the Unrig LA Coalition, which has supported such changes. Quan said the existing requirements had made it too difficult for grassroots candidates to obtain the public money in a timely way, especially in neighborhoods where it is harder to drum up donations.
Even with the proposed changes, council candidates would not see a dime of matching funds until they had raised a minimum of $25,000 that meets a complicated set of requirements — an amount much higher than what is required in other big cities, several groups complained Friday.
If the city does not address that barrier, changing the funding rules would only be a "half step," said Jill Stewart, executive director of the Coalition to Preserve L.A., which advocates on planning and development issues.
"We need everyday people to get back into government," she said.
Others were skeptical of reducing the required number of donations.
Grace Yoo, who is campaigning to replace Council President Herb Wesson, argued that anyone who cannot persuade 200 supporters in their districts to donate even a small amount is not likely to win. If the donation requirement is a barrier in low-income areas, she told the committee Friday, the city instead should consider lowering the minimum donation to a dollar or two.
Political consultant Eric Hacopian, who has represented candidates for mayor and council, agreed that any credible candidate should be able to get the minimum number of local donations. "This has more to do with making the lives of political professionals simpler, rather than dealing with political reform," he said.
The California Clean Money Campaign, which advocates for public funding of campaigns, warned against returning to "the bad old days where participating candidates didn't have to raise a single dollar from their districts." But the group said that as part of a package of reforms, requiring 100 donations would be an adequate measure of local support.
The proposal is being heard at City Hall months after at least three donors to Councilwoman Nury Martinez were summoned to appear before the Los Angeles County grand jury. Each had been named by Martinez as giving $5 to her campaign and helping her qualify for matching funds.
The district attorney's office has confirmed that it is looking at Martinez, but declined to provide details. Federal investigators also interviewed Martinez's $5 donors two years ago, asking if they truly gave the money. Martinez has said she did not propose or advocate for reducing the required number of donations to get matching funds.
Under current rules, Los Angeles provides public money to match some of the private donations raised by qualifying candidates, using a complicated formula.
Council candidates can get matching funds on a 1-to-1 basis for up to $250 of each donation from an L.A. resident. That means that a $250 contribution would bring in $250 in public money.
If candidates collect 1,000 valid signatures from district residents — twice as many as needed to get on the ballot in the first place — they are allotted double the amount of each donation of $250 or less in matching funds during the primary, and four times as much during a general election.
The new rules would make the system simpler and more generous.
Candidates would get six times the amount of a qualifying donation in matching funds, without having to gather additional signatures. But the city also would scale back how much of each eligible donation it would match — reducing the amount from $250 to roughly $115 for council candidates — in an effort to further empower small donors.
Under the proposal, the maximum amount of matching funds that could be granted to a council candidate would be $151,000 in a primary race and $189,000 in a general election, plus annual adjustments for the consumer price index. Those limits currently are $100,000 and $125,000, respectively, for council candidates, with higher limits for candidates seeking citywide positions.
L.A. also is considering whether to require candidates who get matching funds to participate in either a debate or a town hall meeting. Under the current rules, candidates must agree to debate their opponents, but participating in a debate has never been required, according to a commission report.
The council is expected to vote on the proposed changes this fall.
Times staff writer David Zahniser contributed to this report.
Twitter: @AlpertReyes
The stories shaping California
Get up to speed with our Essential California newsletter, sent six days a week.
You may occasionally receive promotional content from the Los Angeles Times.