No criminal charges for CHP officer seen punching woman in video
Marlene Pinnock, right, with her attorney Caree Harper as they address the media after the CHP announced a $1.5 million settlement in the civil rights lawsuit.
(Mark Boster / Los Angeles Times)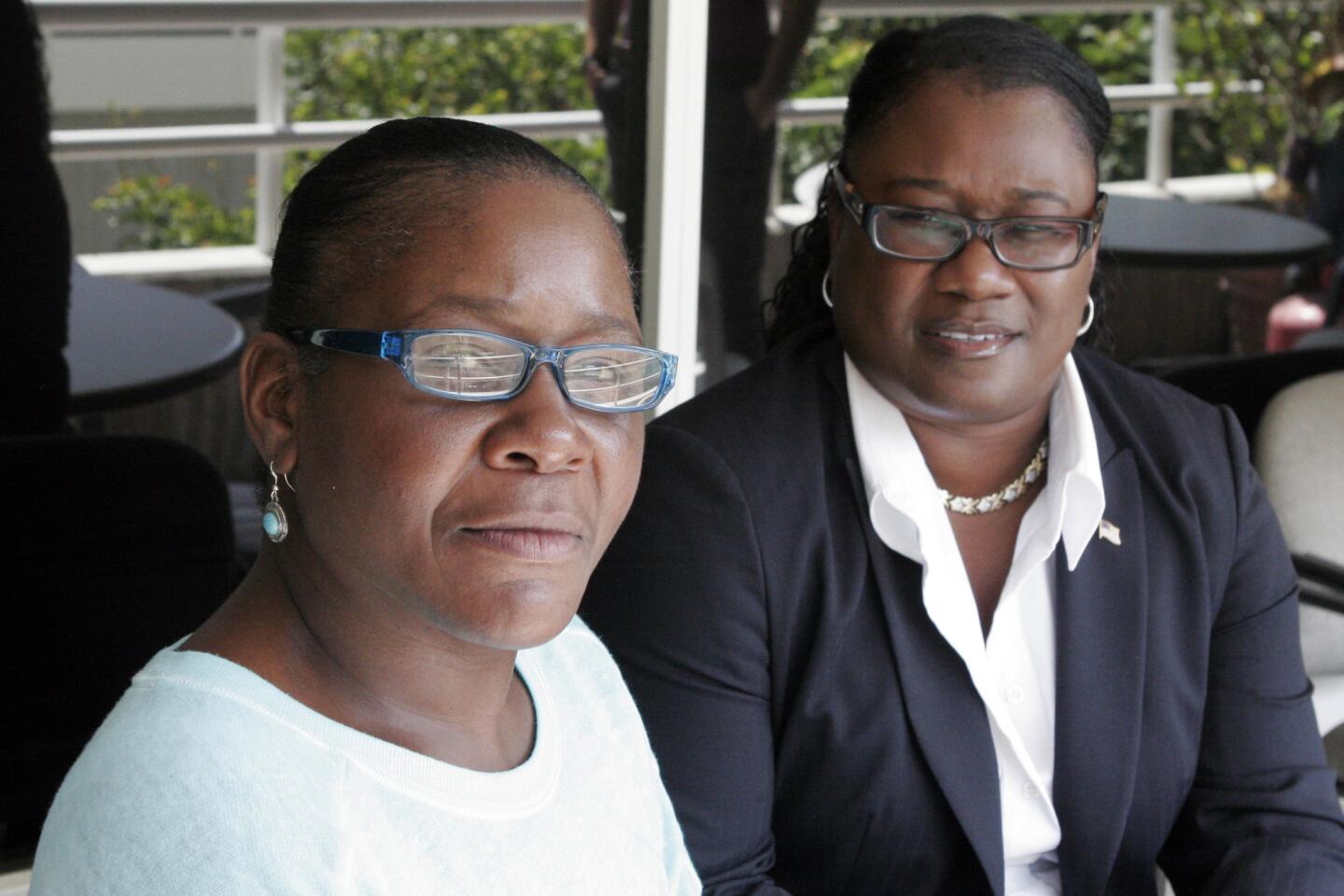 Marlene Pinnock, left, with her attorney, Caree Harper, during an August interview in Los Angeles.
(John Hopper / Associated Press)
Maisha Allums, daughter of Marlene Pinnock, left, becomes emotional as attorney Caree Harper, right, talks about how Marlene was repeatedly punched by a CHP officer recently at a press conference in the Crenshaw District in Los Angeles on July 10.
(Genaro Molina / Los Angeles Times)
Maisha Allums, daughter of Marlene Pinnock, sixth from right, wipes a tear from her eye as attorney Caree Harper, third from right, talks about how Marlene was repeatedly punched by a CHP officer recently at a press conference in the Crenshaw District in Los Angeles on July 10.
(Genaro Molina / Los Angeles Times)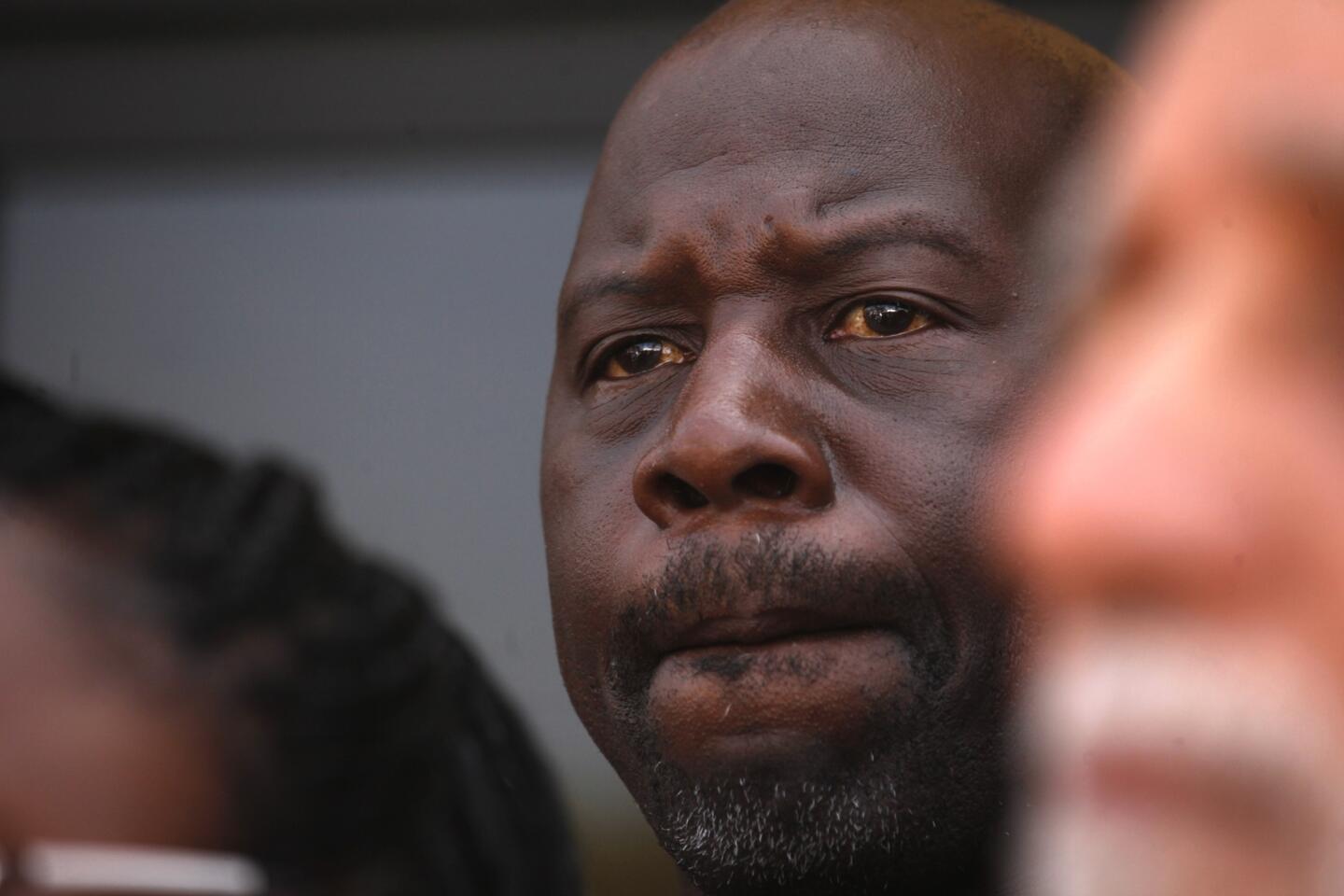 Robert Pinnock, center, husband of Marlene Pinnock, listens as attorney Caree Harper talk about how Marlene was repeatedly punched by a CHP officer recently at a press conference in the Crenshaw District in Los Angeles on July 10.
(Genaro Molina / Los Angeles Times)
Activist Earl Ofari Hutchinson, left, and California Highway Patrol Commissioner Joseph A. Farrow, right, hold a news conference together after discussing issues involved in the beating of a woman on a Los Angeles freeway that was recorded on video.
(Francine Orr / Los Angeles Times)
The Los Angeles County district attorney's office announced Thursday that it would not file criminal charges against a California Highway Patrol officer who was recorded on video repeatedly punching a woman he had pinned to the ground along the 10 Freeway.
Officer Daniel Andrew was required to use some level of force to keep Marlene Pinnock out of freeway traffic for her own safety, the district attorney's office concluded in a 30-page report on the case. Despite video showing that Pinnock was struck at least 10 times, the D.A.'s office said, there was "insufficient evidence to prove beyond a reasonable doubt that the force he used was unreasonable or excessive."
Dist. Atty. Jackie Lacey elaborated on the report in a statement.
"When looking at all of the evidence, and especially the medical reports and eyewitness accounts, it becomes exceedingly clear that the officer, who was alone and struggling with Ms. Pinnock precariously close to evening freeway traffic, acted within the law," Lacey said. "In our analysis, his use of force was legal and necessary to protect not only his own life but also that of Ms. Pinnock."
Lacey also noted that the officer also had a duty to protect freeway commuters from a potentially dangerous situation had Pinnock gotten away from him and walked onto the freeway. Prosecutors relied on medical records, eyewitness accounts, recordings of 911 calls and multiple patrol car dash camera videos of the incident as part of the investigation.
Several eyewitnesses were interviewed, including three who said they saw Pinnock strike the officer and four who said they thought Andrew was trying to save Pinnock from wandering into freeway traffic and being killed or injured.
One of the witnesses is quoted in the report saying, "at a point I agreed with what the cop did ... you know, he had to get her. He had to apprehend her. He had to throw her on the floor. The part where it gets deceptive is when he starts punching. That's when it felt like that it was unnecessary ... after the first two, it was, it was, he should have stopped."
Medical records, dated the same day as the incident, indicated Pinnock had no abrasions, lacerations or internal bleeding according to the district attorney's report. A CT scan also found no evidence of a fracture or facial swelling.
Lacey's decision not to file charges comes nearly nine months after a final use-of-force report was issued on Pinnock's arrest on July 1, 2014, and more than a year since the CHP gave her office its report on a criminal investigation into Andrew's actions.
The announcement also came a day after a deadly rampage in nearby San Bernardino continued to draw worldwide media coverage, which some South L.A. activists said was not coincidental.
"We believe it came by design," civil rights activist Najee Ali said of the timing of Lacey's announcement. "The whole nation's eyes are on the … tragedy in San Bernardino. The fact she [Lacey] slid this in, the timing is very suspect and it demonstrates cowardice."
A spokesperson for the District Attorney denied Ali's assertion. Regardless, Ali called for Lacey's resignation and said a rally was planned outside her office Thursday afternoon.
See the most-read stories this hour >>
A 42-second clip of the incident, caught on cellphone video by a passing motorist, was posted on YouTube last summer and went viral.
Some viewers saw a homeless, mentally troubled person resisting an officer's commands and thought it justified. Others saw a black woman being brutally beaten down by a white male police officer and said it was indicative of a systemic problem in law enforcement.
The CHP initially said that Andrew was trying to keep Pinnock from walking into traffic and that she ignored his commands and became "physically combative." Pinnock said she did nothing to provoke the officer.
Andrew was forced to step down as part of a $1.5-million settlement reached in September in an excessive force lawsuit filed in federal court by Pinnock, 51, against the CHP and Andrew. But several civil rights advocates called on the district attorney's office to file criminal charges against Andrew as well.
Andrew's last official day of employment with the CHP was Tuesday. He joined the department as a cadet in April 2012 and became an officer six months later.
In October, Pinnock was arrested again about 2:30 a.m. on the same stretch of 10 Freeway for walking in traffic lanes. Her attorney said after Pinnock's arrest that her family was seeking to arrange long-term care for her.
For breaking California news, follow @JosephSerna.
ALSO
Op-Ed: Today, a softer response to police violence than in 1960s and '70s
White House plans executive action to expand background checks for gun sales
San Bernardino suspects' huge cache of bullets and bombs enough for 'another attack,' officials say
Sign up for Essential California for news, features and recommendations from the L.A. Times and beyond in your inbox six days a week.
You may occasionally receive promotional content from the Los Angeles Times.