L.A., pushing big water rate increases, seeks 18% more from typical users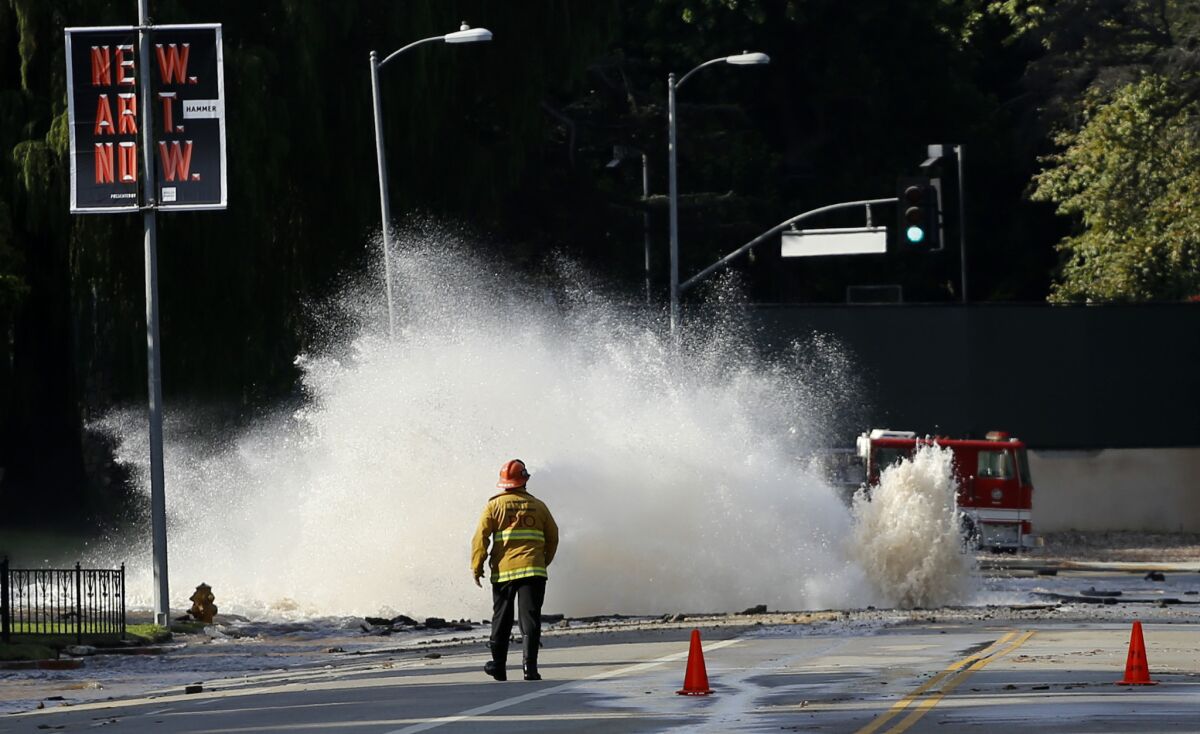 Los Angeles Department of Water and Power officials are seeking an increase in rates over the next five years in a bid to boost water conservation amid California's drought and expand repairs of crumbling water mains and electricity infrastructure.
The rate increase is significant because it puts the greatest financial pressure on the heaviest residential water users — those who consume roughly 20,000 gallons of water a month and make up 10% of the department's customer base. For those users, water bills would increase 34% by 2021.
Although such multi-tiered approaches to water billing have been challenged in court, DWP officials said Wednesday that they were confident the rate plan would pass legal muster. The DWP currently has two water rate tiers; the proposal would double that.
In the wake of last year's catastrophic water pipe break on Sunset Boulevard, which flooded portions of UCLA, DWP officials said that 85% of the new water revenue would be used to replace aging water infrastructure. Current water loss due to leaky pipes is about 5%, according to officials, or roughly half the industry average.
Although Gov. Jerry Brown and Mayor Eric Garcetti have called for significant reductions in residential water use, the plan is likely to encounter heavy scrutiny from ratepayers who say a series of DWP missteps have undermined public confidence in the agency.
"We're paying for the sins of the past," said Jack Humphreville, a member of the Greater Wilshire Neighborhood Council and frequent critic of the agency. "In the past, the City Council didn't give DWP the rate increases they should have had to maintain the system."
However, DWP General Manager Marcie Edwards said the plan was aimed at addressing such concerns.
"I think you rebuild trust by being the low-cost provider and providing reliable service," Edwards said. "I think this rate plan does that."
Under the plan, which must be approved by DWP commissioners and the City Council, residents would see combined water and power rates increase 2.4% to 5.4% every year for five years.
Typical residential customers would see an average increase of about 3.4%, or $4.75 per month, each year for five years, officials said. Low-use customers would have a combined bill increase of 2.4% on average per year, or about $1.95 per month. High-use customers would pay about 5.4% more, or $17.64 per month, each year for five years.
DWP officials said the department needs to increase water revenue by $230 million over five years to repair infrastructure and comply with government water quality regulations. Funds would also be used to decrease reliance on water imported from Northern California and the Colorado River, officials said.
At the same time, officials say that power revenue must increase $3.5 billion to $4.4 billion over the next five years. Three-quarters of that money is needed to meet government mandates on greenhouse gas reduction, expansion of renewable energy sources and the rebuilding of coastal power plants to eliminate ocean water cooling, officials said.
Small commercial customers would see combined annual increases of about 3.5%. Rate hikes for medium and large businesses and institutions would average about 4.5% for electricity and about 2.5% for water.
Garcetti noted that it has been almost three years since the last electricity rate increase; the base rates for water last went up six years ago. Since then, the city negotiated a new contract with DWP workers that eliminated raises for three years.
"I will support a rate increase that does three things: makes the investments we need to our infrastructure, encourages water conservation and keeps the DWP more affordable than our neighboring utilities," Garcetti said. "The proposed rate increase does all three."
City ratepayer advocate Fred Pickel said it was important to have regular rate reviews and commended the DWP for beginning that process. "I think it is a pragmatic proposal," Pickel said. "It's in the range of something that is likely to be reasonable. There are a lot of details to go through; our role is not to react off the cuff, but to dig in deep."
On average, water utility rates in California have increased 6% to 7% annually over the last decade, according to water rate consultant Sanjay Gaur. The average increase of 3.4% proposed by DWP "seems very reasonable," he said.
Stephanie Pincetl, director of the California Center for Sustainable Communities at UCLA, wondered whether the department was asking for enough.
"It's hard to believe that that's going to be enough to really aggressively repair the infrastructure that needs repairing at this point," Pincetl said. "Would the City Council not have allowed a [larger] rate increase? What is the problem with forging ahead and having even steeper prices for the higher [water] users?"
During a presentation Wednesday before the Board of Water and Power Commissioners, Vice President William W. Funderburk Jr. asked Edwards what would happen if the rate increase was denied.
"You will continue to see deterioration and greater pipe leaks. The age of this equipment is such that there is no way we can prevent that without some additional investment," she said. "With respect to water, we won't be able to meet the goals set by the mayor and the governor."
Funderburk stressed the need to further improve customer service and outreach to low-income customers, and to ensure that the proposed rate increase does not disproportionately affect those customers.
"We are the lowest-cost provider in the market," Funderburk said. "Investor-owned utilities — they don't hold a candle to us. Yet, you would think DWP is the highest-cost provider for as much as people are upset at us. You have little things that are creating big PR problems."
The call for a rate hike follows a slew of missteps by the nation's largest municipal utility that its critics and city officials say have shaken the public's trust.
Last month, a DWP audio-visual technician was charged with misappropriating more than $4 million in public funds.
Six weeks before that, City Controller Ron Galperin released an audit showing that two nonprofits created by the DWP and financed with more than $40 million from ratepayers had paid millions to vendors without competitive bids. It also found that the nonprofits overpaid top managers and let them charge purchases to nonprofit-issued credit cards without spending limits or the need to file expense reports.
The department also recently spent $178 million on a computer system that sent out delayed or inaccurate bills.
Neighborhood councils and the city's ratepayer advocate will have at least four months to weigh in before the board can formally review and approve the proposal. The earliest it could go into effect is January 2016.
Follow @ByMattStevens for coverage of the California drought, the Westside and breaking news.
---
The stories shaping California
Get up to speed with our Essential California newsletter, sent six days a week.
You may occasionally receive promotional content from the Los Angeles Times.