Former manager and 'creative director' of Ghost Ship warehouse plead not guilty to manslaughter charges stemming from deadly fire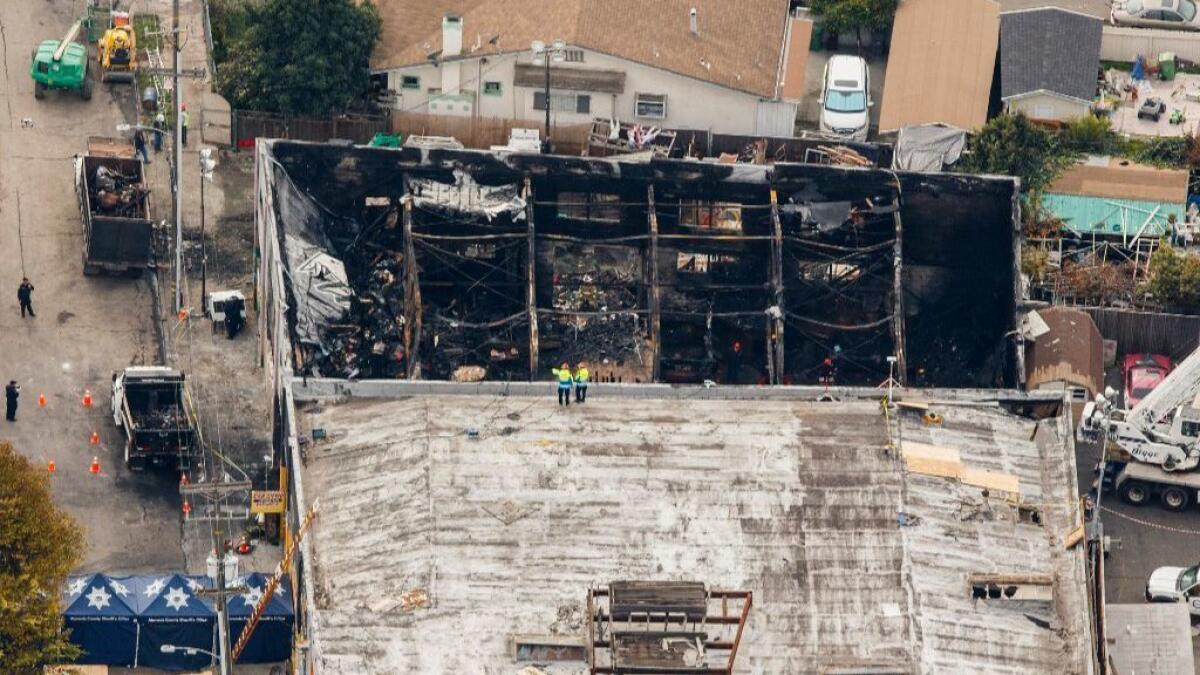 The two men accused of turning an Oakland warehouse into a labyrinth-like fire trap pleaded not guilty to 36 counts of involuntary manslaughter Tuesday on charges connected to one of the deadliest fires in California history, officials said.
Derick Ion Almena, 47, the property manager who converted the warehouse into an artists residence and underground concert venue known as the Ghost Ship, and Max Harris, who served as the venue's "creative director," were informed they will stand trial on July 16 after a brief appearance in an Oakland courtroom Tuesday.
Almena and Harris were arrested and charged last summer after Alameda County Dist. Atty. Nancy E. O'Malley accused them of knowingly creating "a fire trap, with inadequate means of escape," by allowing dozens of people to illegally reside in the building, which was supposed to serve as an artists collective.
Last year, prosecutors said as many as 25 people were living inside the warehouse, which had no fire suppression equipment. The warehouse, they said, was filled with flammable materials from "floor-to-ceiling."
When the blaze erupted on Dec. 2, 2016, Harris had rented the upstairs portion of the warehouse to a promoter and was on the premises to oversee the event, according to a probable cause statement filed in June 2017. During preparation for the electronic dance show, he allegedly blocked off a second stairwell that had served as an exit, leaving guests only one way out when flames began to devour the building.
The building's power failed almost as soon as the fire began, and those trying to flee had to navigate a narrow, wooden staircase that some witnesses described as a "gang plank" as they ran from the flames. Almena had previously ordered the illegal construction of that staircase, prosecutors have said.
All of the victims died of smoke inhalation, according to coroner's reports. They ranged in age from 17 to 61.
The cause of the fire is likely to remain unknown, because the furious blaze swallowed up most of the evidence arson investigators would need to make a determination, prosecutors have said.
Almena was the last lessee on the building. On Craigslist, he described the Ghost Ship as a "hybrid museum, sunken pirate ship, shingled funhouse, and guerrilla gallery." He lived in the warehouse with his girlfriend, Micah Allison, and their three children. They were not present the night it burned.
His attorneys have dismissed the charges as a "miscarriage of justice" and accused prosecutors of using Almena as a scapegoat to deflect criticism of possible negligence on the part of Oakland officials. Public records released in February 2017 showed city officials and police had visited the Ghost Ship numerous times in the years before the fire, and investigated at least 10 code enforcement violations at the dilapidated building.
Follow @JamesQueallyLAT for crime and police news in California.
Sign up for Essential California for news, features and recommendations from the L.A. Times and beyond in your inbox six days a week.
You may occasionally receive promotional content from the Los Angeles Times.