Actor says racial profiling led to his wrongful detainment by sheriff's deputies
Last Wednesday, Darris Love and his girlfriend, Ayesha Dumas, had just finished up a trip to the Apple Store in Glendale.
They were in Dumas' car waiting to pull out of the garage when Love realized they hadn't gotten their parking ticket validated.
So they pulled over and Love, dressed in shorts and a sweatshirt emblazoned with word "Crenshaw," jumped out and ran across the street toward the store. That's when a group of Glendale Police Department officers surrounded Love and wrestled him to the ground about 12:50 p.m., he said.
"Have you ever had someone's knee in your neck on the concrete?" Love asked during a news conference Tuesday.
"That is the most excruciating pain ever."
What Love didn't know at the time was that authorities had been engaged in a high-speed chase with three burglary suspects in a black BMW. The pursuit — shown on live television — stretched from the San Fernando Valley to Glendale. That's when the suspects pulled into the parking lot near the Glendale Galleria and bailed out of the vehicle.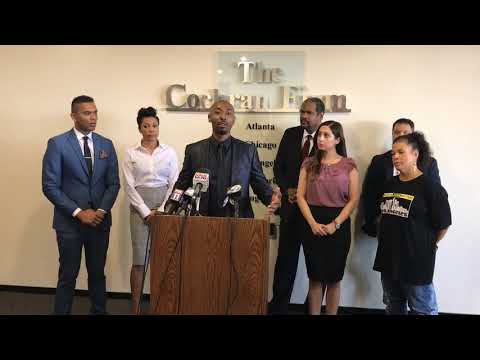 Actor Darris Love says racial profiling led to his wrongful detainment by sheriff's deputies
While searching for these "knock-knock burglary" suspects, Los Angeles police officers set up a perimeter around the mall and Glendale police conducted a search. That's when Love and Dumas came into the picture.
Love was detained, then the Los Angeles County Sheriff's Department said he was one of the burglary suspects. Even though investigators were searching for three men, Dumas had her Honda Civic searched and the air conditioning unit pulled out.
Love said two LAPD officers helped correct the situation.
Love was placed in a squad car with Senior Lead Officer Daryl Scoggins of the LAPD West Valley Division. Scoggins turned on the air conditioning and politely asked him to explain what went down, Love said. The actor, who has had small roles in such TV shows and films as "NYPD Blue" to the film "Straight Outta Compton," described how it was all a misunderstanding; he showed the officer the parking validation ticket as evidence that he couldn't possibly have been in a car chase with police.
Scoggins and another officer were then able to verify this story using surveillance video from the mall.
Scoggins declined to comment, but a department spokesman said in a statement: "Darris Love was detained by Glendale police at the mall and turned over to the LAPD after he was mistakenly identified by the L.A. County Sheriff's Department as the possible suspect. He was in LAPD's custody for less than three hours and was released after it was determined he was not the suspect."
In an email, Sheriff's Department spokeswoman Nicole Nishida said detectives from its Major Crimes Bureau witnessed the residential burglary during an active surveillance. The detectives saw a suspect in a dark hoodie come out of the property and get into the BMW, which had paper license plates.
Love "closely resembled" the burglary suspect, she said, and Glendale police officers searching the mall saw him running toward an illegally parked car not far from where the pursuit ended. Glendale police detained him, and LAPD officers conferred with major crimes detectives who initially identified Love as one of the burglary suspects, Nishida said.
Ultimately, the investigation revealed that Love "was not in any way involved" in the burglary and he was released, Nishida said.
Love said that after investigators photographed him, a sheriff's deputy said he could identify him as one of the suspects.
Details of the arrest came to light during a news conference at the Cochran Law Firm's office. Clad in a black suit, tie and shiny loafers, Love was flanked by activists, his girlfriend and two attorneys, including Brian Dunn.
Dunn announced that Love planned to file a suit against the Sheriff's Department for compensatory and punitive damages.
Particularly, Dunn questioned the tactics of the department and whether the deputies had probable cause to detain his client. He also said this false arrest "was a result of racial profiling."
"Because of their attention only to Mr. Love, this crime has not been solved," Dunn said. "The bad guys got away, and the bad guys got away because [authorities] were so focused on this man."
The suspects remain at large. Throughout the chase and its aftermath, local television news crews w broadcast live footage of Love's arrest. Love said his talent agent received an apology from one station executive, which he appreciated.
As for an apology from the Sheriff's Department, Love said he is still waiting. He doesn't even know the name of the deputy who fingered him as a burglary suspect.
The evening after his arrest, when Love was released from the LAPD's West Valley division, officers were apologetic and offered him a ride. The 39-year-old wasn't too keen on getting back in a squad car. He said he decided to call an Uber.
There was just one problem: His phone had run out of juice.
"So they had to put me in the back of a car again."
Times staff writer Alene Tchekmedyian contributed to this report.
---
UPDATES:
9:35 p.m.: This article was updated with a statement from the Sheriff's Department.
This article was originally published at 3:35 p.m.
Sign up for Essential California for news, features and recommendations from the L.A. Times and beyond in your inbox six days a week.
You may occasionally receive promotional content from the Los Angeles Times.