1 in 5 L.A. community college students is homeless, survey finds
One in every 5 of the Los Angeles Community College District's 230,000 students is homeless, and nearly two-thirds can't afford to eat properly, according to a new survey commissioned by the system's board of trustees.
The study looked at students with unstable housing and "food insecurity," which is defined by the U.S. Department of Agriculture as lacking enough to eat to sustain an active, healthy life.
Nearly half the L.A. community college students surveyed reported struggling with high housing costs. Of the 19% who said they were recently homeless, 8% reported being thrown out of their homes, 4% said they had been evicted, and 6% had stayed in an abandoned building, car or other location not meant for housing, the survey said.
Although college students nationwide face financial constraints that affect their nutrition, according to the study, those enrolled at the L.A. district's nine campuses fare worse than the national average. About 65% can't afford balanced meals, and 60% are unable to buy more when their food runs out, the study said.
"This is not about eating Top Ramen," district board of trustees President Scott Svonkin said at a news conference Thursday at Los Angeles Trade Technical College.
Standing before a bank of TV cameras, Trade Tech student Myriah Smiley, 19, broke down in tears as she disclosed she had not been able to eat that morning.
Smiley, who grew up in foster care, said that her food stamps had been cut off when she received a welfare check. The money was not enough to cover books, meals, hygiene and other expenses, she said.
"All the time," she said when describing how often she goes hungry. Smiley said she was couch-surfing while running for Miss Compton and studying small-business entrepreneurship — with a goal of opening her own bakery. "I cry at night and hope for better days."
Nationally, 29% of former foster youth in community colleges are homeless, and only 2% obtain an academic degree, according to University of Wisconsin Hope lab, which studies higher education affordability.
When you have people going hungry for three days straight, you have a really serious problem.
— Mike Eng, Los Angeles Community College trustee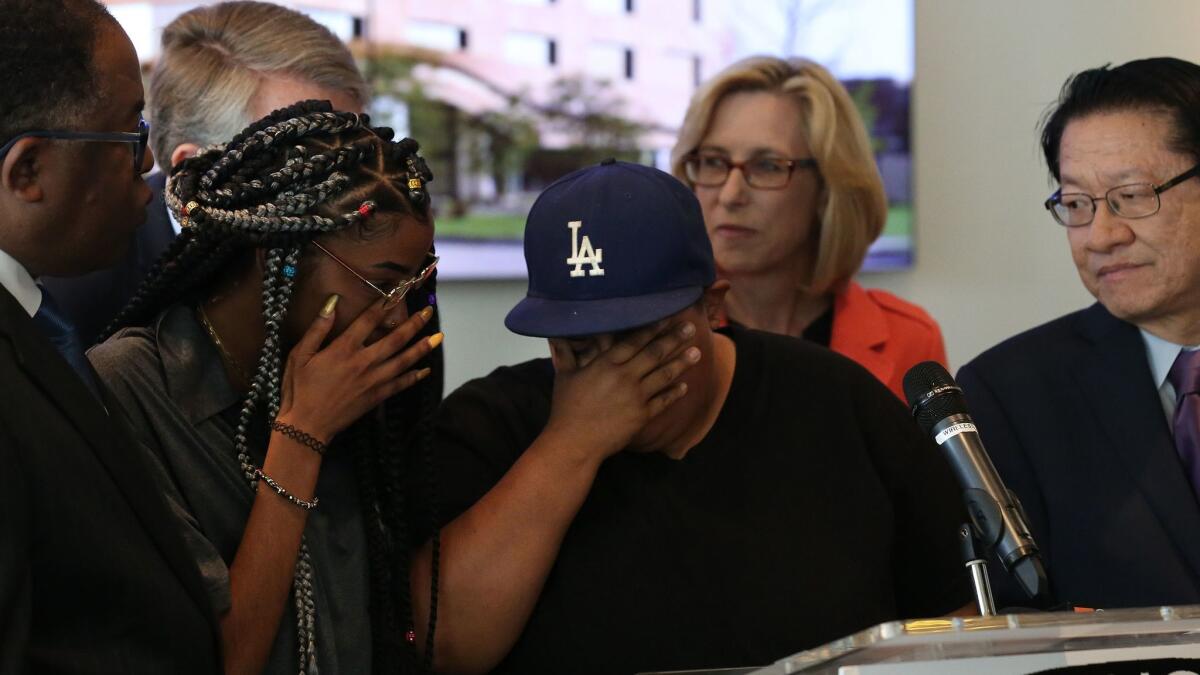 The survey results come during a time of intense competition over the distribution of proceeds from a quarter-cent county sales tax for homeless services. The L.A. County Board of Supervisors this month designated homeless college students among the beneficiaries of the tax fund, which is expected to produce $3.55 billion over 10 years.
The California State University system last year released a preliminary study saying that 1 in every 10 of its 460,000 students was homeless, and 1 in 5 had spotty access to food.
The Los Angeles Community College District campuses span the city's poor and suburban neighborhoods and offer a wide variety of study areas, including fashion design and horse husbandry.
Almost 6,000 students participated in the online survey, which was developed with the Hope Lab and the Assn. of Community College Trustees, a nonprofit group representing college district board members.
The survey authors recommended that L.A. community college officials make showers and other facilities available to homeless students and streamline referrals to public benefits and other resources.
Trustee Mike Eng said the district was negotiating with private developers to build below-market housing on one or more of its campuses and with its food vendor to provide free meals to needy students. The number of housing units and locations are still to be decided, but officials have narrowed the list of qualified developers to three and are considering making campus land available in exchange for profit-sharing, Eng said.
Twitter: @geholland
ALSO
Youth homelessness surges in L.A. 'Why are you out here?' 'My mom is a really bad mom'
L.A. County homelessness jumps a 'staggering' 23% as need far outpaces housing, new count shows
Steve Lopez: L.A.'s crisis: High rents, low pay, homelessness rising and $2,000 doesn't buy much
---
UPDATES:
12:45 p.m.: This article was updated with details from the news conference.
This article originally was published at 12:05 a.m.
Sign up for Essential California for news, features and recommendations from the L.A. Times and beyond in your inbox six days a week.
You may occasionally receive promotional content from the Los Angeles Times.