Column: L.A.'s crisis: High rents, low pay, homelessness rising and $2,000 doesn't buy much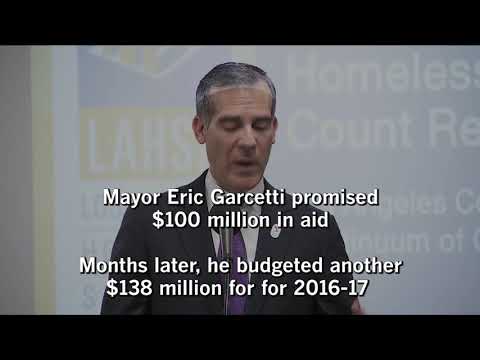 The city of L.A. got serious about battling homelessness in 2015, before reality hit. (June 2, 2017)
I was walking the dog last week in a South Pasadena park when I glanced at a man and woman having breakfast at a picnic table.
I'd seen them before; this time I said hello.
Margaret and her son Chris told me they live in their car.
"We're lucky," said Margaret, who asked that I not use her last name. "We've got income, and we've got the car. There's a lot of people who are suffering and don't have that."
That's kind of how things are going in Los Angeles. Rents have risen while pay remains flat, the homeless population is growing, and some folks consider themselves fortunate to live in a car.
Nothing can lift them out of the hole
Margaret said her Social Security check is just above $1,000, and Chris gets about $200 in general relief and $200 worth of food stamps.
Even if they could find an apartment for less than $1,000, they said, they'd have nothing left. So they're coping, hoping to find work that lifts them out of the hole.
It'd be nice if I could tell you they were outliers, but there are now roughly 58,000 versions of their story in greater Los Angeles. The homeless population increased 23% over last year, even though 14,000 people were helped off the streets.
We're going backward, in other words. And who knows how many more people are on the brink?
The median per capita income in L.A. County is less than $30,000, and for households it's about $55,000. So for those who pay the median rental price of $1,995 for a one-bedroom apartment, or $2,400 for multiple bedrooms, there isn't much left over.
Affordable housing isn't always an easy sell
Through modern history, Los Angeles has been the land of mansions, of post-war housing development and of suburban tract home sprawl. But the majority of residents rent, some by choice, most by necessity, and a staggering 2 million households pay 30% or more of their income on housing. For them, unexpected bills, job loss, physical or mental health problems and other factors can be the difference between holding onto a home and living in a car.
It's not as if solutions do not exist, but political consensus is hard to come by. Every pitch to create more affordable housing — rent control ordinances, requiring developers to include low-income units in new projects, and building on public land — gets pushback from developers, taxpayers, or residents who don't want low-rent housing near them.
L.A. County Supervisor Sheila Kuehl said the government has to do whatever it can to broker as many new units as possible.
"But until the private sector has any interest in affordable housing," she said, "I don't know that we'll ever be able to do enough."
Priced out of Silver Lake, Echo Park, the Westside
On a recent trip to Laguna Hills, I met a senior woman who sweeps floors at a Chick-fil-A and took in a roommate to help cover her rent. In Hollywood, a senior gent has hit the point where his rent and income are one and the same.
And then there are those who get by just fine, but still don't have much of a cushion.
After meeting the homeless mother and son in the park last Thursday, I checked in with Angela Campos, an agent who works for the Rental Girl. She handles property in northeast Los Angeles.
"I'm seeing a lot of people who are being priced out of the Westside, Silver Lake and Echo Park," said Campos.
I met her at a two bedroom, one bath apartment in Eagle Rock. It was clean and updated, but just 900 square feet, with small bedrooms. It was on the market for $2,100.
"You have brand-new appliances, including a stackable washer and dryer, which is pretty nice to have. And lots of cabinet space," Campos said to two young women in their early 20s who came to see the apartment while on lunch breaks from their downtown L.A. jobs.
Kayla Camacho and Austin Carroll currently rent in separate places with other friends, but their commutes from Whittier and Brea are too long. So they're hoping to room together, closer to work.
They can handle $2,100, but not much more, they said. They hoped their application was accepted on this place, because they'd just missed out on two others, both in Pasadena. Competition is stiff, they said.
Campos took their application and drove to another listing, a one-bedroom apartment in Highland Park. This one was a tight 700 square feet, and was listed at $1,595. But Ingrid Ertsaas, 25, liked what she saw.
"It's awesome," said Ertsaas, who currently pays $1,300 a month to sublease a room from two friends in a three-bedroom apartment in West L.A.
'Slums of Beverly Hills' — in real life
She'd be paying more to live in Highland Park, and she'd have a wretched commute to her software engineering job in El Segundo. But Ertsaas wants her own place, and there was nothing affordable on the Westside. Besides, she hangs out in Silver Lake and Echo Park on weekends, so she'd rather live in that area and endure the commute until she finds a job closer to her new location. If, in fact, she gets the apartment.
Samantha Dorman's problem isn't finding an apartment, but holding on to the one she lives in. She's a single mother who, like a lot of her neighbors, chose to live in South Pasadena because the public schools are highly regarded. Her story reminds me of the movie "Slums of Beverly Hills," in which a low-income family finds the cheapest apartment it can find so the kids can attend the public schools there.
Last fall, Dorman and other residents of adjacent, mid-size apartment buildings were hit with 60-day notice of building improvements that would come with a roughly 50% rent increase. Dorman, a physical trainer, was barely hanging on to her apartment as it was, paying $1,300-monthly for a two-bedroom, one-bath unit. Having to pay $1,900 would break her.
She said she understands the owners run a business, and they're bound to charge whatever they can get.
"But I really feel like what happened here should not be legal," Dorman said. "I don't think landlords should be able to raise rents 50%."
But it is legal. South Pasadena — like most California cities — has no rent control ordinance. Even where rent-raising restrictions exist — such as in Los Angeles, which limits annual increases to 3% — landlords can raise rents to whatever they want after a vacancy.
Protests by Dorman and others led to a compromise in which the landlord scaled back the rent increase, and the city is studying whether to implement some form of rent increase protections.
But on Thursday, Dorman's rent jumped to $1,800, which is roughly 75% of her pay. About 10 of her neighbors have moved out, some taking advantage of relocation payments from the landlord. Dorman said she's able to stay, for now, only because her ex-husband and her family are helping pay her bills.
Her plan is to keep studying new physical training techniques to increase her earning potential. But she said another rent increase is already planned for December.
"That's going to take me right there," said Dorman. "Right up to the edge."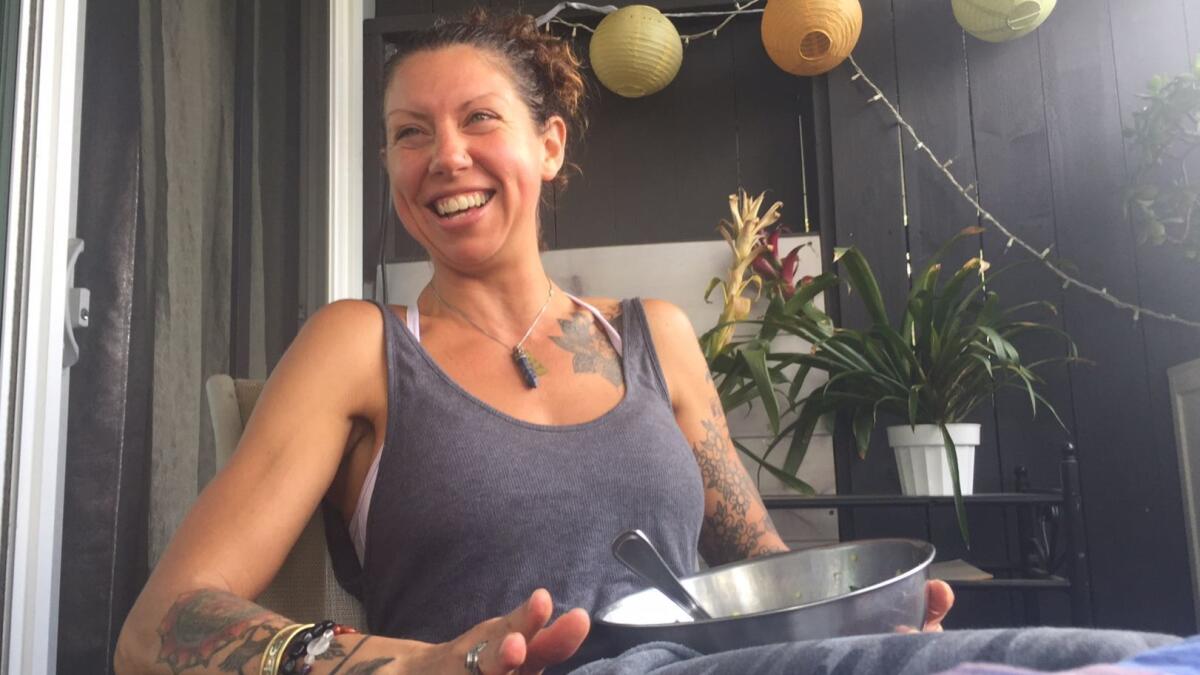 Get more of Steve Lopez's work and follow him on Twitter @LATstevelopez
ALSO
25 years after riots, South L.A. still waiting for its renaissance
'Does everything have to be a Starbucks?' A quirky L.A. landmark fights to survive
In Venice, where money meets misery, hoping for an end to homeless camps
Sign up for Essential California for news, features and recommendations from the L.A. Times and beyond in your inbox six days a week.
You may occasionally receive promotional content from the Los Angeles Times.