Youth homelessness surges in L.A. 'Why are you out here?' 'My mom is a really bad mom'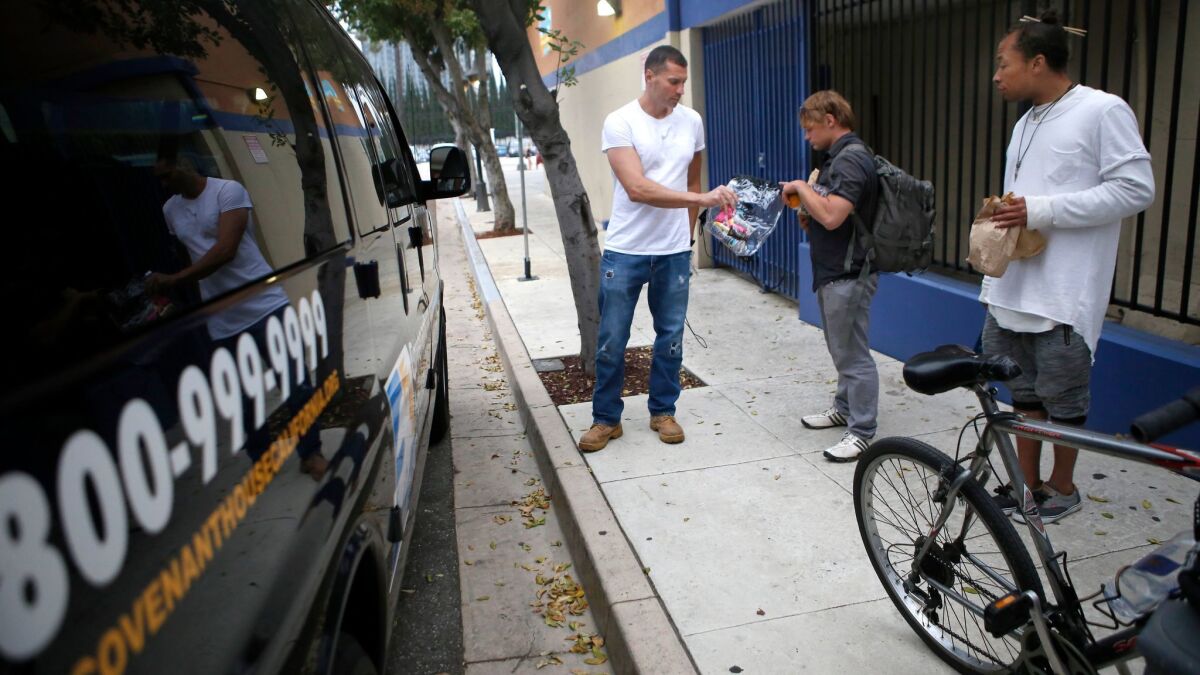 Diandre Pope said his mother dropped him off at a Hollywood youth shelter when he was 15, and he started to get into trouble.
Now 31, the Watts native stays in an encampment on Hollywood Boulevard, around the corner from a popular fitness club, siphoning power off a utility pole to power his telephone and sampling the capacious offerings — taquitos to hot wings — from a nearby convenience store.
The Los Angeles Homeless Services Authority reported Wednesday that 6,000 homeless young people like Pope were tallied across the county in January, a 61% increase over the 2016 total.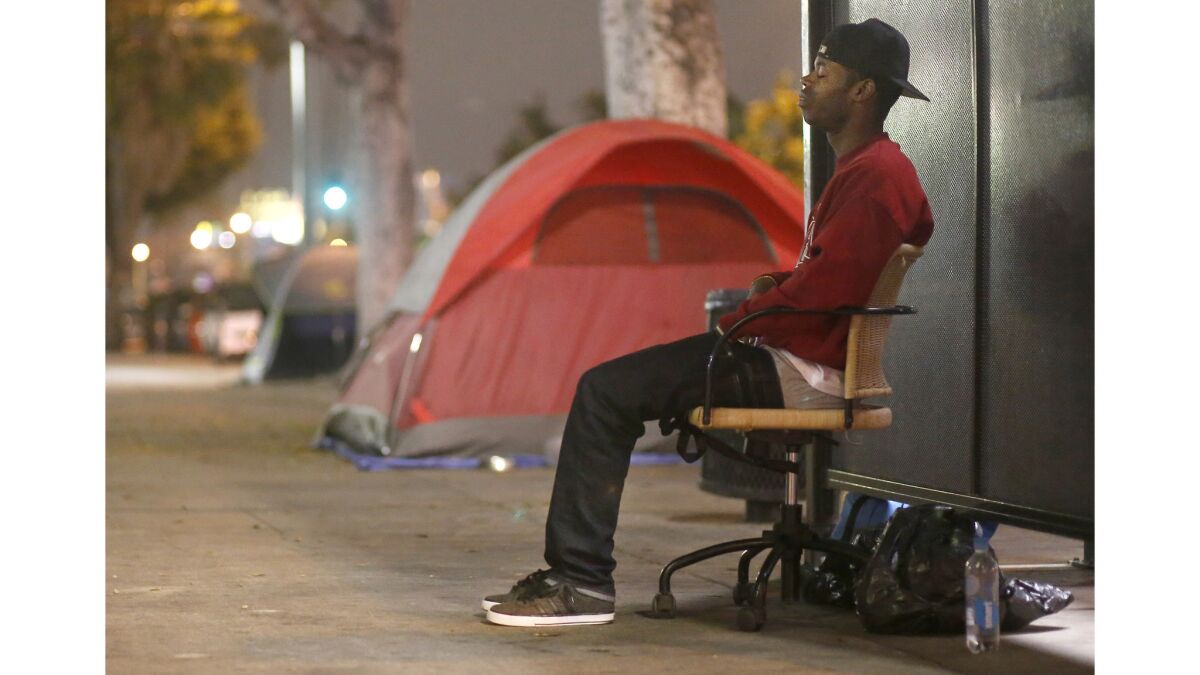 The homeless services agency improved the youth count, Executive Director Peter Lynn said, which could account for part of the jump. But Heidi Calmus of Covenant House California, an international youth homeless services agency with a branch in Hollywood, said the sharp increase was no surprise.
All the youth shelters have waiting lists and affordable housing is tough to find, even with a rent voucher, Calmus said.
"The system is overwhelmed," Calmus said Tuesday night as she and a colleague, Nick Semensky, delivered toiletry bags and sandwiches to young people living in the streets.
Most of the young people are ages 18 to 24, Lynn said. Many were released from foster care or group homes, or like Pope, were set loose by their families.
They distrust authority and have no appetite for giving up the freedom of the streets for another regimented living situation, Semensky said.
"Emergency housing is instantly available on skid row, but they will have to be with older people and they may feel like they're in the jail or prison they've already been in," Semensky said. "And they say, 'If I'm going to be homeless I might as well be homeless in L.A., it's more exciting.'"
Like Pope, they are on the street longer than in the past, Calmus said. Some have had bad experiences in homeless settings and now are running out of options, she added.
Maggie Reyes, 24, said she spent almost a year at a youth shelter before another woman started stealing her belongings. She moved back with her mom, who has struggled to hold onto housing. She is hoping to get her own subsidized housing before the special services for young homeless people are cut off when she turns 25.
Michael Z., 24, said he was thrown out of his house after graduating high school because of his drinking and drug use. He said he no longer drinks and has finally found a good job.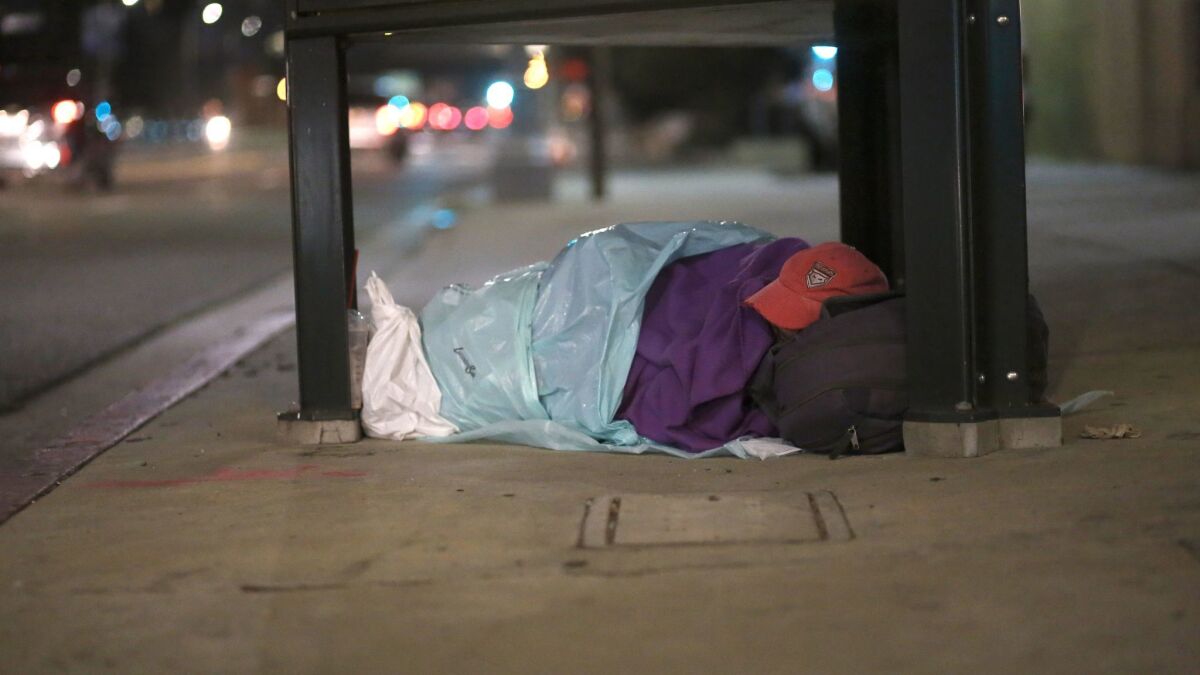 He asked that his last name not be used because he has to conceal his homelessness from his employer. Agencies try to help him with housing, but landing a place appears to be a distant hope at best, he added.
"It takes so long to rehab from the streets," he said.
Reyes said the homeless youth she sees in the street are getting younger and younger.
"I'm always running into kids who say, 'I'm really 15' and I'm like, 'Why are you out here?' They're like, 'My mom is a really bad mom,'" Reyes said.
"Every year there are more coming than going," she said.
To read the article in Spanish, click here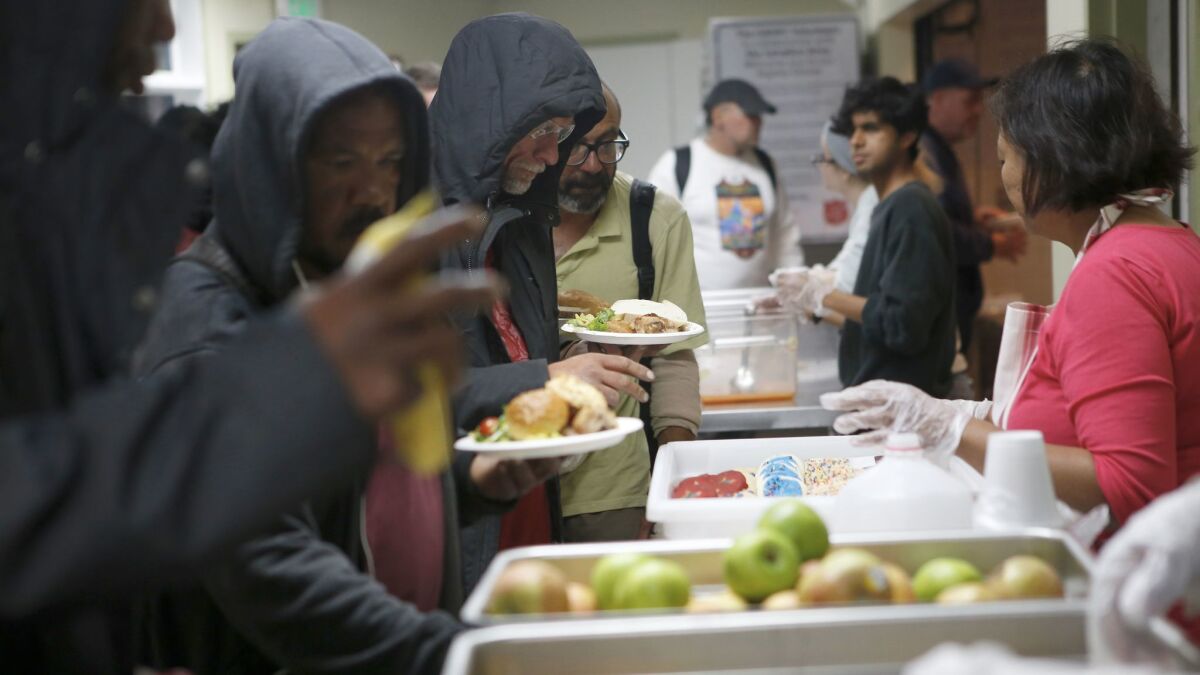 Twitter: @geholland
ALSO
Home at last: Vets' circuitous paths through homelessness meet in new permanent home
Huntington Beach opposes county supervisor's proposal for homeless shelter
In Venice, where money meets misery, hoping for an end to homeless camps
The stories shaping California
Get up to speed with our Essential California newsletter, sent six days a week.
You may occasionally receive promotional content from the Los Angeles Times.