Lawsuit demands L.A. eliminate 'pocket veto' on homeless housing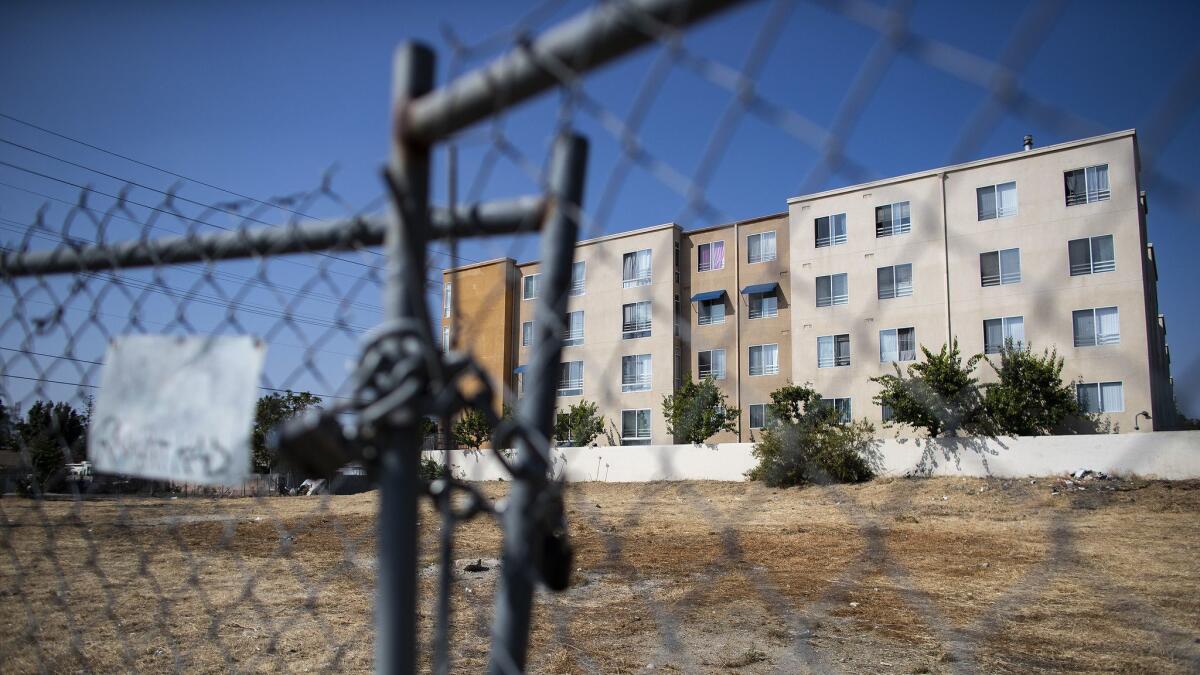 In Los Angeles, local lawmakers can quietly block affordable and homeless housing in their districts by withholding a required letter.
Now, a community group is going to court to demand the city eliminate that "pocket veto."
The lawsuit, filed Thursday by the Alliance of Californians for Community Empowerment, denounces the requirement as "an illegal, unnecessary, arbitrary, and discriminatory barrier to the construction of affordable and supportive housing." It calls for a court order forcing the city to abandon it.
Under city regulations, housing developers seeking funding for affordable or homeless housing projects must get a "letter of acknowledgment" from the council member who represents the area where they want to build.
That requirement, which has existed for years for affordable housing funded through the housing department, also was folded into regulations for funding under Proposition HHH, a $1.2-billion bond measure approved by voters for homeless housing.
In its lawsuit, the group argued that the rule allows council members to thwart housing for poor people without any common standard or public justification, using "a secret behind-the-scenes process" that insulates lawmakers from accountability.
"Without a clear, transparent way of going about this, council members have way too much power to be able to shut these projects down," said Joe Delgado, director of the Los Angeles office of the alliance. Members of his group have struggled to find affordable housing and ended up bunking in motels or cars as a result, Delgado said.
Other housing projects do not face the same hurdle, the group argued, causing a disproportionate impact on housing opportunities for poor people of color and residents with disabilities. Attorneys argued that the rule violates state and local law, including a statute barring local governments from discriminating against subsidized housing.
Rob Wilcox, a spokesman for City Atty. Mike Feuer, said their office would review the complaint and declined further comment Thursday. In the past, council members have argued that the requirement gives them an opportunity to reach out to the community and ask for any needed changes so that homeless and affordable housing is welcomed in neighborhoods.
"It's a critical component of oversight," Councilman Gil Cedillo, who heads a council committee focused on housing, told The Times earlier this year. As the elected representatives of each district, "we have a sense of what developments are appropriate and where they are appropriate."
The Times has reported on a handful of instances in which lawmakers refused to hand over the letter for HHH projects, based on documents obtained through public records requests.
For instance, Councilman Curren Price blocked funding for a proposed project in South L.A., saying it looked boxy, was short on community amenities and lacked the right mix of units to accommodate both single people and families. Another lawmaker, Councilwoman Nury Martinez, cited concerns about concentrating homeless housing in one neighborhood.
In the lawsuit, attorneys for Public Counsel, the Public Interest Law Project and Rosen Bien Galvan & Grunfeld LLP argued that seemingly neutral changes, such as asking for more family housing, could be used to discriminate. For instance, chronically homeless individuals are more likely to have disabilities than members of homeless families, the suit said.
The lawsuit charged that beyond those cases, the "mere existence" of the letter requirement "deters many interested developers from even attempting to pursue supportive housing or affordable housing projects," especially in areas "where public hostility to such projects is well known."
"There's a chilling effect when the councilman says to a developer, 'I'll give you the letter after you get neighborhood council support,' when a councilman knows the neighborhood council won't support it," said attorney Shashi Hanuman, director of the Community Development Project at Public Counsel.
Attorneys pointed specifically to an email sent from a nonprofit housing developer to Councilman Paul Koretz, who has publicly acknowledged that residents in his Westside district sometimes resist homeless housing.
In the email, the developer says his understanding is that he would need neighborhood council support in order to get the letter from Koretz.
Koretz said that was a misunderstanding. The councilman said he encourages developers to work with neighborhood groups and hear their suggestions, but "I would never say they had veto power."
He attributed the lack of HHH projects in his council district to other barriers, including intense competition for available land, not community opposition.
The required letter also has raised concerns in Sacramento, where Assemblyman David Chiu (D-San Francisco) has proposed a bill that would block cities and counties from imposing such a requirement for housing developers to get funding for projects that also are getting state assistance.
Twitter: @AlpertReyes
---
UPDATES:
1:50 p.m.: This article was updated with comment from Councilman Paul Koretz.
12:30 p.m.: This article was updated with the city attorney's spokesman saying the office would review the complaint.
This article was originally published at 12:10 p.m.
Sign up for Essential California for news, features and recommendations from the L.A. Times and beyond in your inbox six days a week.
You may occasionally receive promotional content from the Los Angeles Times.