L.A. lawmakers can block homeless housing projects by simply withholding a key letter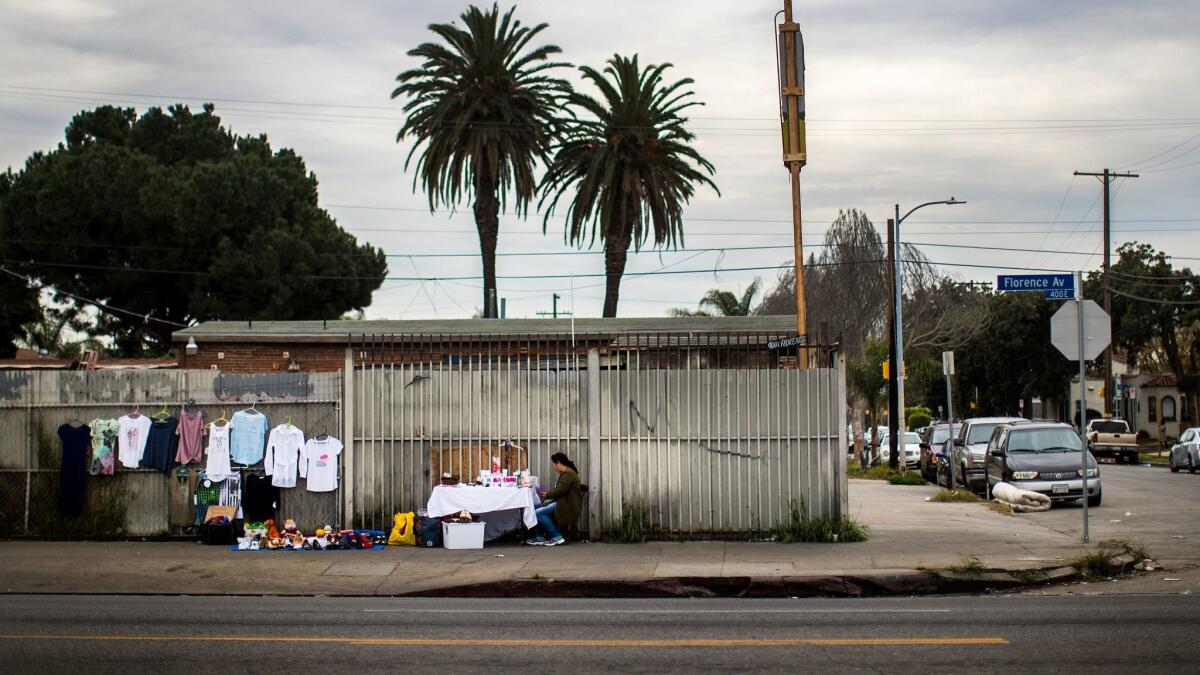 Los Angeles lawmakers say the city must act urgently to help tens of thousands of people get off its streets.
They have vowed to build thousands of units of homeless housing with supportive services and pushed for a new law that would make it easier for them to get approved.
But so far, members of the City Council have hung on to their own power to halt those projects.
Before a proposed building can get funding from the housing department through Proposition HHH, the $1.2-billion bond passed by voters, it must have a "letter of acknowledgment" from the local council member. And if a council member simply withholds that letter, a project can be stopped in its tracks.
In February, the housing department said it was turning down funding for two proposed projects that lacked the required letter. One of them, proposed for Florence Avenue in South Los Angeles, was "theoretically viable" aside from the missing document, according to a staff report.
Gary Blasi, professor emeritus at UCLA School of Law, called the requirement "outrageous."
"It's just purely political," Blasi said.
Council members have argued that the requirement is not meant to thwart projects, but to help ensure community backing for homeless housing by alerting lawmakers so they can build up support.
Anna Bahr, deputy press secretary for Mayor Eric Garcetti, said in a written statement that "ideally, these letters can play an important role in ensuring the crucial buy-in of City Council members and constituents for new supportive housing projects."
In Sylmar, Councilwoman Monica Rodriguez said, the letter gave her leverage to address concerns about a proposed project.
Rodriguez said that after a housing developer approached her in August seeking the letter for a planned project on Foothill Boulevard, she asked the nonprofit to hold more community meetings and get feedback on its proposal.
"This process is important to make sure these projects are done right," Rodriguez said. The councilwoman ultimately supplied the letter to Clifford Beers Housing after the nonprofit adjusted its building design by reworking its facade and using a "softened color palette." The proposed project, called Metamorphosis on Foothill, is expected to house dozens of formerly homeless people.
"It's not just important to build them, it's important to build them in a way where they're embraced by the neighborhood," said Councilman Marqueece Harris-Dawson.
But nonprofits that advocate for poor and homeless people have lamented that the requirement can throw up a barrier to worthwhile projects, rather than simply giving lawmakers a heads-up. They complain that a council member can quietly scuttle a project without relying on any agreed standards or guidelines.
"There's no objective criteria on which someone decides to issue a letter. When should a letter be issued? When should a letter not be issued?" said Shashi Hanuman, directing attorney of the Community Development Project at Public Counsel, a nonprofit law firm.
The letter requirement was tucked into regulations on the Proposition HHH funding that lawmakers approved in December.
Under the rules, an application for HHH funds that lacks the needed letter "will be automatically rejected." Such a requirement is not new to local developers: The housing department also requires such letters before it recommends handing over other funds for affordable and senior housing projects, General Manager Rushmore Cervantes said.
More than three years ago, Public Counsel argued against requiring such letters to draw on a city fund for affordable housing. The firm argued that the mandate could increase the risk of discrimination claims and removes the process from the public eye.
City staffers have said such letters are meant "to ensure that council offices are aware of the agencies applying in their district."
Greg Spiegel, director of strategic initiatives for Inner City Law Center, argued that if the city simply wants to make sure council members know about proposed projects, it could require housing developers to notify them.
Instead, Spiegel said, the letter is "functioning as a veto."
Earlier this year, the city turned down funding for the 51-unit building on Florence Avenue, deeming its application "deficient" because Councilman Curren Price had not provided the required letter.
Today, the Florence Avenue site is ringed with corrugated metal and fencing tipped with rust. A weathered sign announces "CLT Wrecking Co." Dogs romp around the lot, which is strewn with cars being stored there by its longtime owner.
The proposed project on that site would have housed 50 formerly homeless people and included a computer lab, a community kitchen, a rooftop deck with a vegetable garden and a barbecue, and space for resident programs, according to a city report.
But Price spokeswoman Angelina Valencia said the plan fell short of his standards. The building was originally slated to have only studio apartments for formerly homeless residents, but Price wanted "a variety of bedroom counts that also take into account homeless families."
"It would have segregated single adults from couples and families, whereas the councilman feels it is just as important to promote a sense of community and create a healthy environment," Valencia said in a written statement.
She added that the proposal had no commercial space, was short on amenities that serve the wider community and had a design that was "at best mediocre and extremely boxy" compared with other housing projects built by the same developer.
"Unfortunately, after our staff met with this developer, they refused to make substantive changes that would have garnered our support," Valencia said. Too often, she said, housing developers present South Los Angeles with "inferior projects that don't measure up."
Price is committed to helping the homeless and has backed other supportive housing projects in his district, "but the projects must be of high quality, and address the diverse needs of the homeless" in the district, Valencia wrote. "It's crucial that low-income communities of color are treated fairly and no different than more affluent districts."
LINC Housing Corp., a longtime affordable housing developer that proposed the project, said that it had tried its best to address the requests from the councilman's office but that the financial feasibility of the proposed project depended on it consisting mostly of smaller apartments.
The group said it had weighed both the small size of the Florence Avenue lot — less than 15,000 square feet — and community needs when it decided to propose studios. According to the last homeless count, roughly 3,100 out of the 3,800 homeless people in the council district that Price represents are single adults, defined as "households without children."
"We're disappointed we weren't able to meet the expectations of the council office with this much-needed development that was intended for homeless seniors and transitional age youth," LINC President and Chief Executive Rebecca Clark said in a written statement.
Clark added that "LINC has a long history of building and maintaining beautiful, award-winning properties, and what we proposed for this site was no different."
The Florence Avenue project could still seek Proposition HHH funding if the nonprofit reapplies with the required letter, but the group does not believe it will be able to move ahead with the development.
Clark said that LINC had begun to alter its plans to include both studios and one-bedroom apartments, but that reworking the proposal to include units bigger than that "would change the financing plan completely."
Still, she said, "we will continue to work with this district, and all districts, to build housing that is so desperately needed."
Twitter: @AlpertReyes
Sign up for Essential California for news, features and recommendations from the L.A. Times and beyond in your inbox six days a week.
You may occasionally receive promotional content from the Los Angeles Times.