Here's how easy it is to block a homeless housing project in L.A.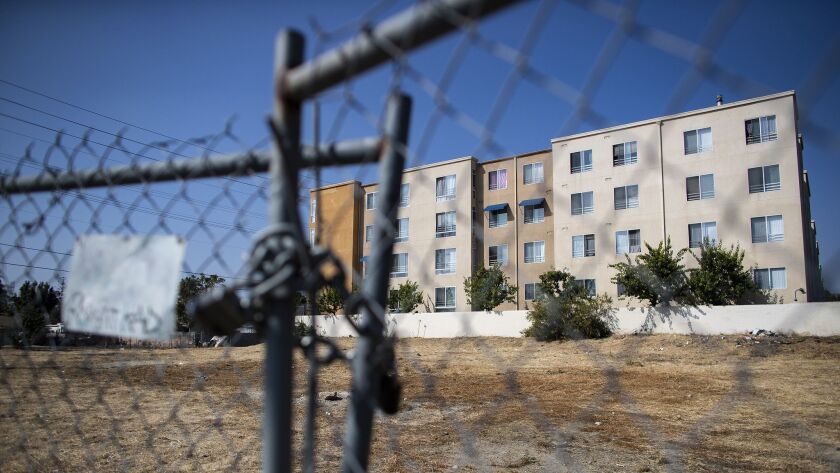 In the eastern stretches of the San Fernando Valley, an empty lot sits alongside Sun Valley High School, strewn with discarded bits of Styrofoam and paper.
A nonprofit group had envisioned a new building rising on the Sheldon Street site, one that could house 25 homeless people. Los Angeles voters had approved a $1.2-billion bond, Proposition HHH, to help fund the construction of thousands of units of homeless housing across the city.
But to have a shot at that money, the housing developer needed to get a key document — a letter from a local lawmaker.
And she turned it down.
Each L.A. City Council member has the power to help or halt plans for HHH housing in his or her district, by deciding whether to hand over the required letter.
Council members have argued that requiring the "letter of acknowledgment" helps ensure that homeless housing is welcomed in the community. But critics say the rule can create an arbitrary barrier to needed housing, and they complain that the decision routinely happens outside public view.
In many cases, lawmakers have handed the letters over with little fuss, according to hundreds of pages of documents obtained by The Times through a public records request.
But council members have also withheld letters for a range of reasons, reflecting the broad latitude they have to determine whether plans for homeless housing can move forward.
Last year, when Councilwoman Nury Martinez declined to provide the letter for the proposed building in Sun Valley, her aide Ackley Padilla told housing developer Many Mansions in a brief email that "we would not support an HHH application."
Many Mansions declined to comment. Martinez told The Times that Sun Valley had been doing "more than its fair share," saying there were already three other homeless housing projects underway in the neighborhood. Those three projects, plus a new building nearby in North Hollywood, will include 191 units of supportive housing, Padilla said.
Sun Valley has already "borne the burden of really poor zoning and land use decisions" that put polluting industries near homes and schools, Martinez said, arguing that the area needed "a balance of housing" and that "other parts of my district could be doing more."
"I want to make sure that no community in my district has to shoulder the burden of the collective obligation of all neighborhoods," the councilwoman said.
Councilman Mitch O'Farrell refused to issue a letter for a proposed project in Westlake amid concerns that it may have received an inflated appraisal — one that the housing department warned would not meet city criteria.
"I would hope that your office will not issue a Letter of Acknowledgment so that we can avoid a very public appeals process on this," housing department staffer Timothy Elliott wrote in an email to an O'Farrell aide.
The aide, Craig Bullock, replied that he told the applicant that the councilman wouldn't provide the letter, but that the firm might have a shot if it fixed the appraisal and did more community outreach.
"This office would not be doing its fiduciary due diligence by advancing this proposal," O'Farrell spokesman Tony Arranaga told The Times.
And earlier this year, Councilman Curren Price blocked HHH funding for a proposed project on Florence Avenue in South Los Angeles.
Price complained that it was short on community amenities, looked boxy and lacked the right mix of bedroom units. The developer, LINC Housing Corp., said that it tried to address his concerns but that bigger apartments were not financially feasible on the site.
The letters give lawmakers the power to approve, stymie or push for changes to homeless housing based on their own standards. Price, for instance, has supported some projects that consist solely of single or one-bedroom units, but has argued that in newly constructed buildings, a mixture of bedroom counts prevents single adults from being isolated from families.
Under a written policy for assessing HHH proposals, Price requires projects on commercial corridors to include "community benefits" such as pocket parks and businesses that serve the neighborhood, and suggests checking how many other "100% affordable housing" projects are in the area.
In some cases, lawmakers have used the letter as leverage to get housing developers to adjust their building plans. In Sylmar, Councilwoman Monica Rodriguez pushed to change the building facade and color scheme of a Foothill Boulevard housing project.
And when a group that assists foster youth sought a letter for a possible project on Crenshaw Boulevard, staffers for Councilman Marqueece Harris-Dawson first connected them with established developers and nonprofits to mentor them on how to apply.
Nonprofits that assist poor and homeless people have lamented the letter requirement, arguing that it allows politicians to thwart projects without public scrutiny and without relying on any commonly agreed standards. Dozens of groups, including Skid Row Housing Trust and Venice Community Housing, have urged L.A. to reconsider the requirement.
"These projects already get vetted through a complex web of standardized rules and regulations. But at least we know what those rules are," said Shashi Hanuman of the nonprofit law firm Public Counsel.
"With no standards to govern when the letter is issued, in one district a developer could get a green light; in another, the exact same project meeting objective criteria could be killed for no stated reason," Hanuman argued.
Alan Greenlee, executive director of the Southern California Assn. of Nonprofit Housing, said he was troubled that council members had no obligation to respond to requests quickly — or at all. Records show that nonprofits frequently had to pester lawmakers for an answer.
Council members say the letter is a valuable way to alert lawmakers early in the process and make sure that proposed projects account for neighborhood concerns. Before HHH, the city had also required such letters to obtain other funding for affordable housing.
"They give us an opportunity, on the front end, to raise questions, ask for changes, get a better understanding of what the developer is trying to accomplish, and go to neighbors — so that neighbors hear about it before it's in the newspaper," said Harris-Dawson, who represents part of South L.A.
Requiring the letter can also help prevent projects from being torpedoed by the council at the end of the process. For council members like Martinez, the rule is seen as a safeguard against concentrating homeless housing in areas with cheaper land.
"It's a critical component of oversight," said Councilman Gil Cedillo, who heads a council committee focused on housing. As the elected representatives of each district, "we have a sense of what developments are appropriate and where they are appropriate…. One size doesn't fit all in the city of Los Angeles. What works for us may not work in Bel-Air."
Although housing advocates have raised concerns about rejected projects, politicians have often handed the letters over readily. In the southernmost stretches of the city, staffers for Councilman Joe Buscaino provided the letter to a "social entrepreneur" despite some qualms about her experience.
"She was formerly a commercial fisherman," Buscaino senior advisor Alison Becker wrote to other aides. "It is really not likely that she would qualify for serious consideration of her proposal."
A few weeks later, after calling for a staff "huddle" on the decision, Becker sent the woman the letter and wished her luck. The council office didn't take a position on the proposed project but provided the letter so the entrepreneur could apply, Buscaino spokesman Branimir Kvartuc said.
The letter requirement was included in an annual set of HHH regulations passed last year, which are slated to go up for council approval again this summer. Mayor Eric Garcetti and his staff are not seeking to change the requirement, his spokeswoman Anna Bahr said.
The L.A. requirement has raised concerns in Sacramento: Assemblyman David Chiu (D-San Francisco) said in March that he planned to amend a proposed bill to block such requirements for funding homeless housing. As of Friday, he had yet to make that change.
"We were under the impression that local officials were working to address this issue," Chiu said in a statement. "If they are unable to take action in this area, I will pursue a state legislative fix."
Twitter: @AlpertReyes
---
The stories shaping California
Get up to speed with our Essential California newsletter, sent six days a week.
You may occasionally receive promotional content from the Los Angeles Times.