Flames reach small seaside town of La Conchita, sending evacuation holdouts fleeing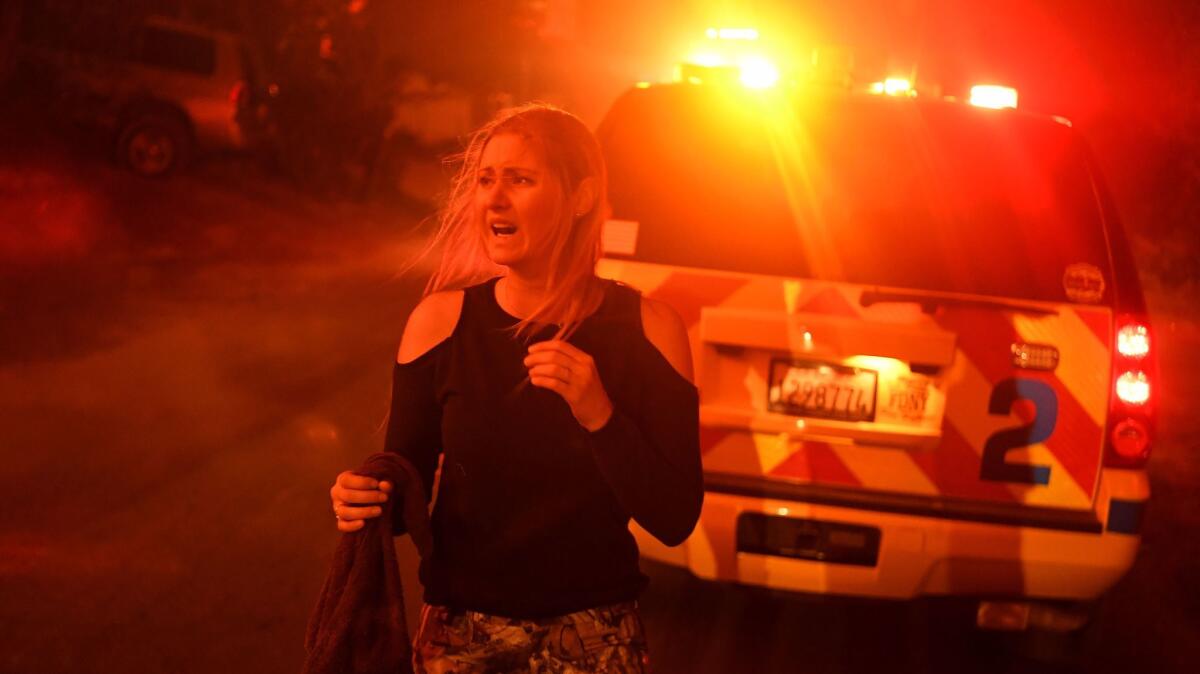 Reporting from La Conchita, Calif. —
The Thomas fire rampaged toward La Conchita early Thursday, sending some holdouts who had defied evacuation orders fleeing the small seaside town.
Shortly before 2 a.m., flames rolled down the hillside just off the 101 Freeway, near Faria Beach Park, before jumping northbound lanes and igniting weeds in the center divider. Drivers swerved to avoid the flickering flames, with smoke making it hard to see farther than a few feet at times.
Visibility problems triggered a full shutdown of the freeway, according to the California Highway Patrol's online incident log.
Authorities said they'd been to the neighborhood — where there's only one way in and one way out — twice ordering people to leave, telling them it was too dangerous to stay.
"We're going to do a drive-by out there ourselves," Ventura County Sheriff's Capt. Garo Kuredjian said early Thursday. It wasn't clear whether flames had reached homes.
The town, a few miles from Carpinteria, is surrounded by dry chaparral and other vegetation that has not burned for decades. Two-story and single-story homes sit along the base of the hillsides. The buildings sit next to each other with very little space in between.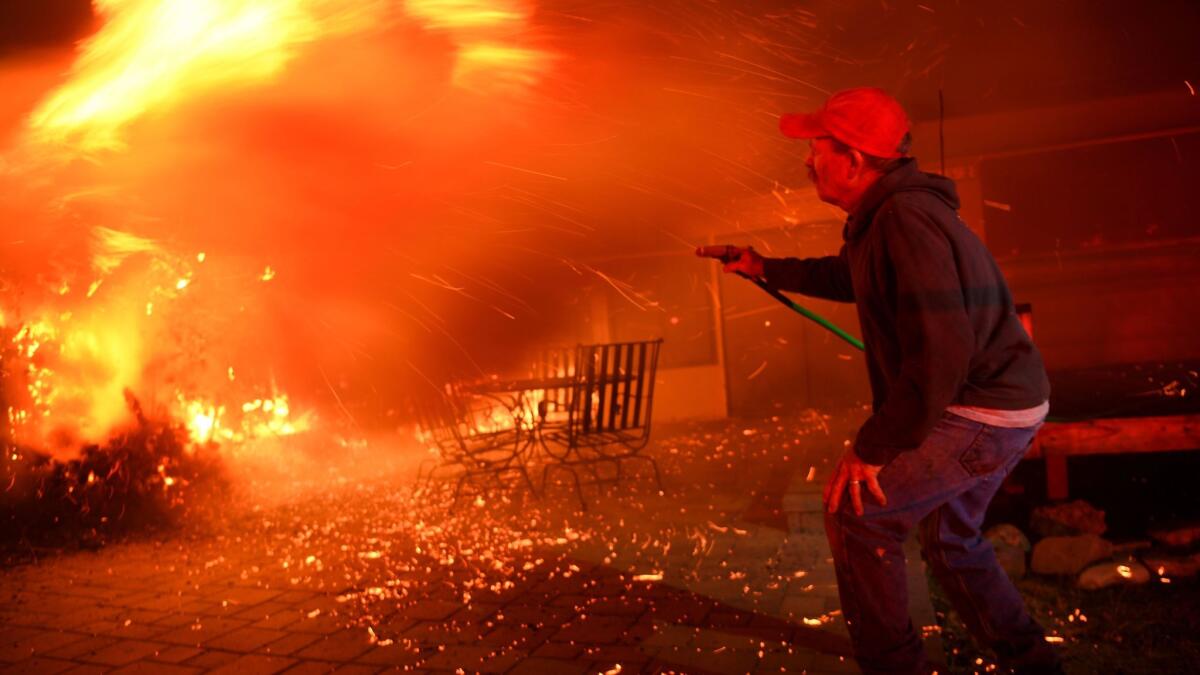 As the Thomas fire grew near, some residents watered down their roofs, and others packed up cars and trucks. A few focused on getting their horses out of a nearby stable.
This isn't the first time the town of a few hundred people has been rocked by a disaster. In 2005, 400,000 tons of mud slid down the bluff behind La Conchita, killing seven adults and three children. A decade earlier, the hill collapsed and destroyed nine homes.
As the fire burned around the beach community, homemade sprinklers connected to the roofs of homes were left on to protect against blowing embers.
Among them was the home of Jesus Perez, 43, who used PVC piping and a Rain Bird to install the sprinkler on the roof.
"It took me four hours to make it," he said.
Perez said it was important to do everything he could to protect his home for his wife and three kids.
"I just don't want to lose my house," he said.
alene.tchekmedyian@latimes.com
Twitter: @AleneTchek
Vives reported from La Conchita, Tchekmedyian from Los Angeles.
Sign up for Essential California for news, features and recommendations from the L.A. Times and beyond in your inbox six days a week.
You may occasionally receive promotional content from the Los Angeles Times.