Three hit-and-run crashes in South L.A. prompt calls for more Vision Zero action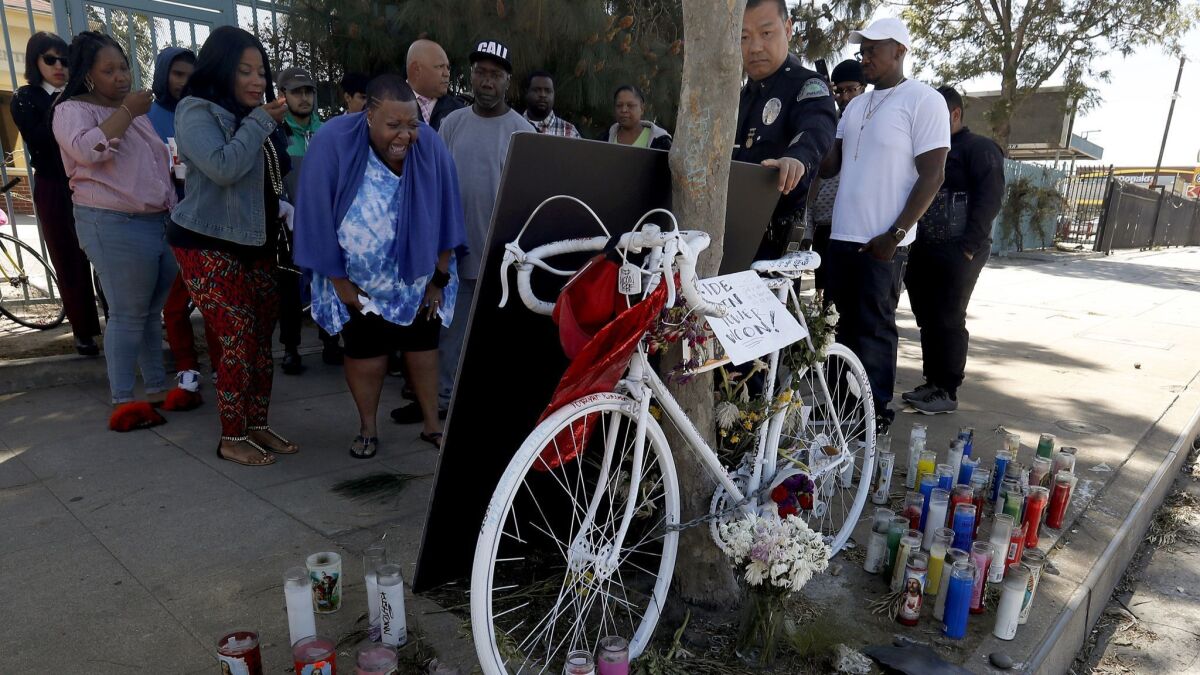 Four fatal traffic collisions in a week in South Los Angeles, three of which were hit-and-run crashes, have drawn frustration and criticism from residents and advocates who say city officials should do more to protect pedestrians and cyclists.
Since April 10, residents of four neighborhoods have witnessed brutal reminders of how dangerous L.A.'s streets can be. The traffic crashes, which occurred within three miles of one another near the 110 Freeway, killed two cyclists, a pedestrian and a man crossing the street in his wheelchair.
The wave of fatal crashes sparked an angry response from the Los Angeles County Bicycle Coalition, which said this week that city officials' initial determination to reduce traffic deaths through the Vision Zero initiative had "dwindled into inaction."
"Our streets are not safe or healthy, and they will not be until people walking and biking are given the same rights as people in vehicles," the coalition said. "Hit and runs are a public health crisis, and should treated as such, instead of legitimized as 'acceptable tragedies.'"
Mayor Eric Garcetti, who created L.A.'s Vision Zero program in 2015, said Tuesday that he is committed to the program, and will recommend $91 million in funding for Vision Zero in next year's budget, more than triple the amount allotted this fiscal year.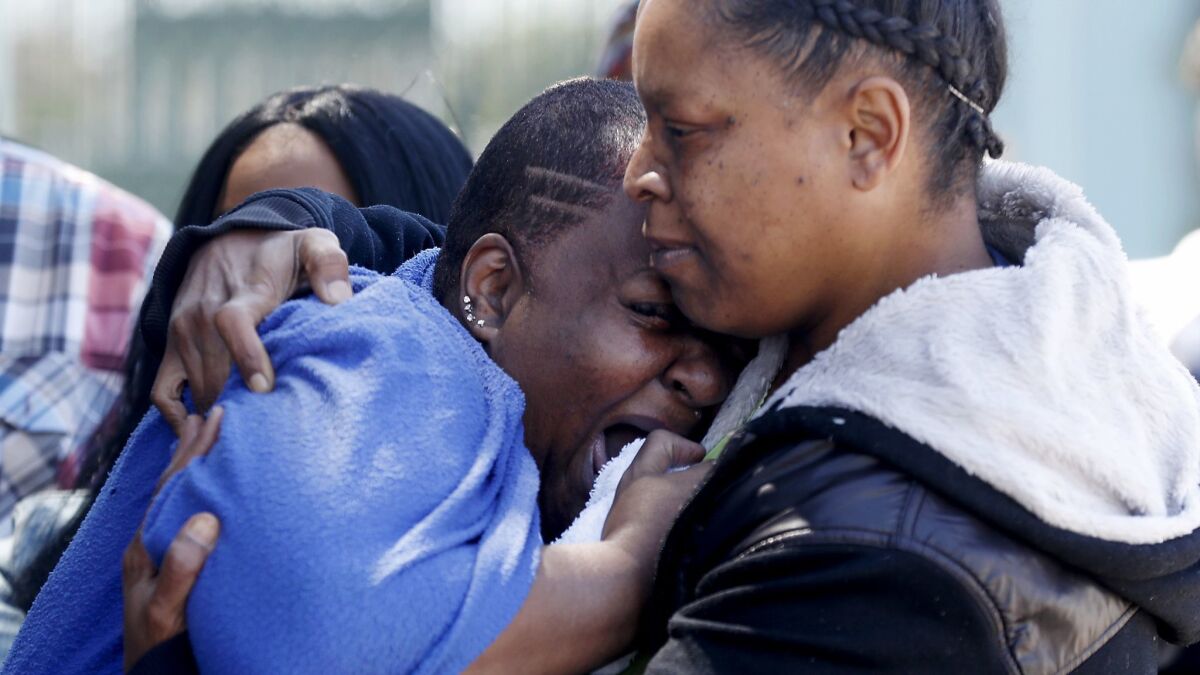 "We're saying here right now to every activist, we are with you on this," Garcetti said.
He said the city has made more than 1,000 changes to streets — some of which have seen a high number of fatal crashes and severe injuries — that include higher-visibility crosswalks and signs that tell drivers their speed. He also urged drivers to put away their cell phones.
Garcetti's Vision Zero initiative called for a 20% reduction in traffic deaths on city streets by 2017. Last year, the number of people killed in L.A. traffic crashes fell 3% — far short of the 20% goal. The number of pedestrians killed has spiked 82% since 2015.
The victims of the fatal crashes in the last week include 22-year-old cyclist Frederick Frazier, who was struck on the afternoon of April 10 in Manchester Square by a driver in a white Porsche Cayenne SUV.
The force of the impact snapped Frazier's bicycle in half.
The driver fled into a nearby neighborhood. Police have made no arrests and have not identified the vehicle, which officials said will have damage to the undercarriage and bumper.
On Friday evening, a driver in a dark-colored SUV fled after fatally striking Alfredo Ortiz, 52, who was walking through a crosswalk at West Imperial Highway and South Figueroa Street.
On Sunday morning, 57-year-old Gregory Moore was crossing the intersection of Century Boulevard and Main Street in his wheelchair when he was struck and killed by a possibly drunk driver, police said.
Just after midnight Monday, two drivers struck and killed a bicyclist in his 60s as he rode through a crosswalk at Century and Avalon boulevards. Both fled the scene. The man's name has not been released by county coroner's officials.
Detectives are also investigating a fourth hit-and-run that left a man severely injured.
Last Wednesday, after a group of cyclists rode through Manchester and Normandie avenues to hold a vigil for Frazier, a driver in a gold Toyota Avalon ran a red light, barreled through the intersection and struck a man crossing the street, sending him flying into the air. He is still hospitalized.
An anonymous tip to the Compton Police Department led police to the Toyota, which had been left on a residential street in the city, Los Angeles Police Department Detective Ryan Moreno said. The suspected driver is not the car's owner, he said.
A review of video footage of the collision "will lead to a closure of this case and an arrest," Moreno said. He described the driver, who is being sought by police, as a young African American woman with a nose ring and a tattoo on the left side of her abdomen.
At a news conference Tuesday in Manchester Square, LAPD officials announced a $50,000 reward in the Frazier case for information that leads to the Porsche driver's arrest and conviction.
As police officers arrived with a photo of Frazier, his mother, Beverly Owens, began to cry. She wrapped a blue blanket around herself and wailed, "My baby, my baby. Why didn't they stop? Why didn't they stop?"
Frazier, her only son, had Type 1 diabetes and rode his bicycle to manage his weight, Owens said. Most streets in Manchester Square don't have bicycle lanes, she said, and he often pedaled close to the curb, where he was struck last week.
During the news conference, one Manchester Square resident questioned whether his death would lead to any bicycle lanes in the area, as it had in other areas of the county.
The LAPD now sends a supervisor to the scene of every crash that kills a bicyclist to evaluate what changes — such as bike lanes, or an additional traffic signal — could help prevent future deaths, said LAPD commanding officer Jonathan Tom. He said the LAPD would recommend installing bicycle lanes on Manchester and other arterials.
Friends and family asked for help paying for Frazier's funeral expenses.
His death will leave a hole in the family, said cousin William Baptiste, because he brought love and positivity to every gathering. The pain of losing a loved one, he said, is compounded by the fact that traffic deaths "just don't stop."
"When the smoke clears, when the cameras leave, when everybody leaves, I'm all alone at home with my baby gone," Owens said. "All I had of value to this dirty, low-down, disgusting Earth — you took him away."
Twitter: @jpanzar
Twitter: @laura_nelson
Twitter: @dakotacdsmith
---
UPDATES:
6:50 p.m.: This article was updated with additional reaction and background.
This article was originally published at 11:30 a.m.
The stories shaping California
Get up to speed with our Essential California newsletter, sent six days a week.
You may occasionally receive promotional content from the Los Angeles Times.