Pasadena's quick exit from bike-share program is a blow for Metro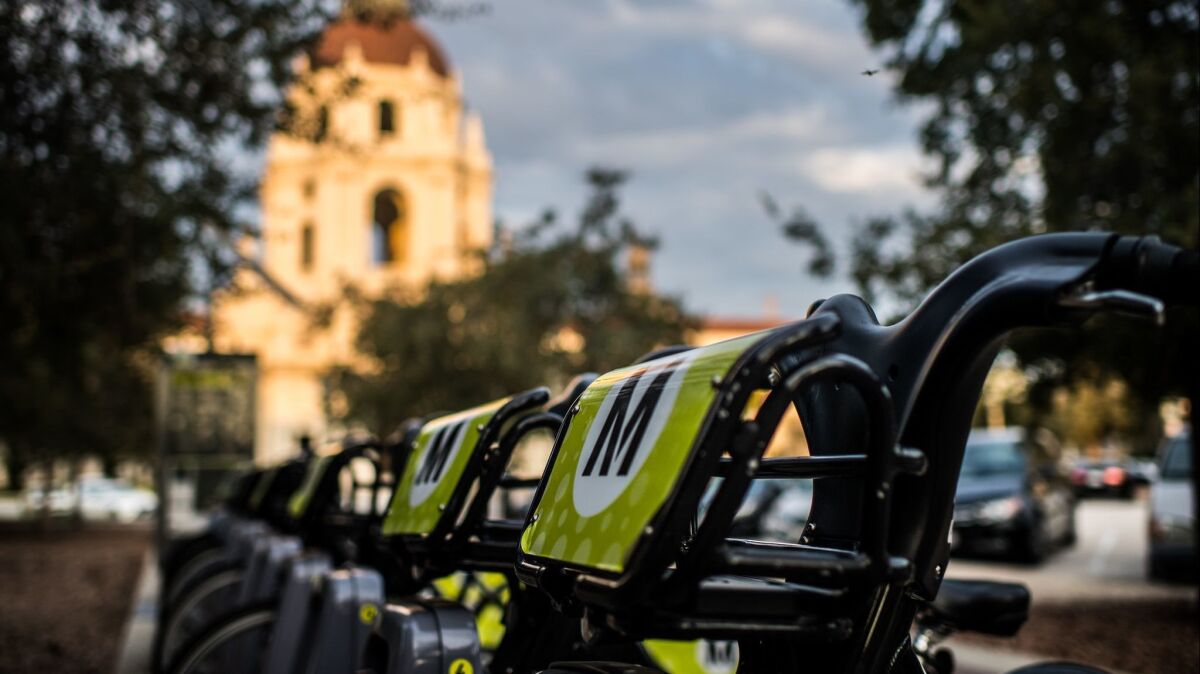 In July of last year, volunteers mounted 375 green-and-black bicycles and pedaled them across Pasadena to celebrate the city's enrollment in the fledgling Los Angeles County bike-share program.
Fourteen months later, the bicycles are gone.
Pasadena was the second city to join the Metropolitan Transportation Authority program, which allows riders to check out bikes for short trips and drop them off near their destinations.
Pasadena officials hoped bike-sharing would help commuters make connections between work, home and the Metro Gold Line without getting behind the wheel. Instead, the bicycles saw an average of less than one ride a day, according to city data.
"The bikes were not used as anticipated," said Pasadena spokeswoman Lisa Derderian, who noted that the city's average monthly bill was $100,000. The last bike-sharing kiosks, at the Rose Bowl and the Pasadena Museum of California Art, were removed last week.
Pasadena's quick exit from the bike-share program is a blow for Metro, which has struggled to attract riders since 1,100 bikes were put into use two years ago in downtown Los Angeles.
Metro has added bicycles and rental kiosks in Venice, at the Port of Los Angeles and at Echo Park Lake. But most of the city has no rental bikes, which experts say limits ridership.
The downtown bicycles see an average of 0.7 rides a day, and those in Venice are ridden about 1.2 times a day, according to the city. The figures are dramatically lower than systems in other major cities, including New York, Mexico City, Chicago and San Francisco.
In an effort to invigorate sluggish ridership, Metro halved its fares in July, reducing the cost of a 30-minute ride to $1.75 from $3.50. Income rose 2% during the first month of lower fares, suggesting that customers have responded to the price cut by riding more, said Metro Deputy Executive Officer Frank Ching.
But the agency continues to face stiff competition from other operators, including CycleHop, which runs the bike-share systems in Santa Monica, West Hollywood, Beverly Hills and on the UCLA campus. Those networks use a dockless model that allows users to leave bikes anywhere, rather than at a kiosk or a dock.
Metro is considering similar technology, which would add more flexibility to the system, Ching said.
The more unexpected competition has come in the form of electric scooters. Companies such as Bird and Lime have flooded the Westside and Mid-City with the small, battery-powered devices that cost $1 to rent and 15 cents a minute to ride, and can be left just about anywhere.
"They compete for the same users — and often, much more successfully," said Juan Matute, deputy director of UCLA's Institute of Transportation Studies. "You're not walking an extra two or three blocks from where the dock is to where you want to go."
Still, privately funded systems have their drawbacks, Ching said, including the possibility that the company will leave with no warning and no alternative.
Our focus is on longevity.
— Frank Ching, Metro deputy executive officer
Two bike-share companies left Seattle this summer after the City Council approved a $250,000 annual permit fee for dockless bicycle companies. In August, Bird and Lime shut down their operations in Santa Monica for a day to protest the city's proposal to award permits to their rivals.
Santa Monica backtracked on those recommendations last week, proposing a permit process that would allow four companies — including Bird and Lime — to operate up to 750 scooters and dockless bicycles each.
"Our focus is on longevity," Ching said. "We're not just going to bring in a bunch of bicycles and leave them on the street, and we're not going to decide one day to no longer service the location."
He added: "Does that mean our program is for every city of different sizes, with different resources? Maybe not."
Choosing Metro's system, which requires that cities cover 65% of the operating costs, is a difficult proposition for local officials when private companies offer similar services for free.
Pasadena spent more than $2.7 million on the bike-share program over 14 months, according to city reports. User fees and memberships paid for less than 7% of the operating costs, meaning the 31 stations were nearly 94% subsidized.
By comparison, Monrovia launched a bike-share program in March funded by LimeBike at no cost to the city. A half-hour ride on one of the 200 lime-green bicycles costs $1.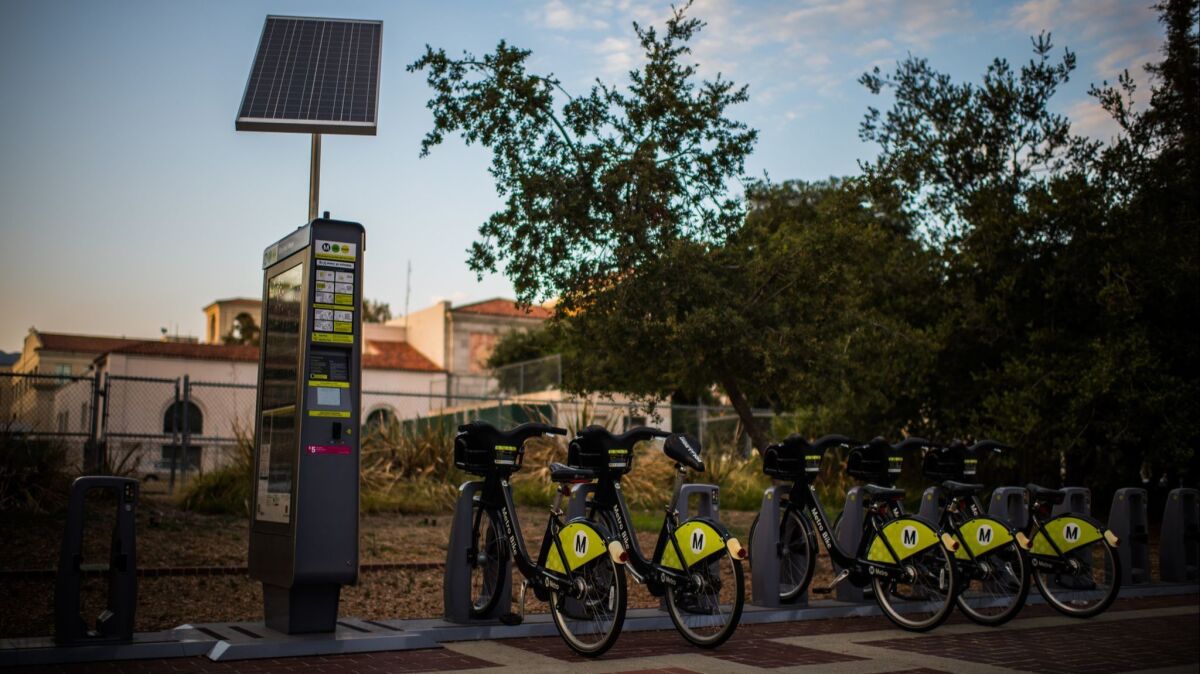 Most bike-sharing systems do not begin to cover their costs through memberships and user fees. In New York, San Francisco and other U.S. cities, corporate sponsors underwrite some or all of the operational costs in exchange for advertising on bicycles and station kiosks.
Advertising could have raised up to $750,000 a year for Pasadena, city officials estimated. But more than two years after the launch of the bike-share system, Metro has not secured a sponsor.
"We never stopped looking," said Ching, who took over the bike-share program at the start of the year. Metro had been approached by two national companies, he said, but he declined to name them.
Ching said there was "some limitation" in how sponsorship could work in the city of Los Angeles, where most of the system is based. Exclusive advertising rights for "street furniture," including bus stops and advertising kiosks, belong to the firm Outfront JCDecaux through 2021.
But Elena Stern, a spokeswoman for the city's Bureau of Street Services, said Outfront JCDecaux had "already committed" to allowing sponsor labels and advertisements on the bicycles and kiosks.
"The statement about the city's contract … preventing the bike-share vendor from obtaining a corporate sponsor seems to be inaccurate," she said in an email.
A similar issue with on-street advertising scuttled a 2012 bike-share plan proposed by then-Mayor Antonio Villaraigosa, who had envisioned up to 4,000 bicycles at 400 kiosks across L.A., at no cost to the city.
For the time being, Metro is pursuing more modest advertising and revenue strategies, including allowing local businesses to sponsor ads on as few as a dozen bicycles, Ching said.
In October, Metro will begin offering free transfers from trains and buses to shared bicycles, meaning passengers will be able to step off a transit vehicle and get on a bicycle without paying again, Ching said.
The hope, he said, is that free transfers will help passengers think of bike sharing as part of the transit network and spur ridership among commuters who currently walk, carry their own bikes or call an Uber or Lyft for the last legs of their trips.
Metro also plans to expand the system to Culver City, Marina del Rey, Palms, Westlake, Koreatown and Silver Lake later this year, at a cost of $35 million over five years. The expansion will add more stations near transit stops and create bigger contiguous areas for picking up and dropping off bicycles.
As the system expands, Ching said, Metro expects ridership to rise: "It takes time for the public to adapt."
For more transportation news, follow @laura_nelson on Twitter.
The stories shaping California
Get up to speed with our Essential California newsletter, sent six days a week.
You may occasionally receive promotional content from the Los Angeles Times.