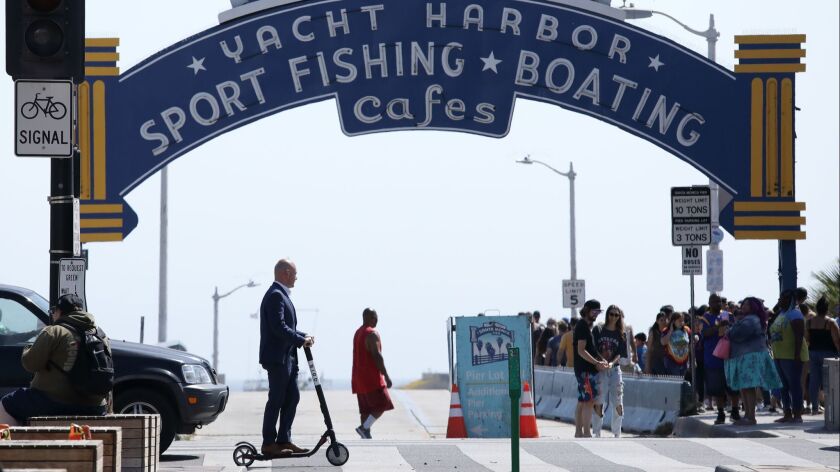 The city of Santa Monica has selected four companies — including Bird and Lime — for its electric scooter pilot program set to launch in mid-September.
The decision by David Martin, Santa Monica's planning and community development director, was a victory for the two companies, which have faced an onslaught of criticism since their scooters descended upon the city in 2017.
Earlier this month, the pilot program's selection committee recommended that the city go with just two companies, Lyft and Uber-owned Jump — neither of which currently operate electric scooter services.
That recommendation prompted Bird and Lime to turn off their scooters in Santa Monica for a day and stage a protest outside City Hall.
"Ultimately, the city determined that the experience of existing operators moved them up in the ranking system," Santa Monica spokeswoman Constance Farrell said.
The pilot program has been framed as a way to help the city craft regulations around the pay-per-minute devices.
Scooters flooded Santa Monica in September and have become hugely popular; officials estimate that there are 1,000 to 2,000 on city streets. Their presence has also sparked anger from those who say the vehicles are dangerous and poorly regulated.
In response to this backlash, Santa Monica officials passed an emergency ordinance this year to regulate electric scooters, ultimately requiring Bird to apply for a conditional vending permit.
The 16-month pilot program, slated to begin Sept. 17, goes a step further: It will require scooter vendors to pay the city a $20,000 annual operator fee — plus $130 a year per scooter — and initially will cap the number of rental scooters in the city at 2,000.
For the pilot program, Lime and Bird will be allowed to operate 750 scooters, while Lyft and Jump will each be allowed 250. Lyft and Jump also will get to operate 500 electric bikes each.
In making his decision, Martin considered applications submitted by 12 competing companies, as well as the selection committee's endorsements and public feedback. Santa Monica received nearly 500 personalized emails and more than 25,000 form-letter emails during the public comment period. The city did not take into account Bird and Lime's recent protest in front of City Hall, Farrell said.
To make its recommendations earlier this month, the selection committee — made up of city staff and a Santa Monica police lieutenant — scored each company that applied for a spot in the pilot in seven categories, including public safety, community engagement and compliance with the law. Both Bird and Lime performed poorly in the law compliance and public education categories, while Lyft scored highest in those areas.
But Martin wrote in his announcement that he ultimately decided that excluding operators that already have direct knowledge of the city would "unnecessarily short-change the program."
Though Bird and Lime have paid several hundred thousand dollars in fines for placing their scooters in the public right of way, he wrote, the companies "have both shown a consistent and continuing willingness to work with the city to develop a practical and functional shared mobility device program."
In a prepared statement, Bird Chief Executive Travis VanderZanden said his company "is committed to providing Santa Monica residents and visitors the accessible, equitable, and responsible transportation option that they deserve."
Electric scooter company Spin, which already operates in Los Angeles, was among the eight companies not chosen for the pilot. In a statement, Spin's head of policy, Brian No, said the city's choices are disappointing and surprising, given the selection committee's recommendation.
"Unfortunately, the decision seems to show that bad behavior will be rewarded and that what had been a transparent, fair process can be upended by simply antagonizing city officials and staff," No said.
Twitter: @LauraMNewberry
---