As L.A. porn industry struggles, 'web camming' becomes a new trend
Studio 20, a Romanian based web-camming company, is opening its first U.S. studio in Hollywood.
A Romanian flower merchant wants to boost L.A.'s flagging porn industry with a mix of corporate polish and live-stream naughtiness.
As health legislation, technology and commercial trends continue to drive traditional porn production from Los Angeles, Mugur Frunzetti hopes to make Hollywood the latest outpost in a growing video sex chat empire.
By providing professional sets, technical support and coaching to a legion of up-and-coming "web camming" or "camming" models, the bespectacled entrepreneur hopes to profit from the new face of adult entertainment -- or what industry experts call Porn 2.0.
Earlier this month, Frunzetti opened a 14-room studio in a strip mall along Vine Street, just opposite the Academy of Motion Picture Arts and Sciences Pickford Center. Studio 20, as it's known, features a variety of bedroom sets where camming models banter with web surfers online and entice them to enter private sessions where models will undress, act out fantasies, or follow explicit instructions … all for a price.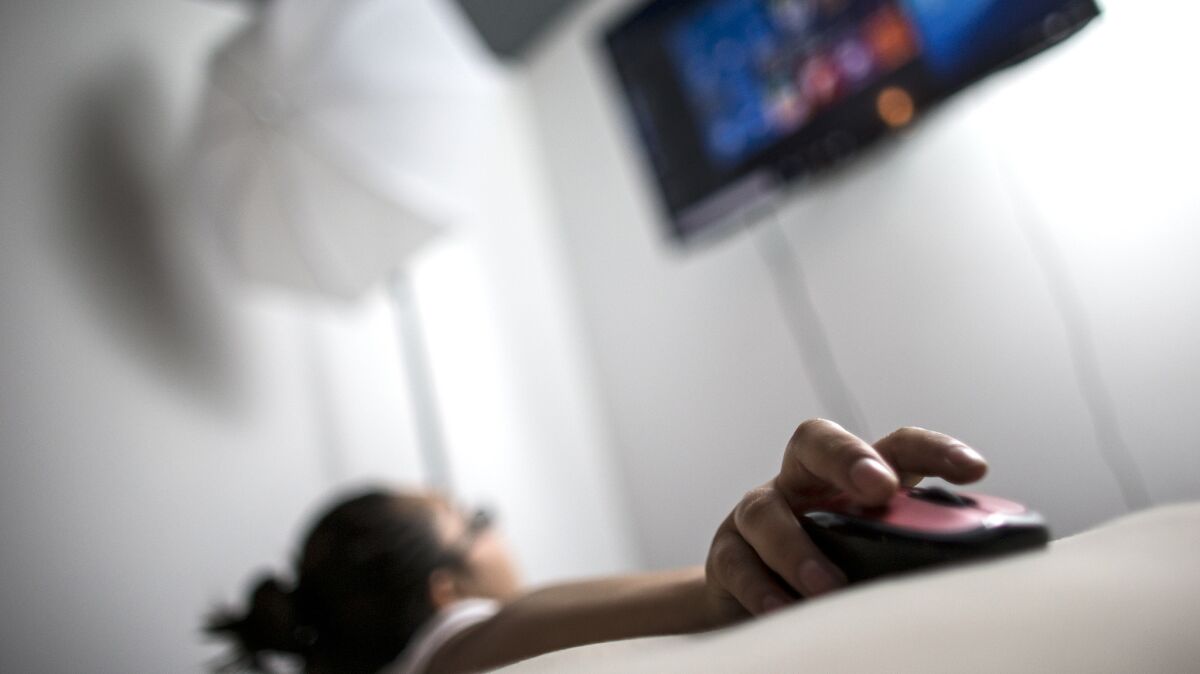 Once viewed as a small niche in the world of adult entertainment, camming today has become "the engine of the porn industry," according to Alec Helmy, the publisher of Xbiz, a sex-trade industry journal.
As people spend more and more time alone with their computers and handheld devices, Frunzetti is betting the trend won't slow down anytime soon.
It's a far cry from how the porn industry used to work.
A decade ago, female performers would often sign with a large company like Vivid Entertainment or Wicked Pictures, which would pay them to appear in company-produced films and promote their work at porn conventions or strip club appearances.
But that model began to crumble as websites like YouPorn and Pornhub gained popularity. Instead of depending on subscriptions or sales, those "tube" sites generally make money from advertising and let viewers watch porn for free.
Around the same time, California laws regarding pornographic shoots grew more strict. The passage of Measure B in 2012 required performers in Los Angeles County to use condoms. Within three years the annual number of permitted porn shoots dropped from 480 to 26, according to FilmLA, a nonprofit organization that oversees permitting throughout L.A. County.
The changes have thrown a number of veteran porn film actors into the rising "gig economy," "where workers unable to make a living from porn film production are eager to supplement their income and expand their personal brand," said Mireille Miller-Young, a UC Santa Barbara professor who studies pornography.
Everything is going virtual ... It's not a good thing for society, but it's a good thing for our business.
— Mugur Frunzetti, CEO of Studio 20
Some of these performers say it's a welcome change.
Tori Black used to work six days a week shooting sex scenes for films like "Penthouse Vacation" but now makes the same amount of money camming and dancing two or three times a week.
"It's so much easier on my body," said Black, who films out of her home and uses CamSoda.com to stream her shows.
Black also said she feels safer camming than she did as an adult actress since she's not exposed to sexually transmitted diseases or being asked to perform acts she doesn't want to.
"I know what feels good to me and nobody's asking me to do more than that," she said.
Camming offers another benefit to entertainment companies: There's little incentive to pirate clips.
"It's the interactivity that is the key value proposition," said Mike Stabile, a spokesman for kink.com in San Francisco. "To watch someone else's recorded private show is not as enjoyable, it's not as compelling as real-time exchange."
On a recent night at Studio 20, three women were camming while staff monitored their performances through a bank of monitors. A slogan on the wall declared, "Think Like a Man But Act Like a Lady."
"Jacob, where is your wife now?" one woman purred as managing director Roland Ashley and other staff listened in.
In another bedroom, Lexi Stone danced in a black tank top and garter belts. "Can I see your bra?" an online client asked.
Stone paused briefly. "I'm not wearing one," she said.
Ashley, the managing director, nodded in approval as he watched Stone entice one man to enter a private chat.
"I'm happy she isn't taking her clothes off," Ashley said. "We're more about relationship building, not nudity."
All women must be over 18 and under 35 before they begin working for Studio 20, but Frunzetti said looks and age aren't as important as attitude. "It's not like we only hire gorgeous women. The main thing we're looking for is personality and ambition," he said.
The cam models do not have to pay to join Studio 20, but they are also not guaranteed a salary. If they bring in customers, they can charge whatever they like, generally between $1 and $15 per minute. Frunzetti said a good U.S. cam performer can earn $20,000 a month; Studio 20 keeps half of the gross while the model gets the rest.
"Car, house, dream vacation can all be yours," the studio's website proclaims.
Stone said she used to cam out of her bedroom via laptop, but now sees the benefit of a studio.
"It's so much easier here," she said. "They have better lighting, they have better equipment, if you have a tech problem they take care of it for you."
Stone also said the studio has taught her useful pointers. "Before, I thought I just had to be this sexy, horny little thing," she said. "Here, they've shown it's OK just to be myself."
While other cam companies allow models to have sex during chats, Studio 20 workers are barred from working with others on camera, and cannot meet customers.
"That's a whole other business that we are not into," said Frunzetti, who claims his studio fills an existential need.
"We are trying to help people," he said. " They need a friend. They need to fall in love with somebody, they need a nice time with a very beautiful lady that they cannot have in real life."
True or not, Frunzetti is an unlikely porn baron. The 39-year-old operates a flower distribution company in his native Bucharest. Before breaking into the camming industry, Frunzetti owned an insurance firm and managed a gourmet popcorn company.
He opened his first Studio 20 about 16 years ago with a $5,000 investment. Since then, he has opened two other locations and sold two other franchises in Romania. Last year, the company made a $1-million profit, he said.
The company is growing so quickly that Frunzetti said he needed to expand, both to find models in different time zones who could help fill the 24-hour demand for models and to find more U.S. residents, who tend to be the most popular models.
"People want to talk to American girls; they are viewed as top of the line," Frunzetti said.
He said he plans on opening more Studio 20s on the East Coast if the L.A. location is profitable, which he believes it will be.
He hired 20 women in his first week in Hollywood, more than he ever did in Romania.
On a recent night at Studio 20, Addison, a brunette with tattoos on her thighs, attracted a man into a private chat and he typed: "you can start by taking your top off."
When she did, the man wrote: "yum."
At the customer's request, Addison took off her underwear and two other men quickly joined the private chat.
"They are learning very quickly," Frunzetti said.
For California news, follow @byjsong
ALSO
California safety board rejects condom requirement for porn films
Japanese porn industry says it's 'very sorry' that actress was coerced to have sex on camera
Culver City police admit they got the wrong guy with red-light camera ticket and apologize to actor
---
The stories shaping California
Get up to speed with our Essential California newsletter, sent six days a week.
You may occasionally receive promotional content from the Los Angeles Times.