Federal board accuses port trucking firm of labor law violations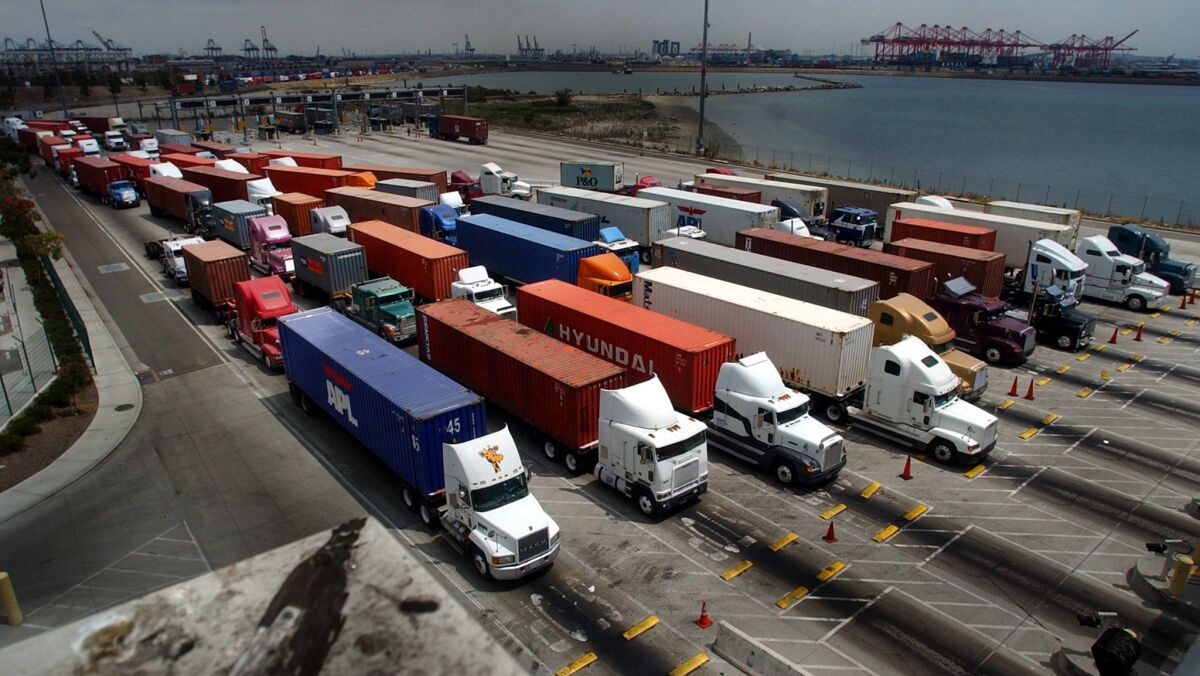 The federal government has accused a trucking company in Carson of more than 50 labor law violations, including firing drivers for union activity, retaliating against pro-labor employees and planting an anti-union operative amid its workforce.
The National Labor Relations Board lodged the complaint Wednesday against Green Fleet Systems, a firm that employs about 150 truck drivers who haul cargo containers to and from the ports of Los Angeles and Long Beach.
"I feel good about the complaint," said Mateo Mares, one of the two drivers terminated at Green Fleet. "We've been standing up for our rights for so long. Finally we are getting justice."
The company denied all the NLRB's allegations, stating that it has complied with federal labor laws and that the majority of the firm's drivers do not support the "heavy-handed" organizing efforts of the Teamsters Union.
"Unfortunately, it appears that the NLRB wants to put a full court press on Green Fleet in an effort to advance the union's otherwise failing campaign," said Thomas A. Lenz, the company's attorney.
Lenz said the NLRB and the Teamsters have ignored Green Fleet's evidence that the union has threatened drivers and engaged in unlawful picketing at Green Fleet's offices and elsewhere.
The NLRB's extensive allegations indicate that the company set out to destroy the lawful union organizing effort of its drivers.
Among other things, Green Fleet is accused of improperly putting workers' union activities under surveillance, coercing employees into signing anti-union petitions and trying to force drivers to withdraw wage claims filed with the state.
The complaint further alleges that the company threatened to fire pro-labor workers and allowed anti-union employees to harass and assault drivers who engaged in union activity.
In what was described by the drivers' attorney as an incredible assertion, the NLRB charged that one of the company's anti-union workers acted as an "agent" for Green Fleet. It is alleged that the agent made death threats to pro-union drivers and provided management with ways to harass them.
Green Fleet "has been undaunted in its effort to circumvent the National Labor Relations Act, including flagrantly violating a prior NLRB settlement agreement," said Julie Gutman Dickinson, an attorney for the Teamsters Union port division and the two fired drivers.
The NLRB complaint is scheduled for a hearing in August before an administrative law judge. The proceeding is similar to a trial.
Attorneys for the drivers said they also will seek an injunction in federal court to reinstate Mares and Amilcar Cardona to their jobs and to end what they consider to be the company's violations of federal labor law.
Follow @LADeadline16 for transportation news

The stories shaping California
Get up to speed with our Essential California newsletter, sent six days a week.
You may occasionally receive promotional content from the Los Angeles Times.