In recorded jail call, Robert Durst tells friend he regrets doing 'The Jinx'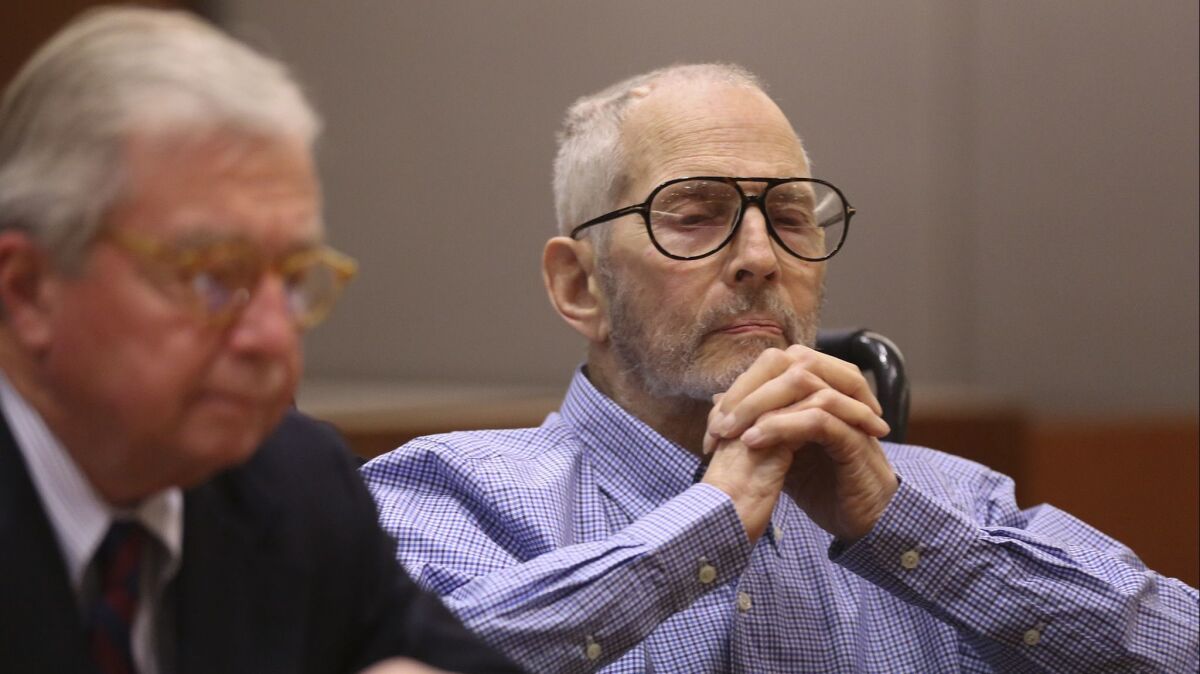 In a jail call recorded in 2015, Robert Durst told a friend he regretted giving interviews to the producers of "The Jinx," saying he realized while watching the six-part HBO documentary that he "definitely had a problem."
The New York real estate scion was arrested in connection with the slaying of his best friend Susan Berman on March 14, 2015 — the day before the finale of "The Jinx," which focuses on his tangled life.
Prosecutors have said they feared Durst, who was arrested at a New Orleans hotel in possession of guns, cash, a fake ID and a mask, might flee after realizing the "damning evidence" in the documentary.
Prosecutors contend Berman, whose body was found on Christmas Eve in 2000, was killed to prevent her from providing incriminating information about Durst's involvement in the 1982 disappearance of his wife, Kathleen, a case that remains unsolved. Durst, 75, has denied killing either woman.
In the final episode of the documentary, Durst mumbles: "What the hell did I do? Killed them all, of course." To some, his comments appeared to be a confession to three killings: those of Berman, Kathleen, and Morris Black, a neighbor in Galveston, Texas. Durst admitted to shooting Black in 2001, saying he acted in self-defense during a struggle over a gun. He also admitted to chopping up Black's body and dumping the parts in Galveston Bay. He was acquitted of murder.
During a court hearing Thursday, prosecutors played the jail call in which the multimillionaire told a friend that he became concerned while watching the fifth installment of the documentary. In that segment, producers reveal they have a letter Durst sent to Berman in 1999 showing handwriting that looks similar to that in an anonymous note sent to police at the time of Berman's death, telling them they'd find a "cadaver" at her home. In both documents, Beverly Hills is misspelled as "Beverley Hills."
In another jail call with the same friend, Durst says he wanted to find old letters he'd written.
"If I can find somebody who's got something I wrote back then, or even somebody who can say, 'Yeah, yeah, Bob used to write to me. He wrote me a couple of letters. He never misspelled Beverly,' that would be very helpful, I think," Durst says on the recording.
While some new evidence was revealed during court hearings this week, many key elements of the prosecution's case emerged during past hearings. Last year, Durst's longtime friend Nick Chavin testified that Durst once confessed to killing Berman, their mutual friend. "I had to. It was her or me," Durst said, according to Chavin. "I had no choice."
On Thursday, prosecutors questioned one of Berman's longtime friends, Julie Smith, eliciting testimony they will likely use to bolster Chavin's credibility. Smith testified that Chavin approached her at Berman's 2001 memorial service and said that Berman once told him that Durst confessed to killing Kathleen.
"Nick was extremely wound up and very, very agitated," said Smith, who met Berman while both women worked as journalists in San Francisco and went on to become the executor of her will.
The witness, a writer and publisher, also testified that during a trip to New York in the mid-1980s, Berman told her about Kathleen's disappearance. Smith said she then asked Berman if she believed Durst had killed his wife.
"Absolutely not, I don't think that," Berman said, according to Smith's testimony.
Prosecutors also questioned Berman's friend Alfred Clethen, whose testimony they will likely use to argue that Durst was in Los Angeles at the time Berman was killed. (Airline records show that the real estate tycoon left California the night before Berman's body was found, but his flight left from San Francisco.)
Clethen, a writer and stand-up comedian, testified that Berman constantly spoke about Durst and in a conversation just before her death mentioned that he planned to visit Los Angeles for the holidays.
"She said, 'Bobby was coming…. It's going to be a lot of fun,' " Clethen testified. Berman said Durst was coming "around the holidays — Christmas," according to Clethen.
But during cross-examination, one of Durst's lawyers played a recorded call of Clethen telling prosecutors he couldn't say for sure whether Berman said Durst was coming in December. He remembered it as "the holidays," the witness says on the recording.
For more news from the Los Angeles County courts, follow me on Twitter: @marisagerber
The stories shaping California
Get up to speed with our Essential California newsletter, sent six days a week.
You may occasionally receive promotional content from the Los Angeles Times.