Skid row neighborhood council is back in play after panel upholds advocates' complaints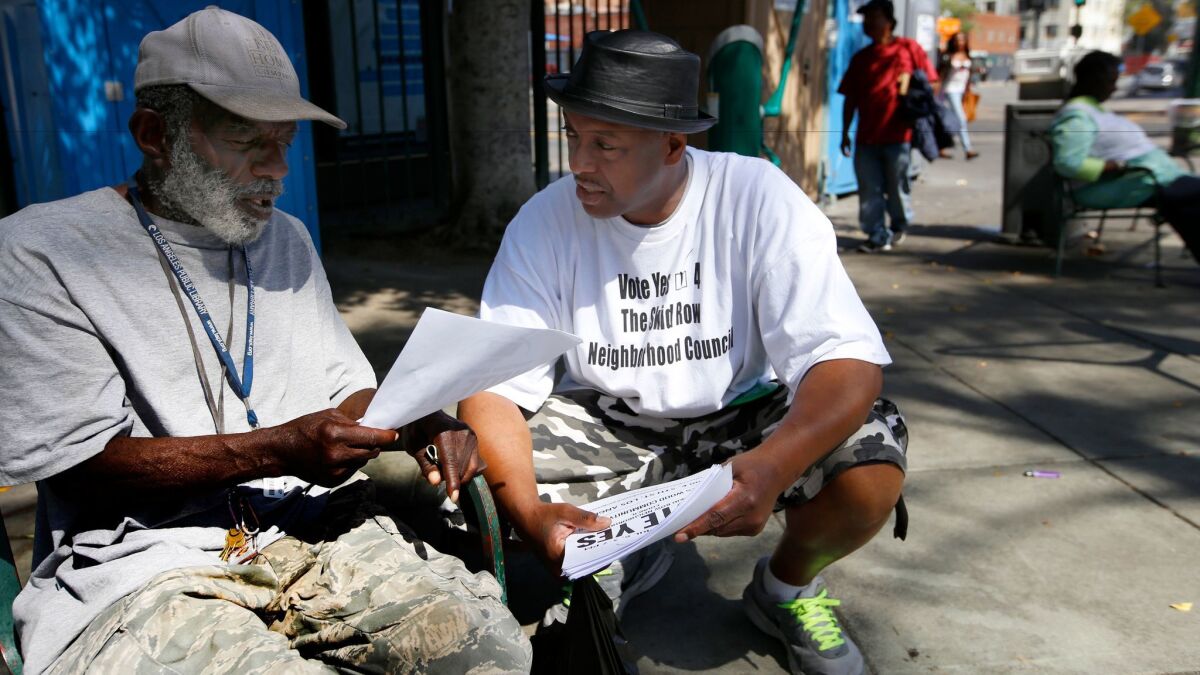 A Los Angeles panel has recommended that the city let skid row residents form a separate neighborhood council or order a new election in the epicenter of Los Angeles homelessness.
Downtown voters last month narrowly defeated a proposal for a skid row council to break away from other central city groups.

For the record:
7:30 a.m. Dec. 3, 2022An earlier version of this article misspelled the name of the late attorney Johnnie Cochran Jr. as Johnny Cochrane.
But during five hours of discussion and comments Wednesday night that referenced both Martin Luther King Jr. and attorney Johnnie Cochran Jr., homeless and other skid row residents accused the Downtown Los Angeles Neighborhood Council of using a "front group" called Unite DTLA to illegally campaign against their secession bid.
Unite DTLA used the downtown council's logo, database and server to send out emails urging a no vote on the proposal, advocates argued.
Downtown council President Patti Berman protested that her group had nothing to do with the email campaign and said she and other downtown residents were duped by Unite DTLA just as the people of skid row were.
"Someone seems to have attempted to emulate a valid [downtown council] email," said Berman, adding that she had replied to the email demanding the sender stop using her council's logo. "No one would like to find out more than me who's responsible for this."
But the panel — made up of officials the city selected from other neighborhood councils — noted that Berman and other downtown council members had not investigated who sent the emails. Nor did they repudiate them, allowing the impression to stand that the downtown council — which took no position — had opposed the breakaway bid, panelists said.
"The endorsement went out and it was never retracted," said panel chairman David Greene, past president of the Eagle Rock Neighborhood Council.
The panel also expressed reservations about online balloting, which is banned in neighborhood council races citywide but was allowed in the skid row vote. Carlos Ferreyra of the Greater Valley Glen Neighborhood Council said online voting put homeless people who have no ready access to computers or smartphones at a disadvantage.
"I would like to see the election redone, but my concern is we might have the same result if we don't address online voting in a much more equitable manner," Ferreyra said.
Much of the audience that half-filled the large auditorium at the Los Angeles Police Department headquarters downtown supported a skid row neighborhood council.
One speaker led the crowd in a call-and-response recitation of King's 1965 speech in Selma, Ala. "How long?" he said. "Not long," the audience responded. "Because no lie can live forever," the speaker, who identified himself as a minister, finished.
"I feel like summoning the word of one of my ancestors," said Pastor Cue Jn-Marie of skid row's Church Without Walls. "If the glove fits you can't acquit."
The panel upheld all three challenges from skid row council organizers, who had alleged that the election was corrupted by improper campaign materials, impermissible electioneering and inappropriate endorsements.
Panel members recommended that the city investigate whether the campaigning threw the election and, if so, reverse the election results and name the skid row neighborhood council the winner.
If a determination can't be reached, the panel asked the city to hold new balloting in 90 days, this time without online voting.
The rulings on the challenges cannot be appealed, but the city's Department of Neighborhood Empowerment will decide whether to accept the panel's recommendations, probably in the next two weeks, officials said.
"We'll be looking at this very closely," said Grayce Liu, the neighborhood empowerment office's general manager. "It's rare for a challenge to affect a whole election."
General Jeff Page, who led the skid row secession effort and filed the challenges, called the decision "exciting" and praised skid row's "resiliency." But, he added, "Unfortunately we may have to drag our whole community through this whole vote again."
Berman and downtown council board member Robert Newman, who also spoke at the hearing, did not return phone calls seeking comment.
Twitter: @geholland
ALSO
With L.A.'s skid row at a tipping point, a divisive vote on local representation
In narrow election, downtown votes against creating neighborhood council for skid row
Suspect shot by police after three people are stabbed on downtown's skid row, LAPD says
---
UPDATES:
5:45 p.m.: This article was updated with additional details from the hearing.
1:55 a.m., May 4: This article was updated with the decision by the appeals panel.
This article was originally published at 2:20 p.m., May 3.
---
The stories shaping California
Get up to speed with our Essential California newsletter, sent six days a week.
You may occasionally receive promotional content from the Los Angeles Times.