Apartment owners sue city of L.A., saying trash pickup program needed voter approval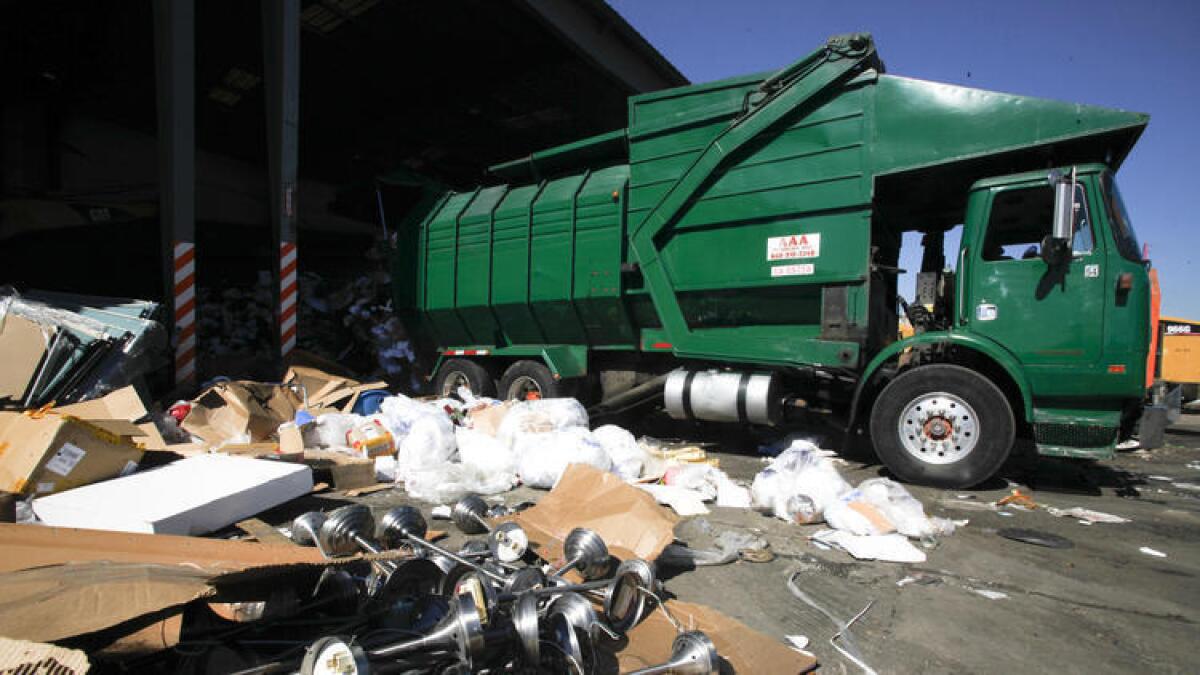 A statewide apartment owners association has filed a lawsuit accusing the city of Los Angeles of illegally setting trash pickup rates.
The Apartment Owners Assn. of California, and Los Angeles residents Chuck Betz and Daniel Faller, filed the lawsuit Tuesday in Los Angeles Superior Court.
The suit seeks an injunction to stop the roll-out of Zero Waste L.A., a "green" trash pick-up program run by the city that is set to launch next month.
With Zero Waste L.A., the city created 11 waste-collecting zones, signed exclusive operating agreements with haulers and set new rates for the service. Trash rates are expected to rise for some customers.
The suit alleges that the city violated Proposition 218, a 1996 constitutional amendment requiring voter approval before California cities can impose new taxes or raise taxes on property owners.
Attorney Carolin Shining, who represents the plaintiffs, said the new trash rate is really a tax.
She said her clients aren't challenging the city's goal of increased environmental benefits with Zero Waste L.A. But "the way they went about it is just wrong," she said.
Faller is president of the Apartment Owners Assn. of California, a 20,000-member group. Betz is also an apartment owner and a member of the apartment association.
Zero Waste L.A. was touted by the city as promising "lower rates" and "reduced rates" for customers, according to the lawsuit. But "costs for waste hauling may double or even triple due to illegally increased requirements, fees and charges," the suit says.
The lawsuit also alleges that the trash rate isn't equally applied to residents and businesses, Shining said.
A spokesman for City Atty. Mike Feuer did not respond to a request for comment. A Bureau of Sanitation spokeswoman also didn't respond.
Zero Waste L.A. seeks to reduce city landfill disposal by regulating trash pickup, using blue recycling bins and requiring that trash haulers drive clean-fuel trucks.
The City Council last year awarded trash-hauling contracts worth $3.5 billion, picking seven companies and their subcontractors to exclusively collect trash for roughly 65,000 accounts from San Pedro to Sun Valley.
Under the current system, the lack of regulation results in price gouging for some customers and hazardous conditions for workers, critics say.
The franchise program will cover trash only from commercial businesses and larger apartment complexes. It doesn't affect single-family homes and residential buildings of four or fewer units, which will continue to be served by the Bureau of Sanitation.
Twitter: @dakotacdsmith
---
The stories shaping California
Get up to speed with our Essential California newsletter, sent six days a week.
You may occasionally receive promotional content from the Los Angeles Times.