Friends hail the courage of a woman, 86, killed trying to stop attack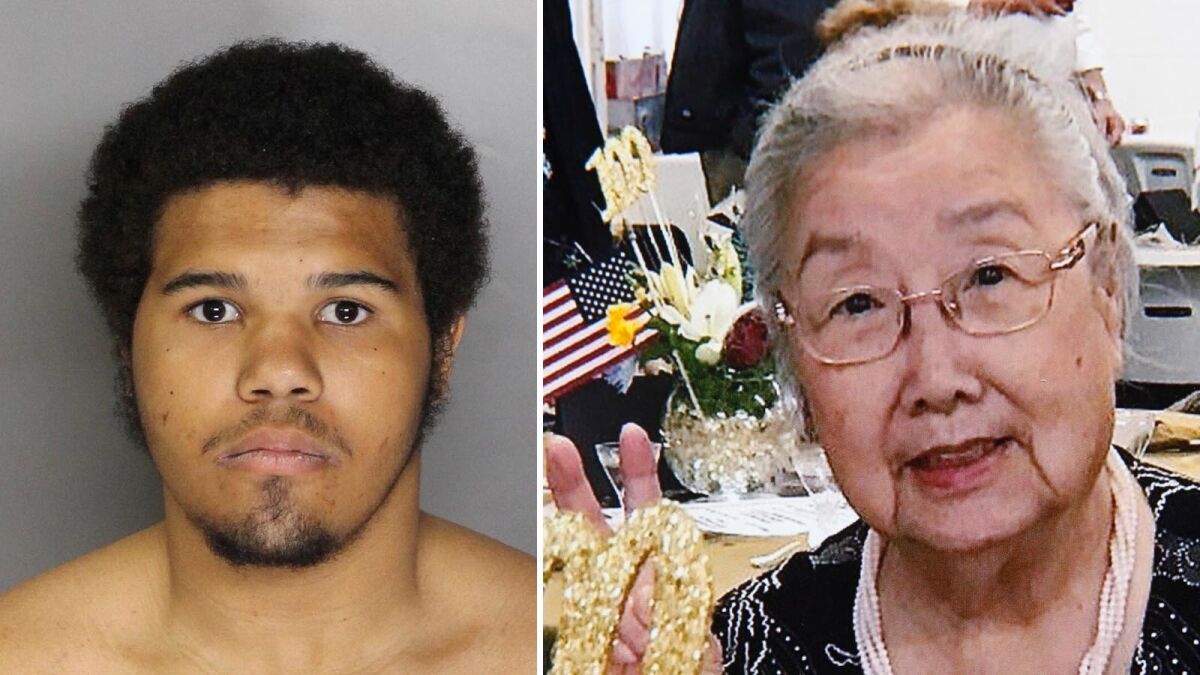 Reporting from North Highlands, Calif. —
A young man was identified Friday as the suspect in the sexual assault and beating death of an 86-year-old Northern California woman who was remembered as a hero by investigators and neighbors after she used a walking stick to try to stop an attack on her friend.
Neven Glen Butler, 18, was arrested the same day he was detained in an unrelated assault of a 92-year-old woman a few miles away, Sacramento County sheriff's Sgt. Tony Turnbull said. She was treated at a hospital for facial injuries.
Homicide detectives tied Butler to the sexual assaults of Fusako Petrus, 86, and her 61-year-old friend Wednesday while both were out for a walk, Turnbull said. Petrus died after she was badly beaten. Her friend was treated for injuries.
"I think she's a hero. She gave her life to save her friend," said Dolores Hines, who lives down the block from Petrus and her walking companion, whom authorities have not identified.
The friend was the initial target of the early morning sexual assault on the running track of Highlands High School in the North Highlands suburb of Sacramento, Turnbull said.
Petrus was killed after she came to help, hitting the attacker with what Turnbull described as "a small walking stick" to try to fend off the man.
"She died trying to help her friend," Turnbull said.
It sounds like something she'd probably do. She'd help anybody.
— Don Brown, neighbor
Defense attorney Linda Parisi said late Friday that she had just received the case and didn't have a lot of details, but that there was much more to find out about Butler.
"The case is certainly a lot more complicated than it appears," Parisi said. "There's a lot more to find out about this young man and just the whole set of circumstances."
Butler played football in 2015 at the same high school where Petrus died, said Twin Rivers Unified School District spokeswoman Zenobia Gerald. He also was on the football roster for the 2016 season, and was on the track and field roster, though he dropped out in December after his junior year, she said.
Butler was known as a class clown who didn't take his studies seriously, Robert Hills told the Sacramento Bee. He said he had known Butler since the fourth grade and kept in touch after his friend moved to a different high school.
A makeshift shrine with candles and flowers was erected on the driveway and tucked into the chain link fence of Petrus' one-story yellow home with meticulously trimmed shrubs. Neighbors said they were not surprised Petrus tried to stop the assault.
"It sounds like something she'd probably do. She'd help anybody," said Don Brown, who lives across the street.
Neighbor Lloyd Miller said Petrus met her husband in her native Japan after World War II. She was a clerk at the store of California's former McClellan Air Force Base until her retirement, he said.
"She walked every day but Saturdays," said Miller, 88, who usually watched her leave while eating breakfast by his front window. "I'd always say, 'Be safe, Fusako' to myself."
Petrus' husband died about 15 years ago, Miller said, so the neighbors helped each other with routine chores.
Don Hines, Dolores' husband, remembered Petrus teaching his family how to make candied persimmons from the fruit growing on a neighborhood tree.
"I don't know anybody who would not love her and appreciate her," he said, choking back tears.
Butler is being held without bail on suspicion of murder. He is scheduled to make his first court appearance Monday.
ALSO
4 men arrested on suspicion of trying to pay for sex with underage girls
Man vandalizes three Rodeo Drive boutiques by driving Mercedes into them, police say
Los Angeles firefighters salute colleague who died on duty after medical emergency
The stories shaping California
Get up to speed with our Essential California newsletter, sent six days a week.
You may occasionally receive promotional content from the Los Angeles Times.