Deadly flooding on Santa Barbara coast as fire turns to mud
Raw video of mudslides caused by heavy rains in southern California.
Reporting from Montecito, Calif. —
The predawn torrent of mud and debris carried away cars, swamped living rooms, and yanked homes from their foundations. Boulders crashed into homes, homes plunged into trees, and the muddy current swept at least one child a half-mile from home.
By day's end, Santa Barbara County authorities said the mudslides had killed at least 13 people and injured dozens more.
"It looked like a World War I battlefield," said Santa Barbara County Sheriff Bill Brown.
Update: Death toll from slides rises to 15 »
Southern California was drenched Tuesday, but nowhere did the rainstorm inflict more pain than in Montecito, just weeks after the community dealt with the devastating Thomas fire.
Some 500 firefighters from across the state rushed to help, with crews struggling through clogged roads, ankle-deep mud and downed trees throughout the day in search of victims. Dozens of survivors were hoisted to safety in helicopters.
The deluge struck around 2:30 a.m., and rain overwhelmed the south-facing slopes above Montecito, flooding the creek and sending mud and boulders into residential neighborhoods, officials said.
"It's going to be worse than anyone imagined for our area," said Santa Barbara County Fire Department spokesman Mike Eliason. "Following our fire, this is the worst-case scenario."
From one home on Hot Springs Road, firefighters heard the muffled cries of a 14-year-old girl. A rescue dog led the way to her location, and firefighters used the jaws of life to cut through the wreckage to save her.
From another collapsed home, a dozen Santa Barbara County sheriff's deputies carried a gurney with a body away.
The young boy who was swept half a mile from his home was found alive by rescuers under a 101 Freeway overpass, authorities said. His father was unaccounted for.
Another man, Jeff King, said he was stuck on the highway around 7 a.m. and had to save his wife from being swept away. She had jumped on top of her car to avoid the fast-moving water. "Our friend also called us and told us he was stuck and couldn't get out," King said.
County officials evacuated nearly 7,000 residents from foothill communities shortly before the heaviest surge hit the area. Some Montecito residents had shrugged off the warnings only to awaken to the swirling wreckage.
"I woke up ready this morning to laugh and scoff at all the gloom-and-doom predictions," said Dominic Shiach, 50. "It's actually way worse than I thought it was going to be."
As Marc Phillips trudged through knee-deep mud down East Valley Road, he said he should have listened to officials' evacuation orders. "They were right," he said, pointing to an area where homes had been knocked from their foundations.
LIVE UPDATES: Southern California storm »
Jon and Patty Wilson, both 72, woke up 6 a.m. to what sounded like a roaring river outside their driveway at the Bonnymede Montecito Condo complex.
They knew they had to leave when they saw their garage completely submerged in water. "Our garage is 6 feet," Jon Wilson said. "We couldn't get our car out." Their son picked them up in a truck.
With roads blocked by thick, brown mud and fallen tree branches, the Wilsons had no choice but to head to an emergency evacuation center at a local church, where they waited for a National Guard escort to a shelter at the local city college.
On the cramped ride in the National Guard vehicle, many people had difficulty talking about what they had seen. "My friend is missing and I'm having a hard time when I think about it," Mimi Degruy said, clinging to the leash of her two dogs as the vehicle bumped up and down along the street.
"But I appreciate how the community has come together," she said. "I've lived in Montecito for 20 years and never expected this to happen."
"Yes, I agree," said Patty Wilson, who sat across from her.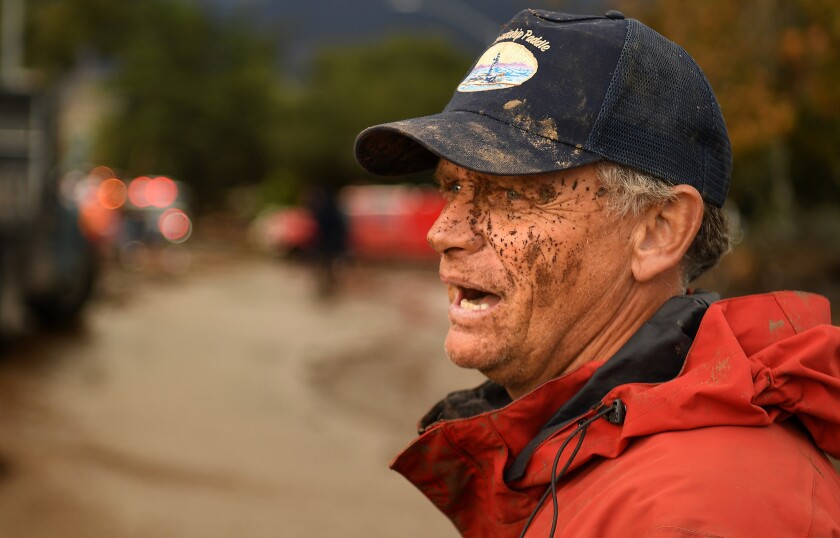 In nearby Carpinteria, construction worker Peter Lapidus spent the day trying to clear the road of downed trees, boulders and thick mud using his tractor. Neighbors cheered as he pushed mud to the side. He said government agencies appeared to be spread too thin to help.
Lapidus heard the pummeling about 4:10 Tuesday morning. "It was like a bomb went off. It wasn't raining hard, and then it was like you flipped a switch."
Lapidus heard the trees coming down — "crack, crack, crack." Trees and boulders dammed up the creek. Mud was waist-high, nearly topping mailboxes.
His family has owned the property with his house since 1915, he said, and he couldn't remember a flash flood this bad.
Neighbors said the Thomas fire had burned about a quarter-mile away as the crow flies, and they'd just had mandatory evacuations from that. Lapidus didn't evacuate during the fire, instead staying to protect his house.
"Instead of a nice little rain to settle the dust, we have a flood. It's just kind of ironic," he said, adding: "This was more frightening than the fire."
Rainfall swamped much of the Southland. Officials said that flooding and debris had shut down the 101 Freeway in both directions for more than 30 miles between Santa Barbara and Ventura, as well as sections of Routes 33 and 150 in Ventura County.
The California Highway Patrol reported 275 traffic collisions on Los Angeles-area freeways between 5 and 9 a.m. One person was killed when a big rig overturned in the rain in the northbound lanes of the 5 Freeway near Los Feliz, but officials could not confirm the wreck was storm-related.
There were mudslides on Country Club Drive in Burbank, where police ordered evacuations.
The Burbank Police Department released footage of water surging across a roadway and urged people not to attempt to drive over it. The surge picked up and moved some vehicles, and a few homes suffered minor damage, but no one had been injured as of 1 p.m., according to police Sgt. Derek Green.
Surges also washed out Topanga Canyon Boulevard north of Pacific Coast Highway, and flooding closed sections of the 110 Freeway. Rescue workers saved a man and a dog trapped in rising water near the Sepulveda Basin Recreation Area, and a Los Angeles Police Department cruiser had to be dug out of debris on La Tuna Canyon Road with a backhoe. At Los Angeles International Airport, flooding diverted travelers from a Terminal 2 customs area.
Bill Patzert, climatologist for NASA's Jet Propulsion Laboratory in La Cañada Flintridge, said mudslides are par for the course in this region.
"There are four seasons in California — drought, followed by fire, followed by floods, followed by mudslides," he said. "That's the normal sequence that we live with, unfortunately."
Times staff writers Christopher Goffard and Laura J. Nelson contributed to this report.
michael.livingston@latimes.com
Twitter: @mikelive06
Twitter: @melissaetehad
Twitter: @haileybranson
Twitter: @josephserna
---
For reporting and exclusive analysis from bureau chief John Myers, get our California Politics newsletter.
You may occasionally receive promotional content from the Los Angeles Times.