Orange County supervisors scrap emergency homeless plan after cities push back
The meeting was packed with residents who oppose putting emergency shelters in their neighborhoods.
The Orange County Board of Supervisors voted Tuesday to scrap its plan to move hundreds of homeless people from alongside the Santa Ana River to temporary shelters in three cities.
In a 4-0 vote, (Chairman Andrew Do was out of town and did not participate) the county opted to shelve the plan and come up with a new one under the watchful eye of a federal judge.
The vote followed forceful pushback from residents in Irvine and other cities affected by the county's initial plan.
Ahead of the meeting, a caravan of 22 chartered buses arrived at Santa Ana's Hall of Administration carrying more than 1,200 Irvine residents who urged the Orange County Board of Supervisors to scrap the controversial plan to create emergency homeless shelters in their community and others.
Shouting "No tent city!" over and over, they circled the plaza outside Hall of Administration where the supervisors were meeting, demanding long-term solutions to the county's growing homeless problem.
Tuesday's vote throws the county's efforts to address the region's homelessness crisis back to Square One.
The meeting was packed with residents who oppose putting emergency shelters in their neighborhoods.
"I don't know. They need to put them somewhere, maybe somewhere else in California," suggested Angela Liu, of Irvine, who owns a legal services company. "I really don't know where they can go, but Irvine is beautiful and we don't want to get destroyed."
"Who cares?" added Abby Moore, a retiree from Laguna Niguel. "This is not our responsibility — we are not elected to handle this crisis. I just don't want to be near the homeless."
But not everyone opposed the county's proposal.
"I think they're feeling the pressure from the people and that's why they voted the way they voted," said Joshua Collins, founder of Homeless Advocates for Christ. "They lost their moral courage but they haven't had it for so long and they have neglected the homeless for so long."
Collins said he thinks a review is needed for all county-owned properties to choose another possible site.
Last week the board approved studying a plan to move hundreds of people being evicted from camps along the Santa Ana River into motels and eventually into tent-like structures at three temporary shelters in Huntington Beach, Irvine and Laguna Niguel. The vote marked the county's most concrete effort yet to find housing for the unsheltered.
Under the plan, a site in Irvine with a capacity of 200 would have been opened first, followed by a site in Huntington Beach with a capacity of 100. If more beds were needed, a third site that could serve up to 100 would have been opened on property near City Hall in Laguna Niguel.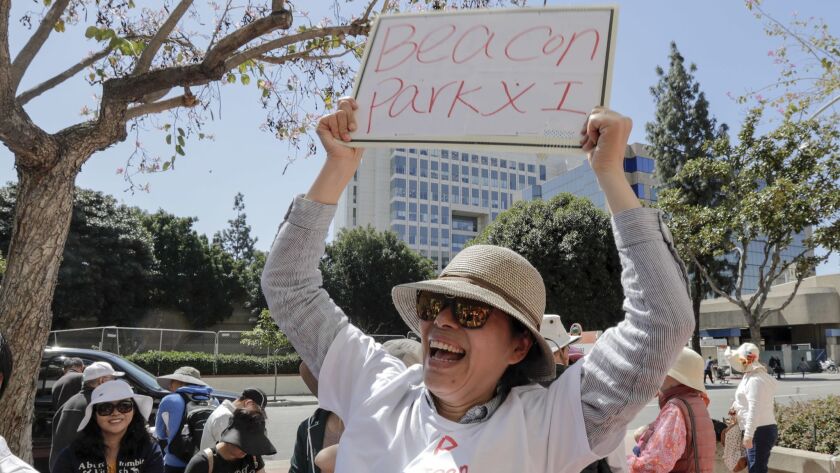 The sites would have been used only after county shelters reach capacity, several of which were already at that point, according to U.S. District Judge David O. Carter. In an order issued over the weekend, Carter told the parties at the heart of the homeless issue that the county's efforts thus far have highlighted shortfalls in the system's safety net.
When residents finish their 30-day stay at motels and are transitioned into county facilities, they've walked into overcrowded sleeping areas that are doubling as cafeterias. The women's area in one facility was so packed that additional cots were placed in the men's sleeping area and were separated only by a dining table. The close confines may destabilize individuals who have experienced past trauma or have severe mental disabilities, Carter warned.
"In sum, although the parties are working hard and doing their best to appropriately place everyone exiting from motels, this county remains desperately in need of additional emergency shelter resources, and the court remains concerned about the county's ability to meet its promise to provide 'appropriate resources' to individuals at the end of their 30-day motel stays," Carter said.
The plan the supervisors rescinded on Tuesday involved housing the homeless in tent-like structures.
Supervisor Lisa A. Bartlett apologized to the affected cities during the meeting.
"There has been a lack of clear information and that has caused unnecessary panic," Bartlett said. "Nothing was approved or built and no homeless were ever relocated to any of the cities."
Supervisor Todd Spitzer said caring for the homeless should be distributed equally across the county.
"It can't be one city's burden," he said, addressing various mayors seated in the front row of the panel's chambers. "We need a solution. The only way we are going to get there is to pull together. It's going to take everyone rowing in the same direction."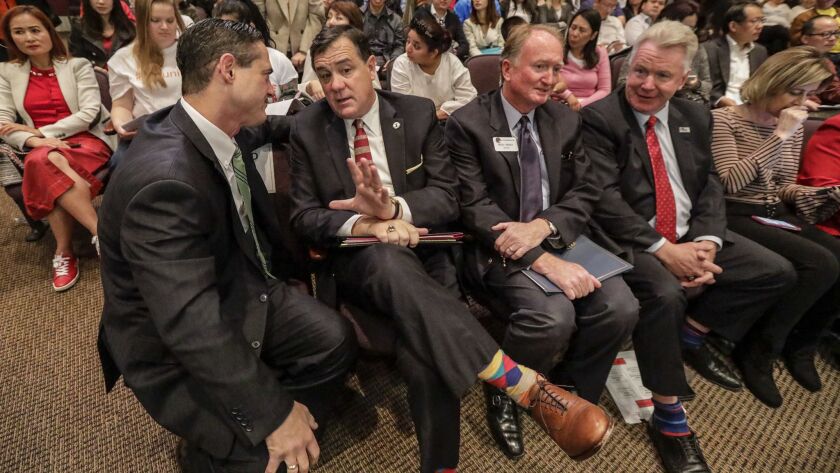 Irvine Mayor Donald P. Wagner agreed with Spitzer that the city leaders should work collaboratively, but he took issue with the planned homeless site near Great Park in his city.
"This is not a site you would have human beings on, given your choice," he said. "It has no running water, no electricity, no gas … furthermore, for the homeless, it's not in an area that is in the least bit close to mental health facilities or job placement or job training services."
Leaders in Irvine and Laguna Niguel voted to sue the county to block the shelter plan, and local officials oppose the Huntington Beach location.
"What they are proposing is relocation — not solutions," said Kelvin Hsieh, who has lived in Irvine since 1996. "They know that we are an affluent city with lots of immigrants, so they think we will automatically welcome other people. They don't tell us how they will solve potential safety and environmental issues when they bring strangers here."
Hsieh, a tech company manager, said that he and his fellow demonstrators were compassionate, but "we just don't want to create more problems."
He continued shouting with the help of his 10-year-old daughter, Ava, who is on spring break this week.
"I don't feel good about this because I don't like drugs," Ava said. "My dad says there are needles everywhere where the homeless live."
The homeless have been pushed out of their encampments in response to complaints from nearby residents. But the county's existing homeless shelters are already at capacity, and a federal judge, David O. Carter, has ordered local governments to find places for the evicted people to live. Carter temporarily halted the evictions and toured the camps, demanding the county find shelter for those being moved out of the river area.
Orange County, among the nation's most affluent, faces special challenges because it has a relatively sparse infrastructure of services and support for the homeless.
Santa Ana City Council member Juan Villegas said it's time for other cities to contribute.
"We have taken the brunt of this issue," he said. "We have taken the brunt for decades and our residents deserve to feel safe, and we want public safety also."
More than 90 people were scheduled to speak about the homeless issue at Tuesday's meeting.
---
UPDATES:
1:20 p.m.: This article was updated with background on the federal civil case and reactions from residents.
12:35 p.m.: This article was updated with the county's vote.
11:30 a.m.: This article was updated with comments from Orange County city leaders.
10:20 a.m.: This article was updated with comments from residents and details from the scene in Santa Ana.
This article was originally published at 8:05 a.m.
---
The stories shaping California
Get up to speed with our Essential California newsletter, sent six days a week.
You may occasionally receive promotional content from the Los Angeles Times.