Alan Thicke, actor and dad on '80s sitcom 'Growing Pains,' dies at 69
Alan Thicke, an actor best known for helping set a template for parenting ideals in the '80s sitcom "Growing Pains," has died. He was 69.
His death was confirmed with The Times on Tuesday evening by the publicist of his son, pop-soul singer Robin Thicke.
The Times spoke with Robin Thicke on Tuesday evening, and he called his father "the greatest man I ever met" and "always a gentleman." He confirmed that Thicke suffered a heart attack while playing hockey with his son Carter, and that one of the last things he said was a compliment to his son on a nice shot.
"The good thing was that he was beloved and he had closure," said Robin Thicke, who credited his dad, an accomplished musician himself, with being an inspiration and very supportive of his music career. "I saw him a few days ago and told him how much I loved and respected him."
Wearing a variety of hats during his long show business career in addition to being an actor and presenter, the Canadian-born Alan Thicke had continued to appear in TV roles through this year, including recent appearances on the NBC drama "This Is Us" and Netflix's "Fuller House."
Alan Thicke, left, and Jason Alexander in a dress rehearsal of "Promises, Promises," a musical at the Freud Playhouse at UCLA.
(Iris Schneider / Los Angeles Times)
Alan Thicke with brother Todd, left, Bob Perlow and Jeff Lester at Olive Crest's Black and White Ball at the Disneyland Hotel in Anaheim on March 22, 1997.
(Craig Y. Fujii / Los Angeles Times)
Alan Thicke with "Chicago" co-producer Fran Weissler, co-producer of "Chicago." Thicke played Billy Flynn in the touring production.
(Don Bartletti / Los Angeles Times)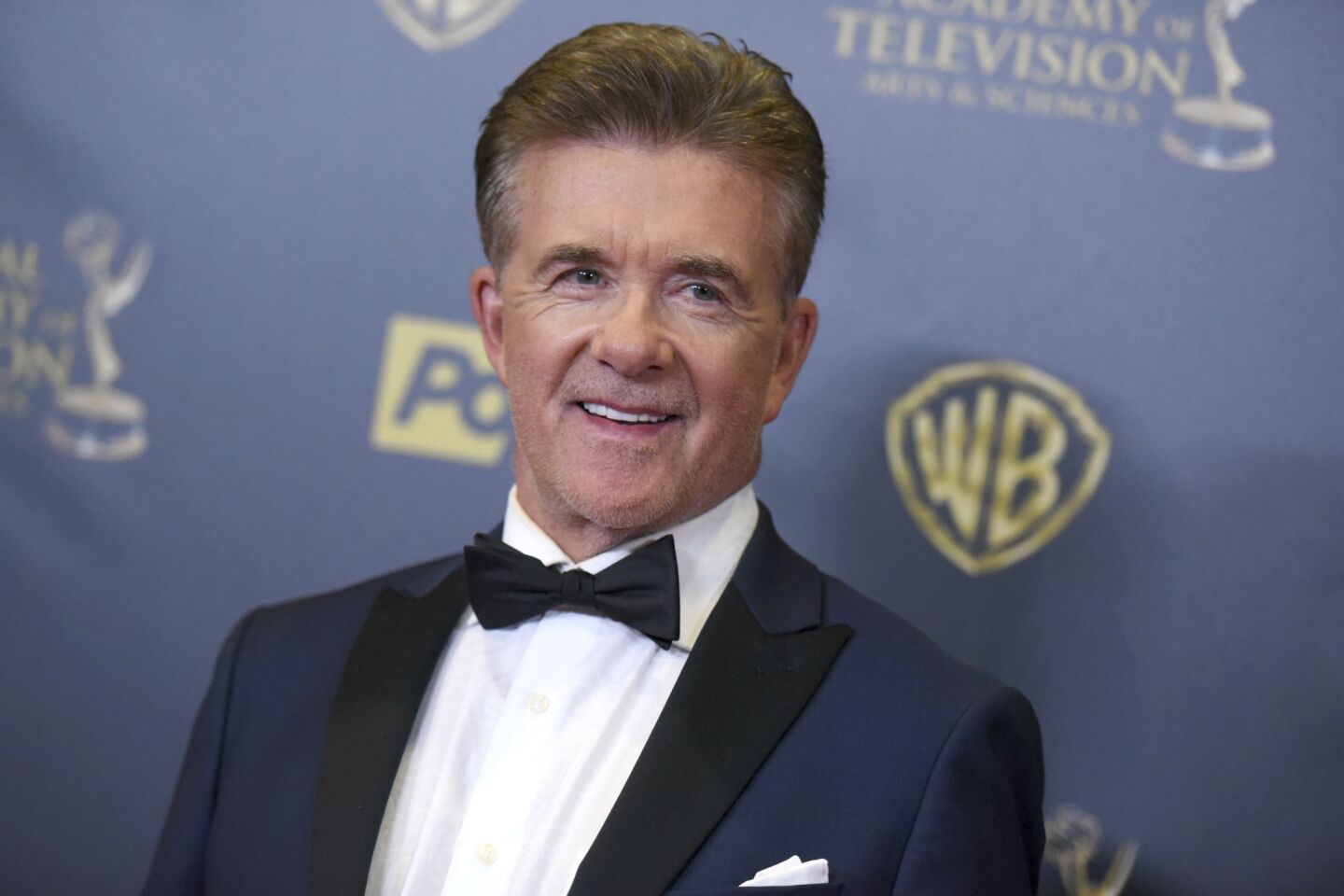 Alan Thicke poses in the pressroom at the 42nd Daytime Emmy Awards at Warner Bros. Studios in Burbank, Calif.
(Richard Shotwell / Invision / Associated Press)
Alan Thicke, left, with son Robin at "Festival After Dark" during the Sundance Film Festival on Jan. 21, 2012 in Park City, Utah.
(Dimitrios Kambouris / Getty Images)
"Season 2 Fuller House looking good," Thicke tweeted Tuesday afternoon. "I even like the ones I'm not in! #fullerhouse."
Thicke was born Alan Willis Jeffrey in 1947 in the small town of Kirkland Lake, Ontario. "Kids skated out of the delivery room. Your mother owned a hockey stick," Thicke told The Times in 1986 of his hometown, which was also the birthplace of hockey stars such as Ralph Backstrom, Dick Duff and Mickey Redmond.
Thicke skipped two grades and began attending Western University at 16 years old and graduated in 1967. Shortly after, he found his first job in entertainment with the variety show "The Good Company," a young-skewing music and comedy series that aired on the Canadian Broadcasting Company in the late '60s. In 1970, Thicke moved to Los Angeles and married "Days of Our Lives" actress Gloria Loring. He found work behind the scenes as a writer and producer for shows such as "Fernwood 2 Night" and "The Richard Pryor Show" as well as specials for Olivia Newton-John and Barry Manilow, who helped Thicke earn his first Emmy nomination for "The Barry Manilow Special" in 1977.
Steadily working in the entertainment industry, Thicke also began collaborating with Loring to write theme songs for TV shows including "Wheel of Fortune," "Facts of Life" and "Diff'rent Strokes," the last of which he also sang.
In 1980, Thicke began hosting the daytime talk show "The Alan Thicke Show," which ran for three years and became a big hit in Canada. A transition to late night talk in the U.S., however, was less successful. "Thicke of the Night" debuted in 1983 and lasted just one season after dismal ratings in direct competition with "The Tonight Show with Johnny Carson." However, the show helped launch the career of his sidekick on the show, Arsenio Hall, and displayed a strong ear for local L.A. music, offering national TV appearances for the Red Hot Chili Peppers and Oingo Boingo.
As disappointing as the ratings were, the critical response was even more harsh.
Described as genial and unpretentious in a 1985 interview with the L.A. Times, Thicke was taken aback by the negative reception. "I know some people say, 'It doesn't matter what they say as long as they're talking about you,' " Thicke said. "Those people have never been written about the way I have. It hurts."
But the failures inspired Thicke to keep moving forward. "You don't want to leave that on your tombstone," he told The Times. "You don't want to become a trivia question: 'Who was the guy who hosted the show with the biggest hype and the lowest ratings in the history of the free world?' "
After the show was canceled, Loring and Thicke divorced after 14 years and he took custody of their sons Brennan and Robin, who were 11 and 9 at the time. In 1985 he took on the sitcom role that would be his most successful in the U.S. and one that most suited him — an affable and thoughtful dad on "Growing Pains." Portraying the work-from-home psychiatrist Jason Seaver, who was raising a family with his wife (portrayed by Joanna Kerns), Thicke was tailor-made for the part, having studied psychology.
"I'm not doing anything Jack Nicholson turned down," the self-deprecating Thicke told the Chicago Tribune at the time. "Any part that required a character distanced from myself would have been a reach. But the one thing I've always done well at, and I'm most devoted to, is my children."
Thicke often drew from his own parenting experience during the sitcom's successful run, and in the '80s he was part of a fraternity of TV fathers, including Michael Gross of "Family Ties" and Bill Cosby of "The Cosby Show," who helped establish an ideal for supportive parenthood, one half-hour comedy at a time.
"The show comes from a reality base. When I'm out, one of the main comments I hear is, 'My kid is just like that,' or 'My wife and I just went through that,' " Thicke said. "And I find myself coming home at night and saying, 'I just did this scene.' "
Thicke was also a lifelong hockey fan and player. In 1986 he talked to The Times about going out drinking with fellow homesick Canadians who were members of the L.A. Kings, including Backstrom and Duff. "We went to places with names like the Melody Bar, where they had cowgirl waitresses, played Buddy Holly songs on the jukebox and drank Harvey Wallbangers."
As a result of his prominence on daytime TV in Canada early in his career, Thicke also came to be longtime friends with Kings and Edmonton Oilers great Wayne Gretzky, and acted as emcee at Gretzky's wedding to Janet Jones.
"Growing Pains" was canceled in 1992 but Thicke's entertainment career remained steady. He hosted the game shows "Pictionary" and "Three's a Crowd," made appearances on the sitcoms "Married with Children" and had a regular role on "Hope and Gloria," which lasted only one season in 1995. In the 2000s, he also wrote two books on parenting and produced and starred in "The Growing Pains Movie." He also had a recurring role in the series "How I Met Your Mother." In 2014, he also co-created the "reality sitcom" about his family life called "Unusually Thicke," which ran for two seasons on Pop TV and costarred his wife Tanya Callau. She and Thicke had married in 2005.
"He was a part of our Pop family and was a tremendous talent," said Brad Schwartz, President of Pop TV. "We had the privilege to work with America's favorite dad and his loss is one that is deeply felt."
Thicke is survived by his wife Callau; his two sons with Loring, Brennan and Robin; and Carter, his son from his marriage to Gina Marie Tolleson.
Times staff writer Saran Rodman contributed to this report.
ALSO:
From the Archives: Alan Thicke - Never too thick to endure 'Growing Pains' reviews
From the Archives: TV's Alan Thicke wears skates, carries a big stick and hangs out with Wayne Gretsky
From the Archives: Alan Thicke and the cast of 'Growing Pains' had to overcome internal turmoil for 2000 reunion special
---
UPDATES:
9:10 p.m.: This article was updated with additional quotes from Robin Thicke.
---
Must-read stories from the L.A. Times
Get the day's top news with our Today's Headlines newsletter, sent every weekday morning.
You may occasionally receive promotional content from the Los Angeles Times.