From the Archives: Alan Thicke: Never too thick to endure 'Growing Pains' reviews
Alan Thicke, a star of stage and screen most notably known for his role on the '80s ABC sitcom "Growing Pains," has died. This interview was originally published on October 9, 1985.
Alan Thicke had seen the USA Today review: "Thicke, former talk show host, never comes alive." He'd seen the Herald-Examiner review: "Thicke, the-heh, heh-star of the show, is no more an actor than he was a talk-show host." He'd seen the People review: "He seems like a nice guy, Alan does. But he can't host talk shows, can't act, and he doesn't look like such a great shrink either. Does somebody out there have a job for the guy?"
He could still smile.
"This is a piece of cake compared to `Thicke of the Night,' " he quipped.
Indeed, as bad as some of the reviews have been for "Growing Pains," the new ABC comedy series in which he is starring, they pale next to some of the acerbic notices he received two years ago when his late-night talk/variety show debuted after a summer of hype suggesting that he was going to unseat Johnny Carson as king of the night owl crowd.
"Thicke challenges the viewer to figure out just what it is that he does so well that he should be on television. After 90 minutes, one is left at a loss for answers," said the Washington Post. "Alan Thicke will not be turning the tide. He is what the tide has brought in, the New Wave talk-show host," said the Wall Street Journal. And People again: "Thicke is worse than boring. He is aggressively boring."
A friendly, unpretentious man with an engaging sense of humor, Thicke still winces at the memory of those reviews.
"I know some people say, `It doesn't matter what they say as long as they're talking about you,' " he said the other day in an interview. "Those people have never been written about the way I have. It hurts."
And it does have a personal impact, he added. "You're embarrassed to go out in public sometimes; you don't want to go where they're whispering about you. Your kids hear about it at school. It's like being a losing football coach."
Alan Thicke, left, and Jason Alexander in a dress rehearsal of "Promises, Promises," a musical at the Freud Playhouse at UCLA.
(Iris Schneider / Los Angeles Times)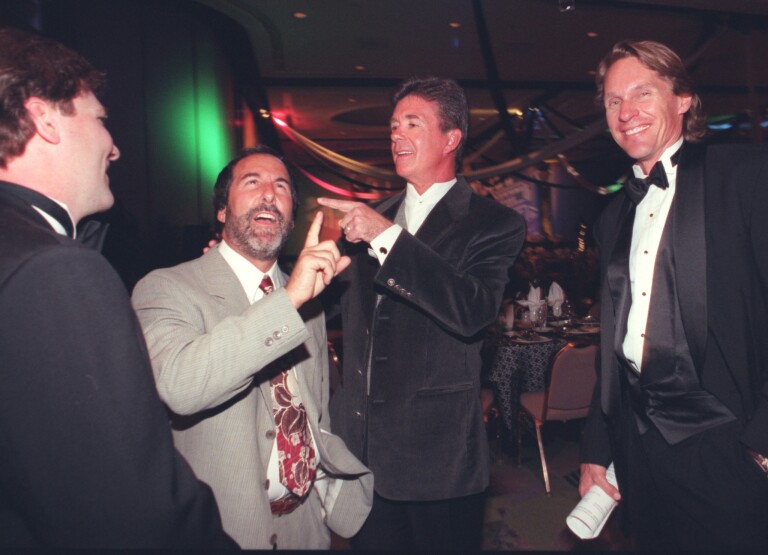 Alan Thicke with brother Todd, left, Bob Perlow and Jeff Lester at Olive Crest's Black and White Ball at the Disneyland Hotel in Anaheim on March 22, 1997.
(Craig Y. Fujii / Los Angeles Times)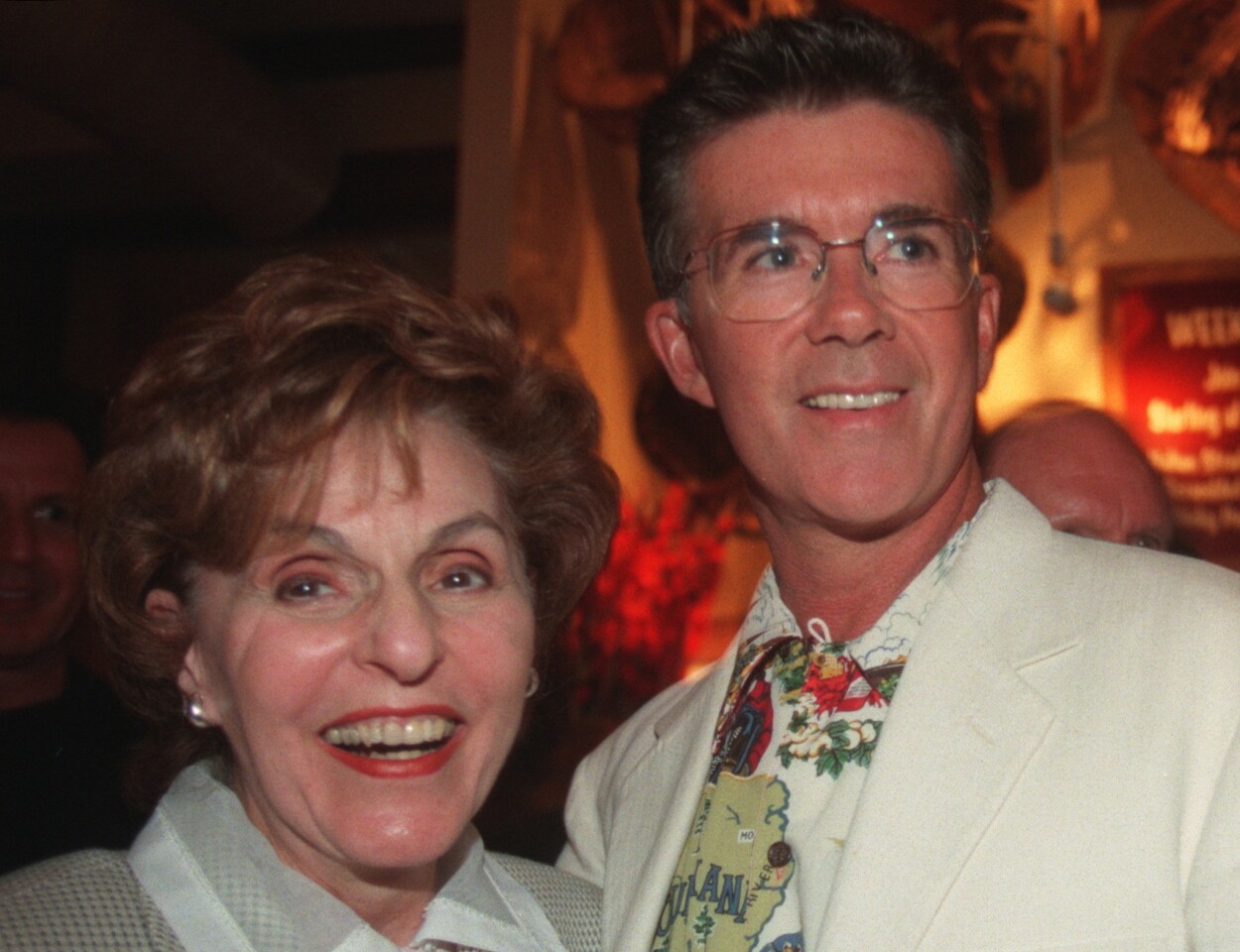 Alan Thicke with "Chicago" co-producer Fran Weissler, co-producer of "Chicago." Thicke played Billy Flynn in the touring production.
(Don Bartletti / Los Angeles Times)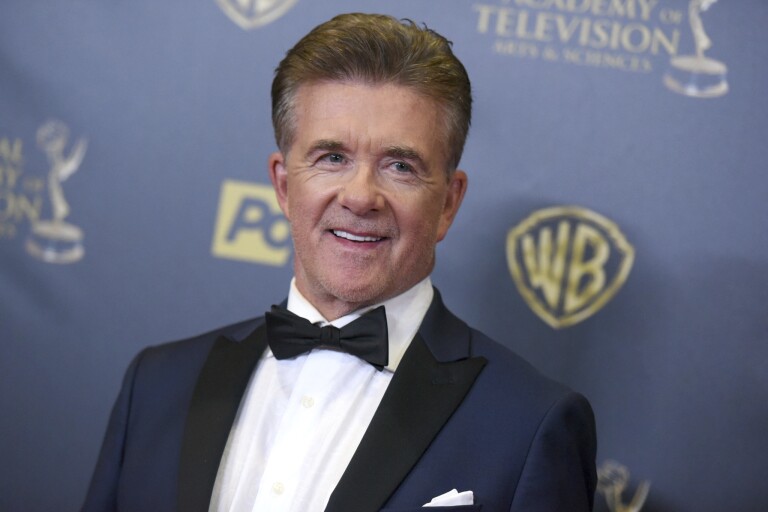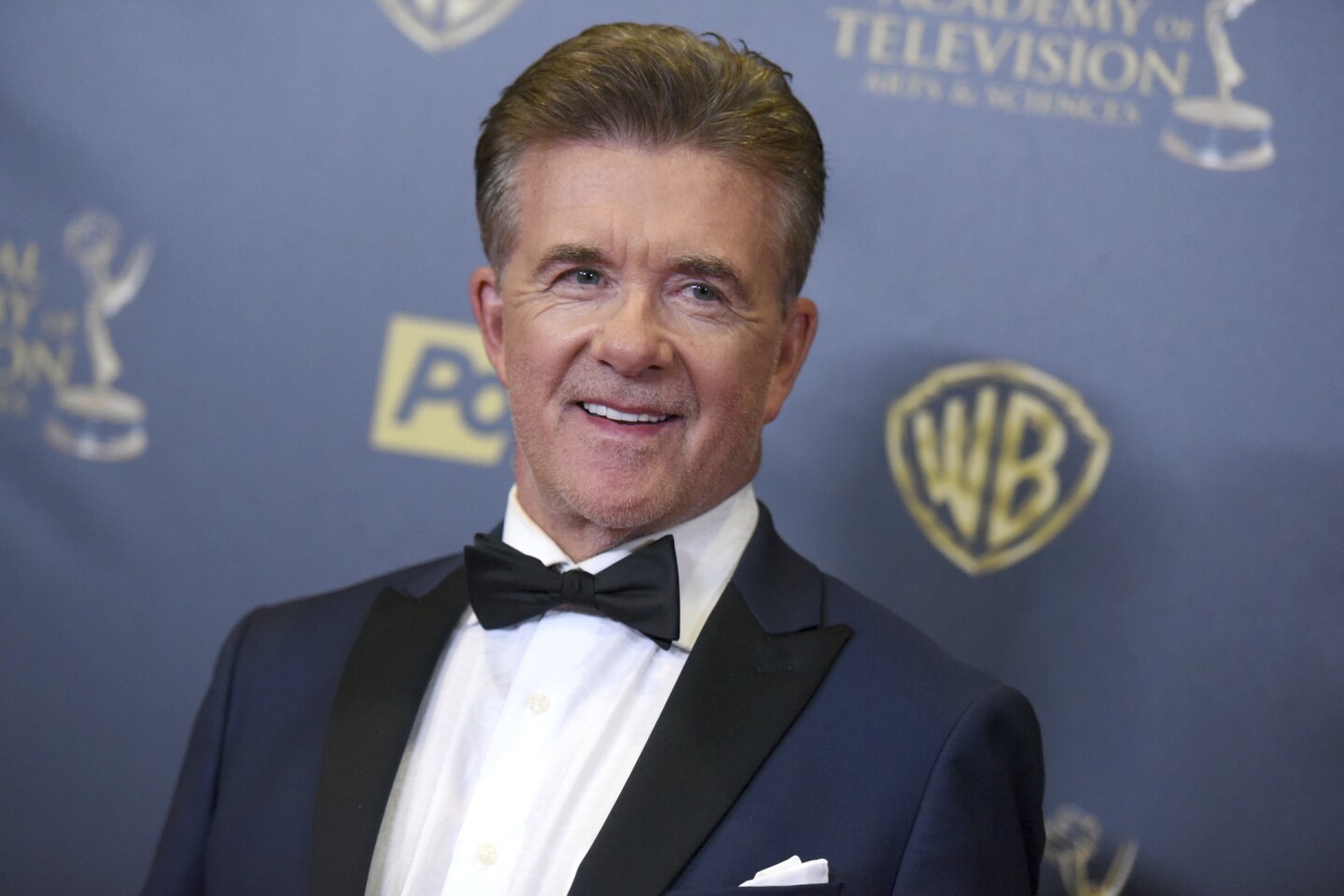 Alan Thicke poses in the pressroom at the 42nd Daytime Emmy Awards at Warner Bros. Studios in Burbank, Calif.
(Richard Shotwell / Invision / Associated Press)
Alan Thicke, left, with son Robin at "Festival After Dark" during the Sundance Film Festival on Jan. 21, 2012 in Park City, Utah.
(Dimitrios Kambouris / Getty Images)
Despite the negative notices for "Growing Pains," Thicke professes no feeling of deja vu. For one thing, both he and the Tuesday night show have had some positive reviews too. For another, the initial audience response has been extremely favorable. Helped by the strong lead-in of "Who's the Boss?," the show ranked 21st for the week in its first outing and did even better last week, winning its time period by beating NBC's previously invulnerable competition, "The A-Team." It was the 18th most watched program of the week.
A 38-year-old native of Canada whose talents also include writing, producing, singing and songwriting, Thickemakes it clear that, like any performer, he would prefer to have the critics admire his work. But if it comes to a choice between the two, he'll settle for popularity with the audience.
Where bad reviews are concerned, he notes with a chuckle, "Good ratings are the best revenge."
Thicke, who had only limited acting experience before landing the "Growing Pains" role, is cast as a psychiatrist who recently has moved his practice to his home so that he can keep an eye on his three children while his wife (Joanna Kerns) goes to work as a reporter.
"Either consciously or unconsciously, I chose something that was close to my own experience. I'm playing a middle-of-the-road guy with a couple of kids," says Thicke, who shares joint custody of his two sons with his ex-wife, actress-singer Gloria Loring. "In many ways, that's closer to my real personna than `Thicke of the Night' was."
Along with a long list of variety shows, Thicke produced and wrote for the zany talk-show parodies "Fernwood 2-Night" and "America 2-Night" in 1977 and 1978. So he's savvy enough about television to understand why many critics would blast "Growing Pains" as a blatant imitation of NBC's top-rated comedy "The Cosby Show."
"It's inspired by his (Cosby's) success, no doubt," Thicke readily acknowledges. "But it's not any more derivative of "The Cosby Show' than it is of, say, `Father Knows Best.' "
In other words, he contends that "Growing Pains" is in the same domestic sitcom genre as "The Cosby Show," but is taking a much more traditional approach to it for the simple reason that no one can hope to duplicate the unique blend of warmth, humor and familial interaction that Cosby infuses in his series.
I think some of this (negative reaction) is some residual feeling about whatever artistic sensibilities I offended in some critics with `Thicke of the Night.'
— Alan Thicke
"We're not curing anything here, nor was that ever the intent," he says in defense of his show. "I think some of this (negative reaction) is some residual feeling about whatever artistic sensibilities I offended in some critics with `Thicke of the Night.' "
Why was he willing to expose himself to them again? He could have gone back to writing and producing. In fact, in the months after "Thicke of the Night" was canceled and he and Loring decided to divorce, Thicke did return to the typewriter and hammered out the concepts for two comedy series and a dramatic series, all of which he says are now in development at studios around town.
Basically, however, he says that at this point, he finds the actor's life preferable to the producer's, both because it gives him more time to enjoy his boys and a social life and because it opens up more job opportunities. Instead of having just a handful of outlets to sell his producing and writing talents, he explains, TV recognition makes him a candidate for plays, concerts and personal appearances anywhere in the country.
Thicke says there was another reason for stepping in front of the cameras again: He didn't want to be remembered only by "Thicke of the Night."
"You don't want to leave that on your tombstone," he says good-naturedly. "You don't want to become a trivia question: `Who was the guy who hosted the show with the biggest hype and the lowest ratings in the history of the free world?' "
He doesn't know if "Growing Pains" will accomplish that feat, but if not, he thinks it will lead to something else that will. He's not particularly picky about what it might be.
"If I had ever felt like an artist, I'd be pursuing it," he says. "If I thought I could be like Bruce Springsteen or Dustin Hoffman, I would. I'm just a guy out there having some fun, not meaning to offend anyone, hoping there's room for everybody."
See the most-read stories in Entertainment this hour >> »
ALSO:
Alan Thicke, actor and dad on '80s sitcom 'Growing Pains,' dies at 69
From the Archives: TV's Alan Thicke wears skates, carries a big stick and hangs out with Wayne Gretsky
From the Archives: Alan Thicke and the cast of 'Growing Pains' had to overcome internal turmoil for 2000 reunion special
---
The complete guide to home viewing
Get Screen Gab for weekly recommendations, analysis, interviews and irreverent discussion of the TV and streaming movies everyone's talking about.
You may occasionally receive promotional content from the Los Angeles Times.