Michele Serros, who wrote about growing up Latina, dies at 48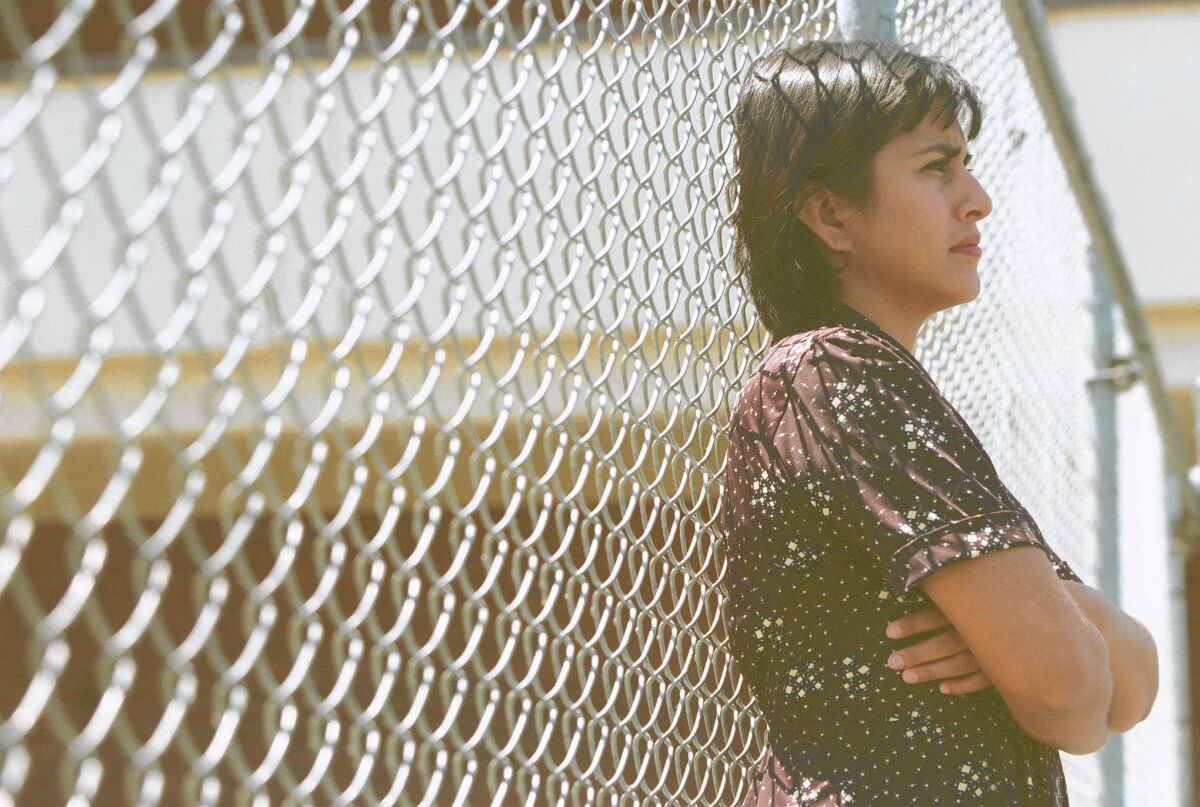 It might have been an offhand wisecrack for comedian Jonathan Winters, but for aspiring writer Michele Serros, it was a profoundly funny observation.
In a 2013 Huffington Post essay called "How Jonathan Winters Helped Me Find My Inner Latina Angst," Serros recalled how uneasy she once felt at a writers conference in Santa Barbara, 40 miles up the coast from the working-class Oxnard of her youth.
But during a seminar, fellow author Winters put the nervous Serros at ease. "These people from Santa Barbara love to brag and brag that they're fourth-, fifth-generation Californians," he said, taking a jab at his Santa Barbara neighbors. "I just look at them and say, 'Funny — you don't look Mexican....'"
Serros burst into laughter while others in her group offered thin smiles. "I finally had an ally that afternoon," she wrote. "Sure, he was a white man and a white man from Santa Barbara who almost definitely had some money … but that particular day, he tapped into a voice, one that conveyed message with comedy that I was still struggling to find."
Serros, who went on to establish her voice in sharply humorous poems, short stories and young adult novels about growing up Latina in Southern California, died Sunday at her home in Berkeley. She was 48.
Serros was diagnosed in 2013 with adenoid cystic carcinoma of the salivary gland, her husband, Anthony Magana, said.
Serros wrote books that became required reading in Chicano studies programs, including "Chicana Falsa and Other Stories of Death, Identity, and Oxnard" and "How to Be a Chicana Role Model." Her novels for teenagers were "Honey Blonde Chica" and "Scandalosa!," about the many identity crises of Evie Gomez, a Mexican-American surfer girl.
Growing up with young adult novels, Serros noticed monotonous themes in the ones aimed at Latinos.
It's "the three Bs", she told NPR in 2006. "It was always about barrios, borders and bodegas, and I wanted to present a different type of life, a life that truly goes on that we don't always see in the mainstream media."
Serros wrote about everyday situations, often finding humor in the commonplace.
"She was like a Latina Larry David," said Jose Alamillo, the coordinator of Chicana/o studies at Cal State Channel Islands. "She was a gem."
Serros said she thought of herself as "a counter girl who got lucky."
In her story "Live Better, Work Union," the narrator is a Latina cashier who feels her broad nose looks "too Indian" — an anxiety that Serros too felt when she was young.
Serros drew on her retail experience "selling overpriced brushes to part-time art students and Styrofoam balls to frantic mothers who hissed at their children, 'This is NO way to make a solar system, not last minute like this! You need to plan ahead! Next time, you're on your own!' "
"The following week, I'd see the same mothers hissing at the same kids," she wrote. "'This is NO way to make the Mission San Buenaventura! You need to plan ahead!' "
Born in Oxnard on Feb. 10, 1966, Serros was the daughter of George Serros, an airport janitor who became a court reporter, and Beatrice Serros, a draftsman. Beatrice died in 1991.
Serros' parents "wanted to make a home as close to the Brady Bunch as possible," she told the Dallas Morning News. "Every payday my mom would buy Kentucky Fried Chicken and we would wheel the TV out to the patio. That was the life we wanted."
As a girl, Serros struggled with a troubled home life, an insatiable need to tell stories, and skepticism about her ambitions from her friends and family. Writing for advice to young adult author Judy Blume, Serros received a reply written in hot pink, felt-tip marker.
Keep a journal, Blume told her. Tell the stories.
Serros said her eyes were opened to Latino authors at Santa Monica College and then at UCLA, where she wrote "Chicana Falsa" in 1994. The title comes from a seventh-grade know-it-all calling her a "homogenized Hispanic" because of her horrible Spanish and literary interests.
In the 1990s, Serros worked as a road poet for the Lollapalooza music festival. She later spent a year as a writer on the "George Lopez" show and did commentaries for NPR's "Morning Edition."
Her first marriage, to rock musician Gene Trautmann, ended in divorce.
She met her current husband in 2010 at Flacos, his vegan restaurant in Berkeley. When he recognized her as Michele Serros, her face lit up — until he revealed that they had gone to high school together in Oxnard.
"Her face kind of fell," he said.
They married the following year.
In addition to Magana, Serros is survived by her stepdaughter Anastasia Magana, her father, George, and her sister Yvonne.
She was so fond of chicharrones — fried pork rinds — that for a publicity shot, she once wore a dress made of the greasy treats strung on fishing line. She also wrote a poem about visiting an uncle and choking on one:
Thoughts raced through my mind,
Who'll take care of Miss Rosie, my pet goat?
Still haven't got "Student of the Month."
But more agonizing than
Any of these things,
Than any of this,
I thought of the headline,
The headline in my obituary:
Chicharrones Choke Chicana Child to Death (in Chino).
Oh my god,
I couldn't die with a headline like that!
Twitter: @schawkins
Must-read stories from the L.A. Times
Get the day's top news with our Today's Headlines newsletter, sent every weekday morning.
You may occasionally receive promotional content from the Los Angeles Times.