O.C. teen's death renews longstanding debate on usefulness of gang injunctions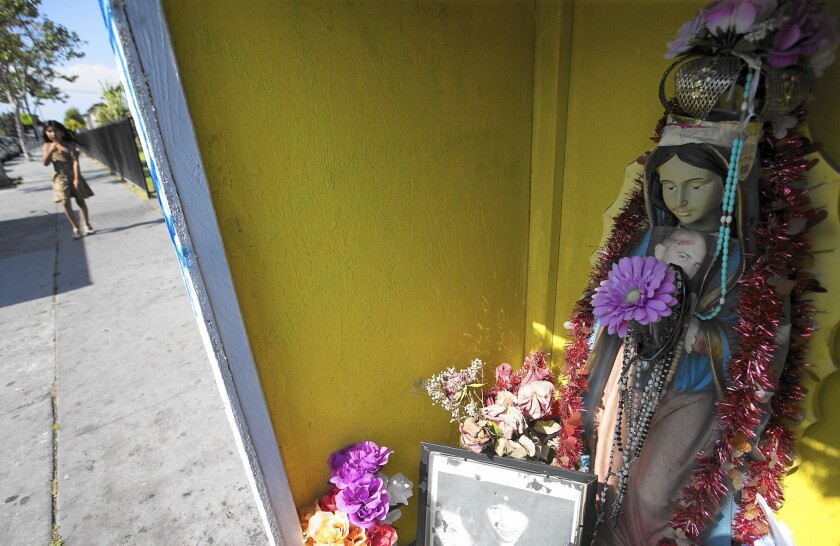 Angel "Chunks" Arellano's family buried him in the new clothes that had been waiting for him under his mother's Christmas tree.
The 17-year-old's death was Orange County's 21st gang homicide of 2014.
It's one that might have been prevented, the district attorney suggested in a statement that has raised eyebrows.
For months, prosecutors had sought to impose an injunction restricting the activities of 25 alleged members of the Townsend Street — or Calle Townsend — gang. But 14 of them, including Arellano, remained free of court-ordered restraints while their attorneys fought the effort.
Just after midnight, in the first moments of Christmas Eve, Arellano was gunned down on a Santa Ana street.
Interested in the stories shaping California? Sign up for the free Essential California newsletter >>
In a press release following the shooting, Orange County Dist. Atty. Tony Rackauckas said "it's hard not to wonder" if Arellano would still be alive if he'd been constrained by a court order that, among other restrictions, would have required him to remain off the streets after 10 p.m. The homicide, he said, "is exactly what we were trying to prevent by filing the criminal street gang injunction."
Opponents of gang injunctions were angered to hear about the district attorney's statement, and say there's no evidence to support the suggestion that one of law enforcement's most controversial crime prevention tools could have saved a life.
Abraham Medina, who works with the organization Boys and Men of Color, called the press release an insensitive "marketing pitch" for injunctions.
Police and prosecutors have fought for decades to use the court-approved restrictions of gang injunctions to suppress gang activity in neighborhoods where they say violence and intimidation make life miserable for residents trying to live peacefully.
And at every step, civil libertarians and some community members have argued that injunctions are a ham-handed and ineffective way to address the confluence of social, economic, racial and psychological forces that breed street gangs — not to mention a violation of the rights of both gang members and people whom police label as gang-bangers.
Too often, those critics argue, people are labeled solely because they're of a certain ethnicity or live in certain neighborhoods.
California courts have upheld narrowly framed gang injunctions. There are more than 150 in place statewide, according to an unofficial count by the American Civil Liberties Union of Southern California.
And in many of those places, communities grapple with the questions being discussed as Orange County rolls out more injunctions like the one in Santa Ana: Is the discomfort — many would say injustice — of an injunction justified by the lives it might save, including those of gang members themselves?
Rosie Iraheta, Arellano's mom, keeps a stuffed bear called "Pork Chop" on her dresser. She bought it for her son at the Cheesecake Factory, where they'd go for fettuccine alfredo, his favorite dish.
Iraheta says her son was caring. He looked after stray animals. He offered to sit with her through treatment when she was diagnosed with cancer.
He wasn't perfect, she admits, but she did not feel comfortable talking about whether he was involved in the gang, as prosecutors had argued in seeking to include him in their injunction.
But Arellano's Facebook page seems to support the law enforcement perspective.
For a while his cover photo depicted a handgun with the phrase "the world is yours" etched on the barrel. He described run-ins with the "pigs," and his posts are littered with "320" — numbers that coincide with "C" — the third letter of the alphabet — and "T" — the 20th letter — for Calle Townsend,.
In an image posted in May 2014, Arellano grins from a hospital bed, a cast on his left arm and a girl smiling by his side. "Who shoot u gee" one Facebook user asked. In June, there's a photo of him back in the hospital. "I got shot," Arellano wrote.
"U needa knock that [stuff] offf before u end up 6 feet under," one commenter wrote on June 2, 2014. Then, a few days after Arellano's death: "i told you :( man"
Arellano was in Orange County Juvenile Hall on June 19, 2014, when the district attorney's office served him with a summons saying that he had been identified as an "active participant" in the street gang and would be subject to the injunction covering just under half a square mile of Santa Ana's dense city streets.
That's roughly the neighborhood, authorities say, where Townsend Street gang members loiter on sidewalks, lawns and in alleyways, spray-painting graffiti, drinking and selling crack, heroin and methamphetamine.
To justify their call for a civil court injunction, prosecutors had compiled a long list of problems in Townsend Street turf, and incidents involving people they had identified as Townsend Street gang members. There was the time someone shot and killed "Slick." The time police caught "T-Clown," "Lazy," "Sonic," "Spy" and "Scar" in a park with a .38 special revolver. The time they busted "Lil Gizmo" with a bag of crack.
Arellano's name appears in at least two of the incidents cited in police testimony.
One evening, in April 2012, a man standing next to Arellano by a gold minivan asked whether he had the "toy." The report says that Arellano raised the lower edge of his gray hoodie. A silver handgun rested in his jeans.
On a May afternoon in 2013, Arellano and another reported gang member noticed a police car and began to run. His companion, who was wearing a Minnesota Twins "TC" baseball cap and silver "T" belt buckle, threw a steel revolver to the ground. The police detained Arellano and say that he admitted belonging to the gang.
If Arellano had been bound by the injunction, police could have arrested him instantly on suspicion of a curfew violation, publicly intimidating residents, acting as a lookout or associating with other gang members. He would have been forbidden from throwing Townsend Street hand signs in public view or walking outside wearing Townsend Street clothing, such as the "TC" hats.
"If those people are committing crimes, then there's already a remedy for that," said attorney Nam Doan, who was representing Arellano. He calls injunctions a way for law enforcement to "get more power, more authority."
When Orange County Superior Court Judge Franz Miller granted a preliminary injunction for the Townsend Street gang on Aug. 13, 2014, he agreed to exclude those contesting it, including Arellano.
Two of those the district attorney attempted to crack down on are expected to fight the injunction itself in court. The others chose to argue that law enforcement was wrong in defining them as gang members, making their case at an "active participation hearing" — an avenue of recourse that followed a 2009 ACLU lawsuit that successfully argued that people under an injunction in Orange had been denied due process.
Arellano didn't live long enough to decide which option to pursue. He was shot before he had met his attorney, who hadn't yet received a copy of the prosecution's evidence.
Arellano's autopsy results have not been released, pending adjudication of the homicide, and no suspects have been arrested.
Few academic studies have looked at the long-term effect of injunctions on neighborhoods, said Cheryl Maxson, a professor at UC Irvine.
Her 2005 study, which analyzed an injunction in San Bernardino, found short-term relief but wasn't able to look at long-term change. An informal 50-page Rand Corp. working paper that evaluated the first Orange County injunction, which was established in 2006, discovered "no clear empirical findings."
Police say that getting at the truth about residents' feelings in neighborhoods where gangs dominate is tough because residents are afraid to speak up. They say that the facts speak for themselves: Violent crime went down 21% in a Fullerton "safety zone"; aggravated assault went down 29% in an Orange injunction area after the rules were imposed.
They point to parks and playgrounds that swarm with children again, now that injunctions keep gangsters away.
If the injunction keeps someone like Arellano off the streets long enough to evade the gang's pull, to grow more mature and find a non-criminal path, that's a bonus, prosecutors say. But the real purpose is to keep people like Arellano from committing crimes.
In that regard, Rackauckas is unwavering. As he declared to county supervisors in April: "Gang injunctions work."
It saddens many in law enforcement that some people in neighborhoods with gangs seem to accept high crime and violence as part of life.
"It breaks your heart," says Susan Schroeder, Rackauckas' chief of staff. "Most people in Orange County wouldn't put up with it."
But in Santa Ana's Townsend Street neighborhood, as in many poor parts of Southern California, many people offer a fatalistic take on the complex role gangs play in community life.
Some residents say they view the presence of police as more oppressive than the alleged gang members — who are their own or their neighbors' sons, daughters, uncles and dads.
The Townsend Street neighborhood is not as bad as the district attorney wants people to believe, said Gaby Hernandez, a mental health therapist for kids in the area and volunteer with the advocacy group Chicanos Unidos. She says that in her view the injunction will damage the community more than it will help. "It criminalizes everyday activity."
On a recent evening, an arc of blue balloons swayed over the entrance to one of the neighborhood's big apartment buildings. In the building's courtyard, Stephanie Flores, 24, arranged blue and white tablecloths for her 3-year-old daughter's baptism celebration.
With birria cooking in the kitchen, Flores said it is up to her and her family to raise their children right, to make sure they go to school and stay safe.
She doesn't worry about raising her kids in the neighborhood, she said, adding that she grew up there herself.
As she spoke, her son toddled after her dressed in a vest and a tie.
Now and then balloons popped, sounding like gunshots.
NEWSLETTER: Get essential California headlines delivered daily >>
---
The stories shaping California
Get up to speed with our Essential California newsletter, sent six days a week.
You may occasionally receive promotional content from the Los Angeles Times.