L.A. County parks tax and Santa Monica airport Measure D in jeopardy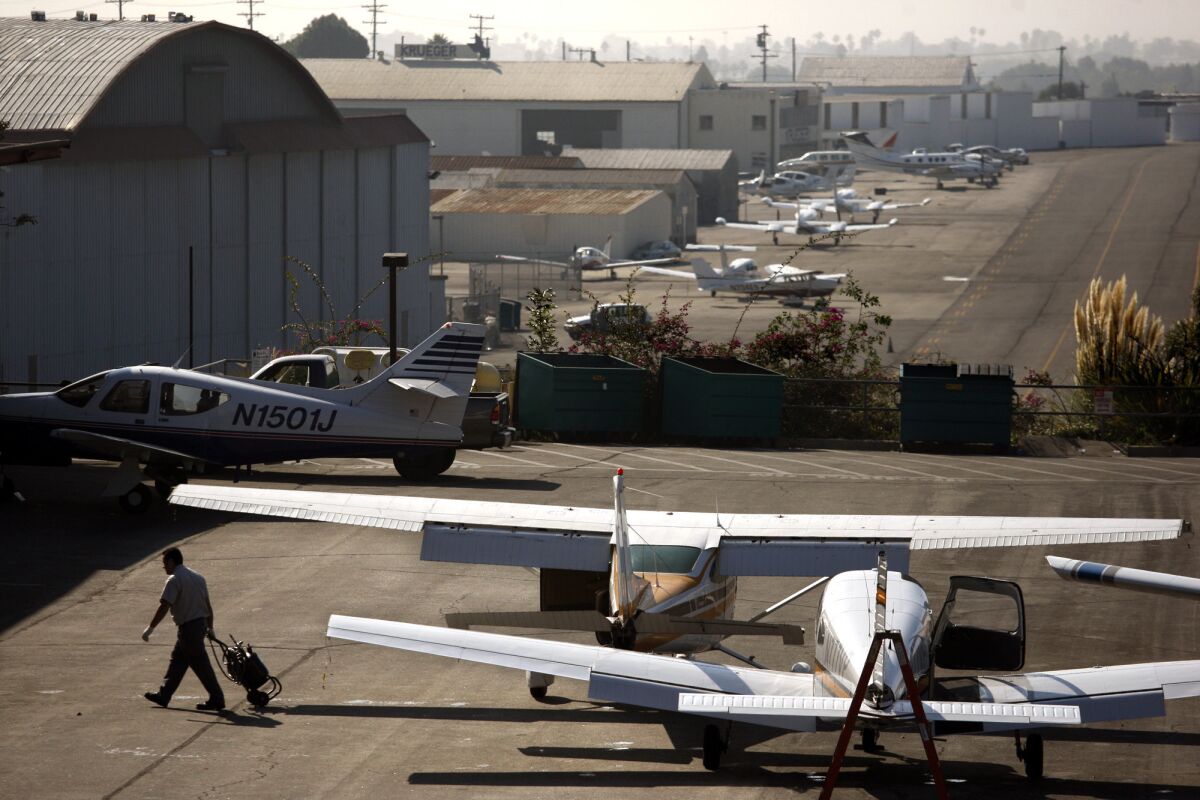 A tax to raise money for Los Angeles County parks and a measure to keep Santa Monica airport open were in jeopardy in election returns Tuesday night, while the results for a proposition to control development in Malibu were too close to call.
Proposition P would levy a $23 per parcel property tax on county residents to pay for parks and conservation projects.
If it receives the two-thirds vote required for passage, the measure is expected to generate an estimated $54 million a year for the next 30 years.
The proposition was billed as a replacement for Proposition A, a 1992 measure that expires in June. A second funding measure for parks that passed in 1996 brings in $28 million annually but will expire in 2019.
The funding mechanisms have helped to pay for a variety of projects, such as the restoration of the Griffith Observatory, construction of a new shell at the Hollywood Bowl and installation of an Olympic-sized swimming pool in East Los Angeles.
In Santa Monica, voters faced competing ballot measures over the city's airport, long a target of complaints from nearby residents and city officials who have tried to close it for years.
Measure D, backed by aviation interests and airport supporters, demands that the city halt its effort to scale back or shut down Santa Monica Municipal Airport until the public can vote on future proposals to close the facility or change its land use.
Supporters say the measure is a reaction to a City Council decision to develop a "starvation strategy" that would cut flights, shorten the runway or close the historic facility, which was once home to Douglas Aircraft Co.
Measure LC was later put on the ballot by the council. Endorsed by environmental and community groups, it would allow the airport to be used only for parks, open space and recreational facilities until voters can approve further limits on development.
Voters were rejecting Measure D while Measure LC had an early lead.
In Malibu, voters weighed Measure R, an initiative that pitted Emmy-winning actor and director Rob Reiner against Los Angeles Police Commission President Steve Soboroff.
Approval of the proposition held a slim lead.
The proposed law would give voters the power to approve or deny any commercial development bigger than 20,000 square feet and limit the percentage of chain stores in new shopping centers.
The measure comes after years of discussion in town forums, planning meetings and an ordinance regulating chain stores that the City Council passed in July. But supporters of the so-called Your Malibu, Your Decision Act have maintained that the council's ordinance came too late and was not stringent enough.
Twitter: @LADeadline16
Times staff writer Matt Stevens contributed to this report.
The stories shaping California
Get up to speed with our Essential California newsletter, sent six days a week.
You may occasionally receive promotional content from the Los Angeles Times.