Suspected terrorist attacks in New York, New Jersey and Minnesota stir political debate
Law inforcement officers secure the area where they allegedly arrested bombing suspect Ahmad Khan Rahami following a shootout in Linden, N.J, on September 19.
(JEWEL SAMAD / AFP / Getty Images)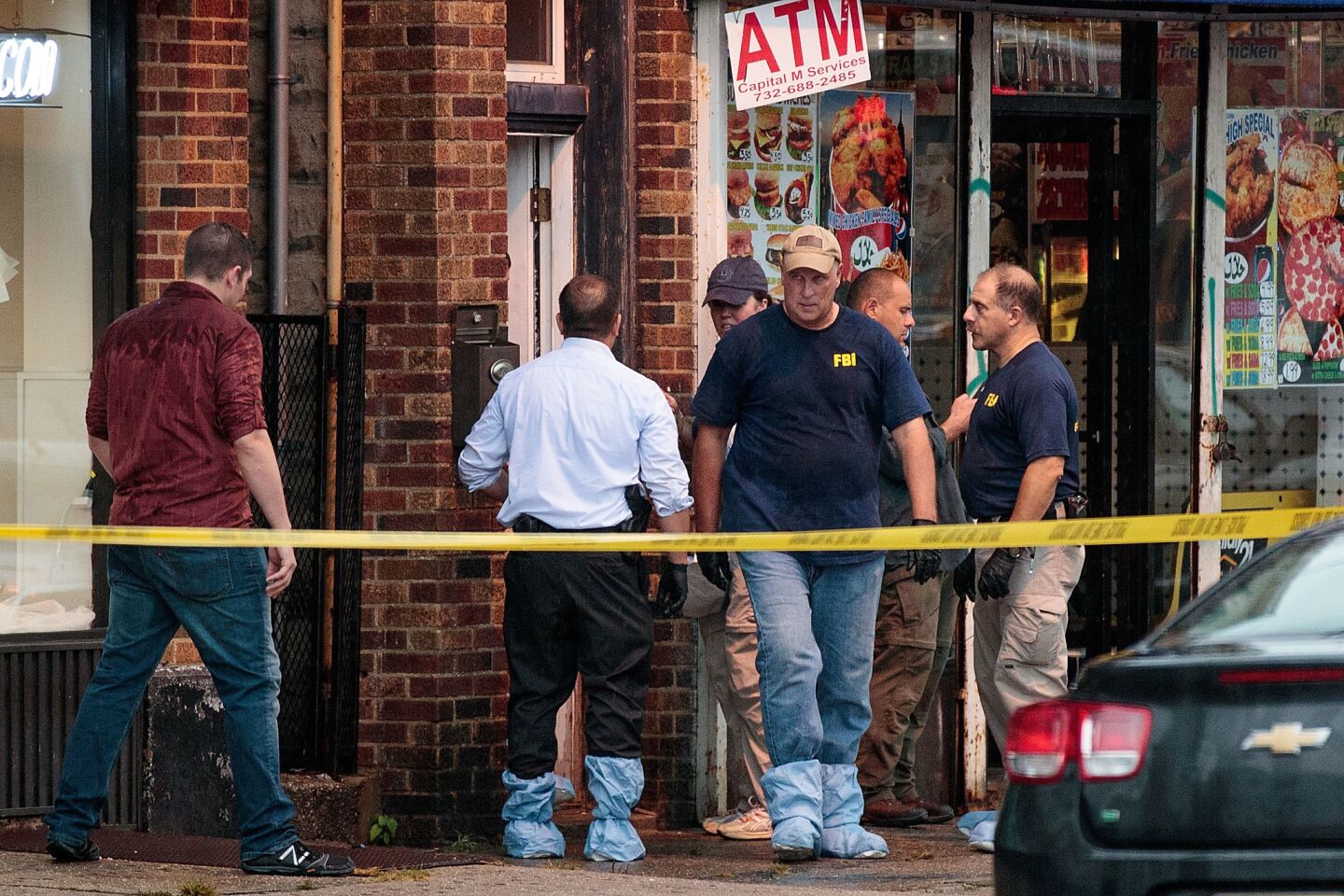 FBI and other law enforcement officials on Monday investigate a residence in Elizabeth, N.J., in connection to the Saturday bombings in New York and New Jersey.
(Drew Angerer / Getty Images)
A member of the NYPD stands guard in New York City's Herald Square. Following Saturday night's explosion in the Chelsea neighborhood of Manhattan, Mayor Bill de Blasio has promised a "substantial" police presence throughout the week.
(Drew Angerer / Getty Images)
People watch as officials gather evidence at an apartment building in Elizabeth, N.J. Ahmad Khan Rahami, a naturalized citizen from Afghanistan who has lived in the building, is wanted for questioning in the weekend bomb attacks.
(Mel Evans / Associated Press)
A member of the NYPD K-9 Unit patrols on a subway train between Grand Central Terminal and Times Square in Manhattan.
(Drew Angerer / Getty Images)
FBI agents on Sunday work a crime scene scattered with debris after a bombing the night before on 23rd Street in Manhattan's Chelsea neighborhood.
(Stephanie Keith / Getty Images)
New York Mayor Bill de Blasio, left, and New York Gov. Andrew Cuomo tour the site of the explosion.
(Justin Lane / AFP/Getty Images)
A fire truck is at the scene of the explosion on West 23rd Street in Chelsea on Saturday night.
(Bryan R. Smith / AFP/Getty Images)
Members of the FBI search for evidence as police, firefighters and emergency workers gather at the scene of an explosion in Manhattan on on Saturday night.
(Spencer Platt / Getty Images)
Police and firefighters work at the site of the bombing in Manhattan on Saturday.
(Spencer Platt / Getty Images)
Reporting from New York —
A series of seemingly random, mostly amateurish attacks in New York and Minnesota caused mostly minor injuries over the weekend, but may have added new strains to the country's political fabric.
The most serious incident took place in a shopping mall in St. Cloud, Minn., where a man stabbed nine people, one critically, before being shot to death by an off-duty police officer. The Islamic State group took responsibility for the Saturday night attack through one of its news agencies, and the man was described as asking potential victims whether they were Muslim.

For the record:
7:30 a.m. June 4, 2023
An earlier version of this article said that explosive devices had been sent to FBI headquarters in Quantico, Va., for analysis. They were sent to FBI labs in Quantico; the FBI is headquartered in Washington, D.C.
The motivation was more baffling in a series of crude bomb attacks in and around New York City. An improvised bomb exploded Saturday night in a garbage dumpster on West 23rd Street in Manhattan, shattering windows and spewing glass on passers-by. Twenty-nine people were slightly injured.
A similar device, made out of a pressure cooker, was found unexploded a few blocks away on West 27th Street. The woman who found it told The Times that it looked "like a child's science experiment."
Ninety miles away, in the resort town of Seaside Heights, N.J., a pipe bomb exploded Saturday morning in a plastic garbage can near the route of a 5-kilometer charity run. There were no injuries, but the run was canceled.
The incidents exacerbated the country's deep political divisions, as Republicans and Democrats bickered with each other and among themselves over the semantics of the attacks.
"A bomb exploding in New York is obviously an act of terrorism," New York Gov. Andrew Cuomo said on Sunday. But, he added, "At this time there's no evidence of an international terrorism connection with this incident, but it is very, very early in the investigation."
New York Mayor Bill de Blasio, like Cuomo a Democrat, was more reluctant to use the term "terrorism."
"We know it was a very serious incident, but we have a lot more work to do to be able to say what kind of motivation was behind this," the mayor told reporters Sunday. "Was it a political motivation? Was it a personal motivation? We do not know that yet."
The New York Times, citing two unidentified senior law enforcement officials, reported late Sunday night that authorities had identified a "person of interest" in the bombing, but did not describe the person as a suspect.
Republican presidential candidate Donald Trump was chastised for announcing the explosion in New York hours before police would say anything other than that they were investigating an explosion.
It was a funny-looking object ... and I thought, 'Why would somebody have thrown this out here?' But ... you see a lot of junk on the streets in New York.
— Jane Schreibman, photographer who noticed the undetonated bomb
Conservative bloggers, meanwhile, accused Democrats of downplaying the terrorist threat, although presidential candidate Hillary Clinton issued a statement saying the "apparent terrorist attacks … should steel our resolve to protect our country and defeat" Islamic State.
Most of the clues come from the undetonated bomb, which was noticed about 10 p.m. Saturday by a photographer, Jane Schreibman, who lives in the neighborhood.
"It was a funny-looking object, like a child's science experiment, and I thought, 'Why would somebody have thrown this out here?' But then again, you see a lot of junk on the streets in New York," Schreibman said in an interview. It appeared to be a pressure cooker with wires sticking out, she said.
She called 911 and police responded immediately, she said, adding, "As soon as the policeman looked at it, he said to me, 'Run!' "
Both bombs in New York — the one that detonated and the one that did not — were reported to be similar to the device that turned the 2013 Boston Marathon into a bloodbath, using a pressure cooker, Christmas lights and ball bearings. The one that exploded had been placed in a dumpster in a fairly nondescript stretch of West 23rd Street, which for Manhattan is not particularly well-trafficked.
The pipe bomb that went off in New Jersey was also a crudely made device but of different design.
New York was snarled with gridlock Sunday as police closed many roads and curtailed subway routes for security. The New York Police Department was planning to significantly increase its presence at airports, train stations, big public gathering places such as Times Square and in the subway system. An additional 1,000 state police and National Guard officers were being deployed.
The increased security, Cuomo said, was to "err on the side of caution."
Adding to the anxiety was the fact that President Obama and many other heads of state are arriving for the opening of the U.N. General Assembly on Tuesday.
The city was already on edge after a ceremony the previous weekend to mark the 15th anniversary of the Sept. 11 attacks. Then, on Thursday, a man was shot at Penn Station after attacking an off-duty police officer with a meat cleaver. The man, Akram Joudeh, was reported to be Muslim. Police said the motivation behind the attack was that his car was booted for illegal parking.
No physical evidence yet connects the dumpster blast to the unexploded pressure-cooker bomb discovered nearby, but investigators believe the two are probably related, according to a senior counter-terrorism official who discussed the investigation on the condition of anonymity.
"It had to be a bomb," said Steven Ochs, 43, who was eating paella inside a Spanish restaurant in the Chelsea neighborhood when the blast hit. "There was just one big explosion, no smoke or fire, but the smell of gunpowder was present.… Then there were all these dust particles swirling around. It was a scene of chaos and madness."
The blast, Ochs said, appeared to come from street level — consistent with reports that it came from a dumpster — and it blew out the windows of passing cars and an adjacent apartment building.
Counter-terrorism experts said the placement of Saturday's explosives indicated a lack of sophistication about bombs that would point to a "lone wolf" terrorist, as opposed to one with extensive training.
Because of their design and strength, steel dumpsters tend to deflect blasts into the sky and away from people, said Patrick Skinner, a former CIA case officer and a director of the Soufan Group, a New York-based security firm.
The Chelsea bomb's location suggests that whoever planted it either couldn't find anywhere else to put it without drawing notice, wanted to cause as little carnage as possible, or didn't understand the power of the device and thought it would turn the dumpster's steel into shrapnel.
The bomber seems to have built the devices first, then set off to figure out where to put them, he said. "Driving around with a bomb is probably pretty nerve-wracking," Skinner said. "It points to someone who is inexperienced and didn't build a bomb for a specific target."
So far, investigators have found no obvious links between the devices in New York and New Jersey. Skinner said he would not be surprised if they were related.
"Coincidences happen," he said. "But it's not like these bombs are that far apart, and they happen to go off the same day."
The Minnesota stabbings occurred about half an hour after the explosion in New York.
The suspect repeatedly mentioned Allah and asked at least one victim if they were Muslim before an off-duty police officer shot and killed the assailant, St. Cloud Police Chief William Blair Anderson said at a news conference.
Times staff writer Demick and special correspondent Haller reported from New York and staff writer Bennett from Washington. Times staff writers Del Quentin Wilber and Katherine Skiba in Washington and Molly Hennessy-Fiske in Cairo contributed to this report.
ALSO
Photographer who found bomb: 'You see a lot of junk on the street in New York'
Gas prices jump in the Southeast after pipeline rupture in Alabama
3 brothers in south Texas, one a Border Patrol agent, charged in drug cartel-linked murder case
---
UPDATES:
8:15 p.m.: This article was updated and rewritten throughout.
6:20 p.m.: Updates throughout with new reporting.
1:50 p.m.: This post has been updated throughout.
12:20 p.m.: This article has been updated with new details about the Minnesota stabbing attack.
11:40 a.m.: This article has been updated throughout with details of the investigation and more reaction.
10:05 a.m.: This post has been updated with details of Minnesota stabbing attack.
8:54 a.m.: This article has been updated with reaction from Rep. Peter King.
This article was originally published at 8:25 a.m.
Must-read stories from the L.A. Times
Get the day's top news with our Today's Headlines newsletter, sent every weekday morning.
You may occasionally receive promotional content from the Los Angeles Times.