Guns are a concern as Republican National Convention protests begin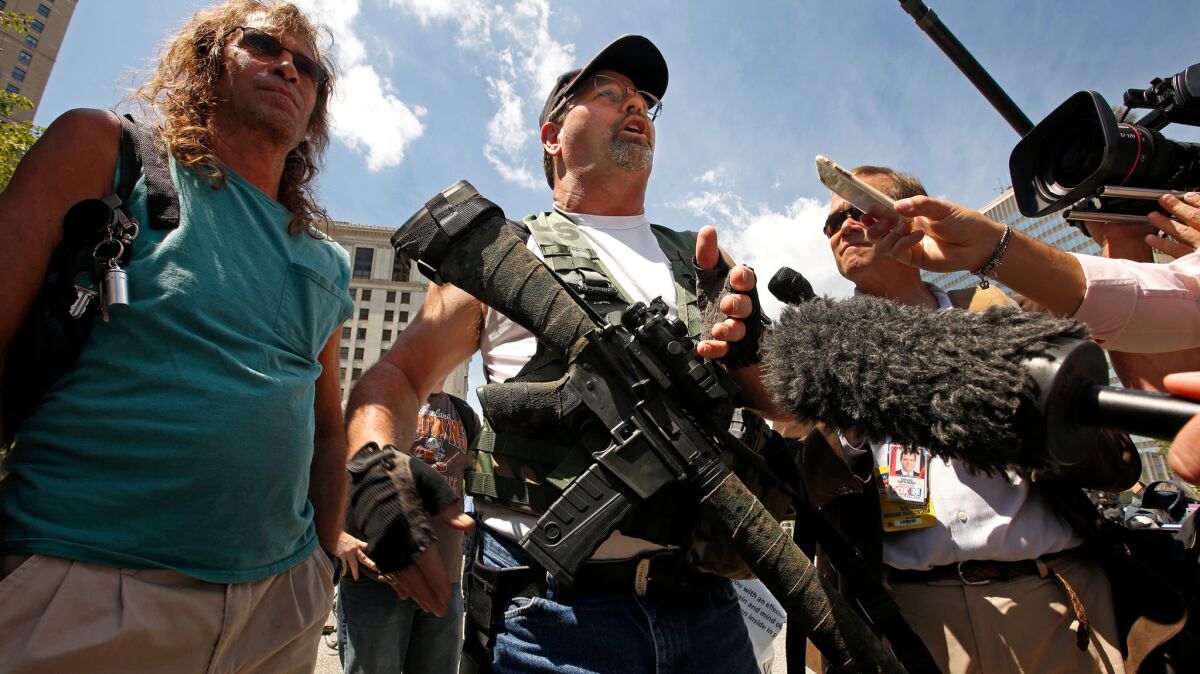 Reporting from Cleveland —
A top police union official asked Ohio's governor to temporarily ban guns outside the Republican National Convention in downtown Cleveland after the shooting of several police officers in Louisiana renewed fears about the safety of this week's political gathering.
But a spokeswoman for Gov. John Kasich, a Republican, said Sunday that he did not have the power to suspend the state's open-carry laws.
The city has banned a wide variety of potential weapons from the protest zone near the convention — including tennis balls, water pistols and bicycle locks — but cannot limit firearms.
The dispute over the open-carry law, which is similar to statutes in most other states, came as protesters from a long list of organizations began to gather here for demonstrations that are expected to last at least until Donald Trump accepts the Republican presidential nomination on Thursday.
Sunday afternoon, a man with an AR-15 semiautomatic rifle, a handgun and ammunition stood in downtown's Public Square saying he was there to exercise his rights and make a point.
"What are you going to do, ban everything that kills people?" Steve Thacker, a 57-year-old information technology engineer from Westlake, Ohio, asked when someone criticized his decision to walk through Cleveland with the rifle. "The point is to protect yourself. This world is not the world I grew up in."
A local resident, Steve Roberts, 61, who was riding his bike through the square, stopped to acknowledge that Thacker was within his rights, but asked him to leave.
"You've shown it. Why don't you take it back?" Roberts, who was wearing a "Stand for Love" T-shirt, told Thacker. "I find it offensive."
The miniature drama between the men could be one of many that will play out as viewpoints collide in Cleveland this week — not just left versus right, but sometimes far left versus far right.
In preparation, metal security fencing stands around the convention site, which is protected by the U.S. Secret Service. The rest is the responsibility of a police force including thousands of officers from agencies from California to Florida who have been sworn in with arrest powers in the city. Police officers with dogs have begun patrolling the streets.
"It's game time," Cleveland Police Chief Calvin Williams said Sunday morning, "and we're ready for it."
Black nationalists drew an escort of bicycle officers in helmets and shorts as they marched through the city Saturday. Planes towing banners opposing abortion and supporting the imprisonment of Hillary Clinton circled the city Sunday while hundreds of activists marched through the streets to protest Trump and killings by police.
The names of Tamir Rice and Eric Garner, who were killed by police, were invoked as a small but raucous crowd began to chant outside the Cleveland Masonic and Performance Arts Center.
"No Trump. No KKK. No fascist USA," the crowd chanted, with many holding signs that read "Stop Trump" or "Black Lives Matter."
On Monday, one group of anti-Trump activists plan to hold an illegal march to the Quicken Loans Arena, the site of the convention, to have a "clash of ideas" with Trump supporters.
The city granted the activists use of a public park but denied them a permit for the route they desired, said organizer Tom Burke, who said they wanted to get "as close as they possibly can" to the Republican delegates shielded behind the metal fencing.
"We hope that they'll hear us inside the convention," Burke said. "We don't expect any trouble."
Chelsea Byers, 26, of Los Angeles was dressed in a pink Statue of Liberty costume and said she traveled to Cleveland to protest the Trump and Clinton candidacies. A member of the antiwar group Code Pink, she thought it was important to rail against "war hawks."
"We felt like it was important to stand in solidarity to stop the hate," she said.
Cleveland natives said they were more worried about how out-of-town demonstrators might act as the week goes on.
"It's always a concern because it's not their city. Whatever they do, they don't care," said David Allen, a biker and longtime city resident. "I'm just gonna try and stay away from downtown."
Mike Deighan, a 28-year-old restaurant employee in the downtown area, seemed to be enjoying the fanfare near the Quicken Loans Arena as he purchased a hat from one of several pop-up stands that were selling shirts disparaging Trump and Clinton.
But his mood soured when the topic turned to the likely demonstrations later in the week.
"I'm not really excited about it at all," he said. The only people who are going to destroy this city are the people who aren't from here."
Along East 55th Street, Brian Lange waved a 2nd Amendment flag proudly as he stood near a vendor hawking pro-Trump paraphernalia. Lange, who is affiliated with the right-wing Oath Keepers group, said he had traveled from Lima, Ohio, to report for his radio show.
Although he'd been in Cleveland for less than an hour, he said, someone had already driven by and hurled profanities at him for supporting Trump. Lange, an Air Force veteran, said he just smiled back.
"They got the freedom to say whatever they want, as long as they don't trample on my rights," Lange said. "I just consider them ill-informed."
Steve Loomis, president of the Cleveland Police Patrolmen's Assn., who called for the ban on guns outside the convention, said he was not "against the 2nd Amendment."
But recent killings of police in Texas and Louisiana, combined with volatile confrontations that could occur outside the convention, will create situations that are too risky for city police, he said.
City officials canceled a security briefing for reporters Sunday night and issued a statement that extended condolences for the deaths of the three officers killed in Baton Rouge, La., but said nothing about whether the shooting would change the security plan.
Jeff Larson, chief executive of the Republican National Convention, told reporters in a briefing that "I feel good about the security plan."
Cleveland police have had "a number of big events that have taken place with open carry without any issues," Larson said.
He added: "It is the constitution in Ohio. The governor can't simply say, I'm going to relax it for a day or tighten it up for a five-day period of time."
Times staff writer Michael Finnegan contributed to this report.
ALSO
Two San Diego Trump delegates say gays 'can be cured'
These are some of the controversial extremists expected to be outside the GOP convention
For Donald Trump to become president, the difficult road begins at the Republican convention
Life is stressful. Our weekly mental wellness newsletter can help.
You may occasionally receive promotional content from the Los Angeles Times.