Newsletter: Essential Politics: In California's House races, the vote tallies are not trending toward Republicans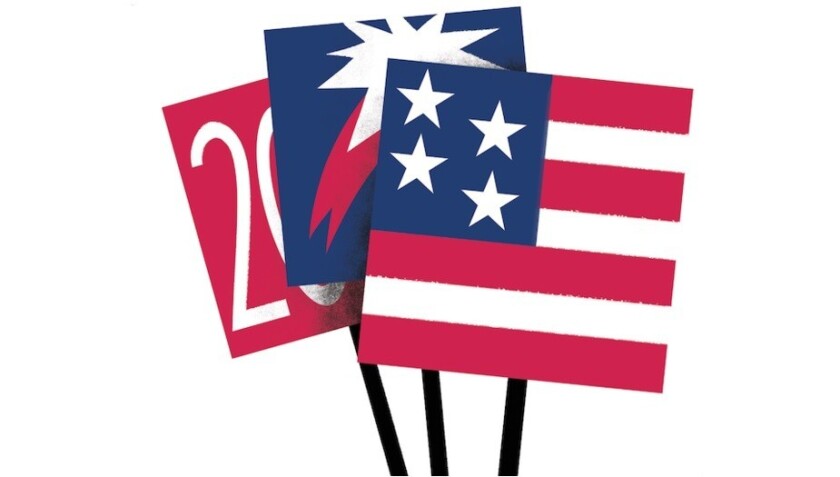 As election day's frenzy finally faded, California officials estimated close to 4.5 million ballots that were uncounted. Every day since, they've been working to whittle that number down.
And there looks to be a trend developing in races for Congress and the Legislature: Democrats are surging. Republican representation in both Washington and Sacramento could fall to historic lows by the time it's all over.
ROHRABACHER LOSES, OTHERS IN JEOPARDY
Few Republicans in California's congressional delegation have the visibility — for all sorts of reasons — that Rep. Dana Rohrabacher enjoys. But after 15 terms representing some of Orange County's most reliable GOP communities, he'll soon be out of a job.
Harley Rouda, a Democratic newcomer, was declared the winner in the 48th Congressional District on Saturday — ahead by about 8,500 votes as the weekend ended.
Others could fall, too. Keep in mind that Republicans represent 14 of the state's 53 congressional districts — and Rouda's win means that three seats have now flipped to the Democratic column.
But it's possible we'll end up adding the 10th Congressional District to that tally, where Democrat Josh Harder now leads Turlock Rep. Jeff Denham by more than 3,300 votes. Two other GOP incumbents — Hanford Rep. David Valadao and Irvine Rep. Mimi Walters — saw their leads hold, but noticeably shrink, during weekend vote counting. So did Young Kim, the Republican hoping to hold on to the party's longtime control over the 49th Congressional District in her race against Democrat Gil Cisneros.
MEANWHILE, IN THE LEGISLATURE…
Democrats have long dominated the state Senate and Assembly. Under current tallies, they're poised to have some of the largest majorities in modern history.
In the Assembly, 58 of the chamber's 80 seats have Democrats who have either won or are leading. Republicans look to have safely won 20 seats and are holding on to slim leads in two others; if those flip, a 60-seat supermajority would be waiting in the wings. Those are tough odds for the new GOP leader in the Assembly chosen by her colleagues last week, Assemblywoman Marie Waldron (R-Escondido).
In the state Senate, Democrats may have won two spots previously held by Republicans — which would give the party control over 28 of 40 seats. (If statewide vote numbers hold, Sen. Ricardo Lara would become state insurance commissioner and vacate his Los Angeles County seat.)
We'll keep a close eye on all of these numbers on our Essential Politics news feed.
AND DON'T EXPECT MANY RECOUNTS
A number of states have election laws that trigger a recount of votes in close races — hence the high drama now brewing in Florida with a second look at the tally in races for governor and U.S. Senate.
But California has no similar rule. As I noted in my Sunday politics column, a recount here is entirely optional and can even be used to examine ballots only in the places where the losing candidate thinks he or she may most likely to pick up additional votes.
Sign up for the Essential Politics newsletter »
TRUMP: PUT OFF IN PARIS?
President Trump has arrived back in Washington after a weekend of bad optics when it came to remembering the 100th anniversary of World War I.
Noah Bierman writes that it culminated on Sunday with French President Emmanuel Macron rebuking Trump's embrace of nationalism. "Patriotism is the exact opposite of nationalism. Nationalism is a betrayal of patriotism," Macron said as Trump sat nearby, unsmiling. And this was after Macron's recent comments that the European Union needs a "real army," a frosty beginning to a key meeting between the two men this weekend.
AND THAT TWEET ABOUT CALIFORNIA'S DEADLY FIRES
The president also found time while in Paris to offer thoughts about the series of horrific wildfires that have now killed more than two dozen people in Butte County, north of Sacramento, and from Thousand Oaks to Malibu.
Trump said the fires were the result of "gross mismanagement of the forests."
"Remedy now, or no more Fed payments!" he tweeted.
And yet, the federal government — not the state — controls most forest lands. Others, including a number of celebrities, noted it was hardly a sympathetic tone while American citizens were fleeing their homes and losing loved ones.
Perhaps he heard the message: a few hours later, Trump tweeted that "our hearts are with those" involved.
NATIONAL LIGHTNING ROUND
-- Congressional Democrats warned on Sunday that Trump's newly appointed acting Atty. Gen. Matthew Whitaker will face legal consequences if he attempts to curtail special counsel Robert S. Mueller III's wide-ranging Russia investigation.
-- In Mississippi, a state with a history of racially motivated lynchings of black people, Sen. Cindy Hyde-Smith praised a man by saying: "If he invited me to a public hanging, I'd be in the front row."
-- With the main migrant caravan now apparently headed for Tijuana to claim asylum in the U.S., federal authorities warned last week that nothing short of law and order will be tolerated.
-- Florida's recount in three statewide races is already conjuring up images of the 2000 presidential election with legal skirmishes, chanting protesters and a possible ballot design issue.
TODAY'S ESSENTIALS
-- Alarmed by the troubled history of a gunman who killed 12 people in Thousand Oaks last week, Assemblyman Phil Ting (D-San Francisco) said he will reintroduce a bill that would make it easier to confiscate firearms from people deemed a public danger.
-- Atty. Gen. Xavier Becerra will appeal a judge's ruling that Huntington Beach can exempt itself from complying with California's "sanctuary state" immigration law.
-- Becerra on Thursday hailed a federal court's decision to block the ending of a program that provides temporary protection to immigrants who were brought to the country illegally as children.
-- California's not goofy, it's really big. That's why counting the vote takes so long.
LOGISTICS
Essential Politics is published Monday and Friday.
You can keep up with breaking news on our politics page throughout the day. And are you following us on Twitter at @latimespolitics?
Miss Friday's newsletter? Here you go.
Please send thoughts, concerns and news tips to politics@latimes.com.
Did someone forward you this? Sign up here to get Essential Politics in your inbox.
---
Get our Essential Politics newsletter
The latest news, analysis and insights from our politics teams from Sacramento to D.C.
You may occasionally receive promotional content from the Los Angeles Times.