If this feels familiar, you're right. Here's what to expect from the Florida recount — 2018 edition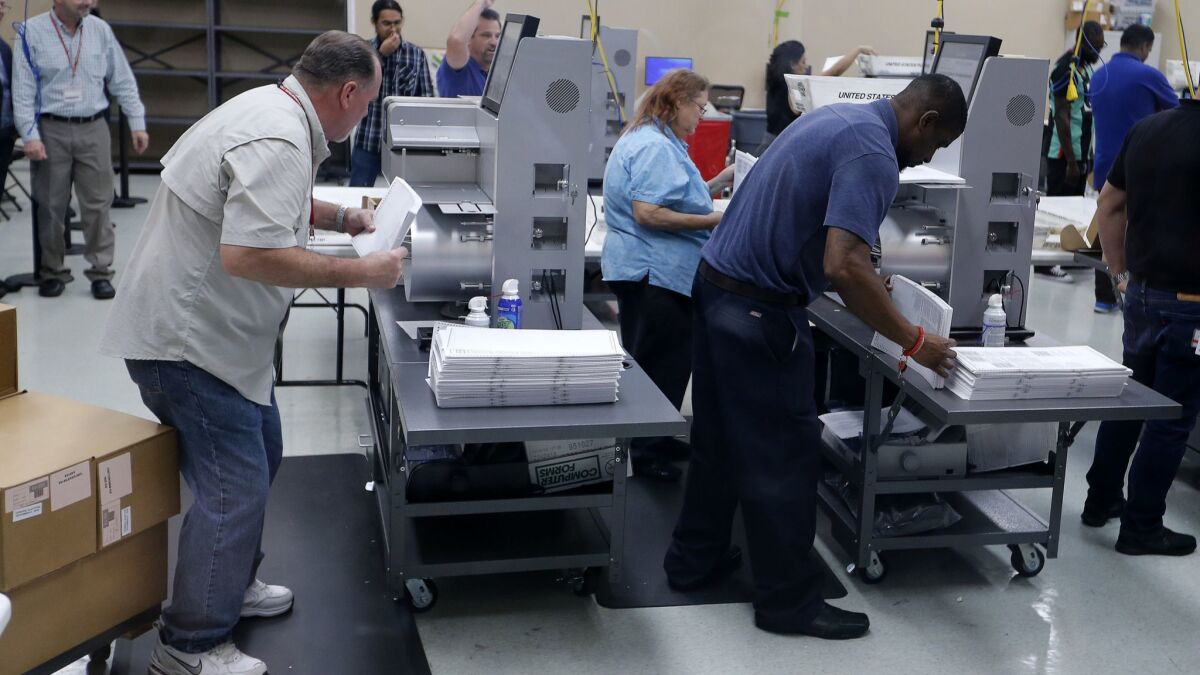 Reporting from Fort Lauderdale —
Florida's recount in three statewide races is already conjuring up images of the 2000 presidential election with legal skirmishes, chanting protesters and a possible ballot design issue that could potentially cost a candidate thousands of votes.
Florida's counties will conduct machine recounts in the races for U.S. Senate, governor and agriculture commissioner.
Palm Beach and Miami-Dade counties started the recount Saturday evening, and Broward started early Sunday, though immediately there were problems with one of the tabulation machines.
Here's what you need to know.
Where do the candidates stand heading into the recount?
The first unofficial election results have been submitted to the state by Florida's 67 counties. These results do not include all ballots from overseas military personnel. The deadline for those ballots to be received is Friday.
-- In the race for U.S. Senate, Republican Gov. Rick Scott holds a 12,562-vote lead over incumbent Democrat Bill Nelson. Scott received 50.07% of the vote compared with Nelson's 49.92%, a difference of just 0.15 percentage point.
-- In the race for governor, Republican nominee Ron DeSantis has a 33,684-vote advantage over Democratic nominee Andrew Gillum. DeSantis received 49.59% of the vote compared with Gillum's 49.18%, a difference of 0.41 percentage point. Gillum withdrew his concession Saturday and called for all votes to be counted.
-- In the race for agriculture commissioner, Democratic nominee Nikki Fried has a 5,326-vote lead over Republican Matt Caldwell. Fried received 50.03% of the vote compared with Caldwell's 49.97%, a difference of 0.06 percentage point.
About 8.2 million total votes were cast in the election.
How likely is it that a recount will change the results?
With the margins in the Senate and governor's race, it is not likely Nelson or Gillum will move into the lead, said Edward B. Foley, director of the election law program at Ohio State University's Moritz College of Law.
An analysis of recounts from 2000-15 by the nonprofit group FairVote found that the average margin swing was only 282 votes, representing a mere 0.02 percentage point in those elections.
The leader in Minnesota's 2008 Senate contest changed after a recount, but former U.S. Sen. Al Franken overcame only a 215-vote margin to win. Florida's infamous 2000 recount ended with George W. Bush holding only a 537-vote advantage over Al Gore.
"The only way you could even think about overcoming a 10,000-vote gap is if there was a systemic error in the process," said Foley, an expert on recounts.
One place Nelson could find votes is in Broward County. About 25,000 people voted in the governor's race but not in the Senate race. It's a discrepancy not found to that magnitude elsewhere in the state.
Nelson's lead recount lawyer Marc Elias said he thinks a calibration problem with the machines might be to blame.
Another theory is that poor ballot design caused people in a particular congressional district not to vote in the race. The Senate contest was tucked into the bottom left corner below a column of instructions, and it's possible voters just overlooked it.
If that's the case, Nelson won't have a legal path to recoup votes that were never cast, said Richard Hasen, an expert on election law at UC Irvine.
"During the Florida 2000 election, Florida voters in Palm Beach County tried to argue that the confusing ballot design — the butterfly ballot — led them to vote for the wrong candidate for president," he said. "The Florida Supreme Court denied a remedy in that case."
Elias has repeatedly dismissed the notion that poor ballot design would result in that many missed votes, but Whitney Quesenbery, an expert on ballot design with the Center for Civic Design, said she thinks it is entirely plausible.
Democrats are also arguing that valid mail-in ballots were thrown out because election workers didn't think the signatures matched, and they say mail-in ballots in possession of the Postal Service on election day should be counted.
State law requires domestic mail-in ballots received by election supervisors by 7 p.m. on election day to be counted.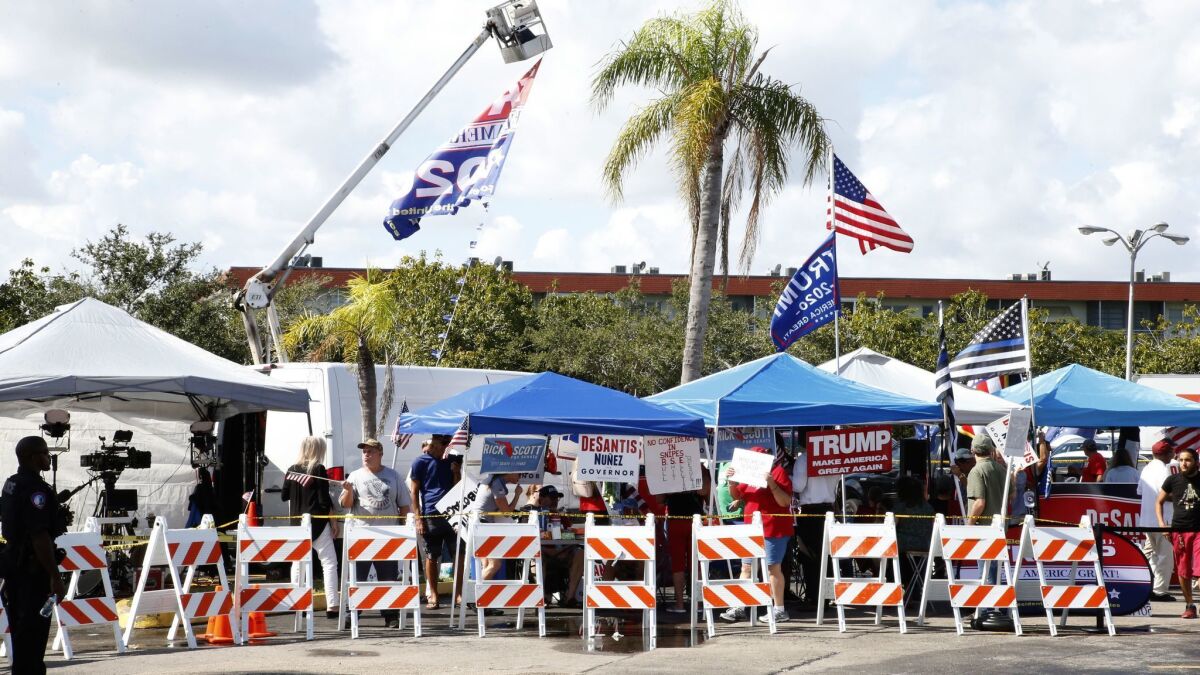 What is the process?
Florida requires machine recounts to be conducted in races that finish with less than a half-percentage point margin. Counties will have until 3 p.m. Thursday to conduct those recounts. Overseas ballots will continue to arrive through Friday.
About 40,000 ballots were sent overseas, and about half have been returned and accepted, according to Daniel Smith, a political scientist with the University of Florida.
Generally, machine recounts give slightly different results but do not drastically affect margins.
If the candidates are within a quarter percentage point after the machine recount, a hand recount likely will be conducted. Election workers will scrutinize under-vote and over-vote ballots. Those are ballots where it appears that the voter did not vote in a race or voted multiple times in the same race.
Hand recounts give more discretion to election workers who must determine voter intent. A caveat on hand recounts is the number of over-votes and under-votes must be great enough to affect the outcome of the race for a hand recount to be triggered.
The deadline to complete a hand recount would be noon Nov. 18. The state Elections Canvassing Commission meets Nov. 20 to certify the results. That commission consists of Scott and two of his Cabinet members.
The League of Women Voters of Florida has called on Scott — a candidate for Senate — to recuse himself from the process.
What about all these claims of fraud and Democrats trying to steal the election?
Both Scott and President Trump have suggested fraud could be happening in South Florida's Democratic strongholds of Broward and Palm Beach counties.
But officials in Scott's own state government have not provided any evidence to support those claims.
The Florida Department of State stationed two observers in Broward County, and they have not detected any criminal activity, said Sarah Revell, an agency spokeswoman.
A spokeswoman for the Florida Department of Law Enforcement said state police have not received any reports of fraud or a written request from the governor to investigate.
Is there enough time to do the recounts?
With three statewide races requiring a recount, it'll be extremely challenging for election officials to meet the deadlines, Foley said.
Susan Bucher, supervisor of elections in Palm Beach County, voiced concern Friday night that she wouldn't be able to meet the state deadline, saying the law did not anticipate having to recount three statewide races.
Legal skirmishes could ensue over whether the deadline should be extended.
State law stipulates that if a county cannot meet the recount deadline the initial results on file will be used.
Swisher writes for the Sun-Sentinel.
Must-read stories from the L.A. Times
Get the day's top news with our Today's Headlines newsletter, sent every weekday morning.
You may occasionally receive promotional content from the Los Angeles Times.