As migrant caravan heads to Tijuana, 'all contingencies on the table' as feds plan for worst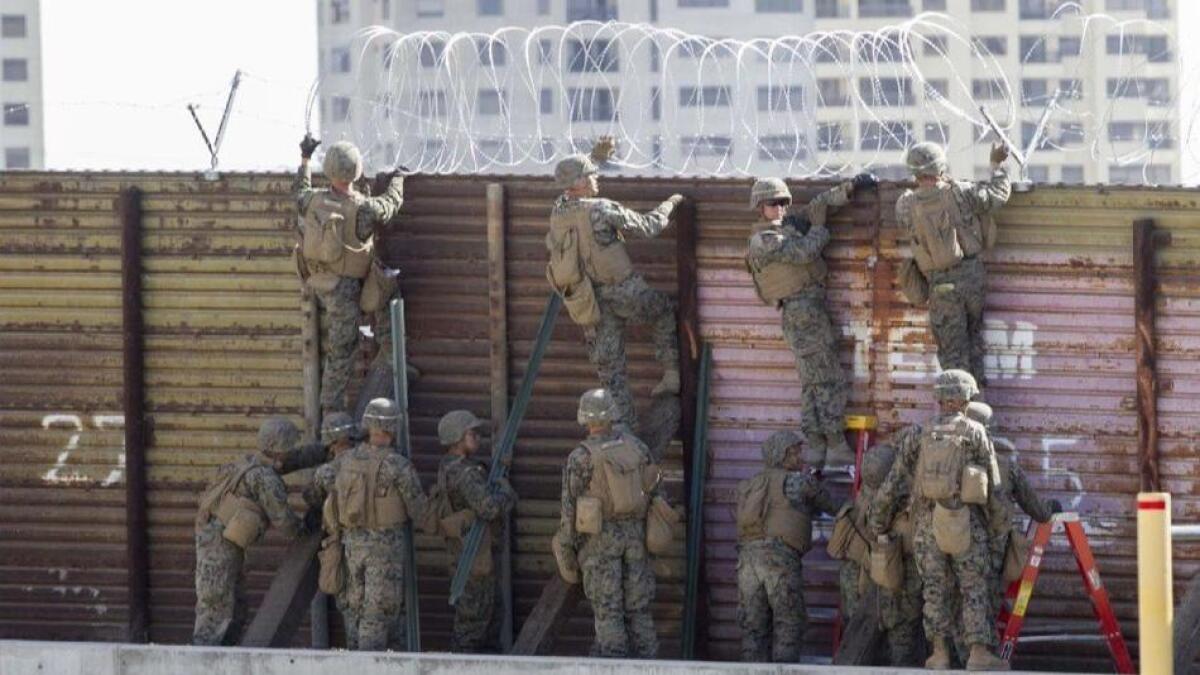 Reporting from San Diego —
With the main migrant caravan now apparently headed for Tijuana to claim asylum in the U.S., federal authorities in San Diego on Friday warned that nothing short of law and order will be tolerated.
A slew of contingency plans are being hammered out before the first wave of potentially thousands of migrants arrive — from the worst-case scenario of a complete shutdown of cross-border travel to using military troops to fortify fences to adding staffing to process a flood of asylum claims at ports of entry.
"We are going to be ready for them," San Diego's chief Border Patrol agent, Rodney Scott, told a large contingent of U.S. and Mexican reporters during a news conference Friday.
About 5,000 migrants, mostly from Honduras, have spent the past few days gathering at a sports stadium in Mexico City to regroup before pushing north. On Thursday, they voted to proceed to Tijuana, opting for the longer but less-dangerous route. The group, which includes many families, has moved slowly and mostly on foot. It was unknown when they might reach the U.S. border.
Scott painted a dire picture of a system already crushed by asylum claims and a caravan of migrants with "a propensity for violence," noting video footage showing at least one large group forcing their way into Mexico from Guatemala, overwhelming troops.
"We are preparing for a different dynamic … because of what we're seeing from the adversary this time, the threats we're seeing in this group, it upped the game to make sure we were better positioned," Scott said when comparing this caravan to previous ones.
Asked about the possibility of closing the border, Pete Flores, director of San Diego field operations for Customs and Border Protection, said all options "are on the table" and anything that threatens public safety will be countered with "necessary steps to protect the border and those using the border."
Extra muscle has come in the form of some 5,700 troops along the southwest border.
In California, 1,100 Marines from Camp Pendleton have been deployed to support law enforcement missions, mainly by stringing concertina wire along the tops of aging border fences and plugging vulnerabilities elsewhere to prevent illegal crossings.
The caravan comes in the midst of a major construction project replacing primary fencing made of old landing mat with 18-foot-tall steel bollard barriers. Half of the 14-mile stretch is completed, and construction crews continue to work in sections.
About 250 soldiers from an Army military police unit in Texas have been deployed as armed protection for the engineering units as they work at the international boundary.
"It's a viable mission for us," said Lt. Gen. Jeffrey Buchanan, commanding general of U.S. Army North. "Border security is national security."
Asked how troops might handle rock throwers or other confrontations, Buchanan said members of the military police unit have the same right to defend themselves and others and they are trained "to use the minimum force required to control any situation."
The military response to the caravan has been heavily criticized as a way to politicize the immigration issue and escalate unfounded fear.
Pedro Rios, director of the American Friends Service Committee U.S./Mexico Border Program, worried about the possibility of the escalation of force.
Scott's use of the word "adversary" to describe the caravan also bothered him.
"Once you start defining people as adversaries, it creates a condition of how you respond to that definition," said Rios, who attended the media briefing. "It means how Border Patrol responds to their presence already sets them up in an antagonistic relationship."
"This is not an anti-anything message," Scott said in response to criticism of operations in general. "This is a law and order message."
The briefing was peppered with warnings to the travelers.
Crossing the border illegally will end with arrest and prosecution, authorities said.
Plus, a presidential proclamation enacted Friday means the asylum process will be granted only to those who present themselves at ports of entry.
Even then, Scott warned that the chances at success for the Central American migrants were "diminished" because the government of Mexico has already "offered asylum to this entire group."
Mexico has offered temporary work permits to those who stay in its southern states and apply for asylum.
"You don't get to pick any country you want," Scott said. "You're supposed to go to the first safe country."
It was unclear how much effect Mexico's offer would have on asylum claims in the U.S. because Canada is the only foreign nation that has an official agreement with the U.S. as a "safe country."
For those who end up at the San Ysidro Port of Entry, Flores, the director of San Diego field operations for Customs and Border Protection, warned that it will be a lengthy process.
The port already has a line out the door of asylum seekers and has had one for most of 2018.
There are close to 3,000 people currently in line, according to records kept in a notebook by a migrant waiting in Tijuana. It takes more than a month to get to the front to ask the U.S. for help.
That line isn't likely to change before the caravan arrives, and Flores indicated that the process wouldn't change much for them.
"Individuals may need to wait in Mexico as CBP processes those already in our facility," Flores said.
When asylum seekers come to the port, they stay in holding cells in its basement while they're processed. At maximum capacity, the port can hold about 300 people.
On Friday, about 10 Customs and Border Protection officers sat at a long desk in the port's intake area, which was filled with asylum seekers. At another counter, a man clutched his youngest child while his older children huddled by their mother next to him.
Many of the holding cells were packed with women and children. In the hallways were stacks of crackers, juices, diapers and baby formula.
With the wait to ask for asylum growing, more families have tried to cross illegally in recent months. It is unknown whether Trump's proclamation will have its intended deterrent effect. It may also extend the line of asylum seekers even more.
Sign up for Essential California for news, features and recommendations from the L.A. Times and beyond in your inbox six days a week.
You may occasionally receive promotional content from the Los Angeles Times.