Villaraigosa is not the former mayor of Los Angeles — at least not on the ballot for governor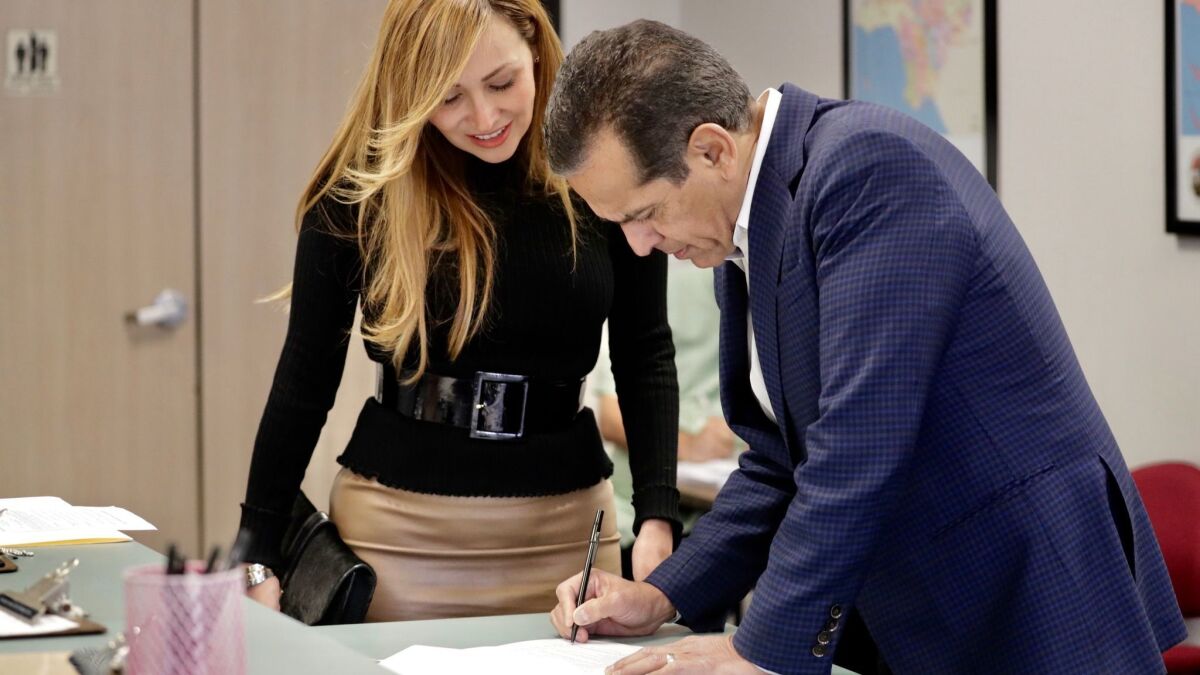 Antonio Villaraigosa is best known as the former mayor of Los Angeles. But that title will not be on the ballot when voters choose the next governor of California.
Instead, Villaraigosa will be listed as a "Public Policy Advisor," a reference to his most recent profession.
The words that appear next to candidate names are governed by state regulations. Since Villaraigosa left office nearly five years ago, after serving from 2005 to 2013, he can't use his mayoral title. He formed a public consulting firm that advised companies such as Herbalife, Banc of California and Cadiz from 2013 to last year.
Candidates spend time and often money on polling to determine a ballot title that paints them in the best light to voters while complying with the state's regulations, even though in prominent races for governor or U.S. Senate, ballot designations aren't typically a deciding factor.
Follow California politics by signing up for our email newsletter »
State Treasurer John Chiang's campaign protested the designation. (He will be listed as "California State Treasurer" on the primary ballot.)
"Let's be real, the only thing Antonio Villaraigosa can currently advise on is how to best target innocent Californians," said Chiang's spokesman, Fabien Levy, pointing to work Villaraigosa has done for Herbalife, Cadiz and Edelman.
Critics accuse Herbalife, a nutritional supplement company, of being a pyramid scheme. Cadiz is trying to pump groundwater out of the Mojave Desert and sell it to Los Angeles consumers, a project opposed by Sen. Dianne Feinstein (D-Calif.) and public lands advocates. Edelman is a public relations firm that counts oil-industry groups among its clients.
Levy said Chiang's campaign has no plans to back up the rhetoric with a formal challenge to Villaraigosa's ballot designation, but he left open the possibility of going to court later.
Ballot designation rules are so picayune that they dictate what types of punctuation are acceptable (commas, slashes and occasionally hyphens). Company names are verboten, as are words such as "reformer," "activist," "patriot" and "taxpayer." The word "retired" cannot be abbreviated.
Learn more about the race for governor »
That has left room for some colorful ballot designations, such as Mary Carey Cook, who was listed as an "Adult Film Actress," and Kurt E. "Tachikaze" Rightmyer, who was listed as a "Middleweight Sumo Wrestler" in the 2003 recall election. Arnold Schwarzenegger, who was elected governor in that race, was listed as "Actor/Businessman."
Some titles, such as businessman or teacher, are more popular than others, such as lawyer or the person's political title in Congress or the Legislature.
In 2016, five congressional and legislative incumbents did not use their elected titles for ballot designations, including Rep. David Valadao. The Hanford Republican called himself a "Farmer/Small Businessman."
In 2014, David Evans, an obscure Mojave Desert accountant who spent just $600 on his campaign to be California state controller nearly placed in the second spot in the primary. His ballot designation of "Chief Financial Officer" probably had something to do with it.
Eric Jaye, Villaraigosa's political advisor, said that while the campaign considered other ballot designations, they went with "Public Policy Advisor" because it most accurately reflected Villaraigosa's work after leaving City Hall.
"The company has advised a wide-range of for-profit and nonprofit companies around issues such as economic development, investment strategy, community reinvestment, healthcare, and education," according to Villaraigosa's filing documents. "As a public policy advisor, Mr. Villaraigosa guides clients through turning policies into action."
Whether it matters is up for debate.
"How important ballot designations are diminishes the further up the ballot you go. So in the governor's race, voters are going to have a wealth of information about the leading candidates from news coverage, from advertisements, etc.," said GOP strategist Rob Stutzman. "Where ballot designations become important information is races where voters don't know much else. Frankly, they're most valuable at the sanitation and water district level, and then the value starts to decline the more you move up."
For the latest on national and California politics, follow @LATSeema on Twitter.
ALSO
California's candidates for governor react to Trump administration lawsuit over immigration policy
California Democratic Party offers no endorsements in U.S. Senate or governor's races
Live coverage of California politics
Life is stressful. Our weekly mental wellness newsletter can help.
You may occasionally receive promotional content from the Los Angeles Times.