Antonio Villaraigosa left the mayor's office 'with no job, no house, no car.' Here's how he made millions since then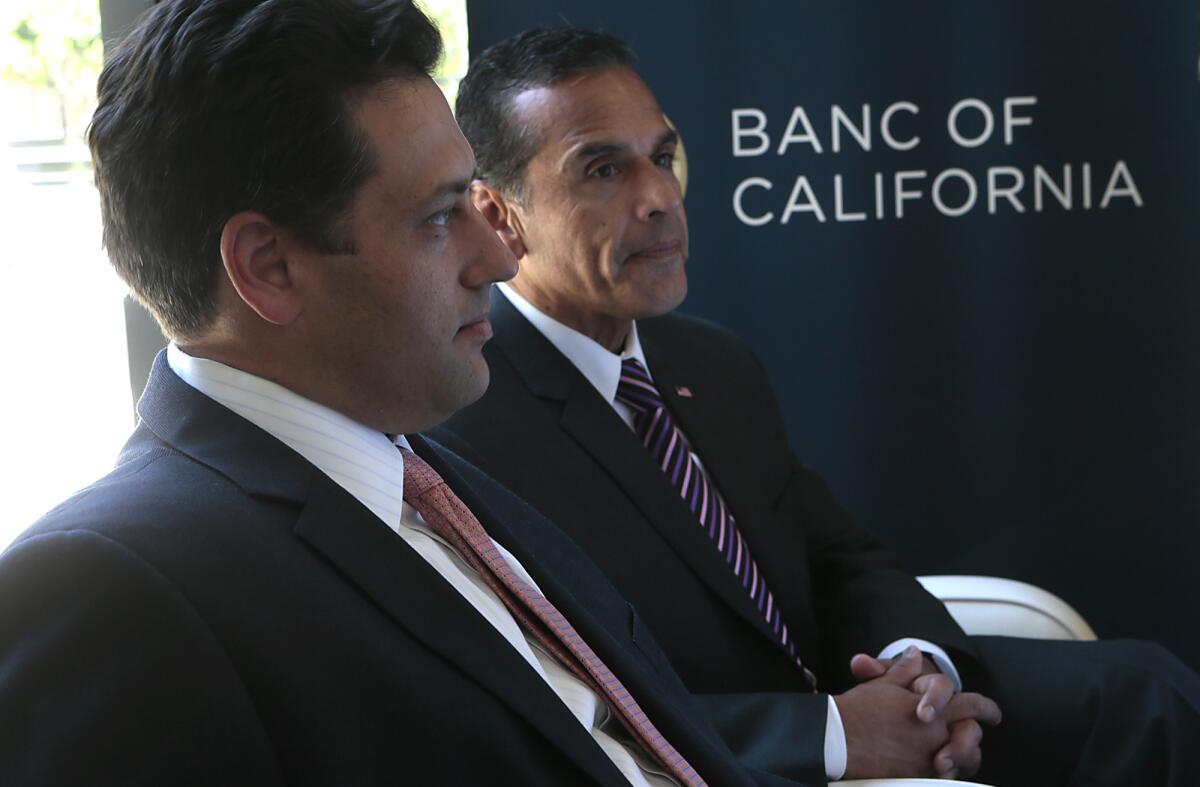 A glimpse at the gubernatorial candidate's tax returns illustrates how he made millions since then, that he's still paying for personal foibles and that he remains connected with the Hollywood red carpets he once enjoyed walking.
Since leaving office, Villaraigosa has made more than $4 million by advising companies such as Herbalife, Banc of California and natural resources company Cadiz; teaching at USC; and earning speaking fees, according to six years of tax returns his campaign released this week.
Villaraigosa also earns an annual pension payment worth about $100,000 from his service in local government. Villaraigosa was a state assemblyman from 1994 to 2000 before being elected to the Los Angeles City Council for two years and then serving as mayor from 2005 to 2013.
A key question when he ended his mayoral tenure was how Villaraigosa would replicate the highflying lifestyle to which he became accustomed while serving as a state and city leader.
The answer appears to be consulting work for nearly two dozen clients, some more controversial than others.
Villaraigosa's financial situation dramatically improved after he left office. In 2012, the final full year of his mayoral tenure, Villaraigosa reported $155,775 in adjusted gross income. In 2014, his first full year out of the mayor's office, Villaraigosa reported $1.38 million in adjusted gross income.
2011: $167,542
2012: $155,775
2013: $593,725
2014: $1,380,096
2015: $1,280,296
2016: $1,312,666
His longest working relationships are with Herbalife and Banc of California. The sole company he continues to advise even as he runs for governor is AltaMed, a large network of Southern California clinics that serve low-income patients.
It's unclear exactly how much he was paid by the companies, or how his duties are defined. Aside from a brief window in 2013, he was compensated through a multi-member limited liability company and was not required to disclose how much each client paid for his services.
The first six months after he left office, Villaraigosa was paid through a single-member LLC, which did require him to disclose on his personal tax returns how much he was paid. He earned more than $650,000 in consulting fees during that period, with nearly half the money coming from Herbalife and Banc of California.
Consulting fees paid to Villaraigosa in the final six months of 2013:
Herbalife: $162,500
Banc of California: $150,000
Pro Tour Memorabilia: $100,000
Harry Walker Agency: $90,800
Edelman: $68,750
Cadiz: $50,000
Gateway Science and Engineering: $30,000
Nutrition supplements company Herbalife has been called a pyramid scheme by its critics, who allege the multilevel marketing company preys on the poor and minorities. In a 2016 settlement with the U.S. Federal Trade Commission, Herbalife agreed to pay $200 million to its sellers and to change its business practices, though the company said it was settling to avoid the cost of protracted litigation.
Villaraigosa said in a recent interview that he was proud to work for the company.
"They were an L.A. company, an L.A. company whose product and their whole platform is about health and nutrition; they give people a shot at building, if not a small business, at least a little extra income on a monthly basis," Villaraigosa told La Opinion this month. "My mother sold Tupperware and Avon, I know why Latinos and blacks do it: they need a few extra bucks. It's called a multiple-level marketing company. That's what Tupperware is, what Avon is — they've been around for 30 years. Pyramid schemes aren't around for 30 years."
Villaraigosa also served as a strategic advisor to Banc of California, focused mainly on expanding its business, notably in Latino communities. At one point, billboards advertising the bank lined area freeways, featuring a smiling picture of Villaraigosa with black football paint under his eyes to highlight the bank's relationship with USC athletics.
Another notable client is Cadiz, which has been harshly criticized by Democrats including Sen. Dianne Feinstein (D-Calif.) over a proposal to pump water from an aquifer in the Mojave Desert to provide water to Southern California cities. The company was co-founded by Keith Brackpool, one of Villaraigosa's closest friends.
His business dealings are likely to be raised on the campaign trail ahead of the June 5 primary.
The tax returns also showed that since Villaraigosa left office, USC has paid him $261,362 to teach at its Sol Price School of Public Policy.
He also earned smaller paychecks from cameos on comedian George Lopez's television show: $2,446 from Cast & Crew Talent Services and $899 in SAG/AFTRA residuals in 2016.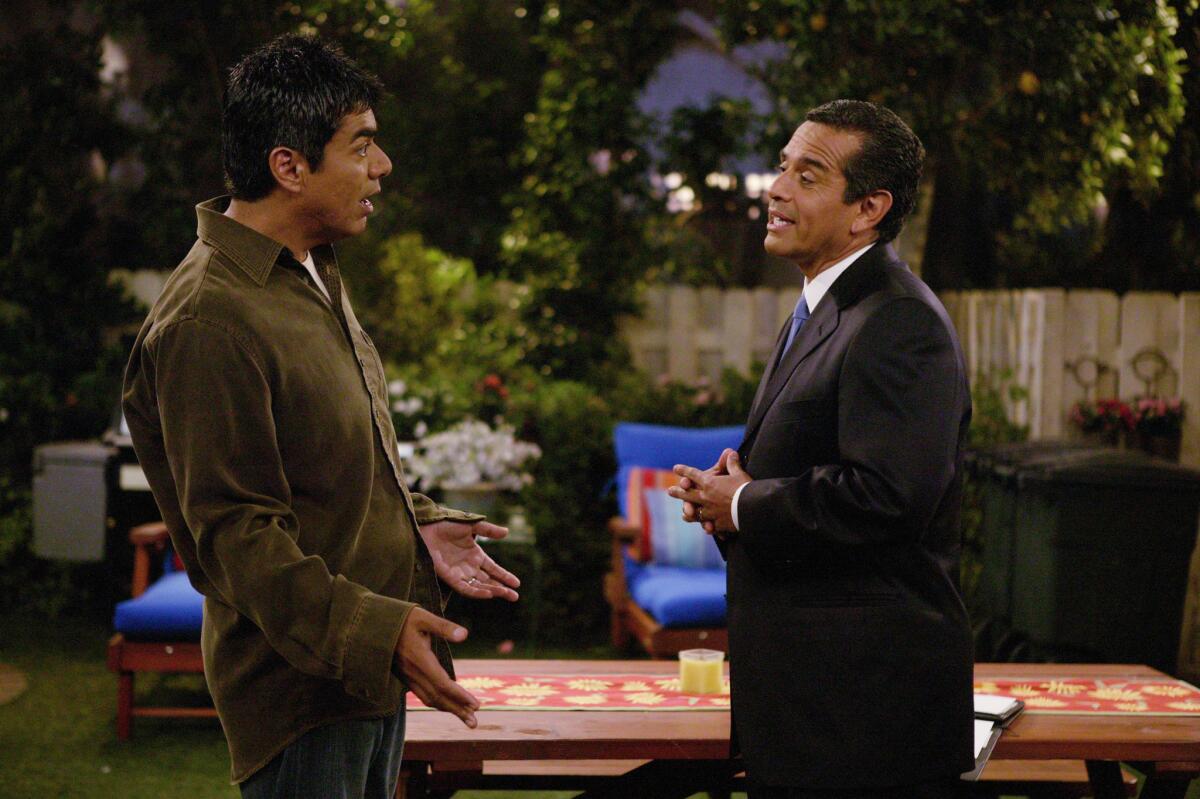 Expenses
The returns also provided a look into Villaraigosa's personal life.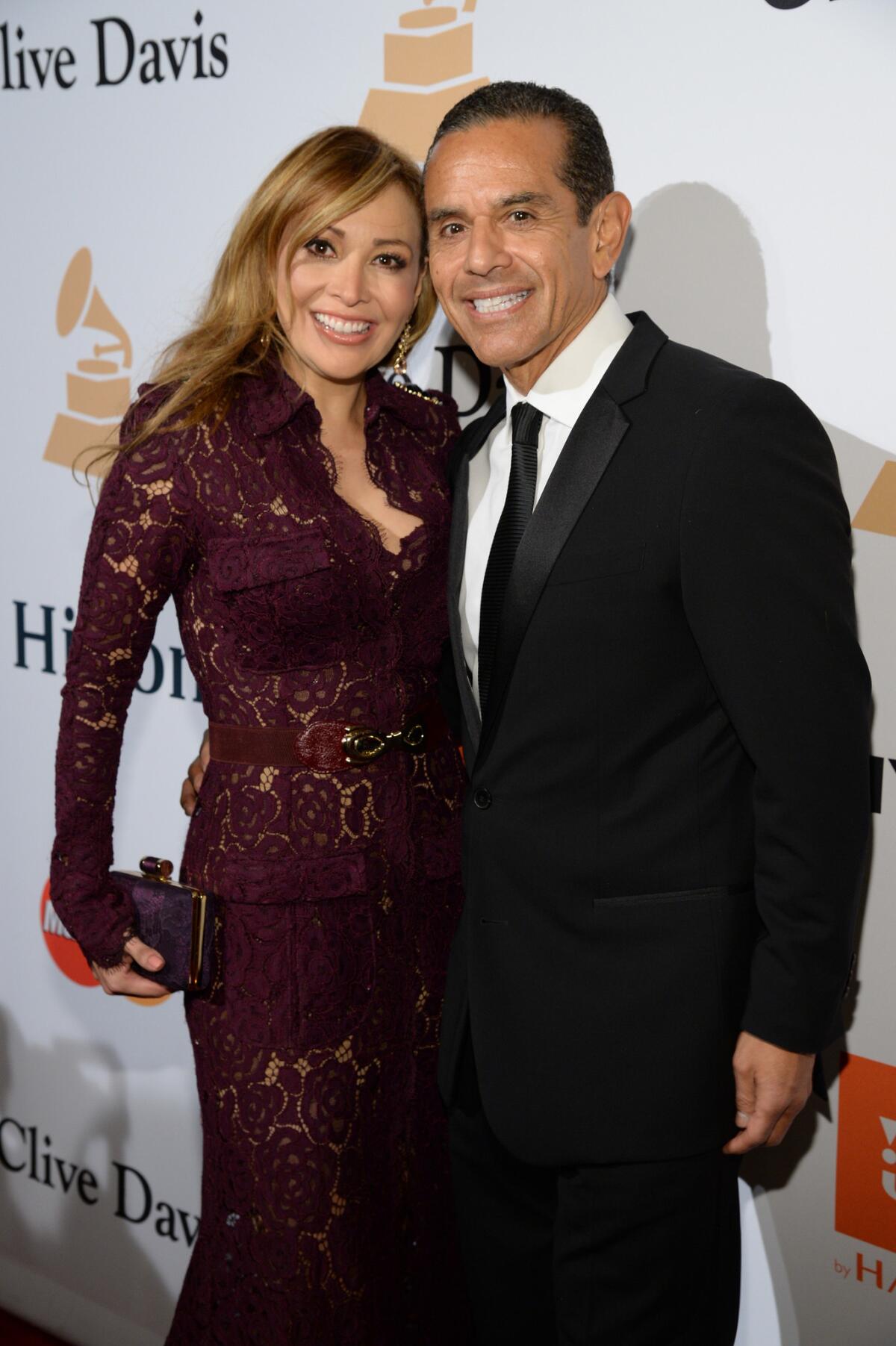 Following a highly publicized affair with a television news reporter while he was mayor, Villaraigosa and his wife Corina divorced. Between 2011 and 2016, he paid her $198,387 in alimony.
He filed as a single person until 2016, when he filed jointly with new wife Patricia Govea. That year he claimed her son, Sebastian, as a dependent.
Rising income, rising taxes
As Villaraigosa's income rose, so did his tax bill. By 2016, he paid $471,292 in federal taxes and $121,480 in state taxes. His federal tax rate varied between 21.4% and 41%.
Villaraigosa gave just over $10,000 to charity in 2014, nearly $12,000 in 2015 and $8,000 last year, including donations to Los Angeles schools he attended, the Wounded Warrior Project and the Partnership for Los Angeles Schools, a nonprofit he created to raise money for the public schools he took over as mayor. He did not report contributing anything to charity in 2011, 2012 or 2013.
Villaraigosa is the last major Democratic candidate in the race to release his tax returns. He allowed reporters to review — but not copy — six years of returns for three hours on Tuesday at the San Francisco office of his campaign consultants, as did front-runner Gavin Newsom when he released his taxes earlier this year.
In his first five years as California's lieutenant governor, Newsom made more than $4 million from his wineries, restaurants, hotels and other hospitality businesses. That's on top of his government salary, which is $142,577 a year.
State Treasurer John Chiang and former state schools chief Delaine Eastin reported far more modest incomes.
For the latest on national and California politics, follow @LATSeema on Twitter.
ALSO
Gubernatorial candidate Gavin Newsom shared his tax returns — here's what we learned
A government paycheck makes up most of California treasurer John Chiang's income, taxes show
Delaine Eastin's tax returns show most of her income came from state pension, investments
Get our Essential Politics newsletter
The latest news, analysis and insights from our politics team.
You may occasionally receive promotional content from the Los Angeles Times.