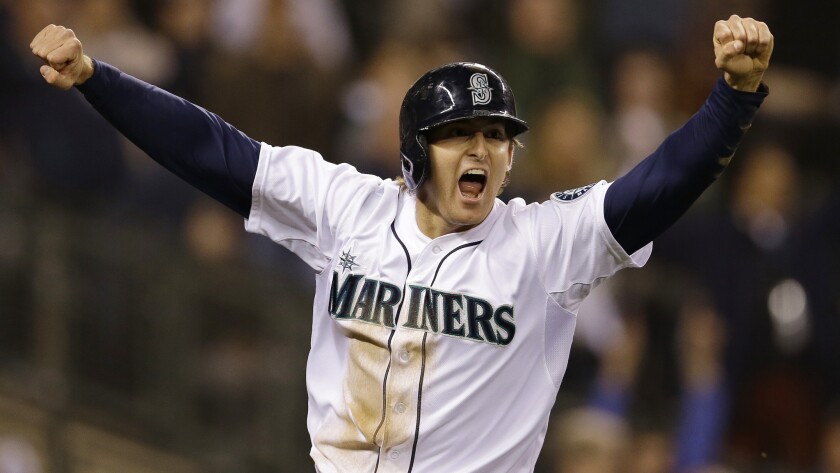 Reporting from Seattle —
An emotional roller coaster of a ride through the late innings Saturday night came to sudden stop with the Seattle Mariners in a place few thought they'd be three days ago: in position to make the playoffs on the final day of the regular season.
Seattle kept its postseason hopes alive with a 2-1 walk-off win over the Angels at Safeco Field, Austin Jackson driving in the winning run by beating out a fielder's-choice grounder in the bottom of the 11th inning.
Brad Miller sparked the winning rally with a one-out double to right off reliever Mike Morin, and he took third on Chris Taylor's bloop single to center.
Vinnie Pestano replaced Morin, and with the infield in and the Angels employing a five-man infield, Jackson hit a sharp grounder to second baseman Grant Green, who looked home before flipping the ball to second.
But Gordon Beckham's relay to first was too late to catch the speedy Jackson, as Miller scored the winning run just two innings after the Mariners had loaded the bases with no outs in the ninth inning and failed to score.
Seattle was three games behind Oakland in the wild-card race Thursday night, but the Athletics lost to Texas on Friday and Saturday, and the Mariners beat the Angels twice to gain two games.
The Mariners will send ace Felix Hernandez to the mound Sunday. A win over the Angels, combined with another Oakland loss to Texas, would force a tie and a one-game playoff Monday in Seattle between the Mariners and A's for the second wild-card spot.
The Angels, of course, have already secured a spot in the division series, leaving them to focus on two of their most pressing playoff issues: the health of pitcher Matt Shoemaker and left fielder Josh Hamilton.
While Shoemaker took what he called a "big step" in his recovery from a left rib-cage strain Saturday, Hamilton continued to spin his wheels in his recovery from right rib-cage and chest injuries that could sideline him for the division series.
Hamilton said Wednesday that he had "no doubt" he would be ready for Thursday's playoff opener, even though he has sat out all but one game since Sept. 5. Manager Mike Scioscia, however, has plenty of doubt.
Asked Saturday whether he is as confident as Hamilton is about playing, Scioscia said, rather bluntly, "No."
"We talked with Josh, and he knows what he needs to do and what we need to see for him to be ready," Scioscia said. "We're hopeful, but he has to show us some things."
Hamilton threw Friday and ran and took dry swings Saturday, but continued discomfort in his chest prevented him from taking batting practice for a fourth straight day.
The team's evaluation of Hamilton probably will run to Thursday morning, when it has to submit its division series roster. Hamilton hopes to hit off live pitching next week.
"He needs to be able to run pain-free, to throw pain-free, and to do it proficiently," Scioscia said. "I think we're seeing that. We want to see the nice free swing that is not restricted, and you want to see how he rebounds from it. There are some things I think we can find out in some workouts."
The prognosis for Shoemaker looked better after he extended his long-toss program to 200 to 250 feet Saturday, the final step before the right-hander throws off a mound.
"The way it's going, I'm very optimistic about pitching in the playoffs," Shoemaker said.
"The tightness or soreness is still there, but it's just about gone. I barely feel it. Each day, it's gotten better."
Barring setback, Shoemaker expects to throw off a mound Sunday or Monday. Jered Weaver will start Game 1 of the division series. C.J. Wilson, who looked sharp in a six-inning, one-run, four-hit effort Saturday night, is lined up to start Game 2, so Shoemaker probably wouldn't pitch until Game 3 next Sunday.
Asked whether the tightness and pain he is feeling now is something he can pitch through, Shoemaker, who went 16-4 with a 3.04 earned-run average this season, said, "Oh, sure."

---