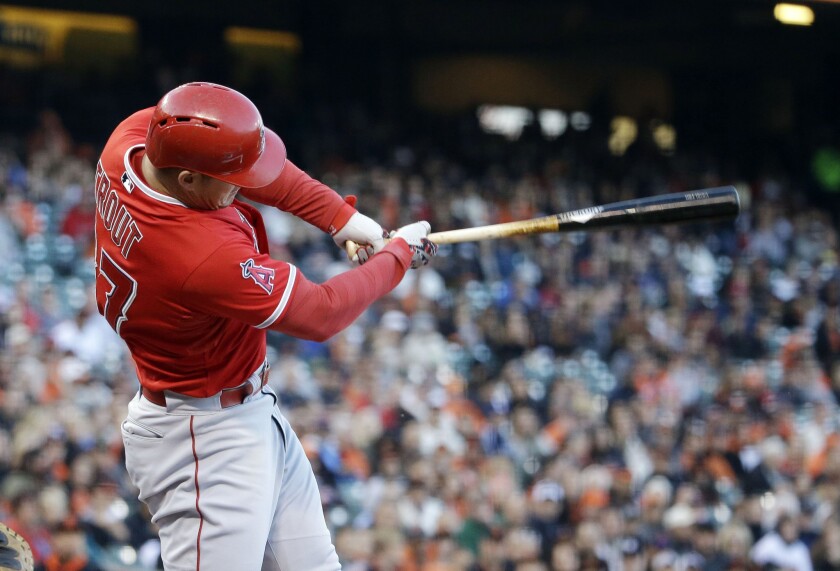 Reporting from TORONTO —
R.A. Dickey went up and in with a fastball to Mike Trout in the seventh inning Thursday night, and the Angels center fielder lined it to the gap in left-center for a double, one of two hits Trout had in an 8-4 loss to the Toronto Blue Jays at Rogers Centre.
Toronto right-hander Drew Hutchinson took a similar tack in the fifth inning Wednesday, throwing a 94-mph chest-high fastball to Trout, who drove it 412 feet over the wall in center for a home run.
As productive as Trout was when he won the American League most valuable player award last season, he was surprisingly vulnerable to pitches in the upper third of the strike zone.
According to Pitch F/X data, Trout hit .082 (nine for 110) with two homers and a swing-and-miss rate of 36.2% on pitches in the upper third of the strike zone in 2014.
But Trout has turned one of his few weaknesses into a strength this season. Entering Thursday, he was hitting .313 (10 for 32) with three homers and a swing-and-miss rate of 14.5% on such pitches.
"They're strikes, so I should be able to hit them," Trout said, a simple response to a more complicated issue. "It's just that I'm not chasing them. I'm not trying to do too much. I'm getting my [front] foot down and recognizing that if it's up and in the strike zone, I'm definitely trying to hit it. I'm making adjustments."
The more he struggled with the high pitch last season, the more opponents tried to expose the soft spot.
"Oh yeah, I knew what they were trying to do," Trout said. "With all the technology, you know how they're trying to get you out."
Trout incorporated different drills over the winter, elevating the tee for some swings and having soft tosses thrown higher to force him to stay on top of the ball.
"He went home and worked at it," bench coach Dino Ebel said. "It's like anything else. Once somebody says, 'Well, he's having trouble doing this or that,' he goes out and tries to prove you wrong. He's doing a great job. He's made a great adjustment."
The biggest key is having the discipline to lay off the high pitches that used to entice him.
"I think last year the pitchers were expanding the zone up there and he was chasing," Ebel said. "Now, he's not. He's controlling the strike zone. If it's a strike and it's up and away, he's pounding it to right-center. And he's laying off the ones that are balls."
Trout hit .287 with a .377 on-base percentage, .561 slugging percentage, 36 homers, 111 runs batted in and 115 runs last season but struck out a league-high 184 times.
He has a .295/.394/.564 slash line with 11 homers, 22 RBIs and 37 strikeouts this season, putting him on pace for 146 strikeouts. He has lowered his strikeout rate from 26.1% to 21%, a shade above the major league average of 20.1%.
Trout has swung at and missed only 15% of pitches in the upper third of the strike zone this season. And he's cut in half the percentage of pitches he's swung at and missed above the strike zone, from 5.7% to 2.6%.
"The majority of the strikeouts last year were balls up and me swinging through them," Trout said. "When I'm going good and my timing is on, I won't chase that pitch. When I'm over-anxious and trying to do too much, that's when I start chasing."
Manager Mike Scioscia has noticed Trout hitting more high pitches with authority.
"Like any hitter, sometimes you're going to expand the zone up, and sometimes you're going to expand it down," Scioscia said. "Mike is an incredible offensive player, but he's human, and there are times you aren't squaring up pitches."
With so few holes, where do opponents pitch Trout now?
"I don't know, that's a tough one," Ebel said. "I can't even answer that."
Twitter: @MikeDiGiovanna
---